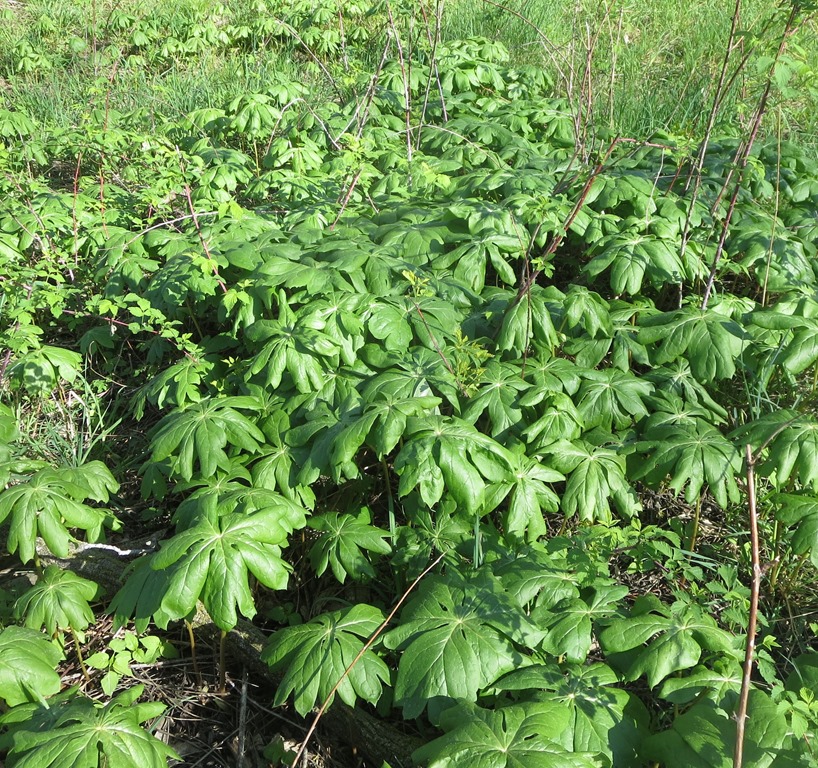 Hello,
As this image shows the May Apples are up.  No blossoms yet- or at least  none as of yesterday.  But they will appear soon.  They are such fleeting plants as they will all be gone in a month.   Knowing  the hill side where these live means I look for them year after year in one of the small wild areas close to home.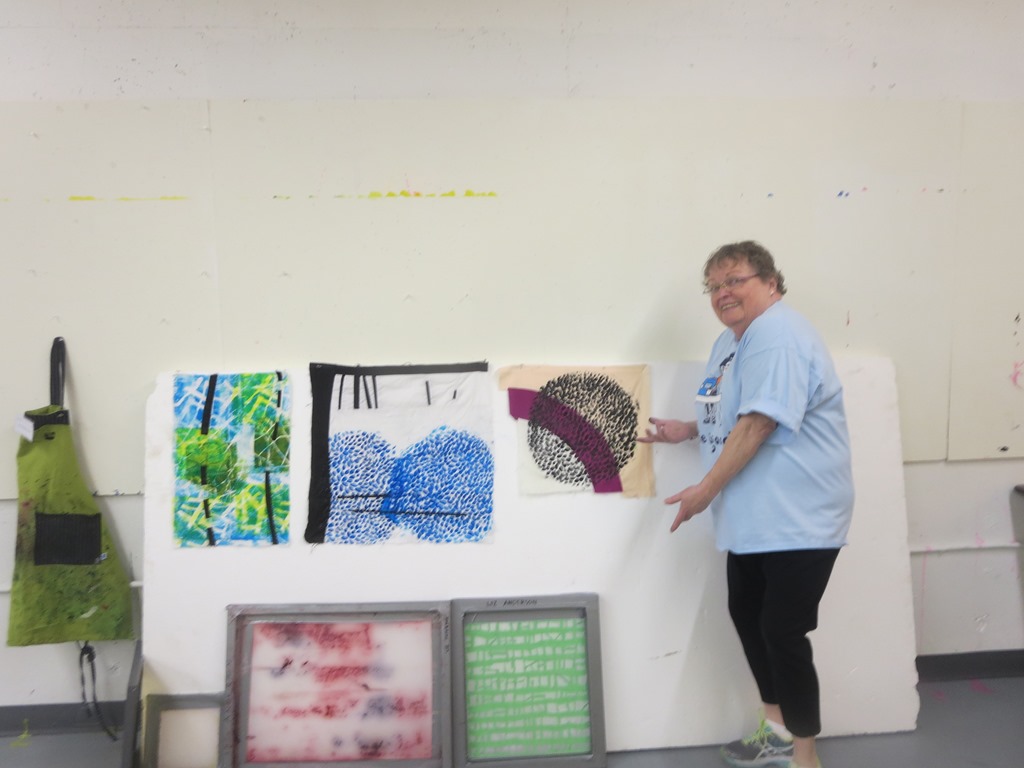 This week was a busy one that started last Friday with a three day  open studio at the Schweinfurt Art Center.  I spent the time in the wet studio again and had a great time.  There were only three of us down stairs,  so we all had lots of space to work.  Liz worked on top  of old black ans white samples for her dyeing.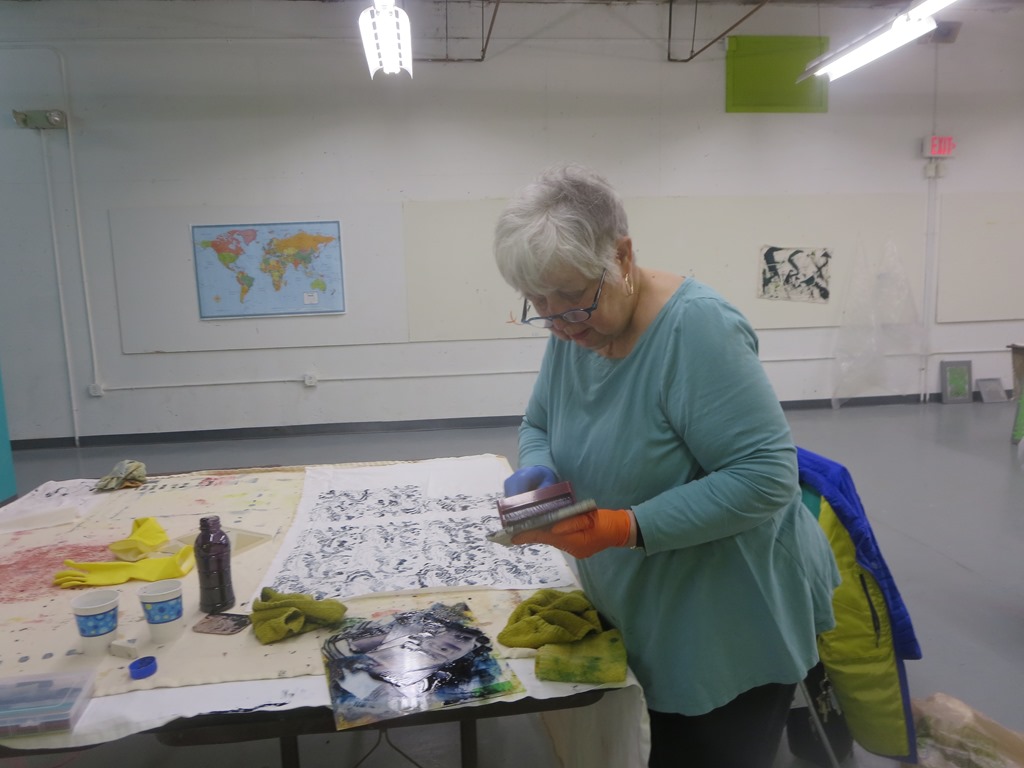 Good way to give this work a second life.    Penny built paper screens and did lots of stamping.      I had a lot of new thermofax  screens that I enjoyed playing with.  There were some problems  though.  Liz and I used the dye  and print paste we
had mixed up in Oct.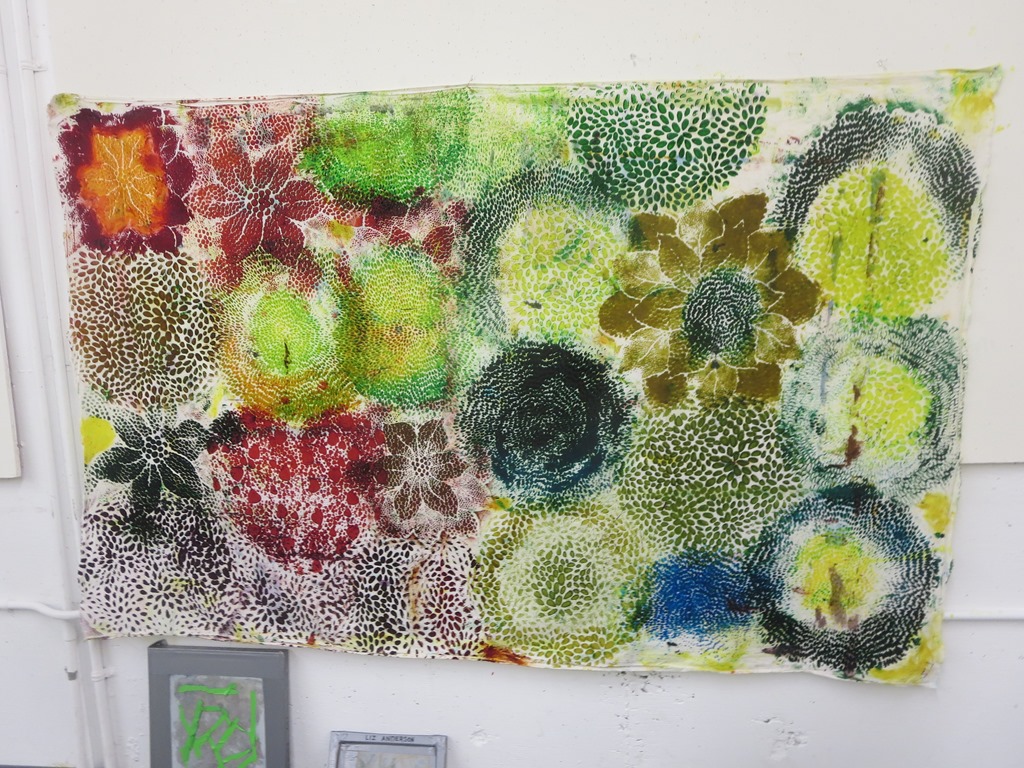 Most of Liz's work washed out to very pale colors. This great big piece went from a strong powerful work to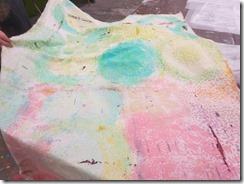 this timid pastel work.     I did not have as poor a luck as she but my works could not seem to keep their whites.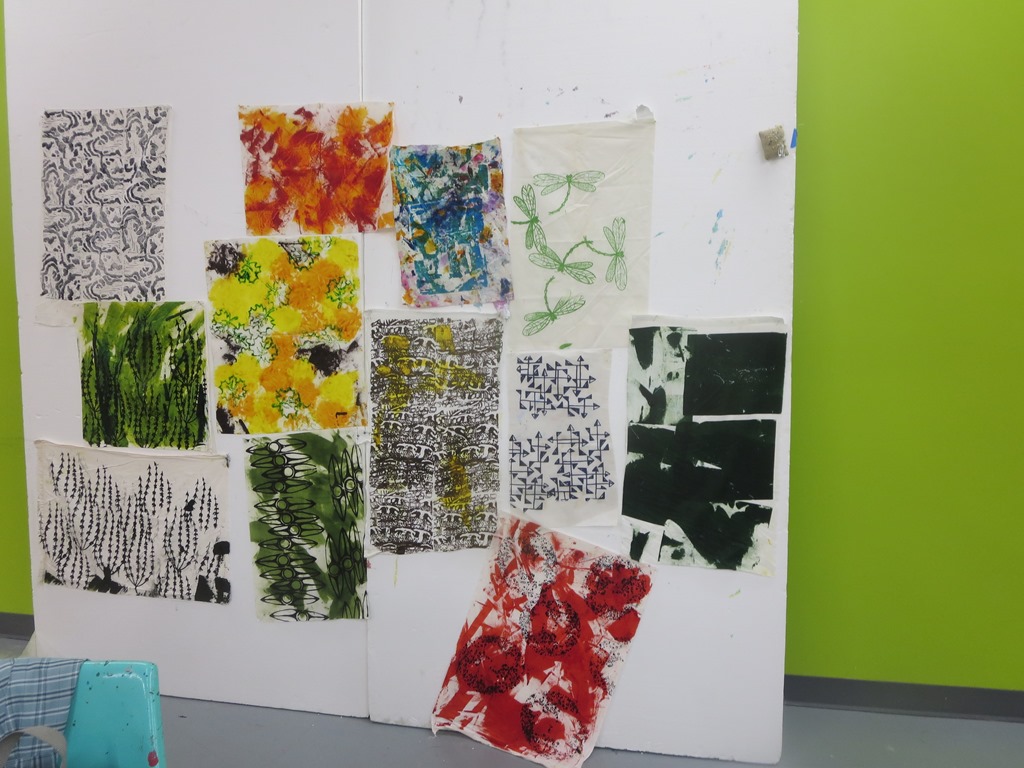 None of the browns, that I truly love ,worked either.      I did have good luck with my greens though.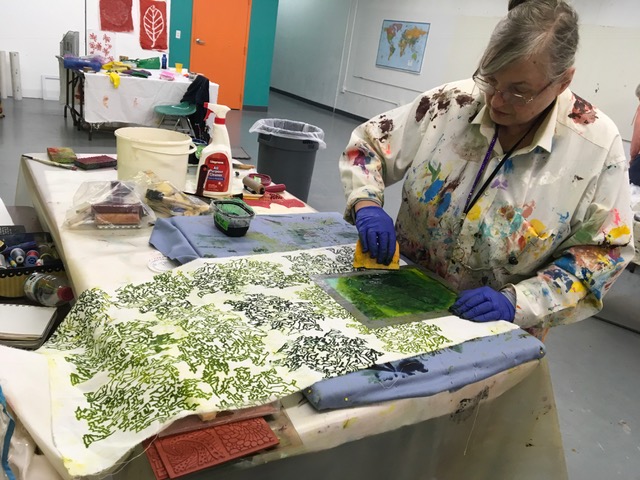 Liz  shot this one of me working.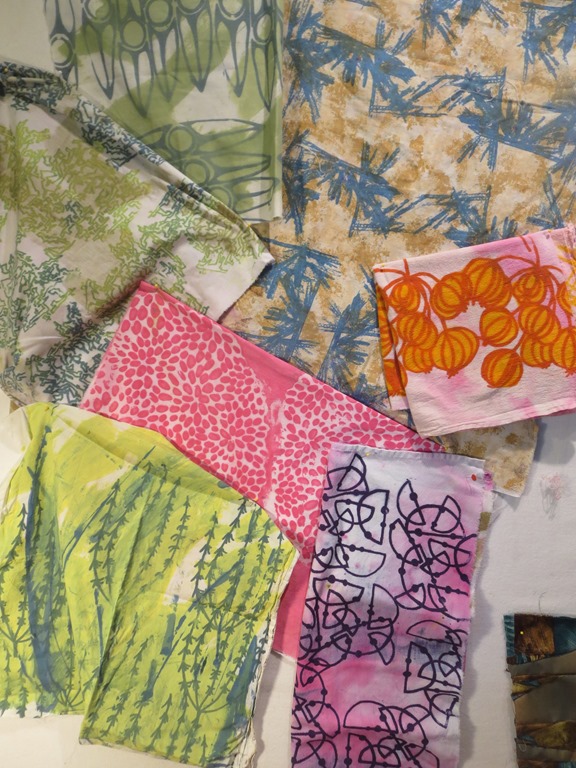 I am still washing out they dyes so I will wait for my final decision about the success of it all.   We will start from scratch next week.  There were seven gals upstairs working in the sewing studio too.  We got to talk with them at lunch time.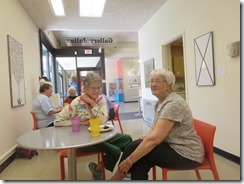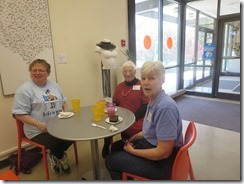 The "Made in New York" show was also up in the gallery.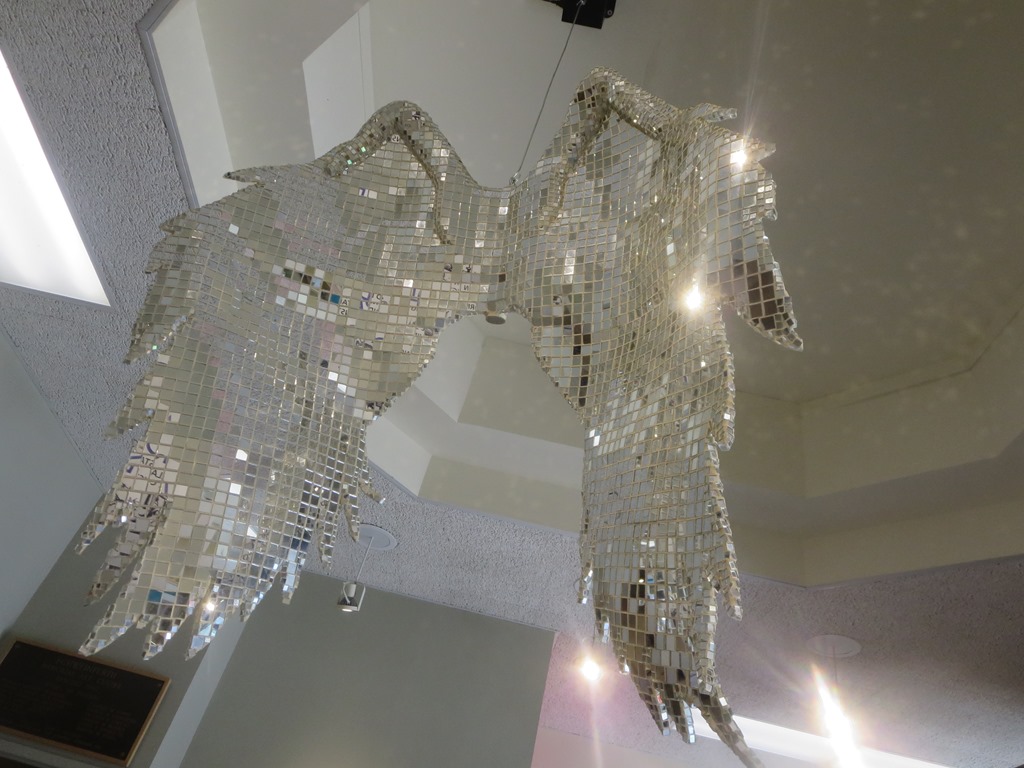 The wings were especially striking.    The whole week end event was fun and exhausting.
Because Tuesday was the first Tuesday of the month, I had QuEG's and  Diva meetings too.
At QuEG's   Sally had lots of great work to share.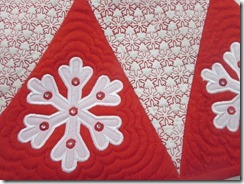 The more I learn about machine embroidery the more impressed I become.  All those little  red snowflakes on this tree skirt are machine drawn!    She had some wonderful hand work too.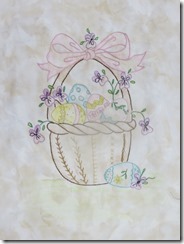 The light color of the ribbon, basket and flowers was done with Crayola crayons before she did the embroidery work.  It is  quietly luscious.  Linda has been exploring water soluble crayons  and having fun at that.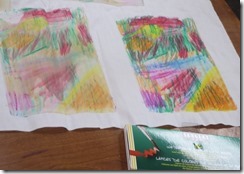 She is also playing with black and white fabrics .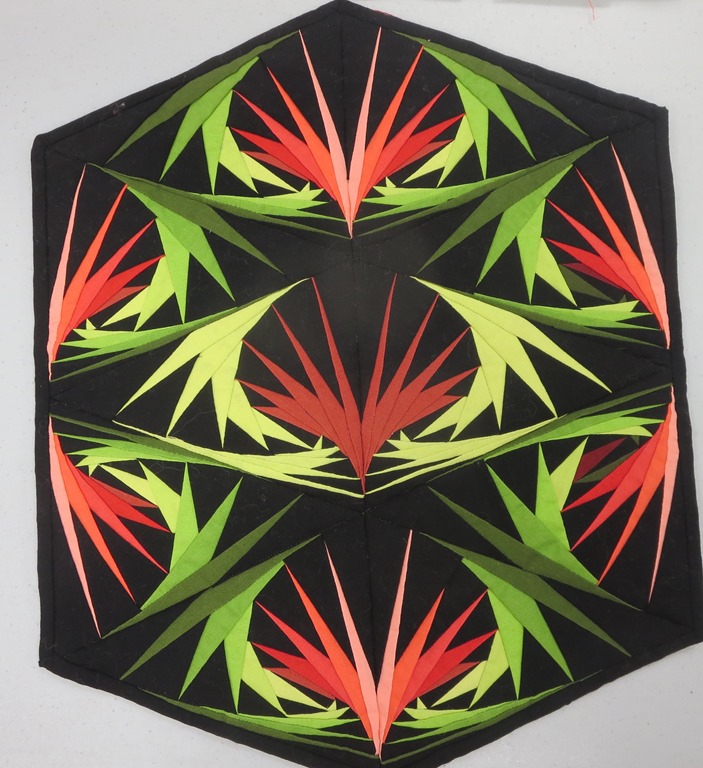 The  Divas were also inspiring this month.   Regina shared more rust dyeing and this wonderful Bird of Paradise  miniature quilt.   It is paper pieced.  I find the idea of all those little 1/4" seams coming together in the points a  task I do not even want to attempt.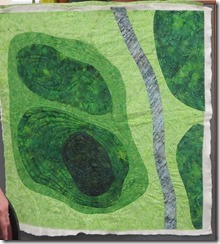 Ruth is working on a  social commentary piece about the massacre.    It will be a pleasure to watch this work grow.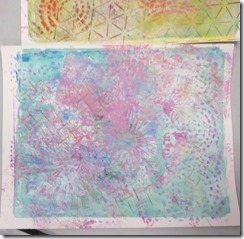 Lori is doing Gelli plate printing to create backgrounds for her stitching work.   The quiet  colors are  so beautiful  here.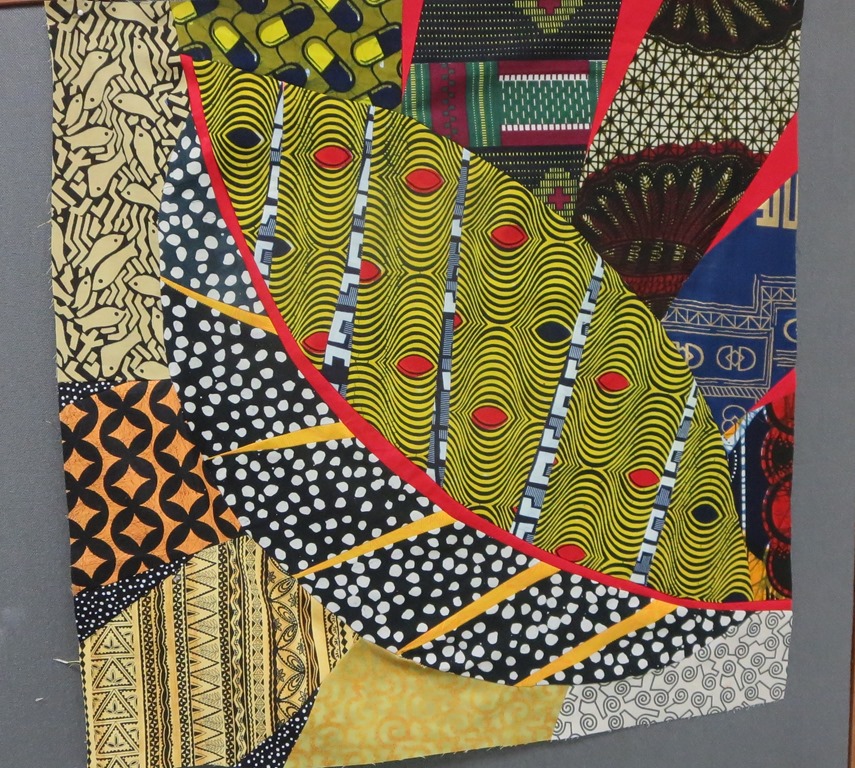 Noel brought her big leaf top  from a Pat Pulley Workshop  she took a few weeks ago.  The fabrics are very strong.    There was a lot of stimulation this week so not a lot of work got done.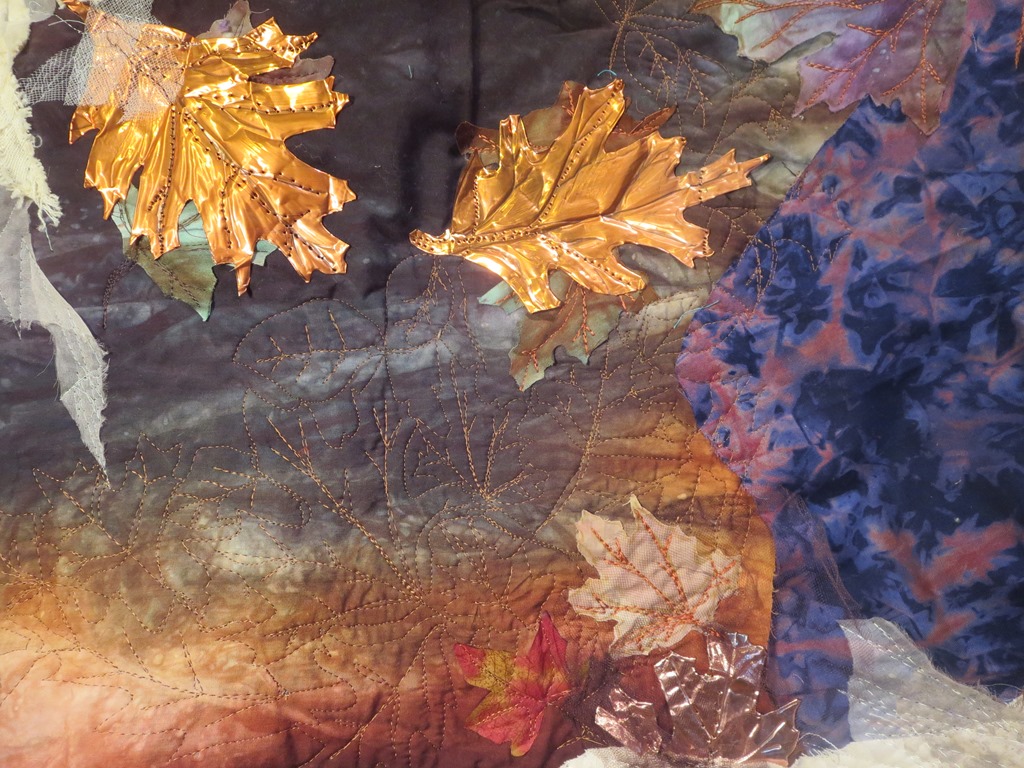 Progress Report: Ice  I am to the point on this piece where I am machine drawing the leaves that are in the water.  There is no pattern for what I am doing and I  get to invent the vain and leaf shapes as I go along.  It is fun, but very exhausting at the same time.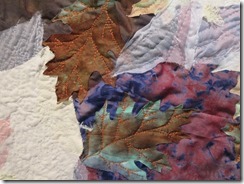 The few place where I have cut  and applied  fabric leaves are much easier  to complete.
Pods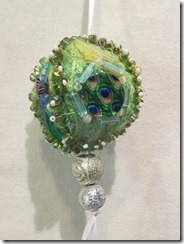 Only one pod was finished this week.  I have two more that I am sure I will complete this eve, but they are not done yet.  I am using lots of the special buttons I have been purchasing over the years and  some from the of the fancy ones that Sharron gave me  as my center points on some of these latest ones.
Label Block # 119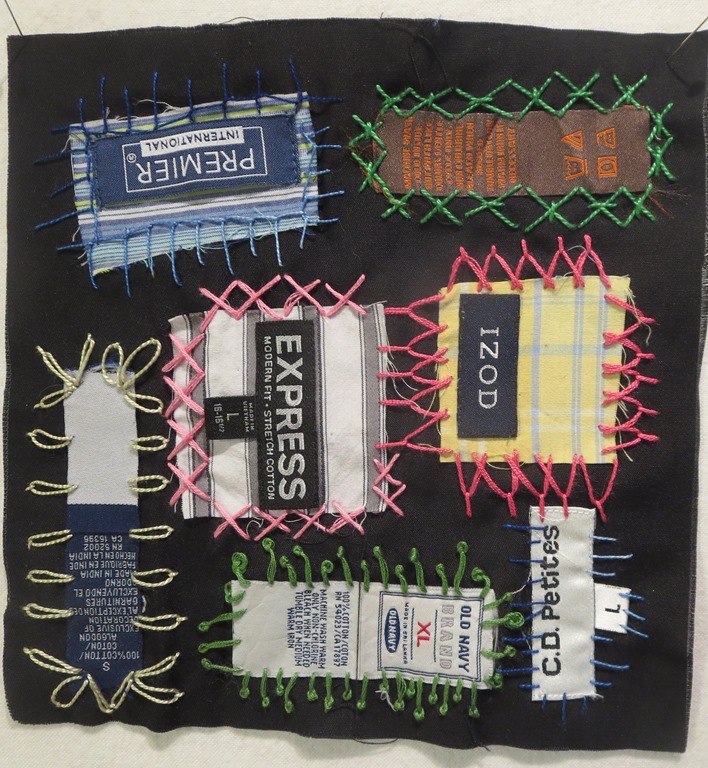 Again I keep working away on these blocks.   Only 26 to go now.
Keep Creating,
Carol