Hello,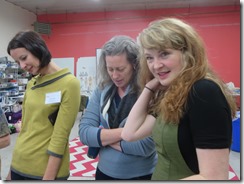 I have had a busy two weeks.   It all started out with traveling and visiting museums .   Marty and I visited  six different ones on our trip to Maine and back.   With  shopping, a factory tour and visiting with friends it was all very exciting and stimulating- A very enjoyable experience.   But before I went away there was a three day workshop with Amanda McCavour.   She  is an expert on the use of various water soluble materials.  I learned a lot.  She has a show  of her life sized machine drawn rooms on display at the Schweinfurth  that will run from now until the first week end in Jan.   Most of the work we did in class was much smaller. This shot is of Cheri's peacock feather. I experimented  with   creating Fox Tail for use in one of my felted pieces.     Doing this workshop with fifteen others creative women made for lots of different and  exciting applications  to the use of this material.
The Quilts =Art= Quilts  2017 opened on Sat at the Schweinfurth too and so I went to the opening as I was already in the building.  This work is by Elizabeth Bush.  She won a Jurors Choice award as did  my friend, Julia.   This work by Emily was done by one of the other gals in Amanda's class.  She came all the way fro California to be at the opening and to take the class.    It's a strong show and I plan at least three more visits.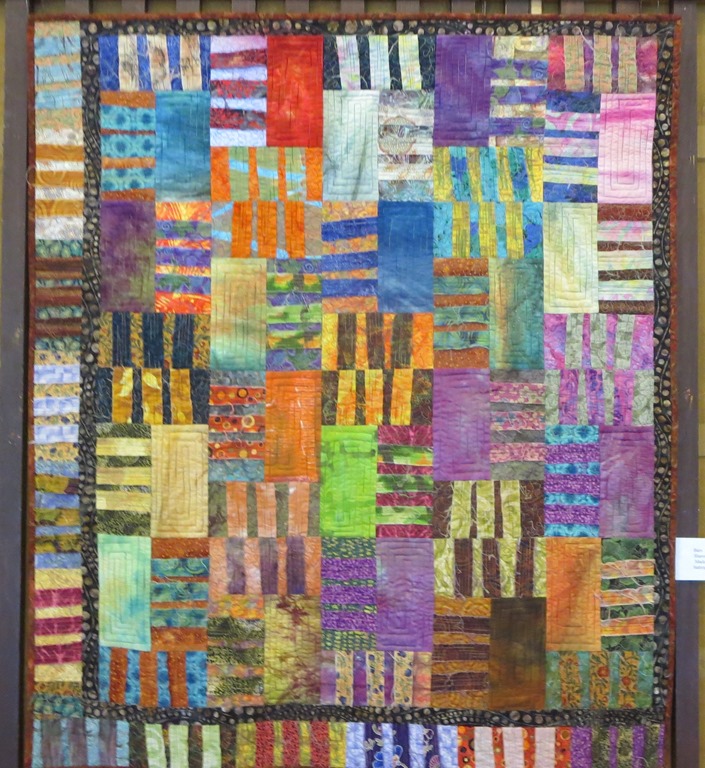 Then on Monday morning with the help of Cheri, Julia and Liz we hung a Finger Lakes Fiber Artist show at May Memorial Church  3800 Genesee St, in Syracuse.  This shot is of  a work by Sharon.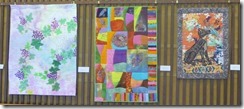 These works show  two quilts  by Regina and a piece by Alice.     There was a Meet the Artist event on Sunday and that went well.   The contact at  May was very pleased.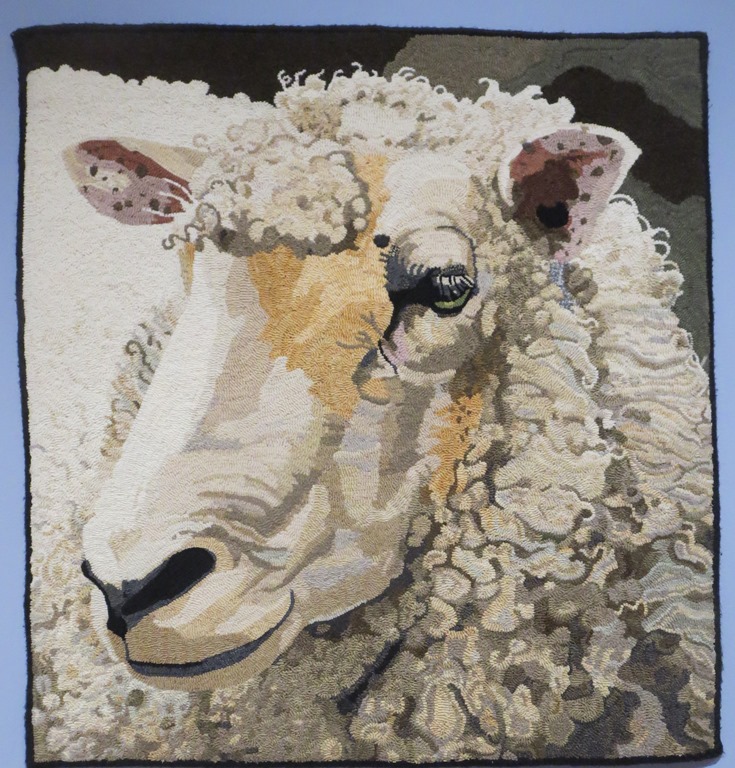 Marty and I  visited the Sherborn Museum  as one of our early stops on our trip to Maine.  We were blown away by the work of Patty Yoder who did wonderful hooked wall pieces.  She raised the sheep, sheared them, spun the wool and dyed it before she cut it into strips to create  beautiful and playful wall pieces with it.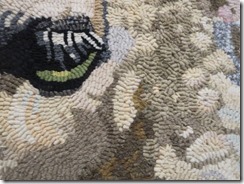 This is a close up of the eye of the sheep in the first photo.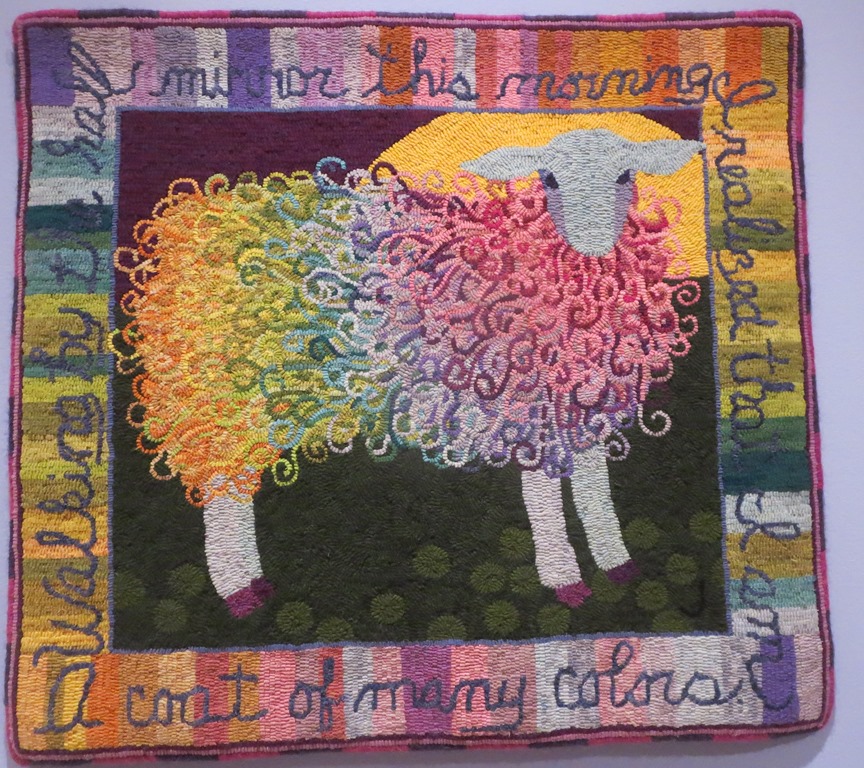 There was lots of humor and  fun in  this  delightful show and we enjoyed it very much.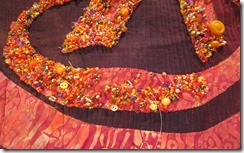 Progress Report:  Glyph IV  Because I was away not a lot of progress has been made here.  But I am working away to fill in the L with beads now.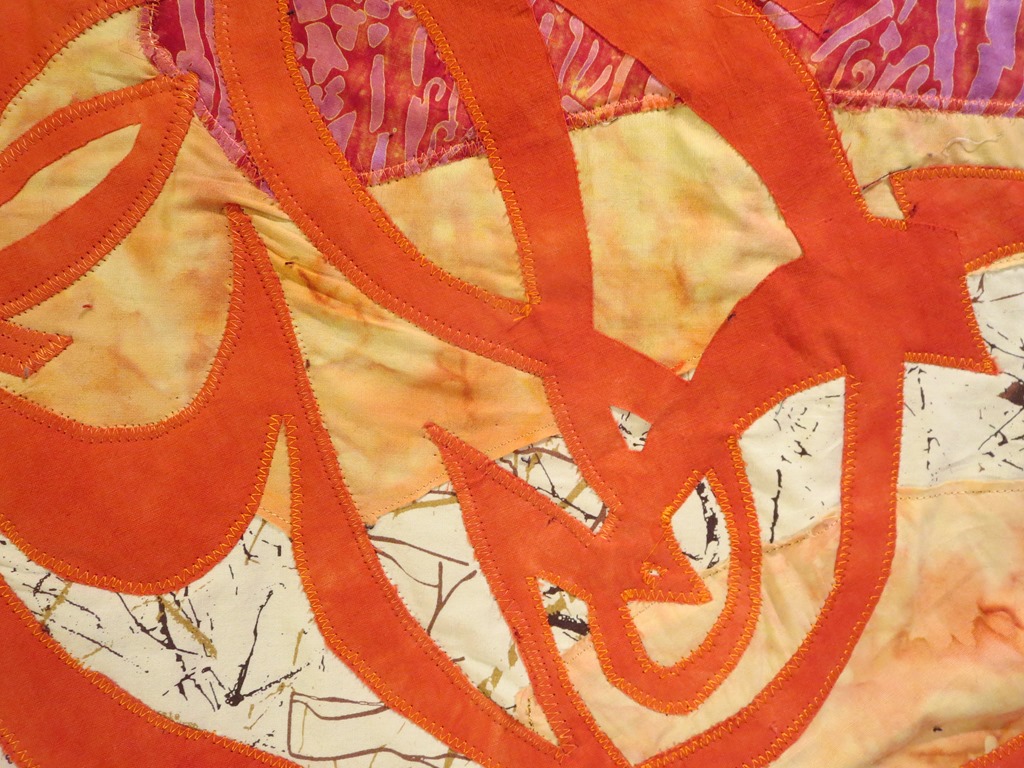 Peeling Orange I have started zig –zagging down the  shapes on this project.   I am still thinking about how I want to quilt it.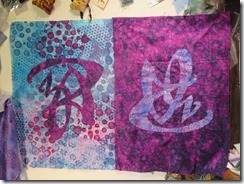 Zap   I did start to applique the shapes down – but had to remove all I had done as it puckered up.  I purchased tear away and now I am ready to try again.
Knitting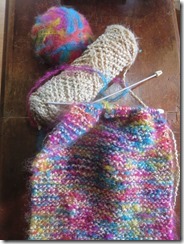 Winter cold has finally found us.  I could not find my muffler,   so I decided to knit one as I still have not focused on a evening hand project.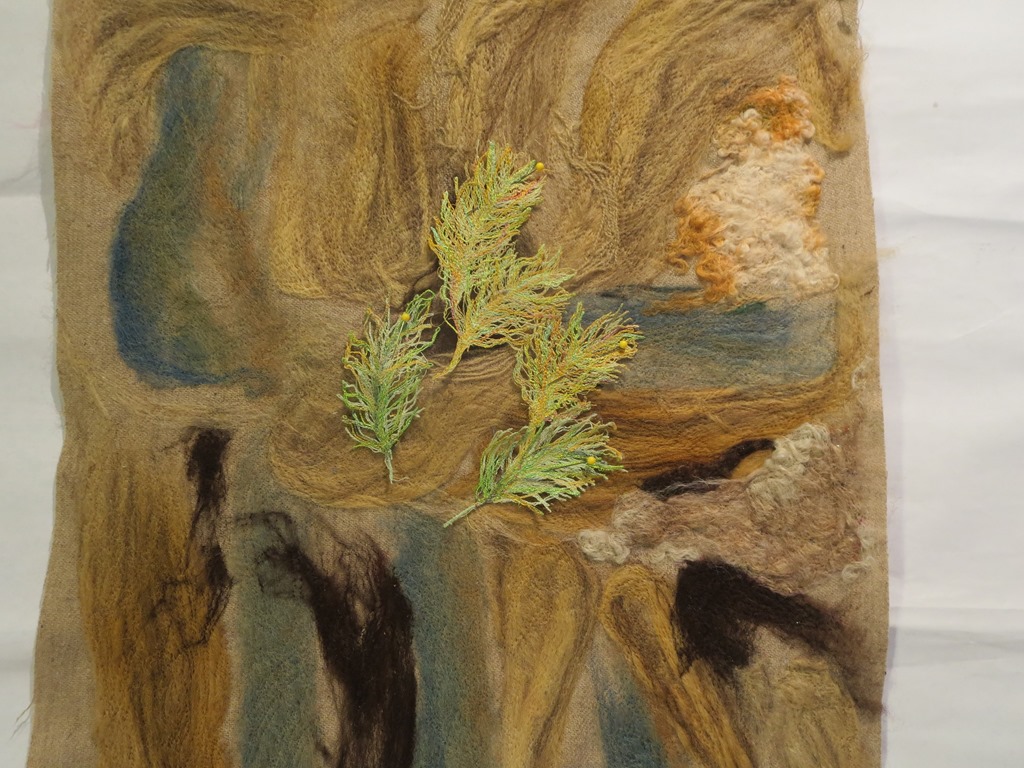 Felted work   I made this rock face a while back and thought that I would use the Fox  Tail from Amanda's class on the surface.  But I think they are too close in value to get the effect I am shooting for.   So they will be a part of another project and I will work on a different idea for this piece.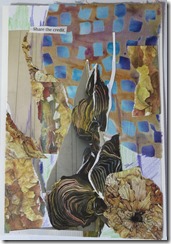 Label Card " Share the credit."  I have been thinking about how important  it is to work together for a big goal and value all the different things one brings to  projects.  I was trying to express that with this card.
Keep Creating
Carol