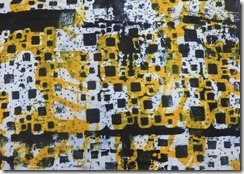 Hello-
The week has been a busy one as it was the first Tuesday of the month and I had QuEG's and Diva meetings.  This hand painted and printed fabric was created by Linda last fall before she fell and injured her shoulder.   I like the three layers   she built up.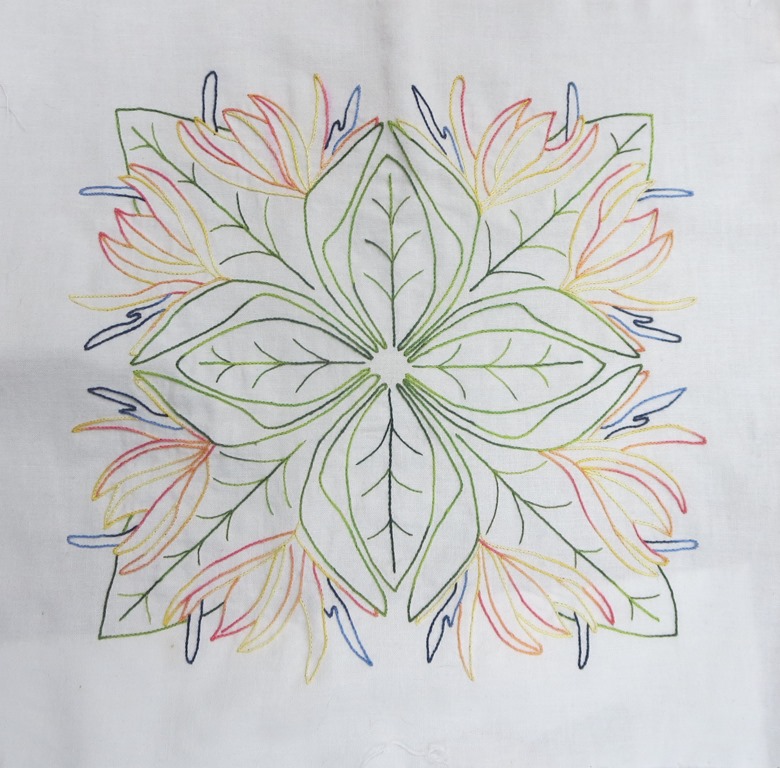 Angela is  doing wonderful hand work of some Hawaiian flowers.    She is exploring with paint too.   It seems like we all keep playing with new ideas.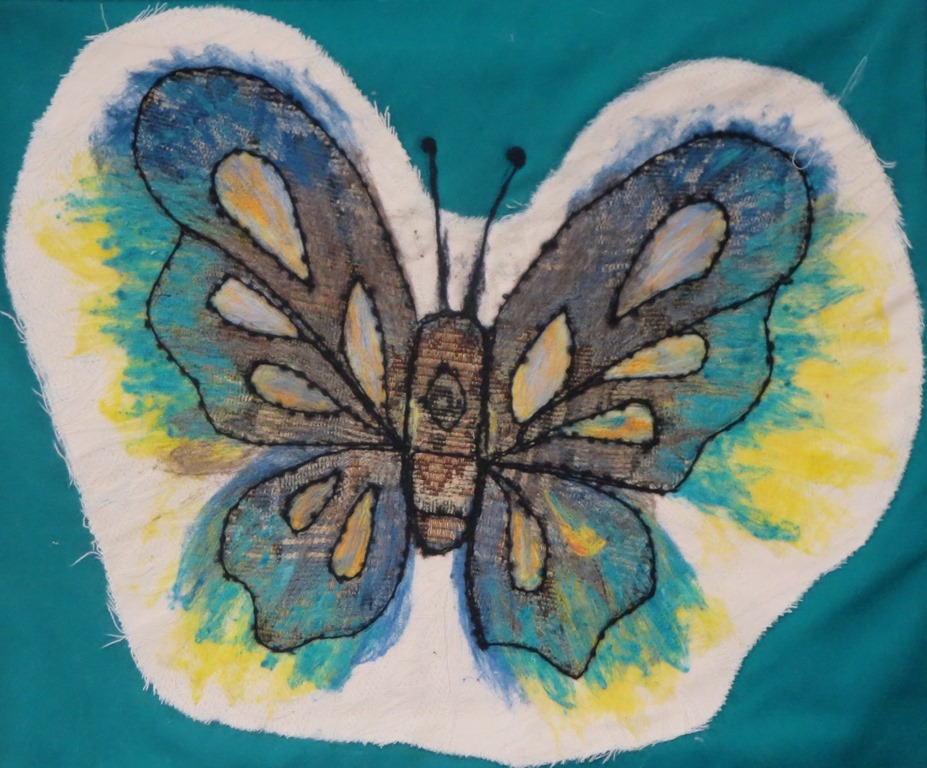 At the Diva meeting  Regina shared her Butterfly piece and a second forest floor work.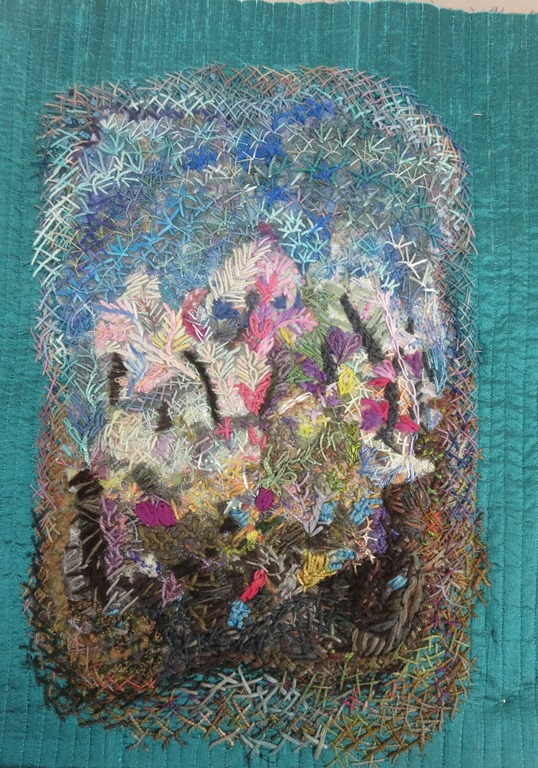 Lori finished up this wonderful hand stitched piece this month too.  She really likes to build lots and lots of layers of stitching.  I love her final effect.  It's so rich.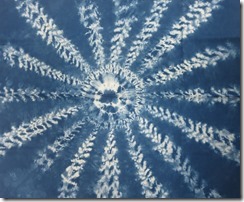 Donna shared some of her Shobori work form Maureen's class.
Ruth share this wonderful Guatemalan  weaving.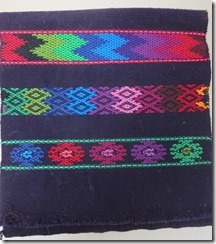 I always get a bit lift form the meetings and go home inspired.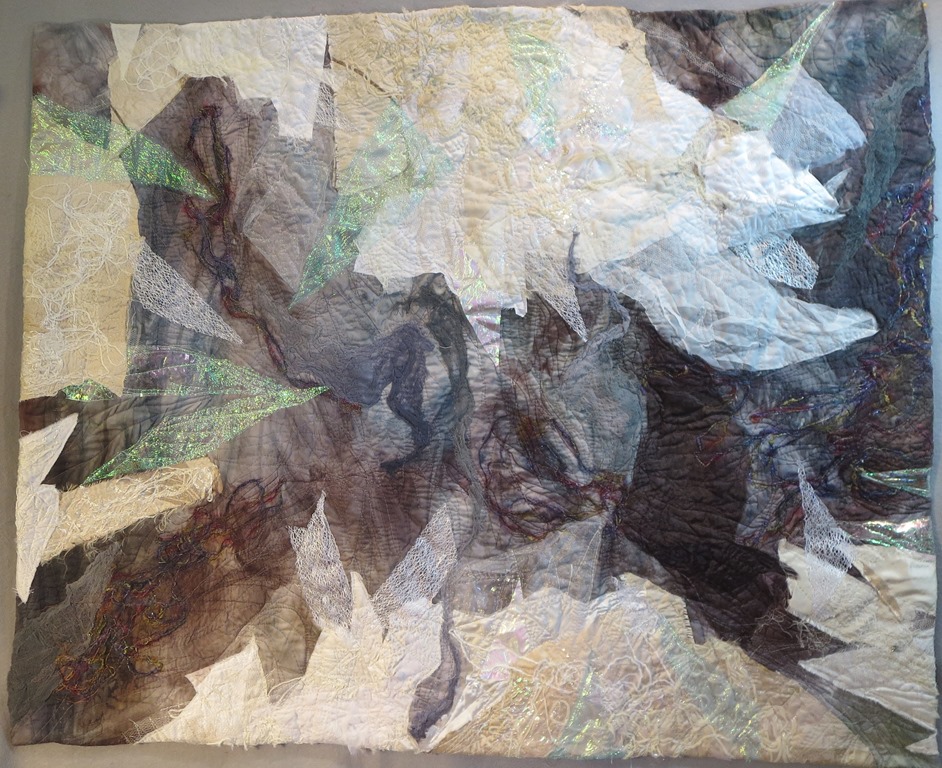 Progress Report: Xavier Wood Ice   This work is  34" X 40".    It is based on one of my photographs  from  earlier this winter.    I have been working on the quilting for the last few weeks as it is all done free motion and that takes a lot of energy so I can not work too long before I must stop.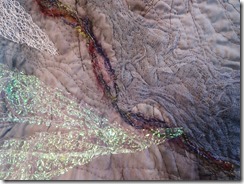 I used plastics, ribbon, yarns   netting and hand dyed cheese cloth as parts of the texture for this piece.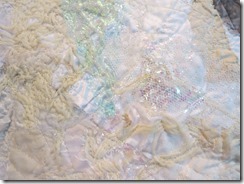 The snow has so many textures to do because some of it  is melted and refrozen while other areas are melted and other areas are thin with think areas too .     I have lots more photos and I am already thinking about how I want to show the leaves captured in the ice on  the next one.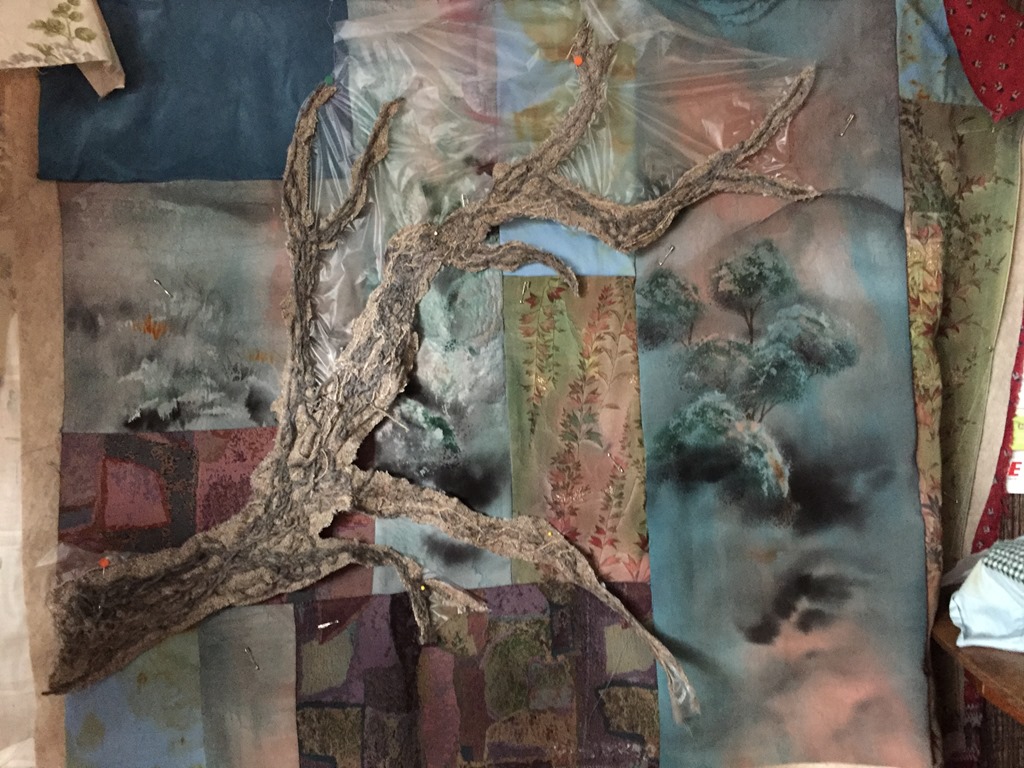 Blooming Branch   This work has been the area where I have done the most concentration this week.   I made two limbs for this piece.    This is the second limb and I made it because I was worried that the first was too light.  When I pinned up this second limb and I then took a shot of it in the gray scale I could see that the dark value was too close to the background and it got lost.   Here is tha shot.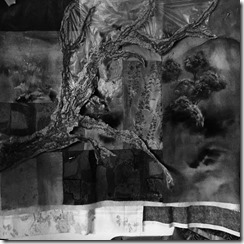 So I returned to the light branch and pinned it up and took a gray scale photo of it.  It looked like this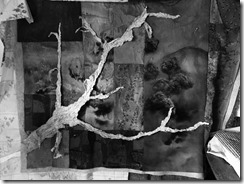 So that's the one I sewed down and I am using in this work.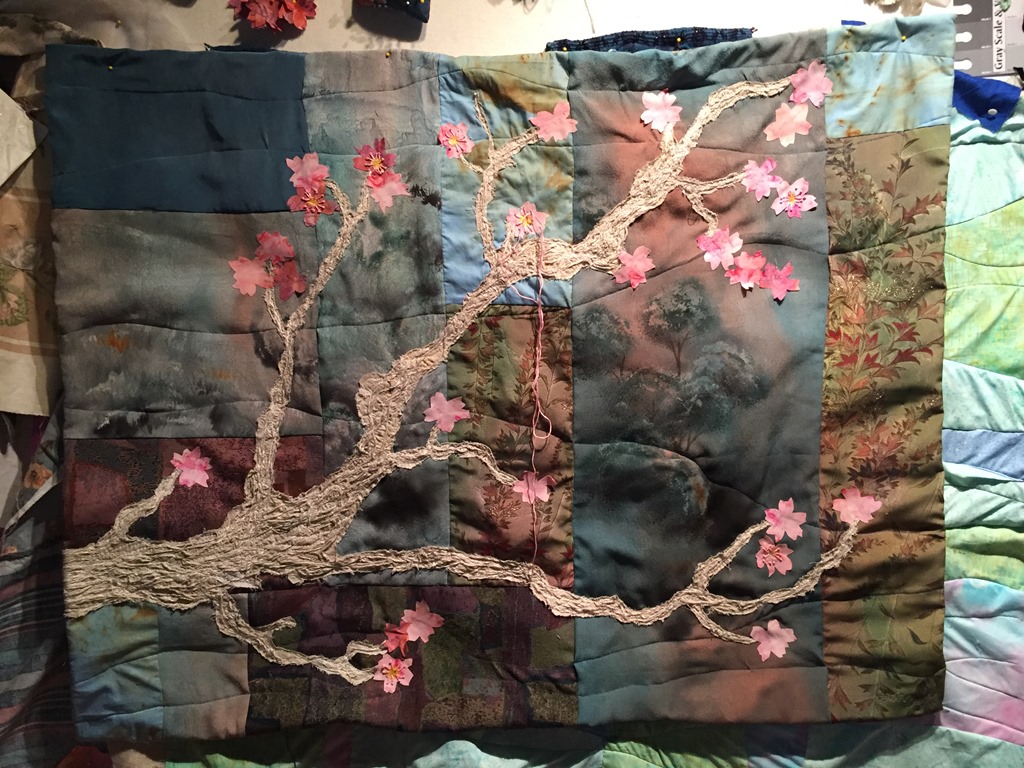 I have started to add the stamens to some of the blossoms.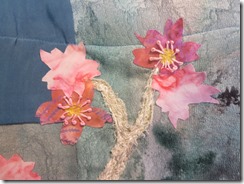 Second Branch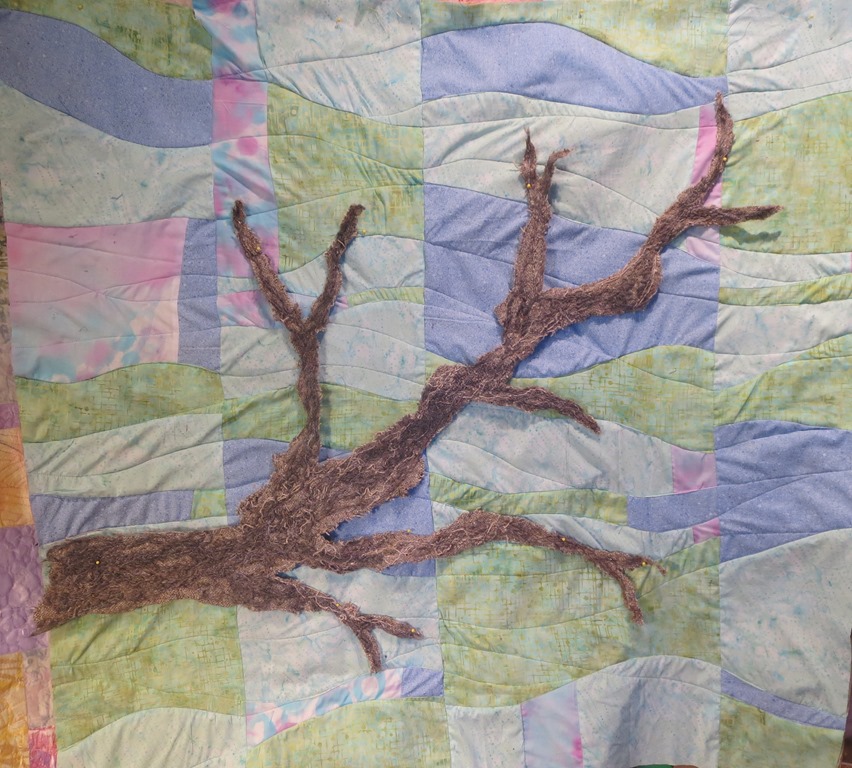 The second branch is pinned to a lighter background and I am hoping that adding blossoms  to it will push it back a bit and  create more of the balance I am looking for.     This Value thing is not easy for me.
Samurai Romance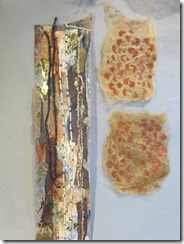 The gold panel on the left is mostly done.  I am working on  step two where I stenciled copper paint on felt that I had created.  I am learning lots of new techniques with this project and that is what I wanted to do.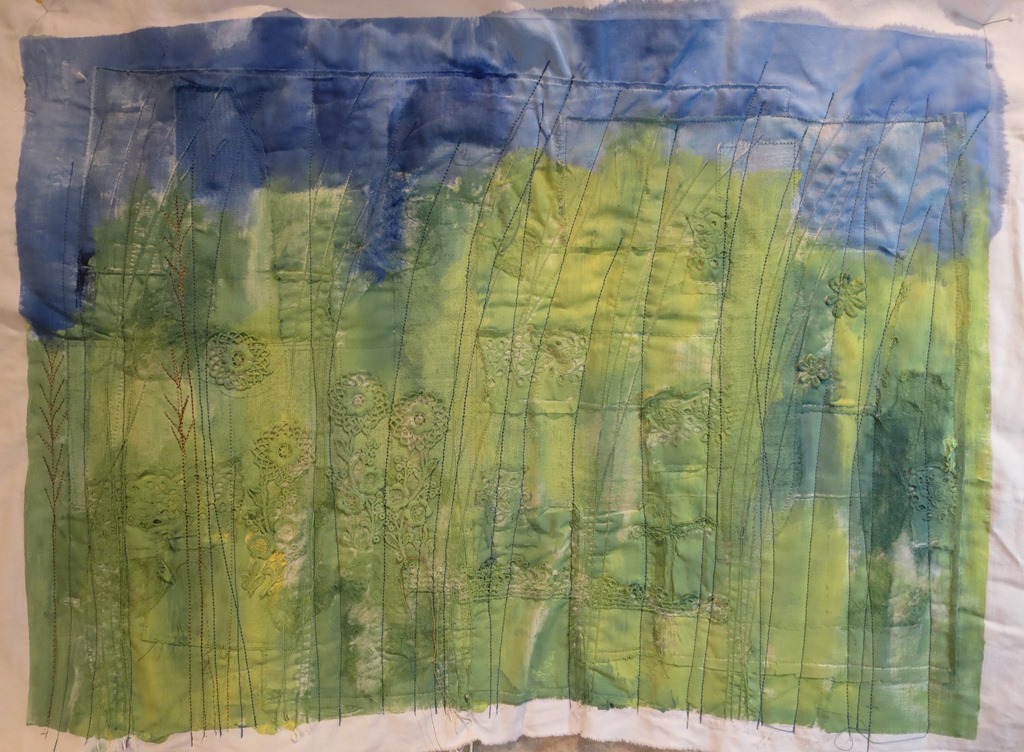 Summer Meadow    I finished the bobbin cord application and did the painting on this work this week.  I  am now ready to build up more grass and flowers on top with machine drawing.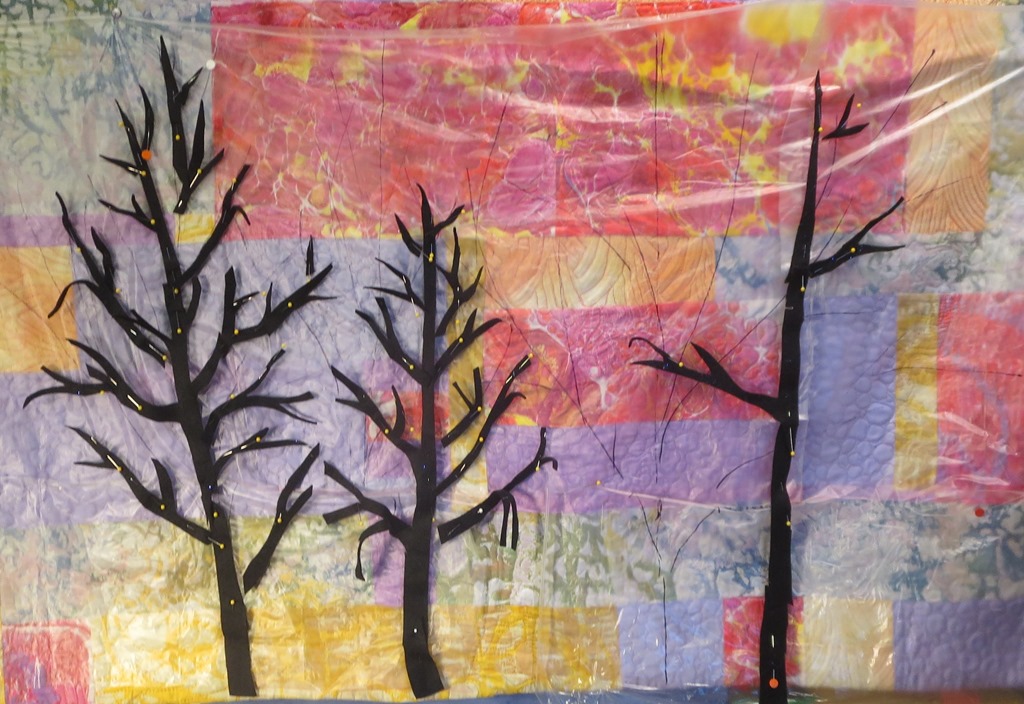 Re working   I am building a forest on top of this piece.   It was Ok- but did not excite me much.  A great background as Ethel would have said.  So here goes…….
Label Block # 110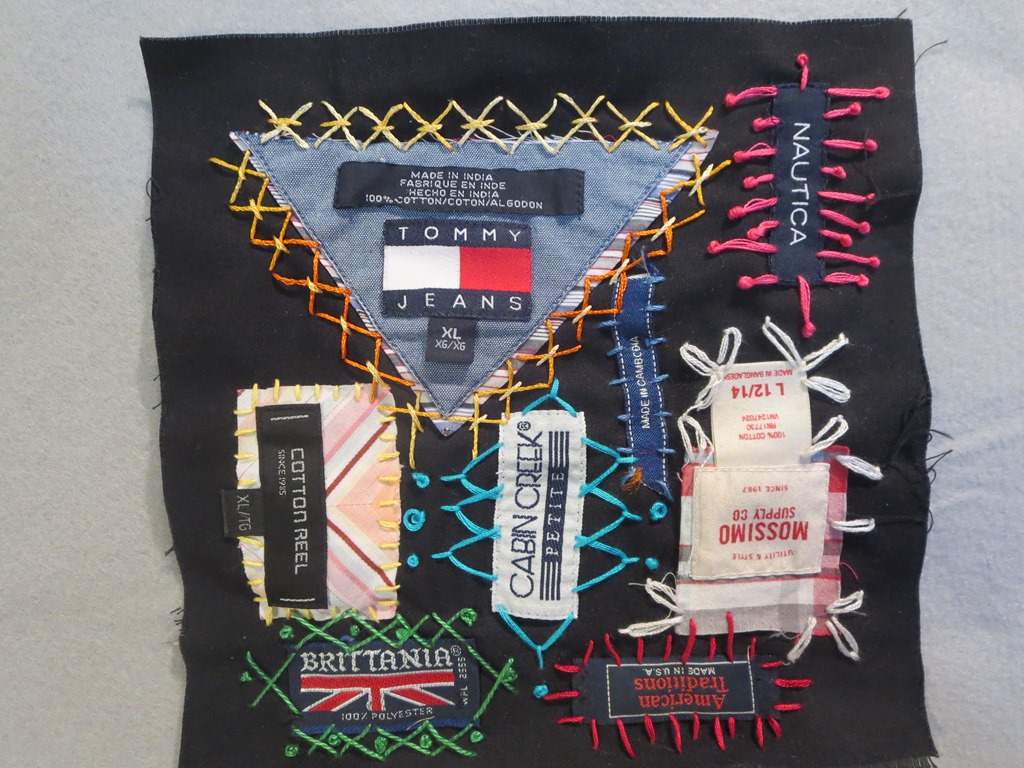 I keep working away on this project.
I will be away for the next two weeks so there will not be any posts until Mach 30.
Enjoy the beginnings of spring.
Carol