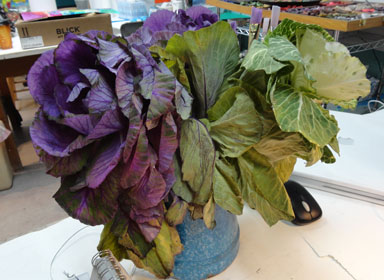 Hello,    
 Fall always brings a riot of color in so many ways.  Not only the trees and all their hues, but in the harvest of all the fruits and vegetables is also a color filled part of fall.   Barbara could not resist the wonderful colors of the cabbages and I love them too.  I visited her Turquoise Street Studio this week and was impressed by this wilting still life.  I can hardly wait to see the pastel that grows out of it. 
There also seems to be a bounty of events to attend in the fall.   I went to Julia Graziano's lecture on machine quilting at the Schwienfurth on Sunday.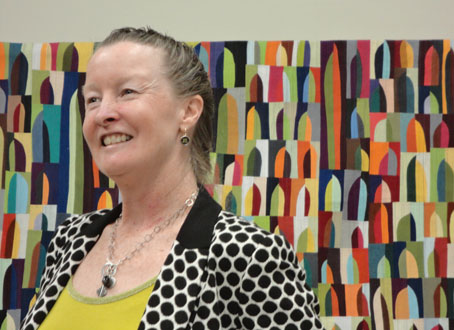 This photo shows her in front of one of her Arches quilts,althouth this one is not in the show.  She said she did this series to learn how to sew curves.   I think she is successful.
 I also went to an opening at the Art Rage Gallery this week.  The show  "Spoken Threads" displayed many different fiber and thread related work.  There were several  quilters among the many artists in this show.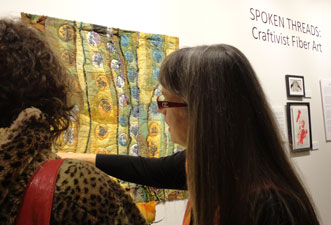 Sharron Bottle Souva is shown here in a detailed talk with one of the many people at the opening.   Sally Dutko also had a piece in this show.   She made this quilt as a personal response to the shooting of the school children earlier this year.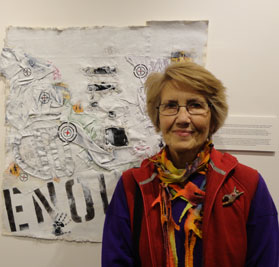 I  along with Sally and several other fiber artists  had spent an earlier part of the  day  visiting the Delevan Center  Open Studio event.  It was a very stimulating time going in and out of studios of all sorts of artist and talking with them.   Even looking at the many ways they organized themselves was an education of sorts.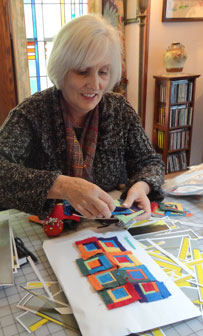 I am just home from a meeting of the "Fab" group.  Fab stands for fabric.  It is very small at the moment and we are mostly getting together to support each other and share our pursuits.  Victoria is working on these wonderful mini squares using a limited pallet of only seven colors all form the Cherry Wood collection.  The other gals in the group  gave me some encouragement about  how to improve my Oak Leaves quilt and I am going to follow through before I share it.   I am sure it will be completed by next week.
I also spent a day with my friend Cherri this week.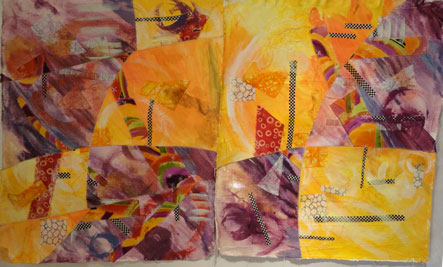 We were playing with painted canvas in a style like Katie Pasquini Masapust taught us in her workshop.   After painting the  canvas one adds fabric units and then a second coat of paint.  The next step is to place the two works on top of one another and free form cut through them both and reassembel.   This is a shot of one of my pieces at this point.  I am enjoying the process.   
       So with the visits to studios, the galleries, the lecture and the group meetings, I am enjoying the full bounty of fall.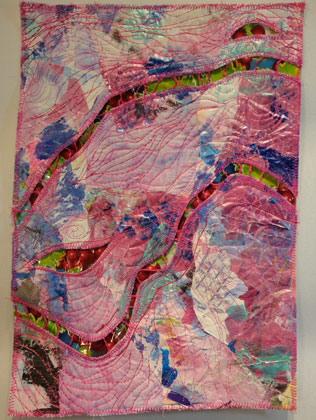 Progress Report:  Paper Quilt – Choosing Cherry  I am delighted to say I finished this quilt after a long delay.   I was missing the filler for the biggest opening so I did not complete it.  The plastic printed images that appear green and red are from a seasonal food bag. When it appeared again this fall, I purchased the fruit and enjoyed sharing it with my friend Barbara last week.  With the bag empty, I cut it up and added it to the back of the work and completed the project.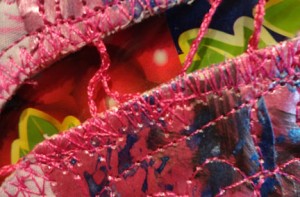 From the close up, it is easy to see the thread bridges and the plastic bag parts  behind them.   I had not done a paper quilt in such a long time I had forgotten how much I enjoy Carol Weib's process.    So now I am all revved up to do another.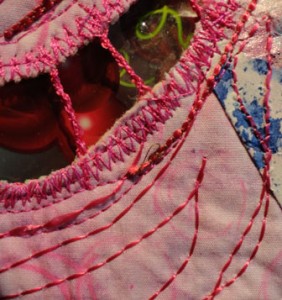 From the second close up one can see that I mix fabric and paper in my quilt as well as the plastic.  
 Green Nebula  This was the project that I worked on at the Turquoise Street Studio.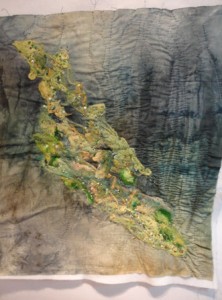 I am done with the bead work now and into the  quilting.   It a great project to carry around as there is very little material involved.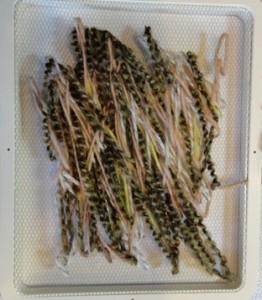 Long Stitches   This is a new project that I am experimenting with.  I read about doing stitches on "wash away" and them doing free motion machine work on top.  I did not have any "wash away" on hand, but had some nylon netting – so I stretched it in a hoop and did long stitches that crossed one another over and through the netting.  I then took the work to the machine and did the free motion work that the book suggested on the surface.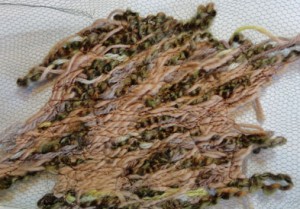 I think my solution will work for a "moss like" look on  a rock surface – my ultimate goal- and be more stable too.   I always like to alter ideas to fit my apporaches and this does that.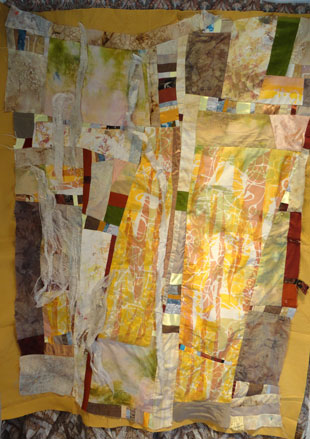 On the Raod to Dry Falls
I have finally gotten back this work too.  I started it at QBL last summer and it got put in the box with the leftover fabrics when I packed up from that adventure.  I thought I had already completed all the starts from those two weeks- but here was another.   I am ready to start doing the free motion quilting on it now and look forward to that process this next week.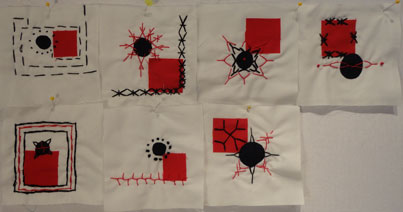 Daily's   I continue to work away on the Daily's.   I think they are getting a little more complex with time.    It is very calming work for me now too.
Keep Creating
Carol