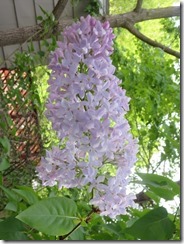 Hello-
Spring really brings on fast changes around here.  Last week this lilac barely had leaves and now it is in full bloom.  And the smell is wonderful.  So too of so many plants.  I love all the quick changes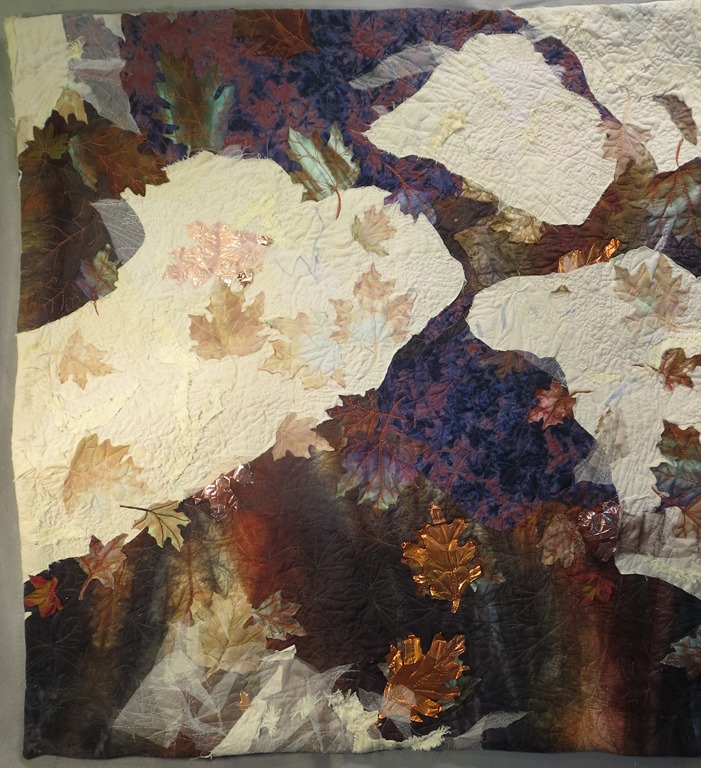 that happen this time of year.  The  leaves fill in all the empty spaces  as they reach for the sun shine and soon one feels under a canopy of green. The vast views of  the land are cut down as the leaves block the eye line to the horizon line and one feels enclosed and protected.   I find it really energizes me as well and I have had a great week.
Progress Report : Thaw in Xavier Wood   This work is 38" X 40"  and based on photos I took last fall when we had a nice thaw in mid November.     Ice is a subject that seems to constantly call back to me.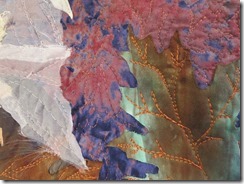 I love how the leaves are effected too not only in color but how they deteriorate.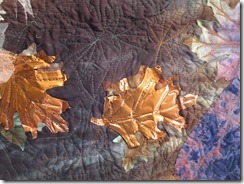 I even tried using copper for a few of them knowing that they will also fade with time.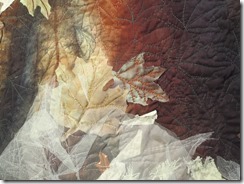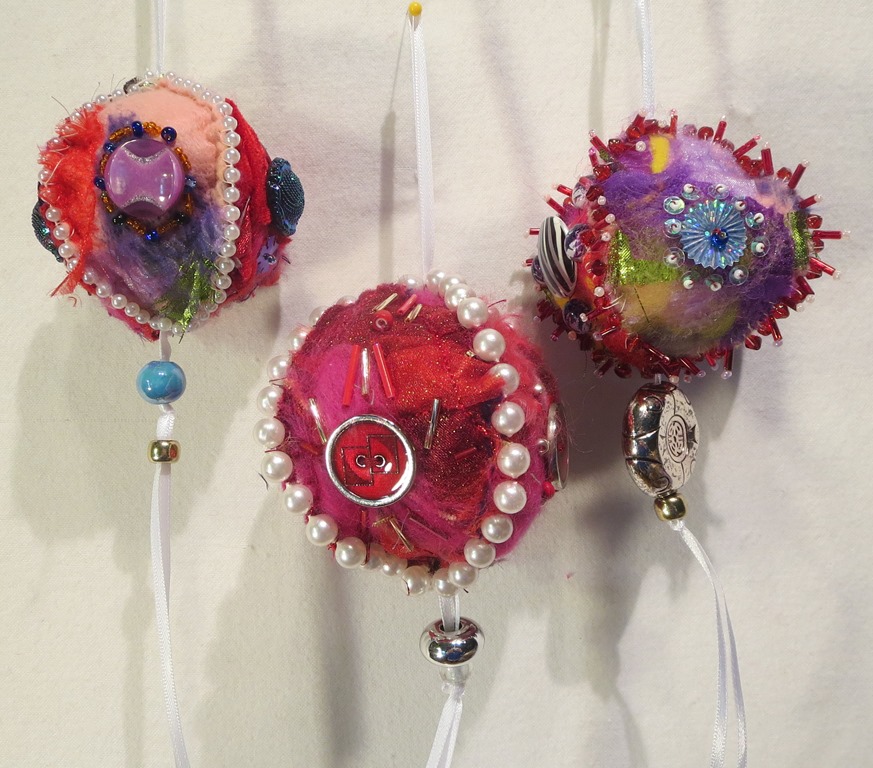 Pods     I seem to be fascinated by the areas of connection of the units for these pods this week.  They sure got  most of the attention.   I am also using Sharron's buttons as focus points on the surfaces of many of the pods.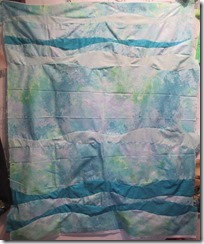 Curvier Cuts   This is the back ground for a new study of jellyfish.  All the curved cuts suggest the motion of moving water to me and  jellyfish  sure take advantage of the ocean's motion to move.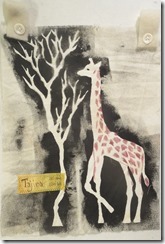 Flags: Tajira   I keep working away on the flags that I started in Florida.  This one is called Tajira because that is the name of the new baby Giraffe that was just born to April  last week.   This " child"  was 90 pounds and 6 Feet tall at birth.   The lettering was done on silk paper.
Flight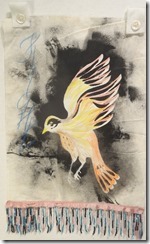 I enjoyed making this stencil.  It is colored in with water color pencils.  I had to add the beaded fringe because so how this piece of cloth was too short to meet the size requirement.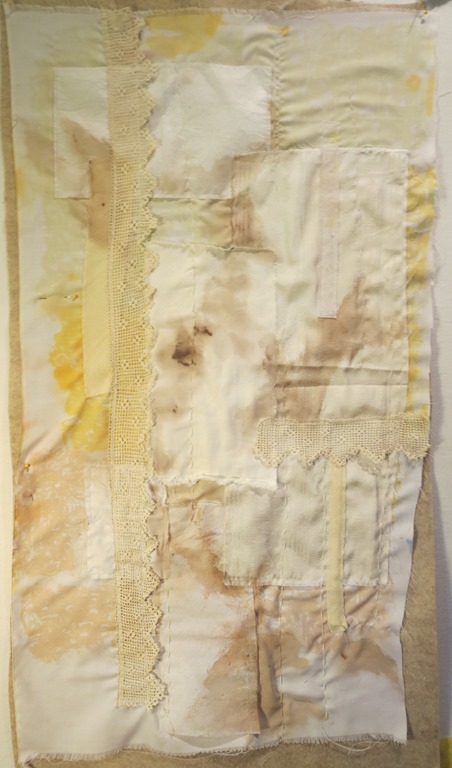 Spring Iris's   I built up a base of several layers of different types of creams and white  fabrics and then added some brown and yellow  stains  to the surface for this piece.   I used some old lace that my grandmother Ruth created for the edge of a pillow case here too.   Then  I did a life sized drawing of the Iris's I want to put on top of this work  and now I am ready to begin that step.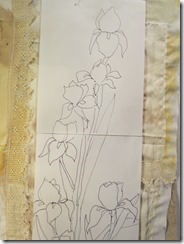 Because I want to use layers of sheers for the petals I am moving very slowly.  I am considering adding roving between the layers  for more color.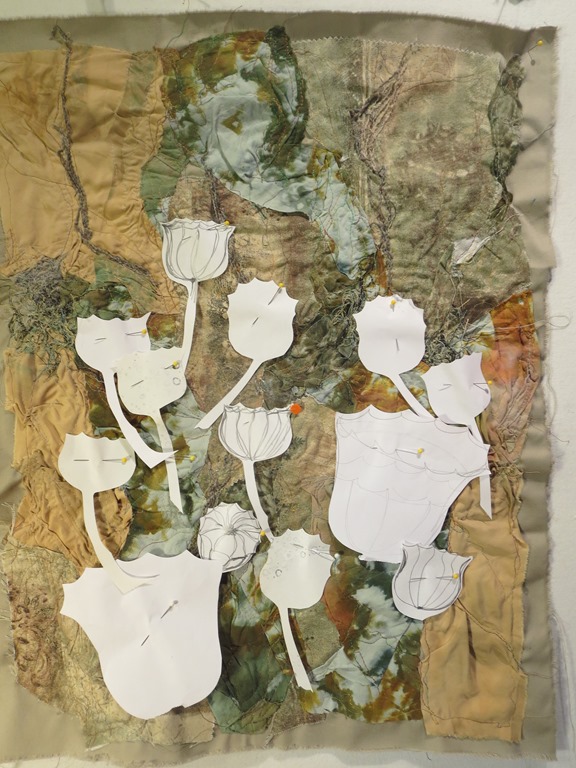 Buttonweed   This rock wall background has been waiting for me to make a decision about the top layer for  a few weeks.  This week I finally decided to go with my original plan and drew these big paper  patters for the seed pods for the Button Weeds.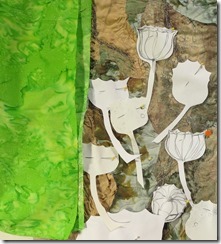 They will be cut from this bright green because that is the strong color the weeds are and that plus the shape is what draws me to them.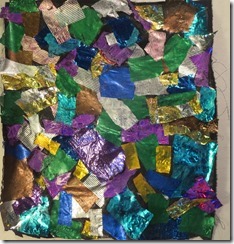 Harlequin Papers     This is a pure experiment.  I had read some where that one could fuse down candy wrapper  papers and use them on a work.  So this week when I spilled the box of papers I thought that it was a sign that I needed to act on that idea.   I will need to look and think about it for a while before I know how to proceed from this point.
Wool- Red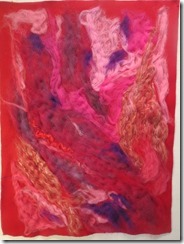 My friend Tanya , gave me a big piece of red wool this winter and I finally pulled it out and cut three pieces from it.  The roving is just hand felted into the surface here.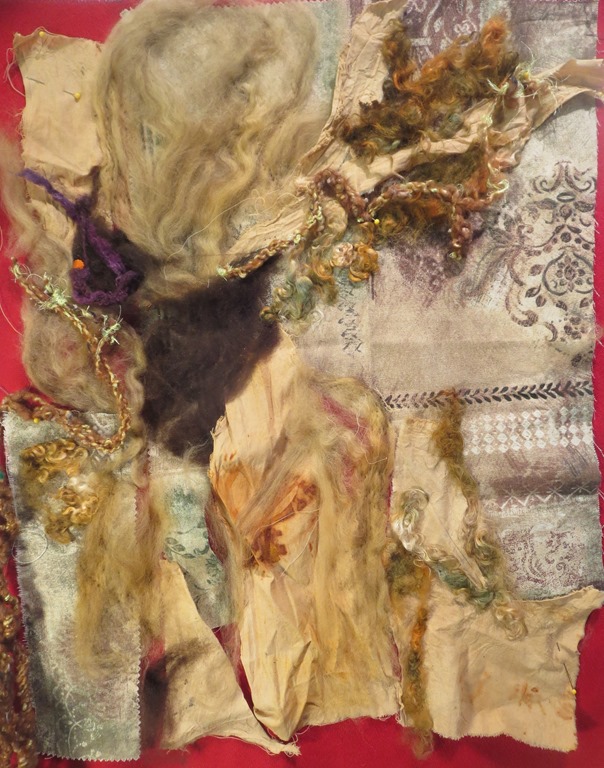 Wool- Brown      This felted beginning has the same red wool base.  It also has a lot of fabric mixed with the roving  and wool yarn on the surface.   I have not started laying out the third one yet.  When it too is hand felted I will get out the felting machine and do that step to all three pieces and go from there.
Brown Base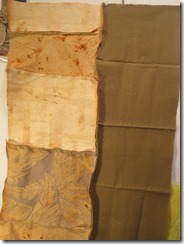 These fabrics seemed to go together so I untied them.  It is just a raw base for  a future something.  I know that I will use it at some time and be glad that it is ready like a primed canvas is for an painter .
Purple Possibilities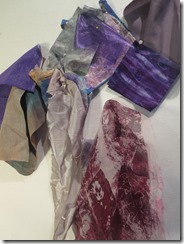 While I was pawing through my stash looking for the the green to use in Button Weed  and the blues I used in the curvy cut piece, I noticed that there were lots of small purple bits in the bottom of bins and such.  So I started collecting them in one place.   I will use this as personal challenge to use them all together in a piece some time.     I enjoy a little problem solving   every now and then.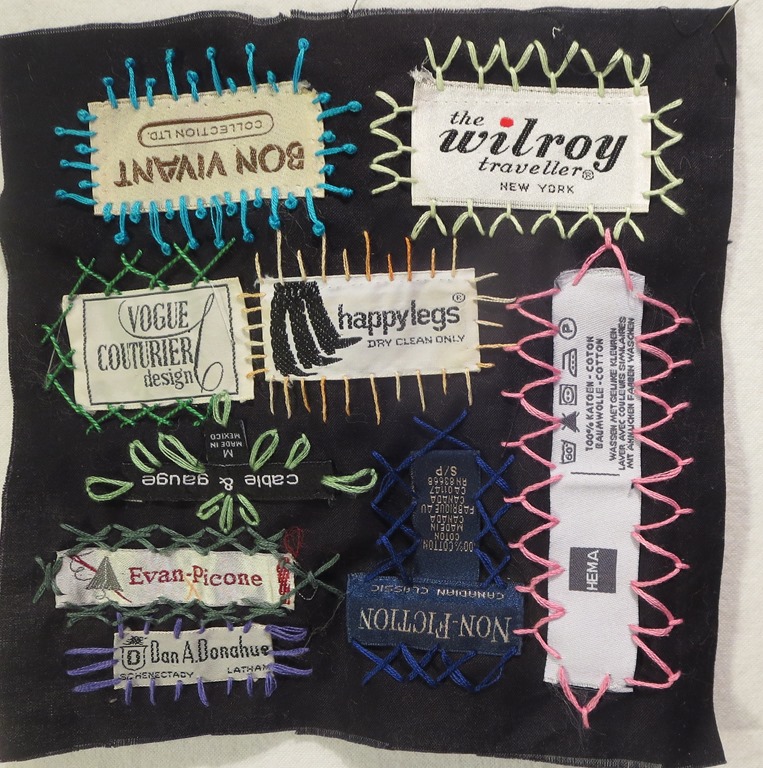 Label Block # 120      I keep working away on these blocks.  Only 25 more  to go at this point.
Keep Creating
Carol
PS- One last look at the spring flowers.