Hello Friends,
I hope the weather has been treating you well.  It is crisp and cold here today but I still enjoyed my walk in the sun shine.  When I was taking my photos for this post I noticed that my Christmas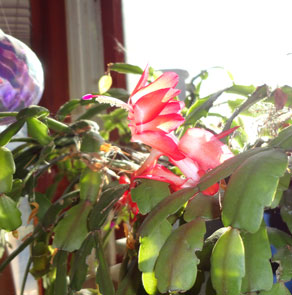 Cactus is blooming already.  Such a nice flash of color for the eye.
In the Quilt Exploratoin  Design Group we are working on composition.  This mouth the emphasis is Texture- one of my favorite interests.   It goes hand in hand with color most of the time in my eyes.    I this emphasis has made me more aware of the textures around me than normal.  I took  30 photos  of textures while I was in Indiana last week.  I arrived home on Monday and  and now look forward to using the images in some future work.  I am busy getting ready for the one and only craft fair that I participated in now.  It is only 15 days off so I am pushing myself to finish off some little works.   The  small 5″ X 7″ pieces need  that final visual check before  I  matt them.  I will post a few next week.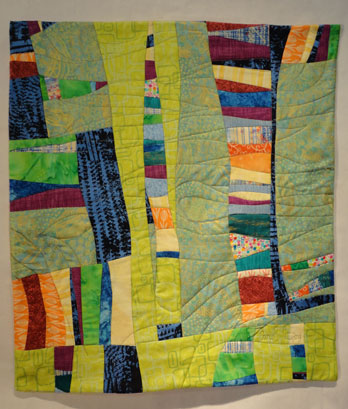 Progress Report:  Jubilee  I really enjoyed working on this quilt.  I am having a lot of fun exploring the use of curved lines in my work.  That seems to add a bit of fun to what I am doing. I though I had finished it when I took the work to the Quilt Diva's meeting last Tue evening, but the gals pushed me to do some changes as far as the technical aspects of the work.  This had mostly to do with the flatness of the edges.  After their instructions I took out my old work and re did the facings.  It is much improved with the seam of the top and the facing just at the edge as apposed to the turn over of the top to the back as I had it before.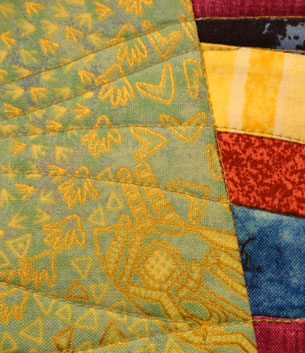 I enjoyed creating  quilting  to extend the curves of the piecing  too.   This quilt also got away from me as far as size is concerned.  I intended for it to be a bit narrower- but liked the look at this width that I kept it that way.   I still have lots of the wiggly units remaining and  I intend to keep playing with different color combinations  using them.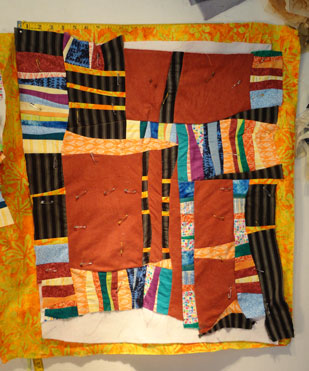 Exploration 3
This is an example of the further use of the curved inserts.  I showed this work last week in the piecing stages.   The orange and apple green print around the edge is the backing fabric.  I really enjoy how the colors of the big units can totally change the feel of the work.    I am quilting it now.  I think I will keep the irregular bottom edge in some fashion.   I am anxious to create a new one in this series as well.
Until next time- Keep Creating
Hugs
Carol