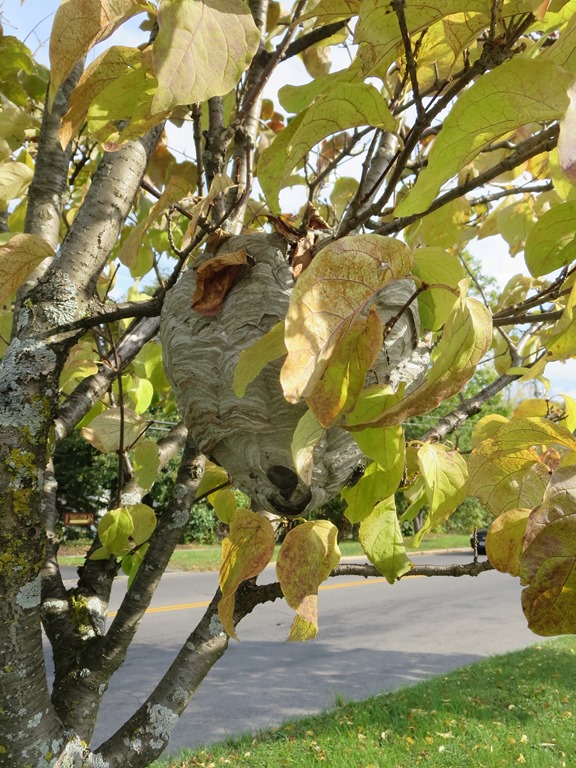 Hello,
I am enjoying the wonderful weather.   I noticed this Paper Hornet's nest on my  walk this week.  I am sure it had been there a long time but with the fall of some leaves it was revealed.
I spent a day playing with Liz this week and we did some Shobori .  I have never done any of that type of dyeing before and sense Liz was just home from a week at the Barn where that was what she was studying she was anxious to share.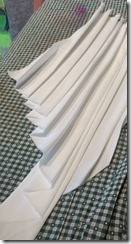 Before we meant she told me to make tucks in my fabric.  So I ironed this piece and sewed down all the ridges the ironing created.   We then wrapped the tucked pieces around  polls.  Liz then instructed me on how to do some free from wrapping without tucks.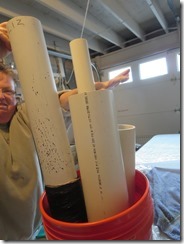 The polls were placed in a bucket with dye inside and we agitated them.   In an hour the job was done and we took the polls out and unwrapped them.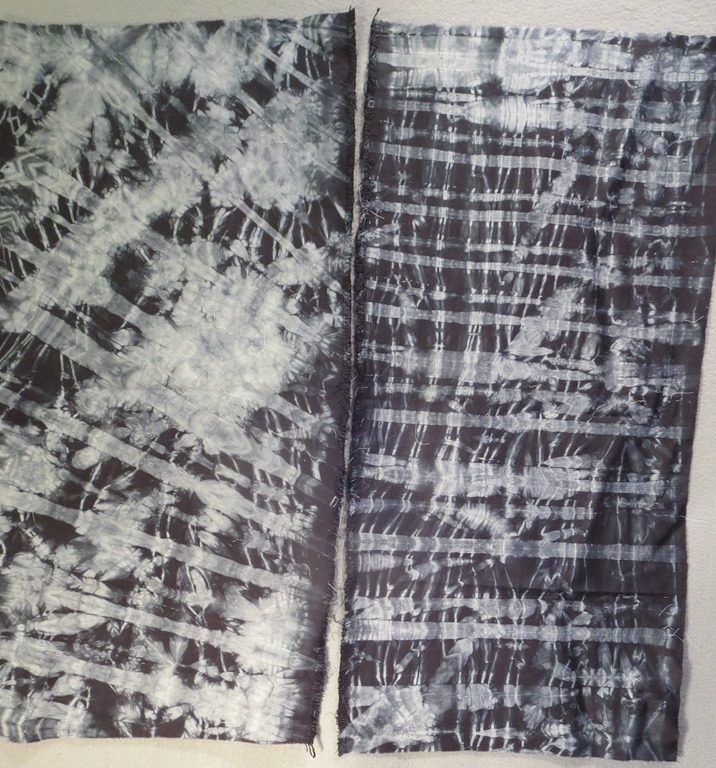 The fabric on the left is the one where I pressed diagonally( the upper photo) across the  fabric with the sewing machine.  The other piece is s strait tuck.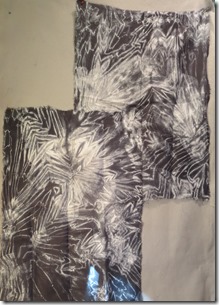 These are the two pieces that I did the random fold and rubber band wrapping on.   I love the effect and I have wrapped my polls for the next time we get together to do some more Shobori.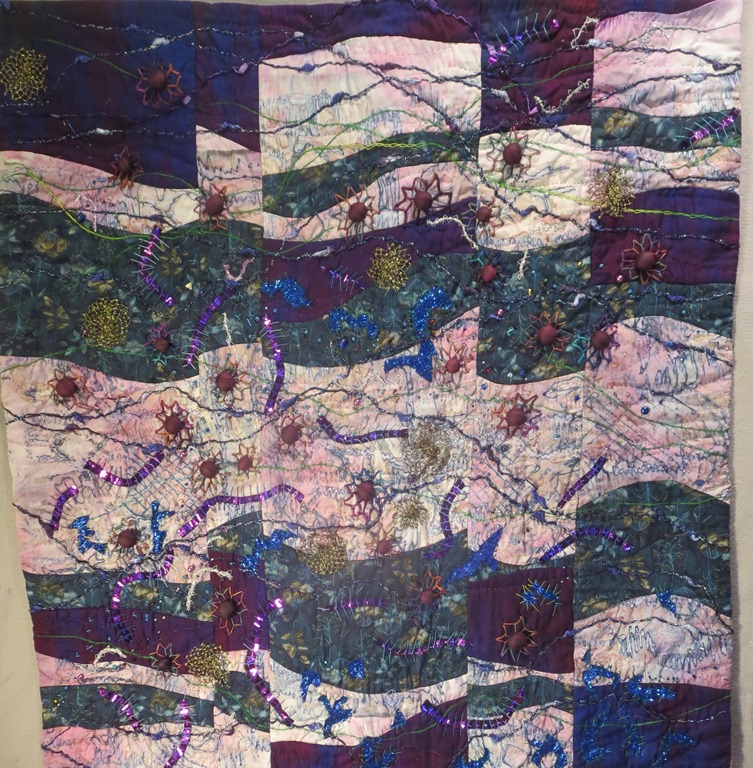 Progress Report:   Pond Water( curvy cut)  This quilt is 32 "w X 36" l.     I put this work in the curvy cut category because    the base is made from two pieces of fabric that where curvy cut and then spliced back together.  The last thing I did to the base was slice it vertically and then shuffle the order before sewing it back together.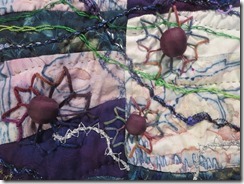 The round purple units are from one of Grandmother Butter's  hats.   This pieces  has  a lot of hand work on it and because I only put my needle to work on it after I was done with the label blocks it has taken a full year to complete.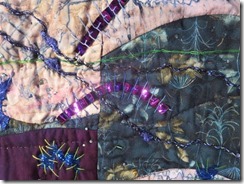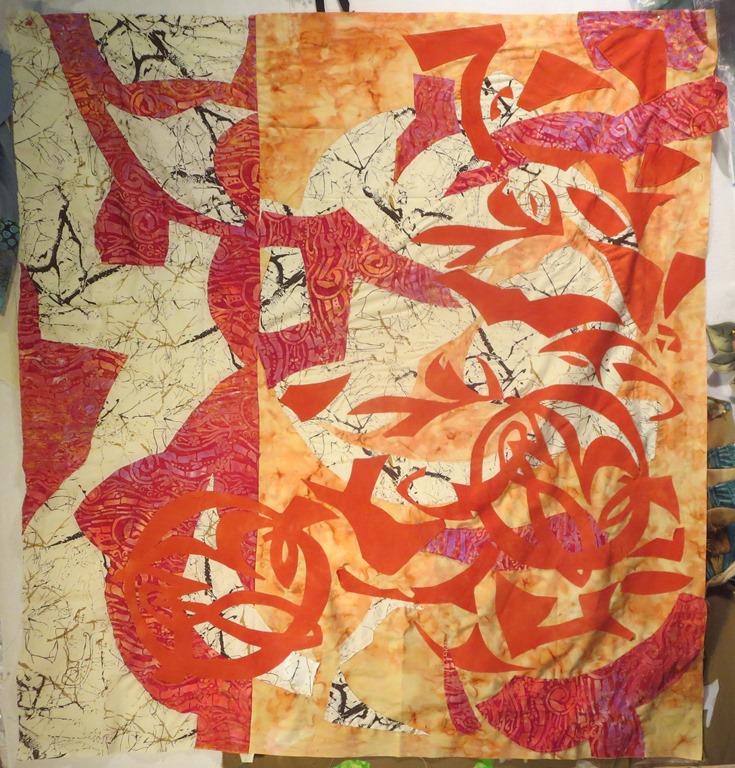 Peeling Oranges    This is the last of the first glyph series  and  started with a few cut aways not used in other works and a smaller version of  the word "Owl" cut in orange.
Toss Salad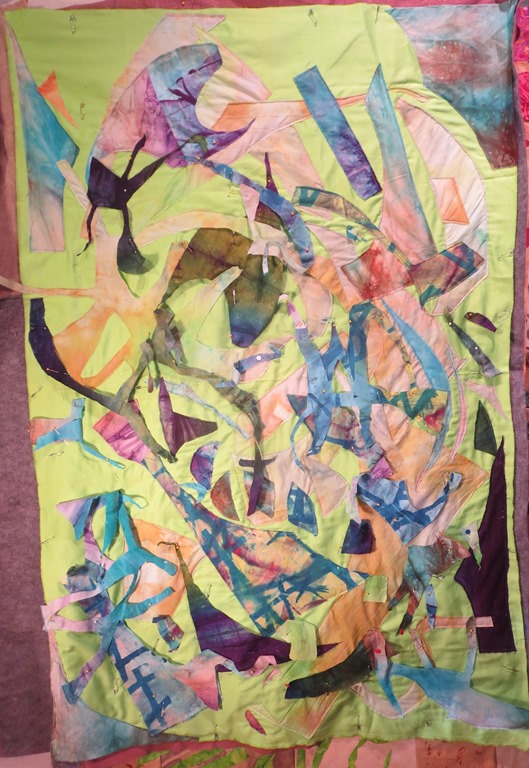 I am in the process of raw edge appliqueing down this work.  I am not sure what way is up yet either.  My mind is just starting to think about how I want to quilt this one.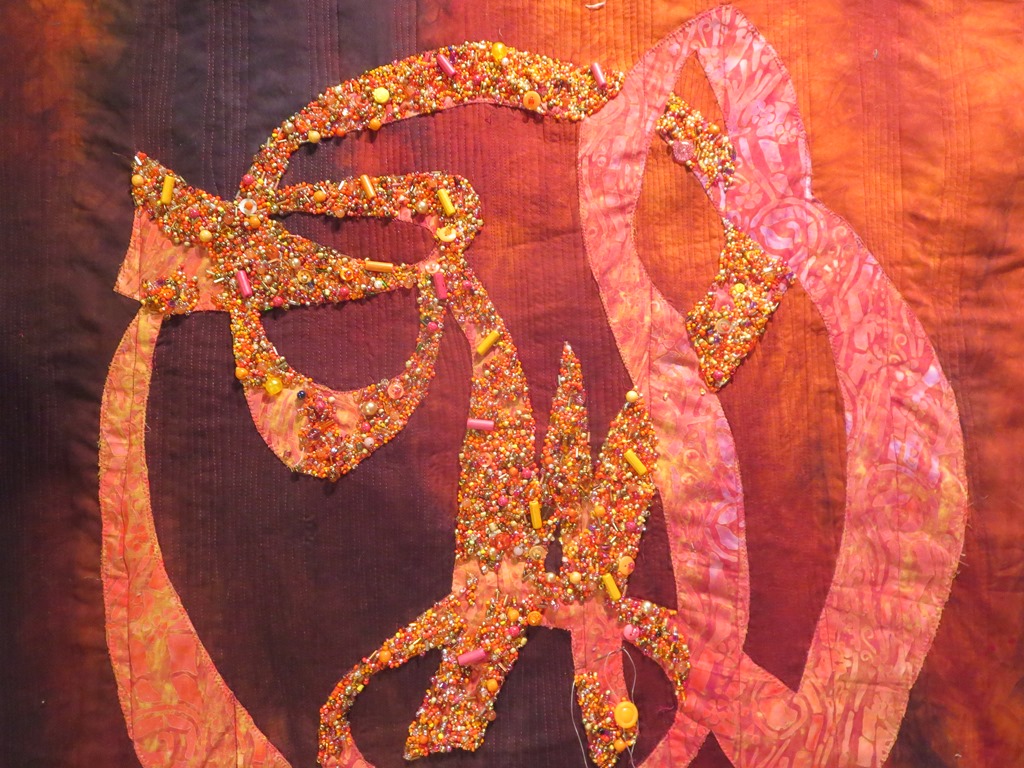 Glyph  IV    The beading  goes on here.     After showing weeks of close ups this week I thought I would show a full shot of the sections beaded.  When I work for an hour I can fill in about an inch and a half square area.
  Card  – Resilience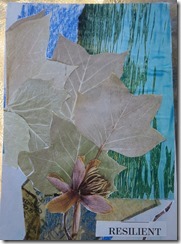 This is a shot of my card for this week.  I find it wonderful how the deciduous trees prepare for the  stresses of winger cold by shedding there leavers and retreating into their cores for the winter.
New Glyph Series- Zap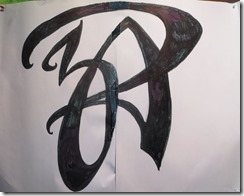 Now I am ready to begin a new glyph.   I wrote out a lot of words and did a bunch of trial drawings before choosing   ZAP.   Then I enlarged it and varied the width of the letters in some areas.   This word is enlarged to about 18″ square.  Now I am choosing fabric for the project.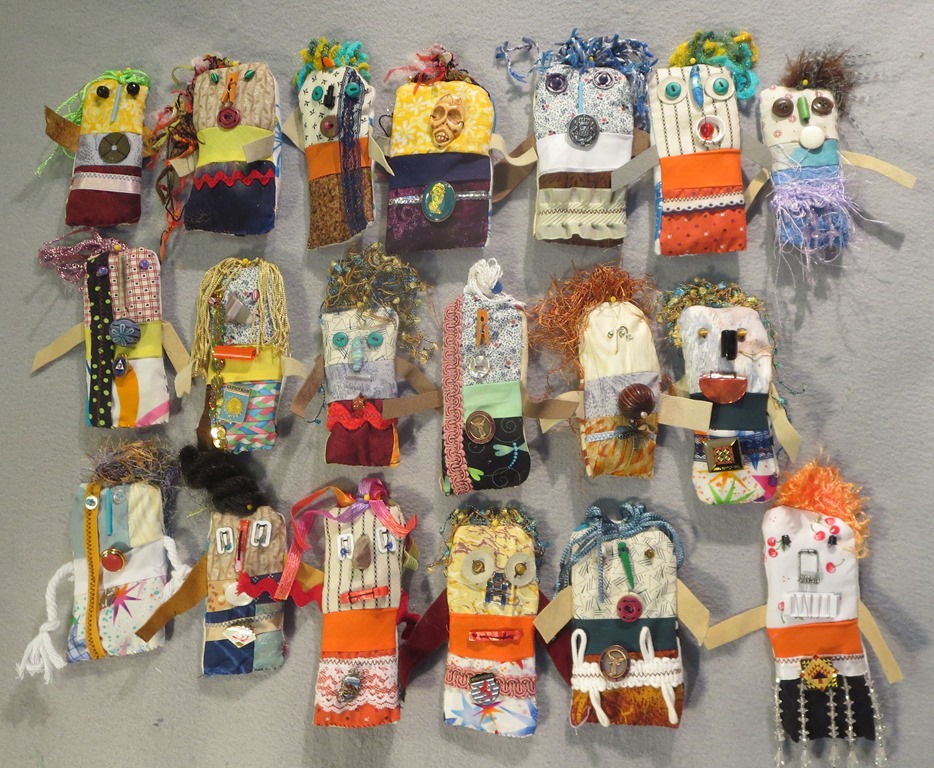 Creative Assistants     Football season has begun and so has my work on these little fellows.   These guys are ready for paint embellishment and  pin backs.
Keep Creating
Carol