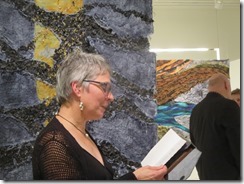 Hello,
This week had been one filled with events.  Last Friday  was busy as I took down the Finger Lakes Fiber Artist show a May Memorial.    Then  I went off to Oswego State University to Sharon Souva's Graduate show.  It was wonderful.  She did a deep exploration  of four areas.   She took a photo.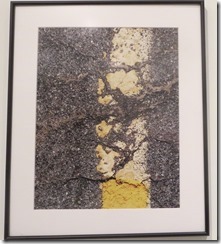 This one is called"  Yellow Strip" and is a shot  of a part of the pavement.   She wrote a poem about each  subject.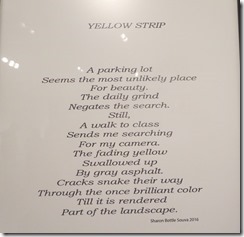 She then did a print of the subject.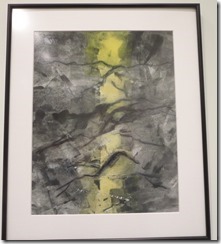 This was followed by  a small rendering of the image in fabric before doing a full sized quilt on the topic.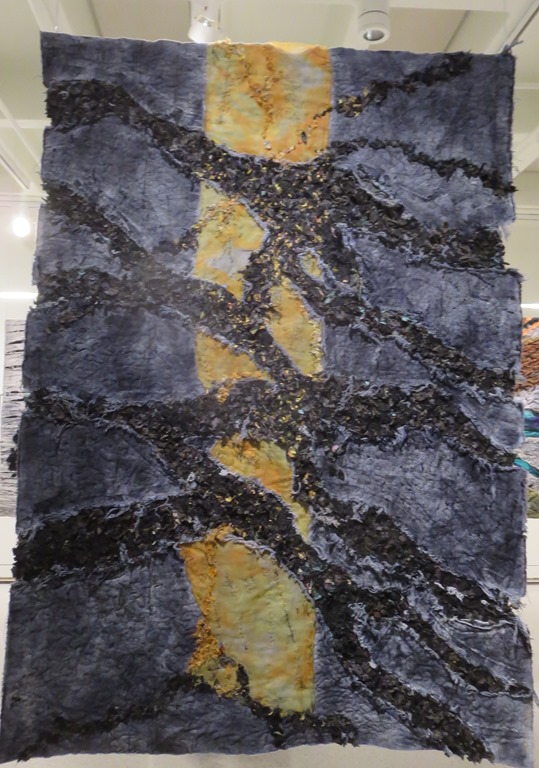 I enjoyed seeing the progression.    Her other three topics where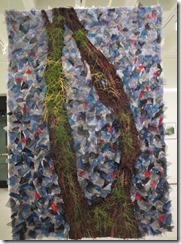 grass growing out of a crack in the cement sidewalk.   This is the quilt.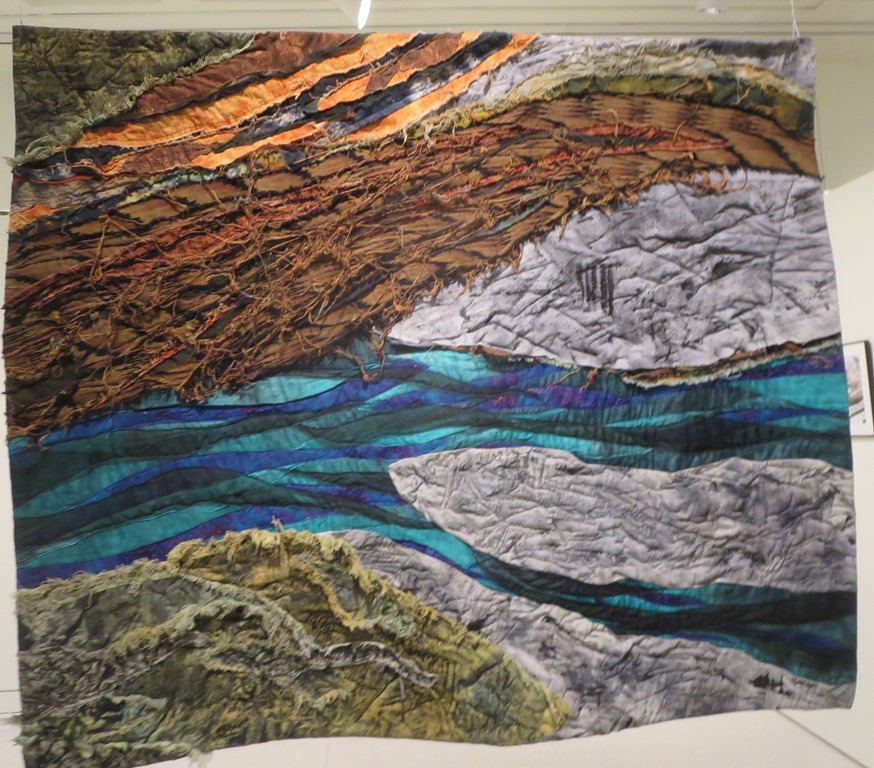 A close up of a rock formation , this is  also  her  quilt solution.
Lastly , a quilt of  birch  bark with with lichens growing on it.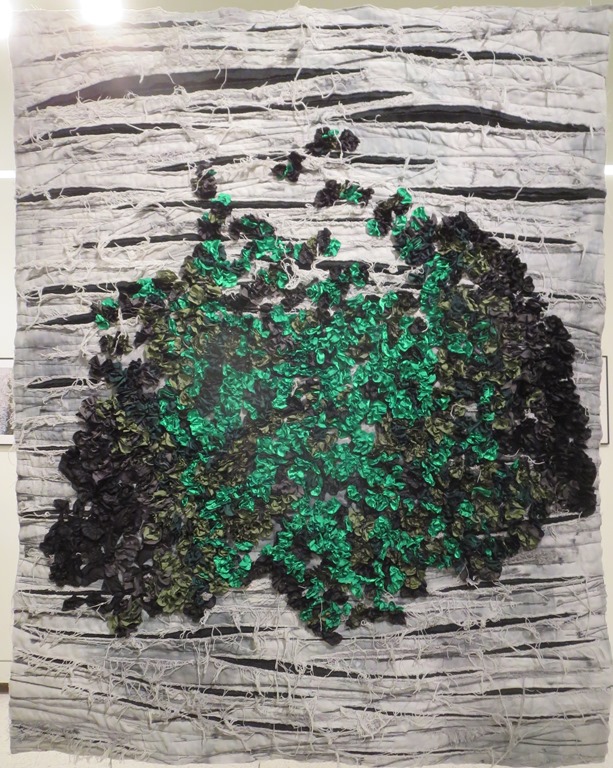 Her fabric interpretations are wonderful and inspiring.   I am so proud of her and admire the effort it took to go to school and see it to the end.
Then this wonder woman was a part of the Plow Shears craft show and sale on Sat and Sunday.   This is a shot of part of her booth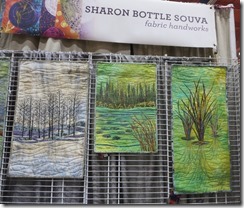 showing some of her landscape  fiber drawing sewing pieces.
On Sunday I went off to the Schweinfurth  to the  Finger Lakes Fiber  Artist meeting.   We talked about the Q=A= Q  show that is up and enjoyed hearing other members favorites and the why of those feelings.  At  2:00 we went up stairs   to enjoy   Bev's trunk talk.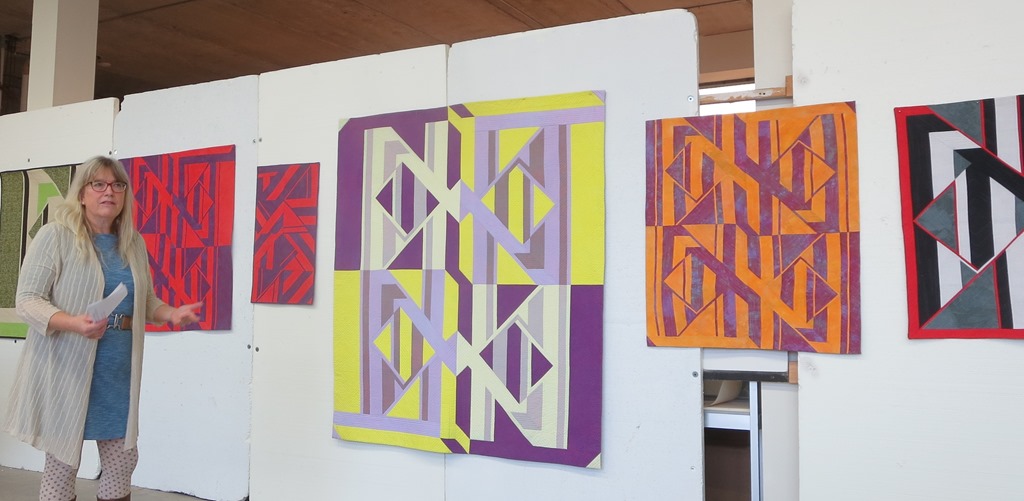 She was very kind with her full explanations about how she got to where she is now as well as her current process.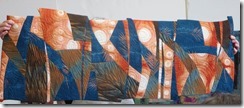 It was a good  day.
Then on Tues I went off to QuEG's and Diva meetings.   The holidays are keeping folks busy  so there was not much show and tell in either case.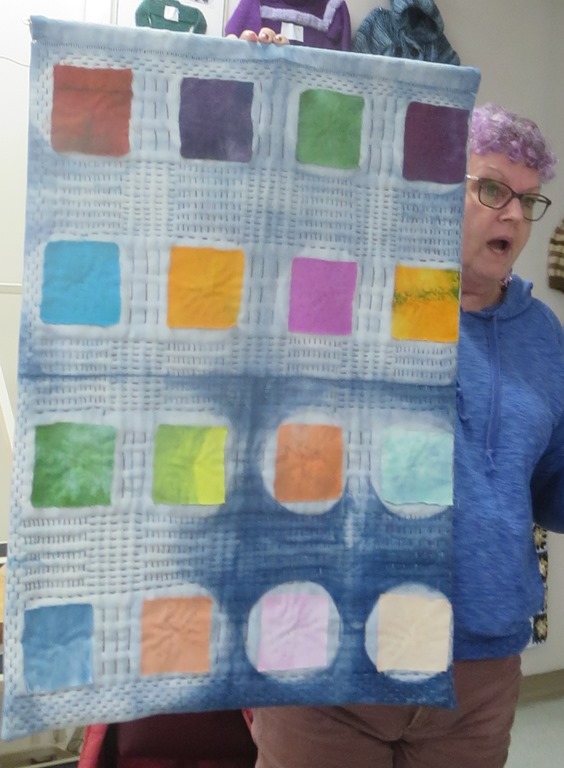 Regina had finished her hand work on her circles and squares piece.  The base of this work is a piece of Shobori that she did.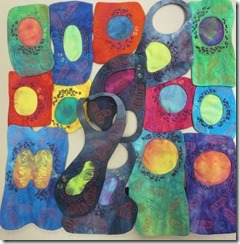 Ruth shared   her cell work too.
Progress Report:   Peeling Orange    This work is 38" w X 41" l.   It is the last work that  I plant to use the Owl graffiti layout on.  It is not the  same pattern that I made in class.  I took the  idea and made it smaller to fit the orange hand dyed fabric that Regina gave to me.  There are cut-aways from other works in the series in this  piece too.   I am  now at the   point where I did not care if the viewer knows or can find the  the word  in the work any more.   I realized I have also become enchanted with  the little tails that sometimes end up sticking out along the edge .   I have cut them away many times- but decided I will keep some times on this work and some in the furture.
Zap It   I am now   doing the machine quilting and hand applique of the "It's" on this quilt.     It is moving along nicely.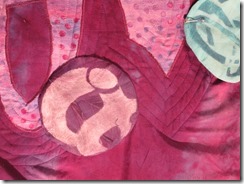 Glyph IV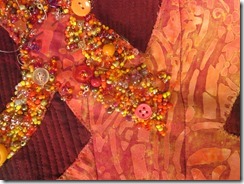 The beading goes forward on this piece.  I was so busy this week I did not get my hour in every day.   But I will keep aiming for that amount of time.
Zap It II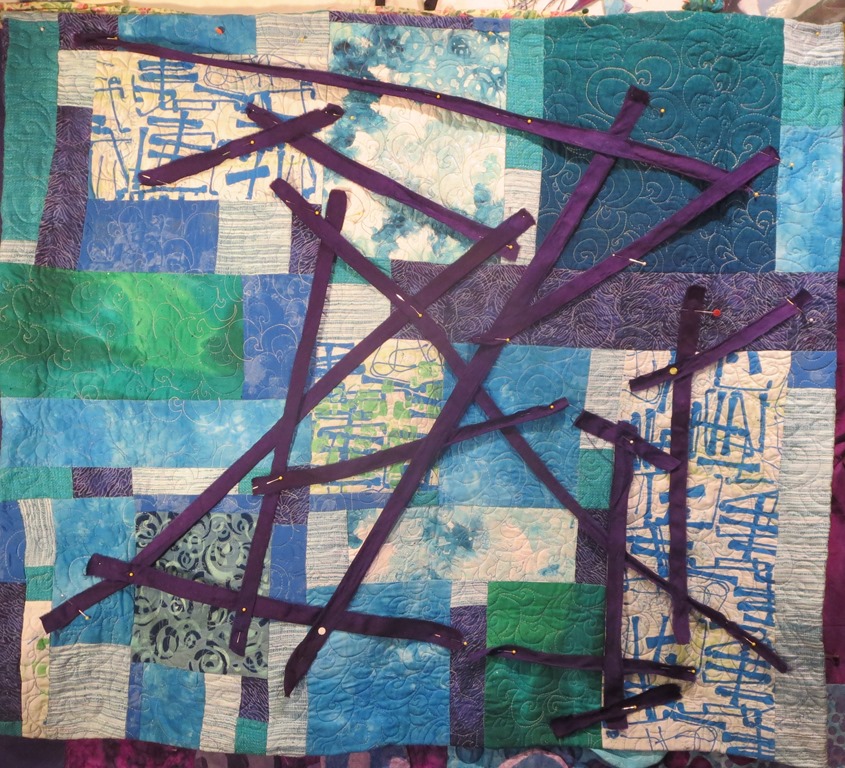 In my preparation for my own trunk show I looked at all my old pieces.   I ended up with a whole pile of not so strong work and was considering just passing it all off to other uses.  Then I remembered Ethel telling me  long ago that I made great backgrounds.   So I though perhaps I could use some of those weaker pieces as a background for the letter form explorations.     I liked one of  my line drawings of "Zap It" – so I used that  as the basis for the purple strips on the surface of this older work.   The next challenge is how I want to stitch these lines down on the surface.
Ethel' Scarp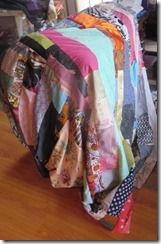 I am ready to put together the scrap quilt now.  This is my back for this work .  It is also made from scraps.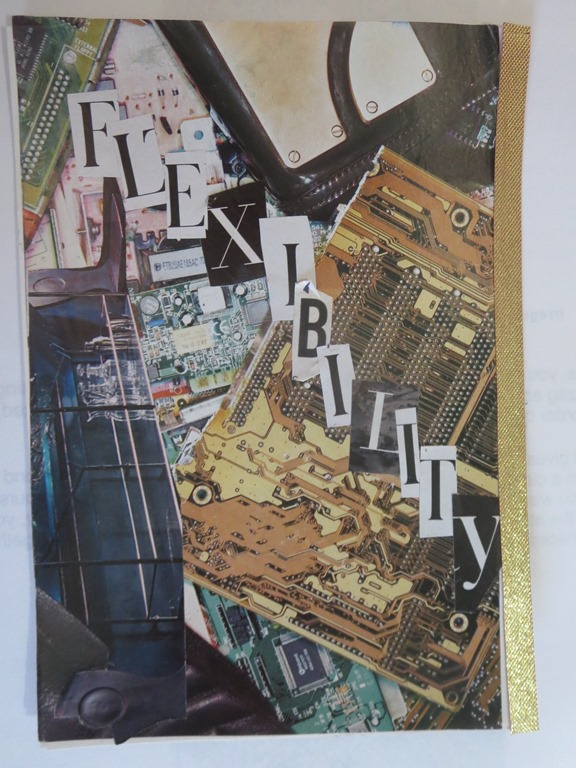 Label Card Flexibility   When it came time to start a new card for this week I still had the "reuse" thoughts in my head  so being flexible seemed like the way to go this time.
Keep Creating
Carol