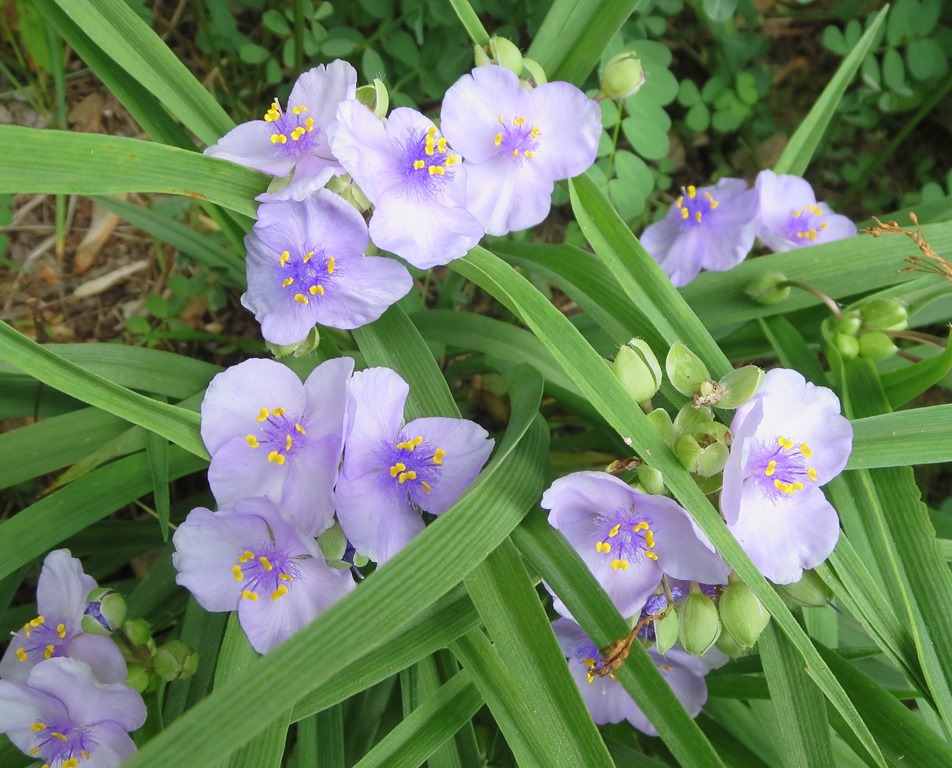 Hello,
I have spent my week with  many other creative people and in doing so my world is richer.    Yesterday, while coming home from a wonderful performance of West Side Story with  my friend Barb and I,  we were enjoying the beautiful landscapes of up state New York.  In doing so we talked at length about how  we are so eager to feast our eyes on the world around us and  that we easy find and celebrate the wonders of our world with joy and delight.   That is a job all artists do – with our works we  celebrate our own joy and in doing so hopefully open others  eyes to the beauty all around all of us.    Our acts of " Valuing the Visual" with each work or art, hopefully makes others value  the world as well.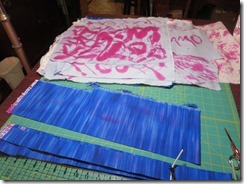 I went to a FAB meeting this week.  Nancy displayed her dyed fabrics from the week before.  Now she  is ready to move on to the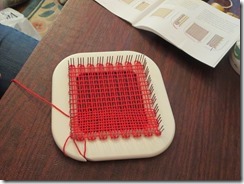 final assembly of here quilt.      Patti work on one of her  mini weaving projects during the meeting.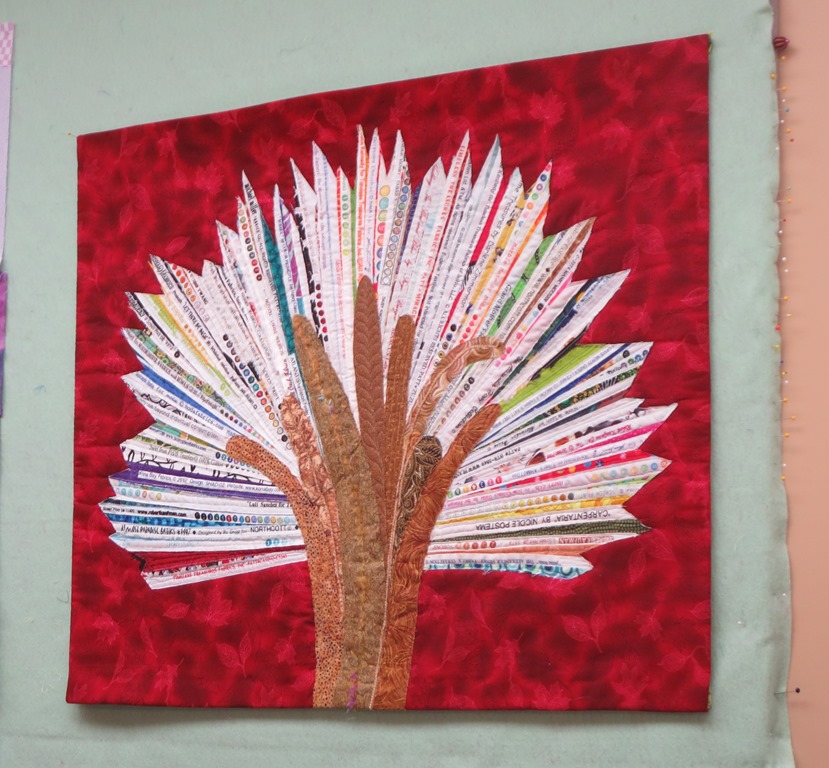 I then went to the QuEG's meeting .   Sue Ellen  is working away on a Tree series and this is one of her pieces in that series.    She had several others pinned up in her studio.  It will be fun to watch the series get completed.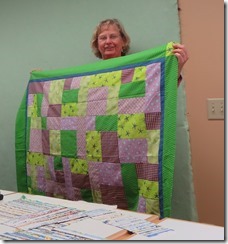 We seem to have a rash of baby related works going on in the group at the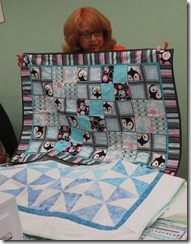 moment.  This is  green and purple one is Linda's new baby quilt.
Here are two more by another expectant grandmother.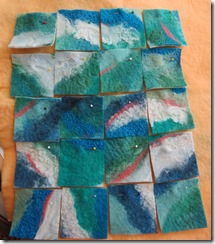 Angela is doing hand work on this felted work that she cut up.    We gave her lots of ideas about how to expand and play with this idea.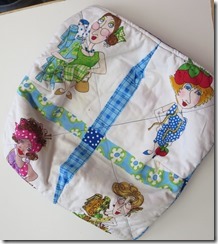 That is one of the great things about a group- the expanded brain power is wonderful and one can pick and choose from the ideas folks toss out for your benefit. Liz had a wonderful little bowl carrier project that she shared with us.   This soft hot pad "fits" around a bowl while it is in the micro wave  and makes for easy removal with out burning the fingers.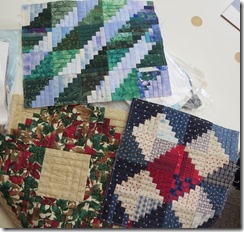 Corrine is busy doing paper piecing with very small log cabin blocks.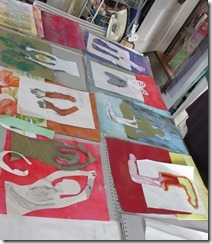 I stopped and picked up Susan on my way to the Diva meeting.  This shot is of her table in her studio.  She is really expanding the Flag Challenge in a great way.     I am enjoying the contrast of our two styles and will talk more about that in the future.   At Diva's  we saw this new work.  Anne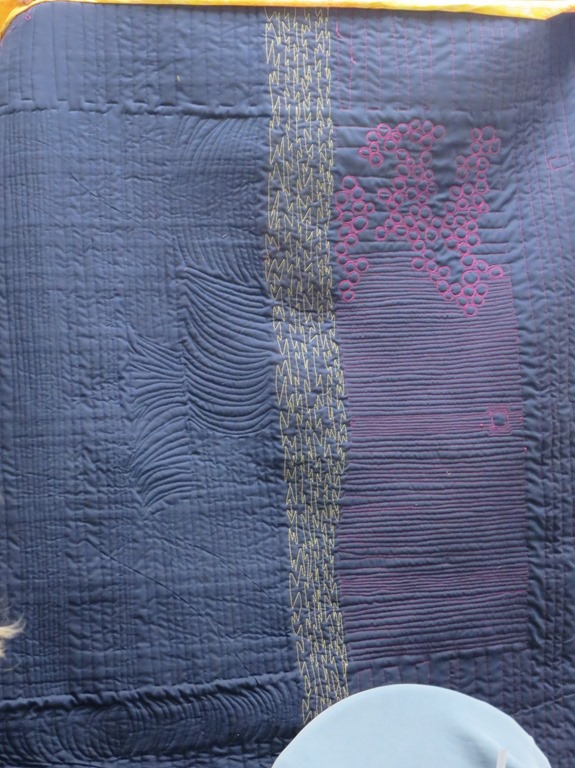 did a wonderful job with the quilting on this project.   The front is wonderful too- but I do not have a shot of that.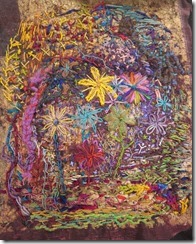 This is picture of Lori's  layered embroidery work.    There is foiling and organza

in this as well.
Alice is working on smaller units to sell for Art Trail and this stain glass type pieces is one of her works for that endeavor.   I like her color choices. Regina was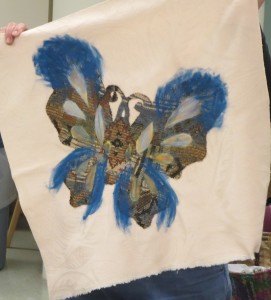 my guest at the meeting and she showed us her felted butterfly.  This was only one of three she had completed sense I had seen her the Wed. before.
Meeting all three groups in one day is exhausting and I will work not to have that happen again any time soon.  One can have too much of a good thing.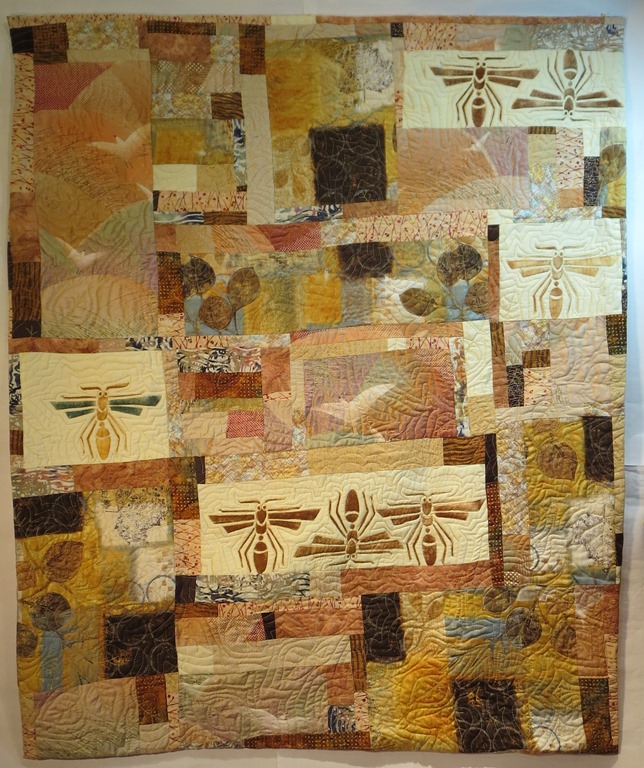 Progress Report  Insect Ology 
I am surprised by how much people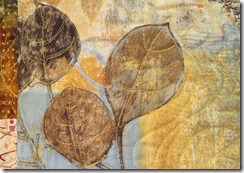 like this work.  The colors are natural, the subject matter is some what off potting- but I get lots of positive feed.   I like it too,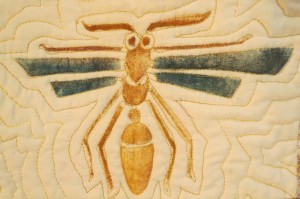 but not nearly as much as my viewers do.   I will make another companion stencil and see if working two together also gets  this type  of response.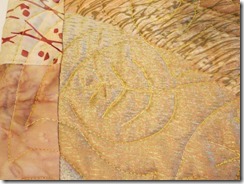 I really enjoyed quilting all the leaves on the surface the most when it came to completing this work.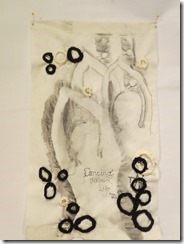 Flag-  Dance  This flag is really the last of the official series – I think.  Both Susan and I did the same image in black and white to start this project.  I held this flag until the end to complete.   It seemed like a way of closing off.  the process for me.   But after seeing what Susan is doing I am not so sure.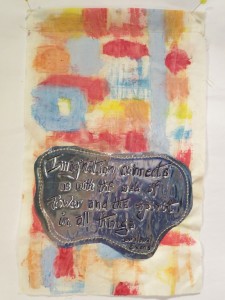 Flags- Assorted Colors   Being unsure of were we were going Susan and I started by using up her paper paste before we did anything else.   The flag challenge grew out of that play .   I did these colored flags last so  when I got to these I was feeling more confident about the use of words and adding objects to the surfaces.  For this one, Imagination, I embossed the saying on metal and stitched it to the surface.
The second one- Hands – got its  darker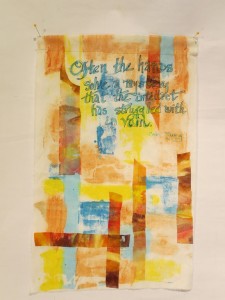 additions  in the form of painted wonder under that I ironed to the surface.
The paper paste was thinning down by the time we got to the last this last flag so it is paler.  I added the oil crayons to is for the onion.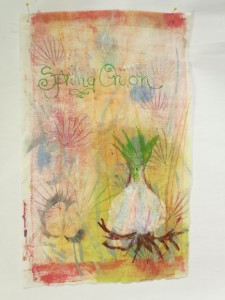 It is a copy of the stencil that Susan made on Wed of my visit when we went to drawing class.
The studio is calling as I have not spent a lot of time there this week.
Keep Creating
Carol