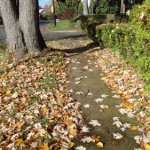 Hello,
Fall is in about in all its colorful beauty here in central New York.  The yellow leaves have forsaken the trees to lay down a carpet of gold in many locations.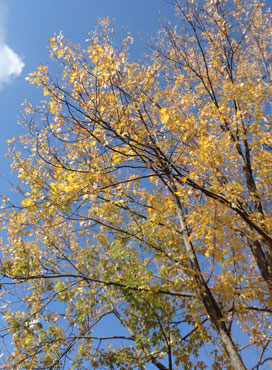 That is not to say that all the leaves have fallen yet- there are still lots in the trees, but I so love to walk in the crunch that they provide this time of year.    I just go a little crazy with my camera and shoot lots of  pictures.     
I have been busy with lots of play dates and  a workshop this week.  The workshop was last Friday eve and it was on curved piecing.  I was trying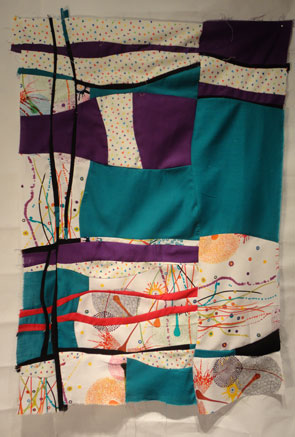 to learn how to make very skinny lines with the cruves and I think I am getting closer to what I intended.   I mostly selected colors for this experiment that are not my usual pallet.   I go for the second class with Ruth White on Friday this week.  It is about how to create wholes.   I have done some of that on my own, but it is always valuable to get instructions I think. 
 I spent a play day with Susan on Monday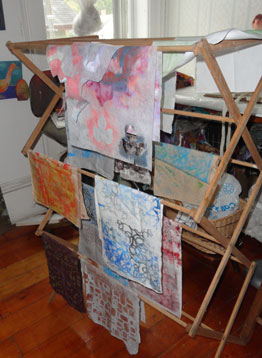 and I played with my Gelli plate the whole time.  It was great fun.   Susan was experimenting with a new technique for creating stencils.  Sadly she was not very successful and discovered mostly what did not work.    Her work is on the top shelf and mine is the stuff on the bottom.  We did enjoy making our commitment lists for the winter as she has departed for the south now and I will not see her for six mouths.    I now have a mini goal to work for and she does as well.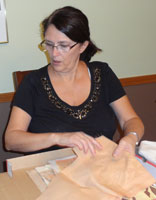 I spend yesterday playing with Liz and Angela. The day was a handwork day and it was great too.  Angela is the queen of stitches in my world.   Both Liz and I looked at tons of books on the topic too.  I have two luscious videos and several books to study now too.  It is wonderful to have friends that are so very sharing.   Liz did not even get her needles out, but Angela and I both did.  She worked on her on going Tapa cloth Hawaiian embroidery block quilt.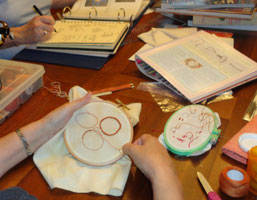 It is going to be a real stunner when she is done I am sure.    Liz drew  stitch pattern ideas in her journal.   Angela taught us some new hand stitches and I now know the difference between a steam stitch and an outline stitch. ( that has to do with the side of the line that the thread endes up lying on.)  She also taught us how to do a Colonel Knot.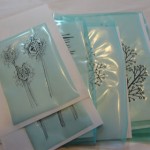 I worked on my Blooming Bacteria quilt.   I also picked up my new thermo fax screens.  I need to do the taping of the edges now and then find some time to start to print them.  I am excited about that, but it willl need to stay on the back burner until later this fall.
 Progress Report: Gray Wall   I am very pleased with out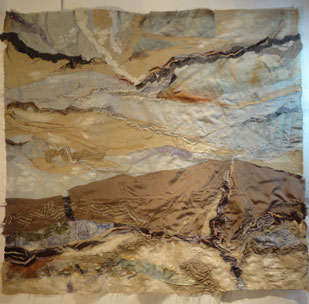 this rock quilt has turned out.  I love all the texture and the mix of fabric types that it contains.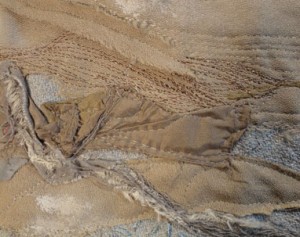 It really flows for me the way I remember the wall being.    I enjoy the raw edges and all the free motion stitch work that is part of this quilt.  The paint work adds to the lichen feel of the rock face for me as well.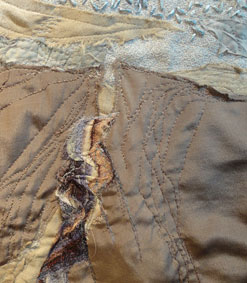 Susan really helped me with the  finishing of this work. Or it would be better to say she encouraged me to leave the raw edges and the exposed back of this work.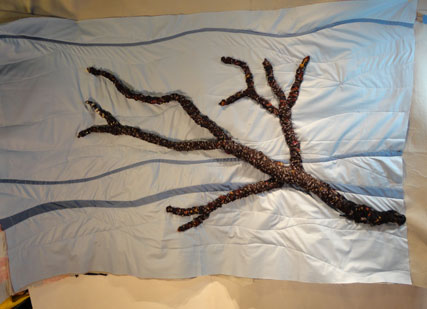 There is no hiding of my processes in this piece. 
Oak Leaves     I have been doing handwork on this piece too. The limb is almost all stitched to the surface.  I can see that I need to add more machine quilting to make it more stable now that the branch has added so much weight to the quilt. It is a learning process when one is trying new stuff.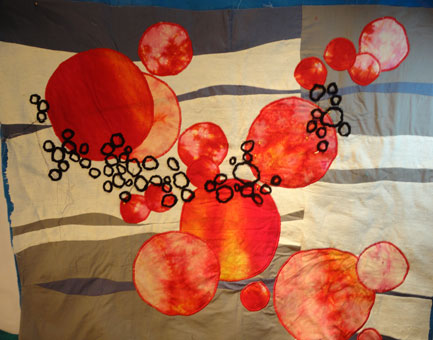 Blooming Bacteria  This quilt has been setting and waiting for attention for a while.(see Aug 16, 2013)  I somehow lost most of the crouched circles I had created for it.  I put them some place so safe that I cannot find them at all and that is frustrating.   I have done a lot of cleaning in my search and the only conclusion I can come to now is that I mistakenly tossed them out.   I took it to the handworks play day yesterday and added some of the circles that I had and started creating more.  It will be a long process before this quilt is done.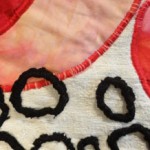 Daily's     I am doing my Daily's as I am now calling my hand work square projects.  They are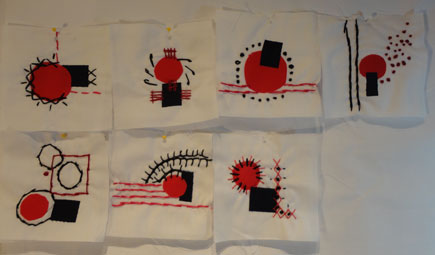 still fun and with the new stitches that Angela taught me I still can see more ways to play with the idea.   
 I hope everyone is enjoying the colors  fall as much as I am.
Keep Creating
Hugs
Carol