It was so very cold this morning and still dark- I so wanted to stay in bed…….. But others needed rousing and the day would not do its self, so I rolled out and did the morning rituals.    Still unexcited I then off to the studio.   I had  a "no mind" project to work on- the Scrap Happy quilt.   So I stared  by sewing on the pre-pinned row of blocks.  Before I knew it  I was sewing on the last row and an hour had passed.  My mind was fully engaged in how I wanted to attempt the problem that was on the pin wall.  I realized I had won against the winter doldrums……" Just  DO IT" as the saying goes.  It really dose work- that plus stopping on a project were the next step is obvious really dose not hurt either.
Progress Report
Pink Button Necklace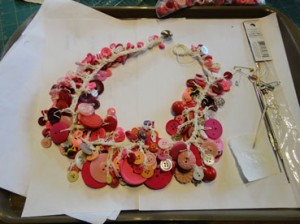 This project is now done.  I am working on getting the instructions completed too.  They will go up as a tutorial when that is finished.  My goal is to have that complete by next Thur.  I am still cleaning up details and I know I need to write read, re read let some time pass and check again before I put up instructions so it takes me time to do it correctly.
Adventure Challenge
Last week I talked about getting inspiration from some of my older books, and I think this will be a fun thing to do. I decided to use the Louis Ericson book Design&Sew it Yourself   for the first project to try.  I selected  to do some work with bias strips. I loved the look of the frogs in the book so I sort of started with that in mind.  But the material I selected- a black and white print was far too busy for the fancy work of the cords to show up.  Perhaps later I can try that.  So I built a background of light green,  with a pale purple and white strip across it.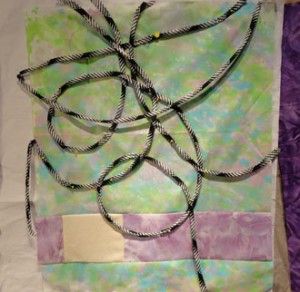 Then making a visual decision visually, I decided that this did not show off the bias to its best advantage and created a new color combo to use the strips on.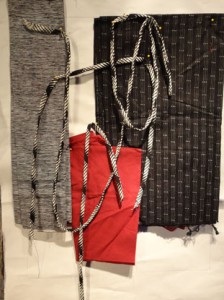 This works a lot better for my eye.  So I will build a new platform for the bias work using these fabrics.
Blue Fantasy
I have been working on this quite little piece for a while.  I hold onto fabric for a long time as I made the marbleized fabric in a class at Quilting By the Lake before 1985.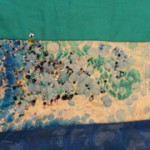 I enjoyed applying the bead work and french knots to the surface to enhance the marbleized area.   It is now a completed work.  I like the horizonal format and the  close color palate.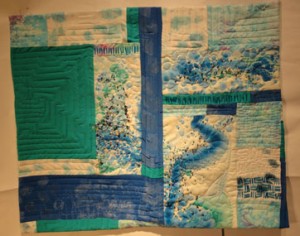 DMC Project
There are several quilts in this project that I worked on this week.
Amended Squares is the oldest one.  As the pictures shows I have done a lot of the machine quilting and some bead work here.  I feel that it is complete at this point.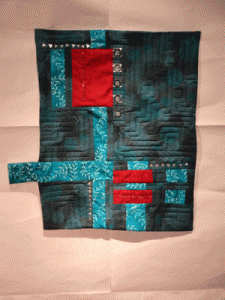 This sloution is far less clutterd than the first attempt with this lay out.  I am still very close to the works and find they both have strong points.   I do feel that this one is a better place to work from for the next two in the series however and so I kept the others similar in feel and simplicity.
Limber Loss is the next one in the series and they are Marty's colors and her lay out of the pieces.    I think it is a fine complement to Amended Squares.Limber Loss is in the bead application process.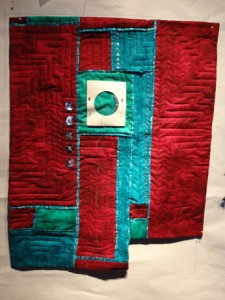 Slit Slip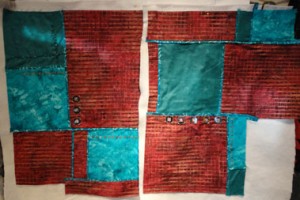 This is the third in the revised  DMC series.   I really altered this lay out one- but I followed the rule 5- If you want to do it- DO IT.   I am plan to join the two units with beads in the opening….. I hope I can pull this off successfully.
Paper Quilts
I enjoyed my work with the openings on the paper quilt that I worked on  last week that my mind went running in a new direction with that concept.  So I painted up two more colored paper piles and built two addition surfaces to work on.  No titles yet but that will come as I play with the work.  I am enjoying the process.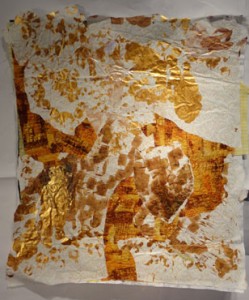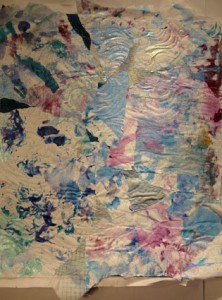 I hope the week will be a good one you.
Keep Creating
Carol