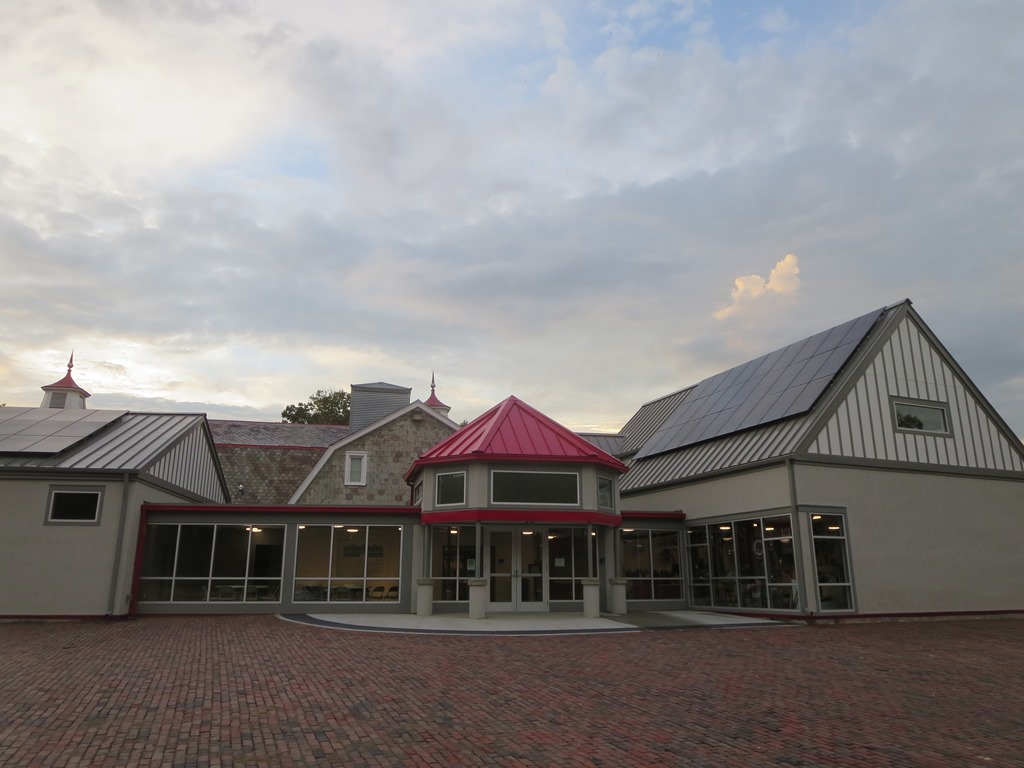 Hello,
The past two weeks have been ones of travel for me.  Last week at this time I was on my way to the the Dairy Barn in Athens Ohio.  Liz and I were visiting Quilt National.   They have changed the entrance and it looks great.  No photos are allowed in this show, but my memories are rich.  I was epically taken by  Natalya Aiken's Iron Spine work and then saw that she was the feathered artist in  the QSDA magazine that came this week.     I also like Colleen Anbaugh's Hot Sugar Cell piece.  Lots of glitz and Liz said it was like my work in some ways.   Liz and I were both excited by the many techniques we had just explored in Kerr's class at QBL two weeks before  and noticed several of them in the quilts on display at this show.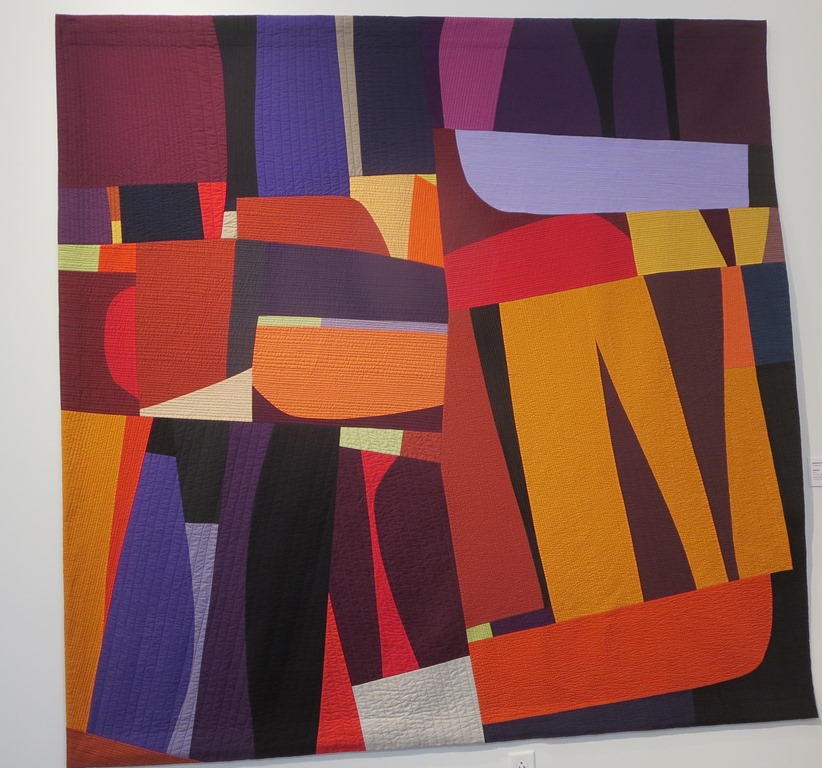 This fact will  pushed me to do more exploration.     The next day we drove north to Zanesville to check out their museum and see another quilt show.    Liz has been in class with this woman at Nancy Crow's barn.  We both noted Nancy's influence here.    The museum was a bit of a work it's self and I took lots of inspirational pictures  of the stairs and shadows.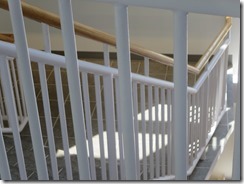 I can see works coming from these images.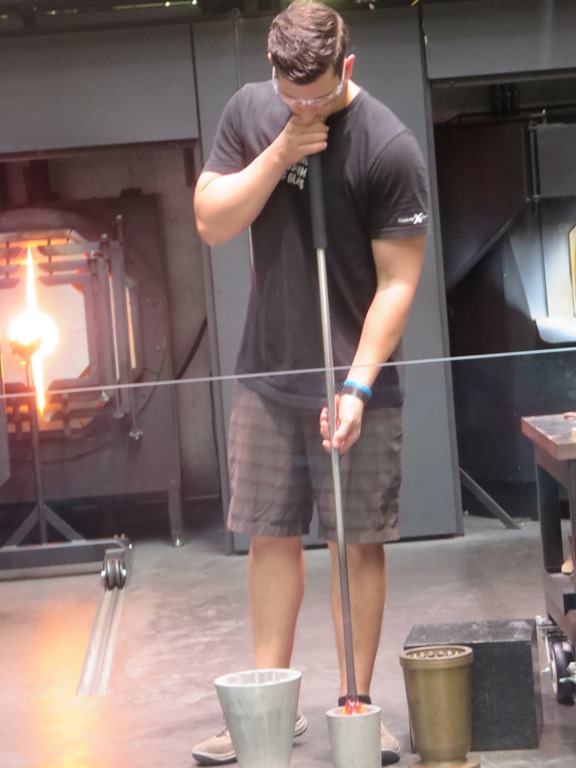 Then yesterday Eric and I went for a road trip to Corning New York to the glass museum there.  We watched five demonstrations and learned a lot.  The artists made it look easy, but I know from my one experience blowing glass it is far from simple.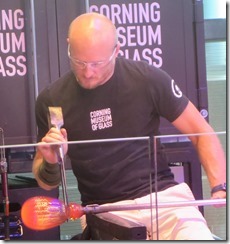 I also enjoyed the Tiffany exhibit.  Mosaics are always  fascinating and these were amazing.   This clock really blew me away.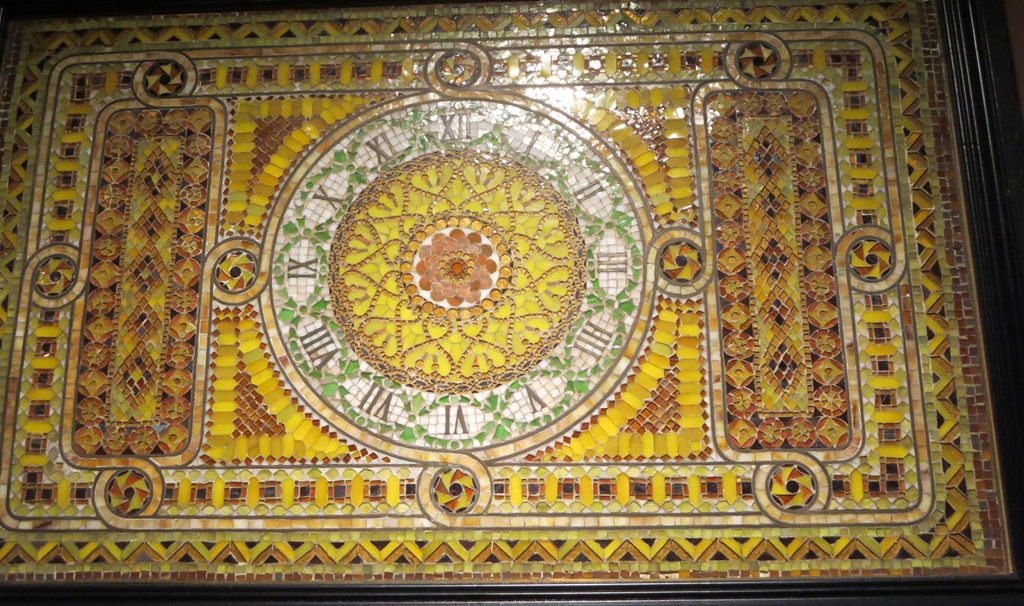 Tiffany's many recipes for the  colors of glass were a real game changer for his work as well as the glass industry.     It was a great day.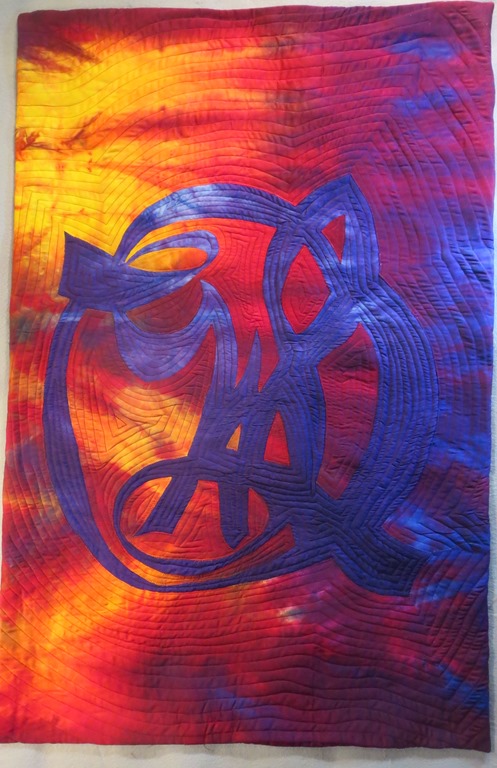 Progress Report: Glyph I   This work is 26.5" w X 41"l.    I started the series in Cynthia Corbin's class at QBL this summer.  The Glyph is based on the word OWL.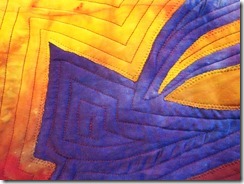 I used simple  outline quilting because the shapes and the colors in the fabrics( by Judy Roberts)  did so much of the work for this piece.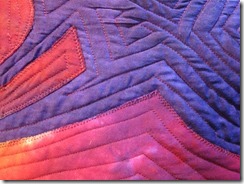 Glyph II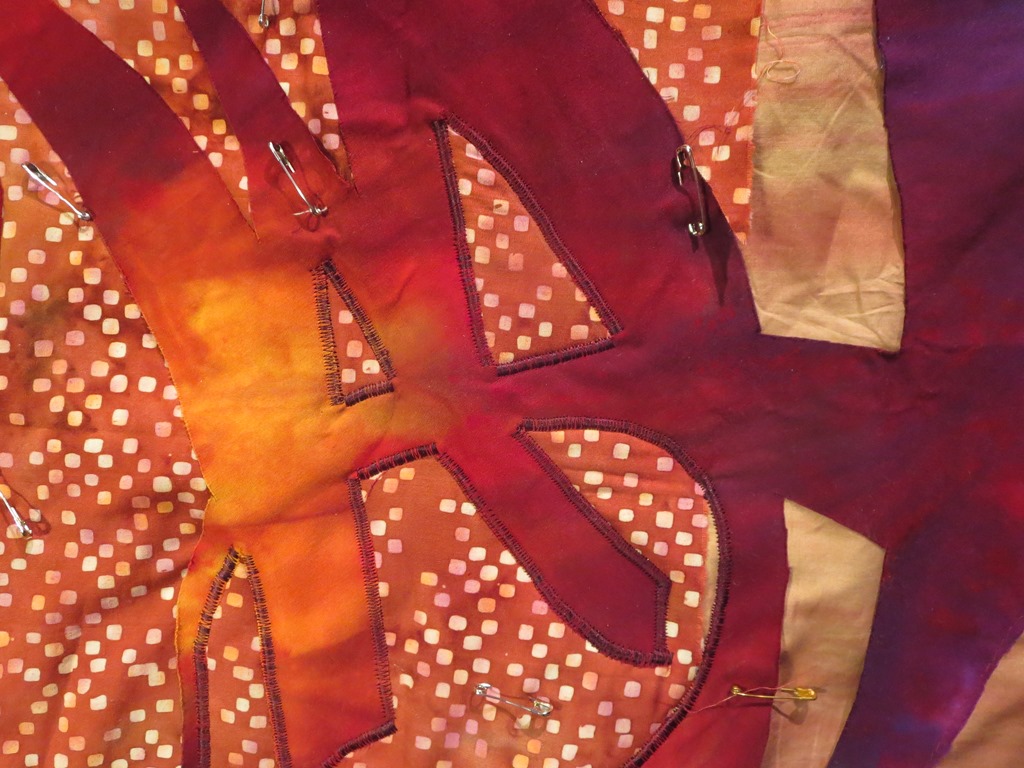 This is the second in the series.  I have pin based it down and I am now zig zag appliqueing down the  glyph.  I will make a second run around the out sides with more zig zag to make it smooth and solid.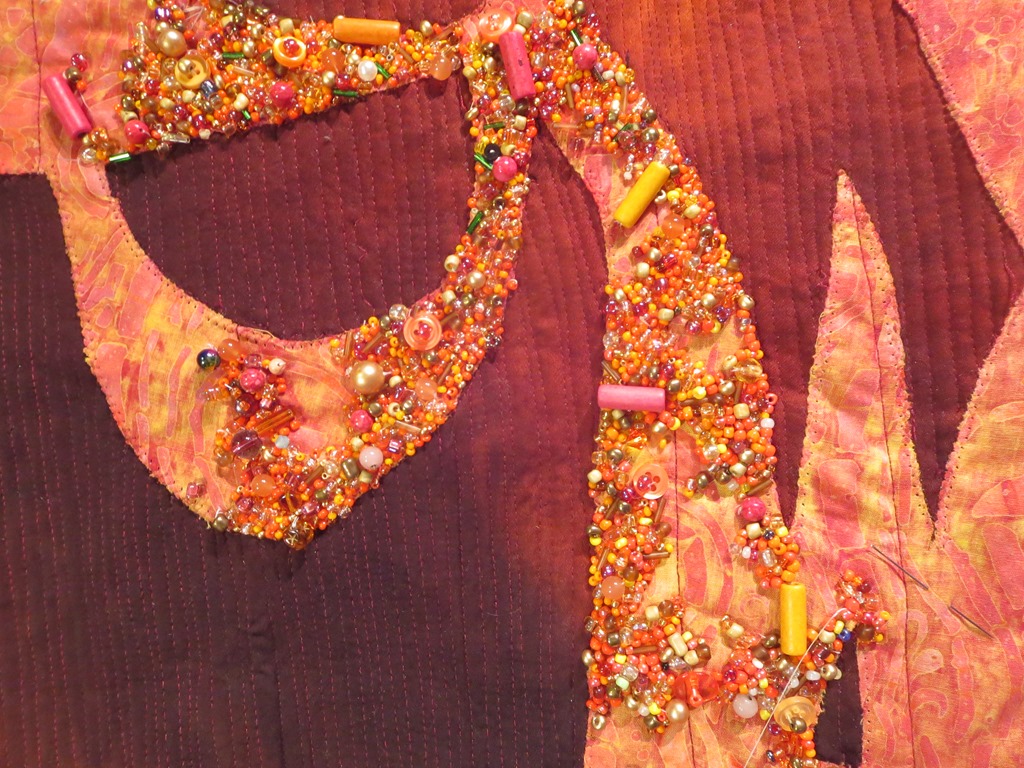 Glyph IV    The bead work goes on for this project.   I am stitching it down with beading thread and back stitching every fifth bead to make a strong connection.
Pond Water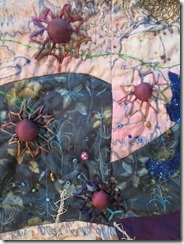 This work continues to get attention .     I did bead work here this week too.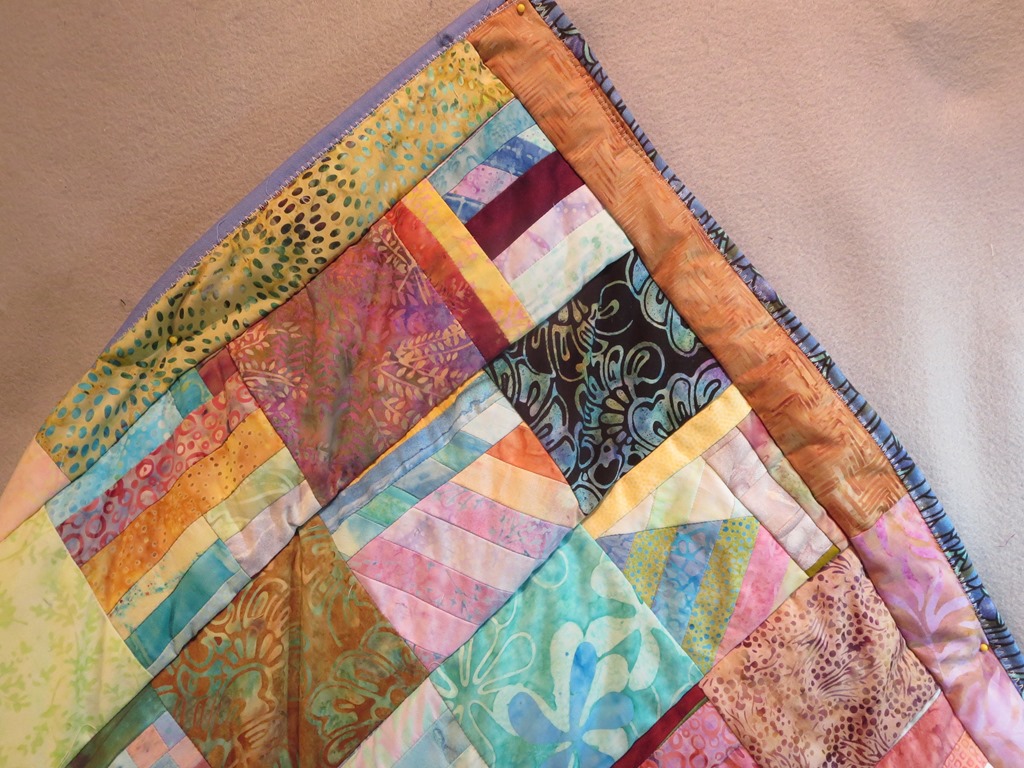 Ethel's Scarp Happy   I finished the assembly added the boarder and binding on this piece this week.  I only need to do the diagonal quilting and the project will be complete
   Creative Assistants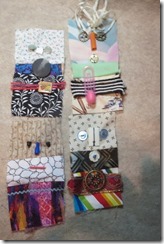 As fall approaches I start  thinking about doing these little guys.  I pulled out the box of trims that Debbie sent me this summer and  added a  row of trim to 100 bodies.  The last eve I did four faces.  One small step.
Cards  Ever sense I visited Susan in March I have been participating in a weekly collage card creating challenge with several other artists.    It began loosely based on Tarot cards but with time we have pulled away from that.    This is my card for this week titled Activities  and the accompanying  text.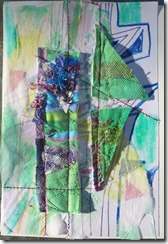 Activities: 
 Over the course of a day we demand many little task of our selves-One walks, 
talks , comb hair, opens doors, turns on and off lights, reads, checks the 
weather, brushes teeth,  drinks tea, washes hands, sets, collects and opens 
mail, takes pills, writes, climbs stairs, prepares and eats food, ties shoes, 
uses zippers and buttons, looks at the sky, does dishes, changes cloths, checks  
e-mail, and creates something.  It's a complex life. 

Label Blocks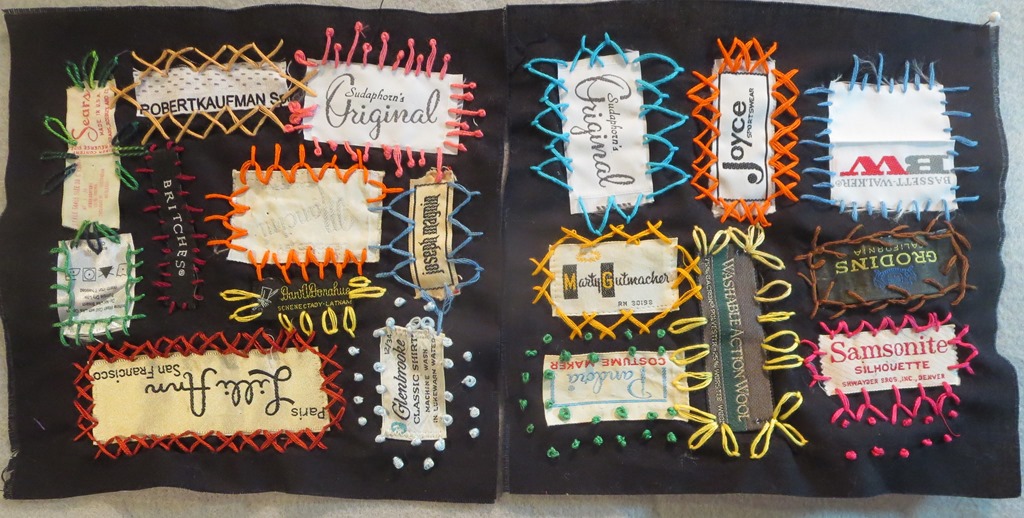 I finished these two  blocks this week.   I only  have four more  to finish and the job will be done.    I need to start to think about another hand weekly project.
Keep Creating
Carol