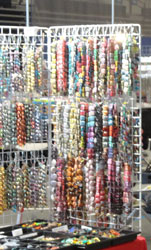 Hello,
Last evening the harvest moon rose round and orange as a giant pumpkin.  It was beautiful!  I tried to capture it with my camera- but I am not happy with any of the shots so I am going to leave the idea to you imagination.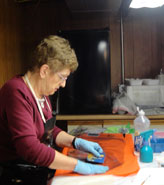 The Harvest moon is the last full moon before Autumnal Equinox.
This week has been a full one as they all seem to be.  I went to the Bead show here in town on Sunday and managed to keep from purchasing  too many new beads.
Friday was the Explores day to play with Fused Silk.  I think I can speak for everyone in declaring it a big success.    This top shot is of Barb spreading the GAC* out on her silk.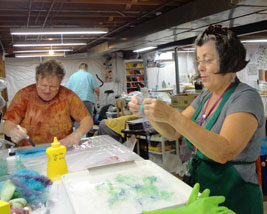 Liz and Corinne working on step one- spreading out the silk fibers.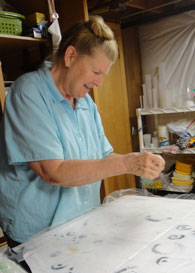 Sue Ellen concentration on  her work.
We all had fun and Angela even go far enough along with her fibers to add them to a top.  I think we all took home at lease four pieces of fused silk.  Liz even experimented with fusing the silk directly to the fabric with the GAC and that seemed to work too.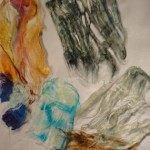 I make mine very thin- only one layer of fibers to use with my rock wall stuff  in the future.   It was a fun day for all of us.
Progress Report:  Pumpkin Lichens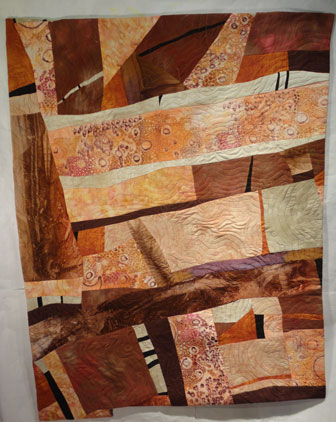 This work had given me fits when it comes to being square and it still looks off kilter to me.   The work measures true though.  I did have a good time using more of Randy's wonderful fabric .    There is also a bit of the discharged fabric that I did with Marty this summer in this piece( the light orange cream in the middle)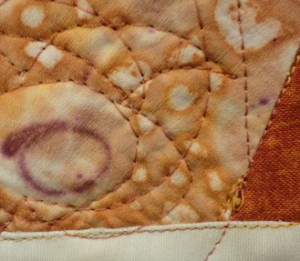 .   I used the  curves of Randy's images to get me started with the quilting patterns too.  They were so organic and the lichens I used for part of the inspiration were also irregular like that.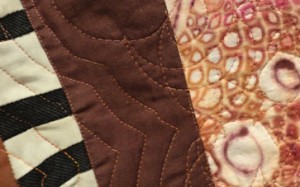 This second close up show one of the areas where I started reflective quilting when I got away from the  "lichen " centers.
On the Road to Dry Falls
I worked on this piece this week and all the fabric it attached.  I did not shoot it because it does not look any different than last week.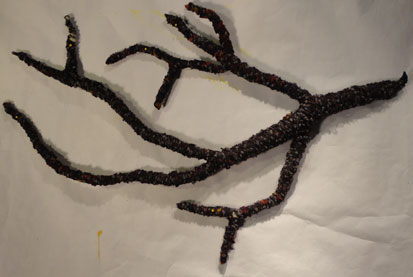 Oak Leaves   This is the same limb that I was working on last week from the other side.  It also shows the limb all frapped in a second layer of  black textured yarn.     I plan to get to the background work this week and start putting it all together soon.
Rounds     I started this work before QBL – eight weeks ago now.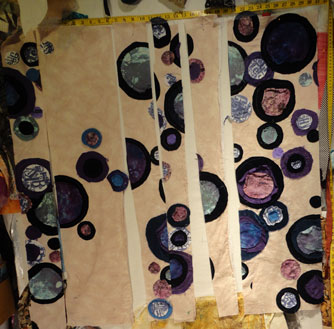 Working through my stack of UFO's it finally came to the top again.    I sliced the work vertically  into seven units.  Then I pulled out some solid blue fabric and stamped on it with one  of the stamps that I cut in my "one a day for

30 day Challenge".   I did the stamping in a purple/pink that works with some of the fabric in the circles.    I have ideas for more additions,but will wait to work on them until I have all the units added together.  Make the visual decision based on what I see.
New Work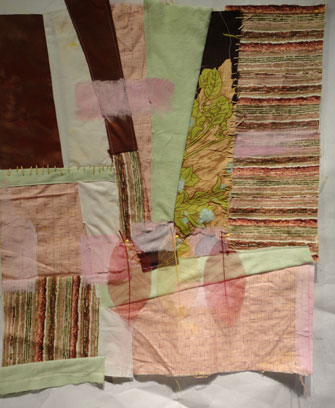 This one got some hand work and some paint this week too.    The leaves are just pinned on- auditioning so to speak.  I like the idea of them, but feel they are not strong enough to work with all the little units of this piece.  I think I got a bit carried away with the paint step here.   But errors show growth is taking place.
Enjoy the wonders of the season
Keep Creating
Carol
* GAC is a Golden Product used to thin down acrylic paint.  GAC 900 is what we used and it is designed for fabric so you keep the soft hand.