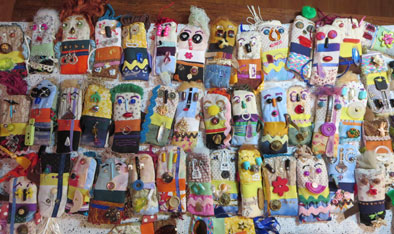 Hello-
Fall is still all around and painting the landscape here with color.   I love it.
When football season starts, I watch and spend my time making  my Creative Assistants.   This is the  first batch of 49 that I have completed.  I so enjoy the process and it does make the football go by faster for me.   It seems the games have lots of time when there is nothing  much going on- but commercials, so I stitch away.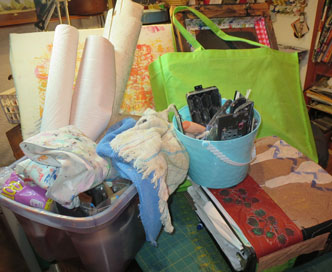 I  enjoy giving them away when I go to Quilting by the Lake every summer.   ( there is a tutorial on how to construct your own Creative Assistants below)
I am taking a class called Deconstructed  Screen printing with Kerr Grabowski. It starts today and lasting for three days.  This is my pile of stuff for the class.  I am sure I will come home with lots of  new altered fabric to use.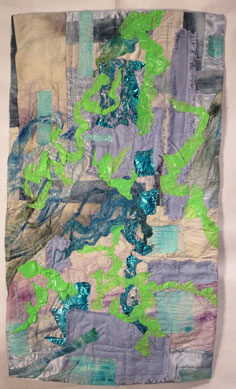 Progress  Report: Spill  I had a good time working on this piece.   I so love texture and this one has lots of different materials that add to that.   There is the usual cotton of course, and my current  favorite – silk paper then I added iron melted plastic bags and  turquoise mylar as well as satin, and course woven silk.  I added hand stitching t in the form of french knots, button whole stitches and chain stitches to the surface as well as machine drawing too.   I  am pleased with the results.
This piece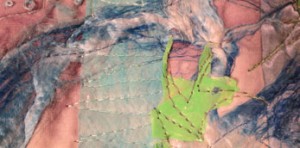 fits very nicely in a little nook in the wall.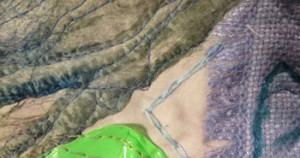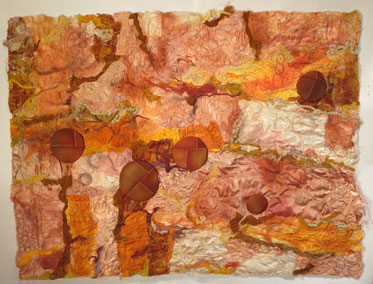 Watermarked Sandstone- Foundations XXIII     I am finally finished with this newest  member of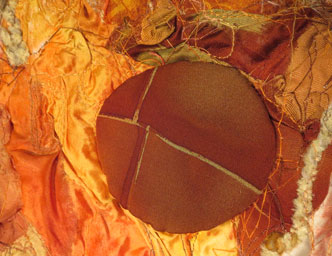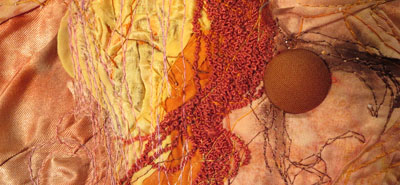 the foundations series.  I really enjoyed the free motion work on this project.  I had a good time doing the painting on the surface of this piece.  Adding the iron nodes to the surface was a bit of a challenge as  I tried them in many different locations before I finally selected this layout.  Then when I was shooting the work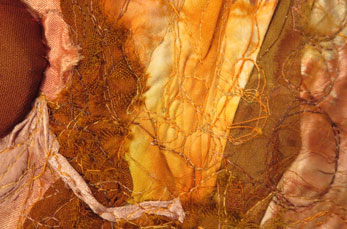 for this entry I discovered that I like it on a 90 degree  turn from the direction that I had been looking all the time I was working on the construction.   One always needs to be open and aware of what is in front of them.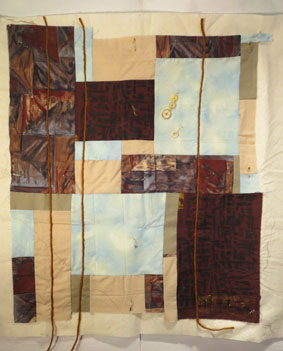 New Work    As I was nearing the end of my work on  Spill I realized I needed a new piece to do hand work on so I looked  through my sketchbook of ideas.  I came across this old idea of using circles  and lines for a piece and though I would try it. I have a box full of old Saxaphone keypads that a friend had passed to me and I thought this would be my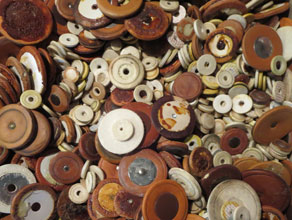 opportunity to use them to express this idea.    There are so many different sizes, colors and textures here- I am sure I will have fun with this work.
I hope all   enjoy the colors of the season and the kids all dressed up for Halloween.
Keep Creating
Carol