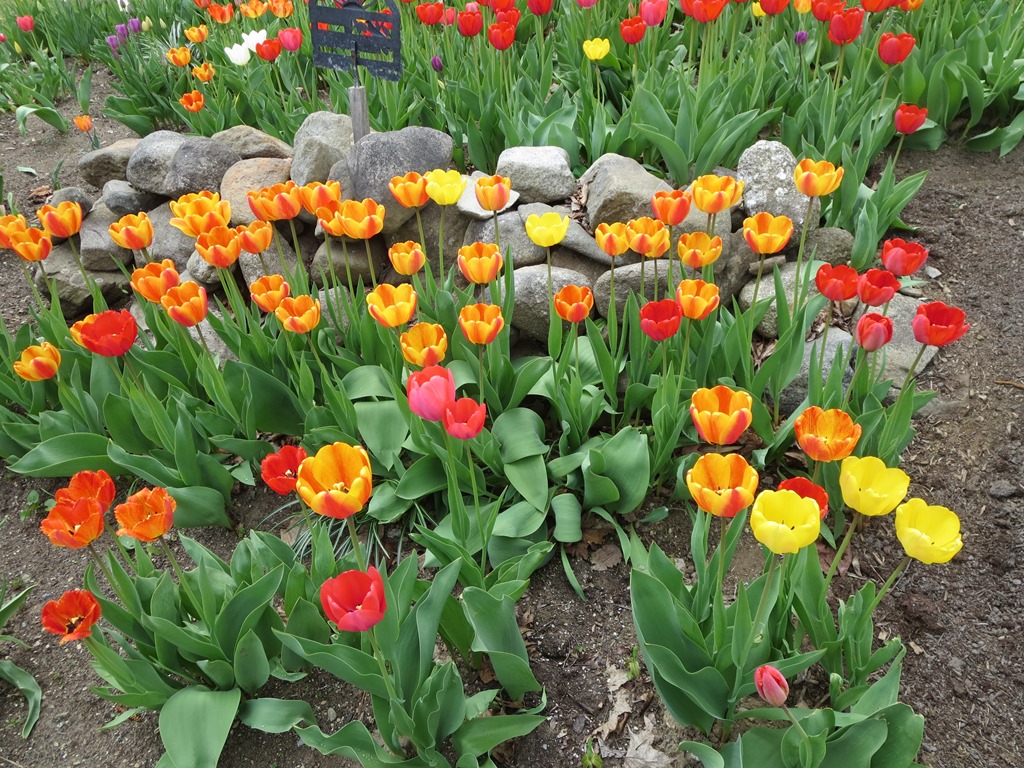 Hello,
I am home from a wonderful trip and I still seem to be flying along with lots of new experiences.     Maine was/is beautiful as it too awakens to spring.    I enjoyed the tulips in Barb's yard and took lots of pictures.   There are so many wonderful colors.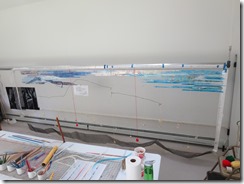 We visited two artists with studios on this trip.   The first was Elizabeth Busch's place.   She is working on a new commission for  the state capital building in Augusta.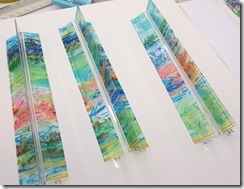 This is a shot of the models.    She is building in her wonderful weaving on bird netting.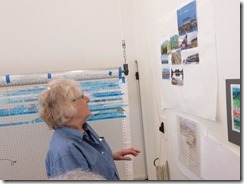 She carefully explained how she used her photos of different parts of Maine to build the landscape that she wanted for the project.  She refers to them often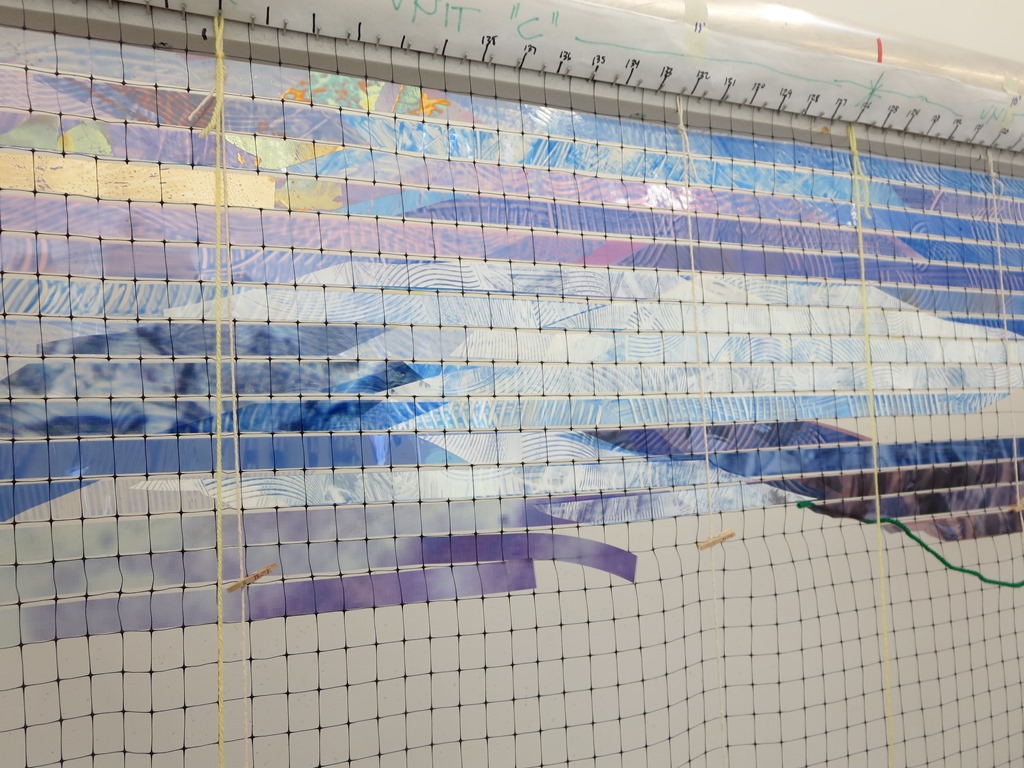 as she works with the weaving to keep the colors close to the natural look she is building.  She has  a large collection of printed and painted strips of plastic to choose from when she is working.  Elizabeth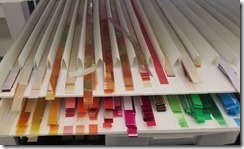 sometime weaves as many as four strips into one section to create the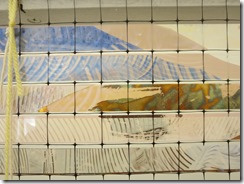 color she wants for rocks, trees, water and other  natural elements.       She is working on all three panels at one time so they will flow into one another as they spin from the three eye beams in the lobby.    The job needs to be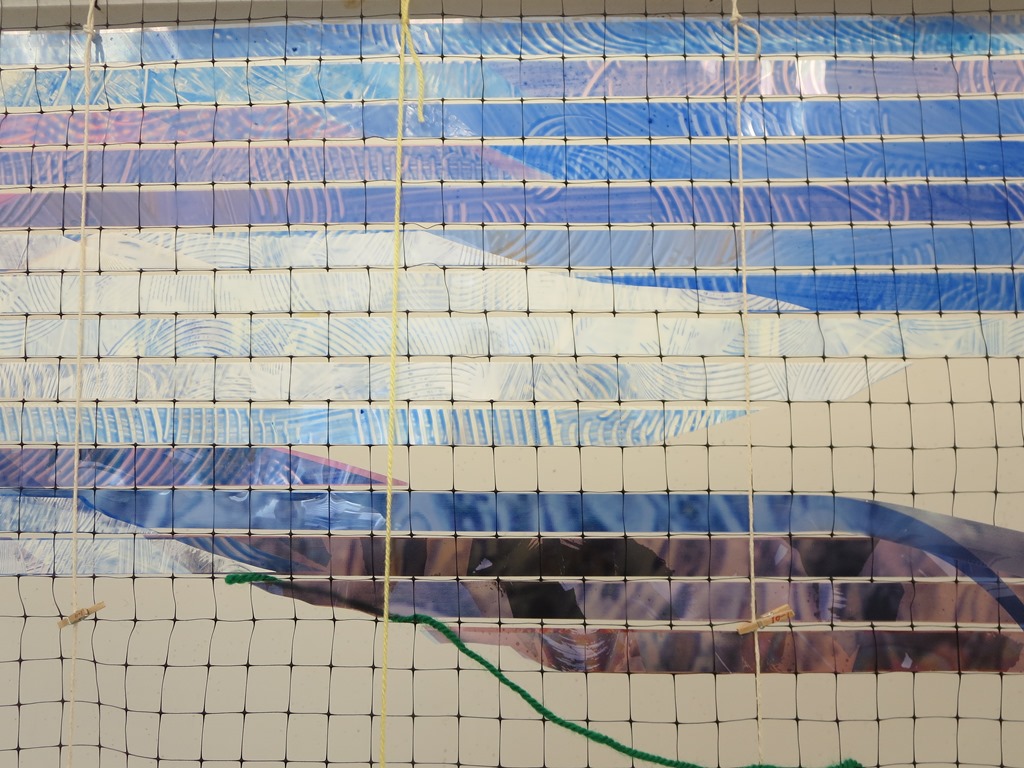 completed by September so she will have a busy summer.
The second Studio was that of Nanci  Kohn  She is a photographer and paper  Mache' artist.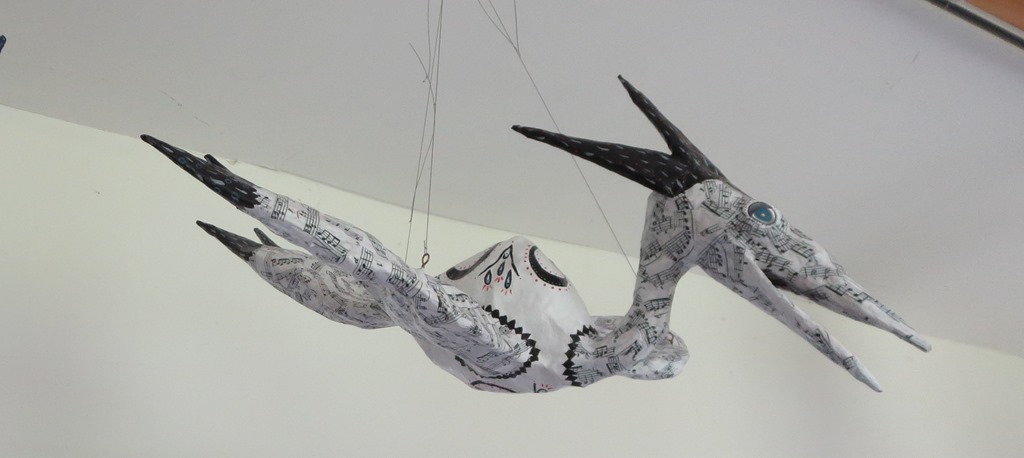 She too was very willing to talk about her process and work.      I really love this song bird that is covered in sheet music.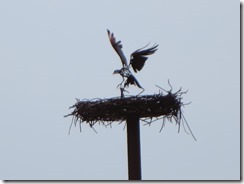 We then stopped and looked at a welded sculpture of an Osprey on a bridge on our way to Portland.     It was an enjoyable and stimulating trip as travel always seems to be for me.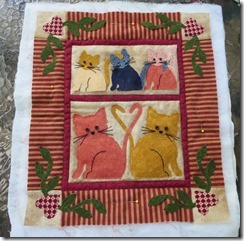 Tuesday the FAB group meant here.  Patti had nearly completed this   happy little wall hanging.  I like how she used buttons and beads for the eyes of the kittens.
Judy was busy working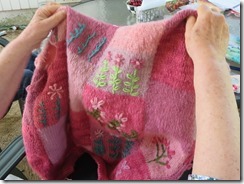 on a new sweater.  She is doing hand embroidery stitched flowers on it now to add more interest.  I like the soft colors she is using.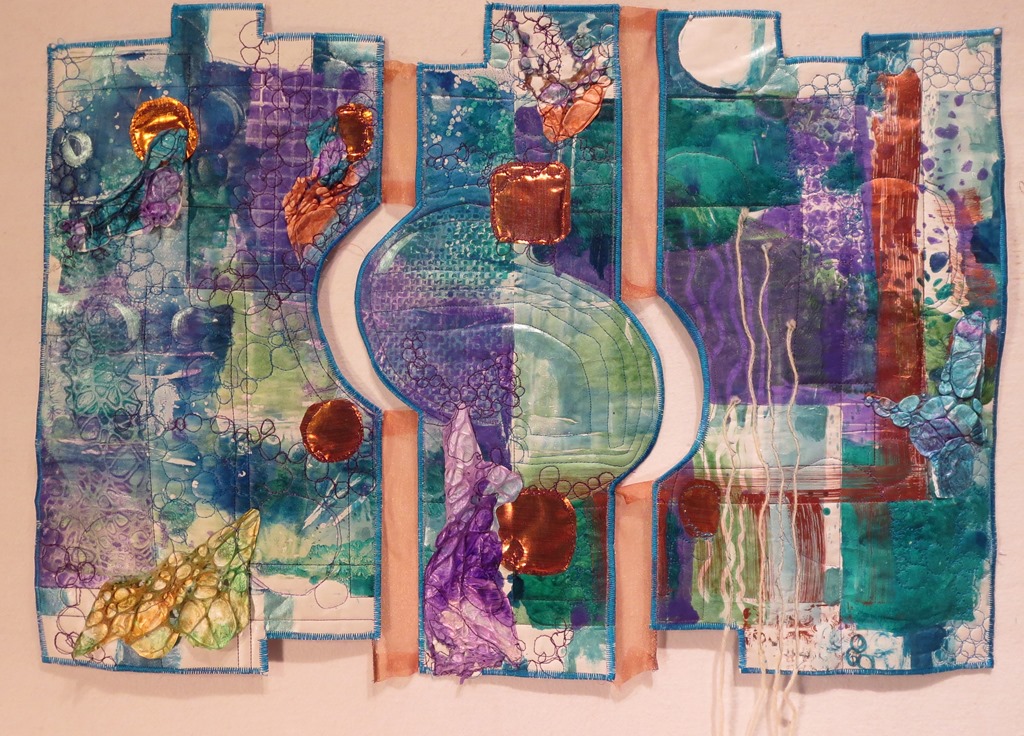 Progress Report:  Paper Quilt- Consideration
I am done working on the surface of this project.  I want to add a sleeve in a different manner than I have with previouse paper quilts,because it is so wide.  I want to make the slat removable for this one.     The papers that I started with were from a Gelli print play day last fall.   I have enjoyed doing all the  stitching on this one and adding textures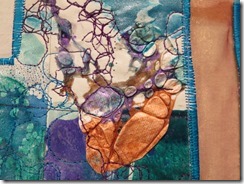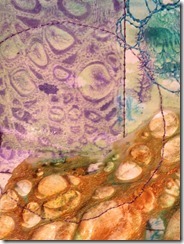 I added painted and melted tyveck for that texture.  I used both sides so some areas have the bubble up and some have the bubble down.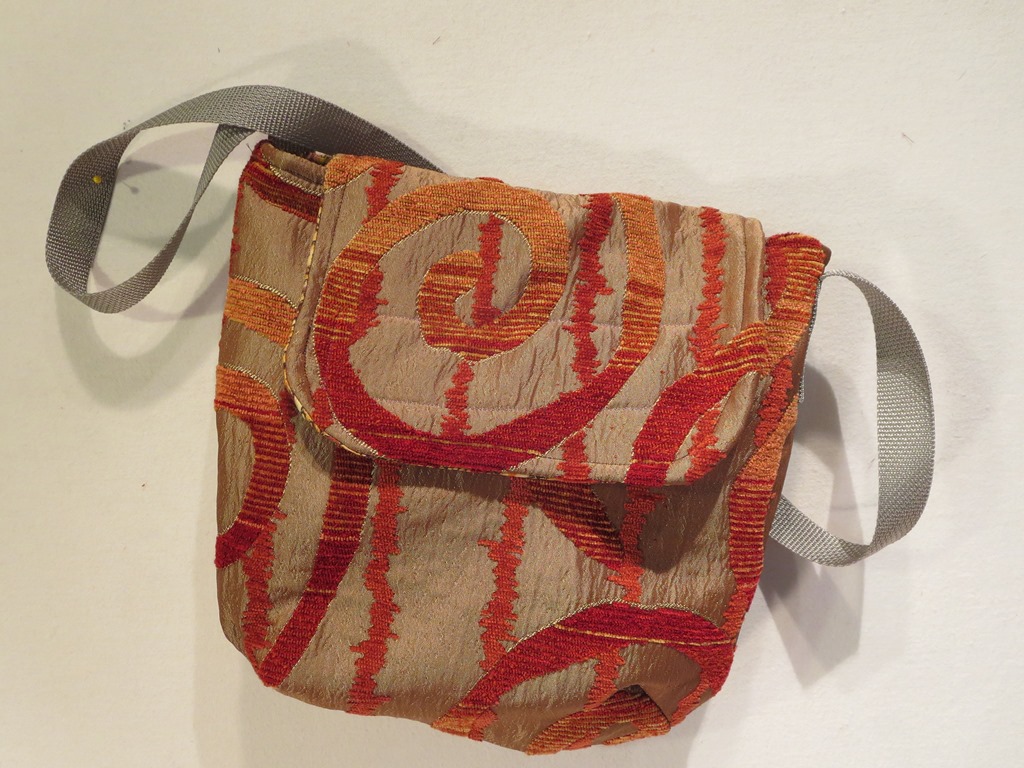 Hand Bag  I made a new hand bag out of some of the wonderful fabric that Regina gave me a few weeks ago.   It is time to switch to a summer color so I put the old one( it was browns and blacks) away.
Place Mats  When   I was sorting through the material for the hand bag I pulled fabric for place mats too.  These are the newly  finished  batch.  I have stacks  two more  sets setting on the cutting table.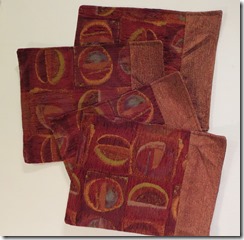 Pock Marked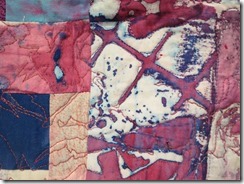 I am working on the free motion portion of the quilting on this project.  It is going slowly as I am trying to find lines to follow for all the stitching and it is very complex in some areas.
Insect Ology   I am to the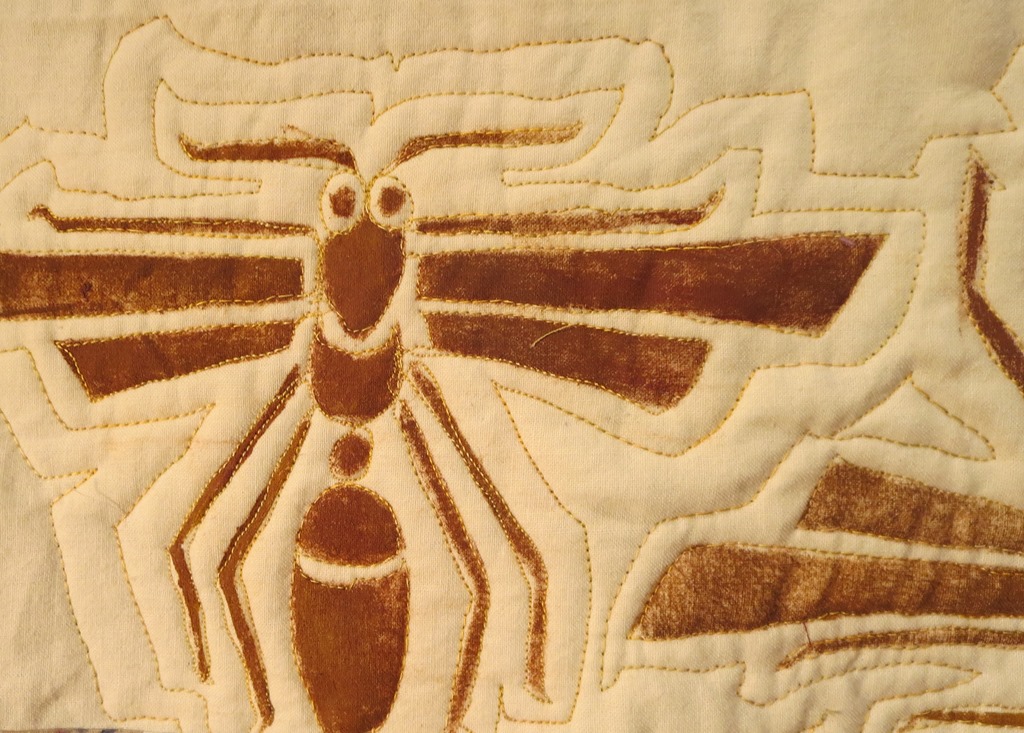 free motion quilting on this project too.  It is a much different process than Pock Marked- much more a reflective process.   It is good for me to switch from one type of free motion work to the other.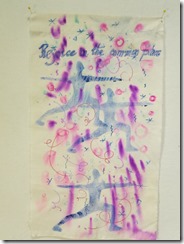 Flag – Rejoice   For the experiment on this  flag I drew on the surface with magic markers and then stayed it with rubbing Alcohol.  I hung it on the line so it would run down as it dried.   Not all the makers ran because they were different types of markers.     The "Sharpies" rand the most.   The quote is" Rejoice  in the common place." from an unknown source.
Flag- Find Ecstasy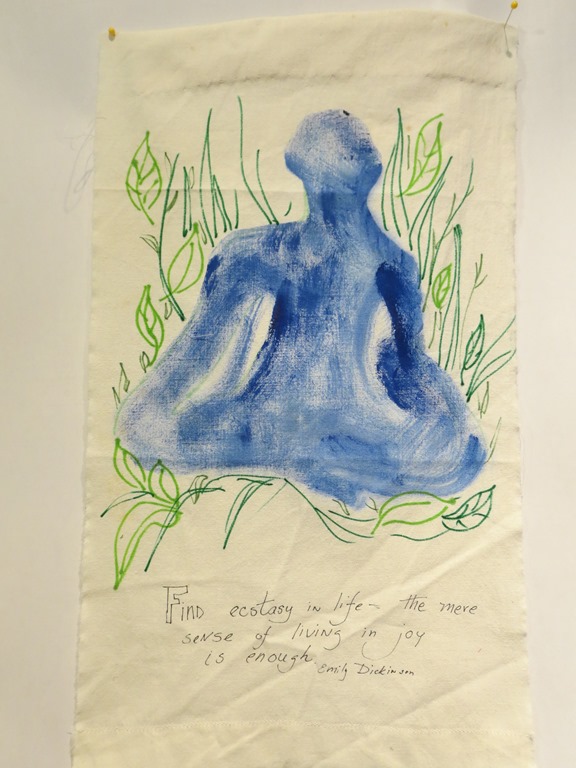 This flag does not have much in the way of experimentation.  But when I found this quote  l knew I had to use it.    It is from Emily Dickenson:  "Find ecstasy in life – the mere sense of living in joy is  enough.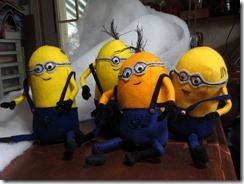 More Minions  I  am now finished with the last four minions.  I will pass them along to friends who need a lift as I come across them.
I hope summer is on everyone's door step.
Keep Creating
Carol