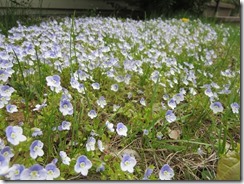 Hello,
This wonderful little blue flower filled in the neighbors front lawn and made me smile on my walk yesterday.  They are so small only about a fourth on an inch across and so plentiful.   I wore a smile for a long way down the street were it was refreshed several times as I came across several more mini fields of the little blue bundles.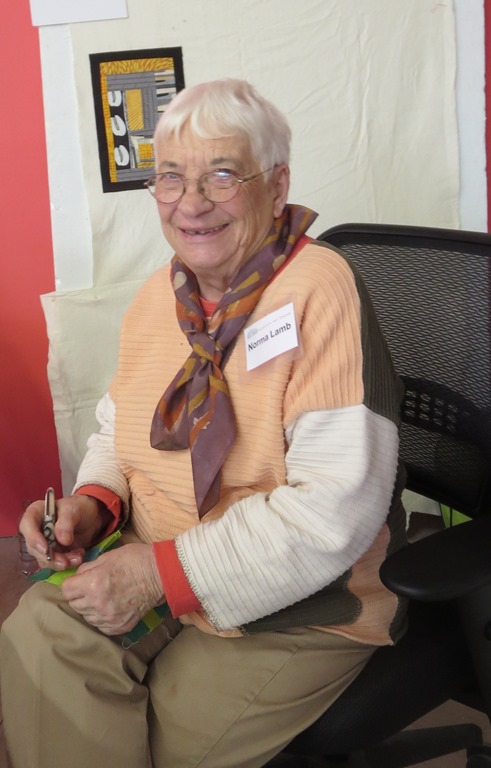 I have had a full week with three days of Quilting Retreat at the Schweinfurth and the meetings of both QuIG's and Divas.  The retreat was great stimulation.    It was good to see old friends and to see all that folks were doing.   Norma was making hostess gifts.  One of the five she did is in the background of this shot.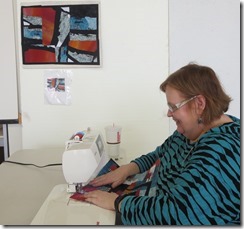 Susan was quilting away at pieces that needed that to be completed.  Great colors here.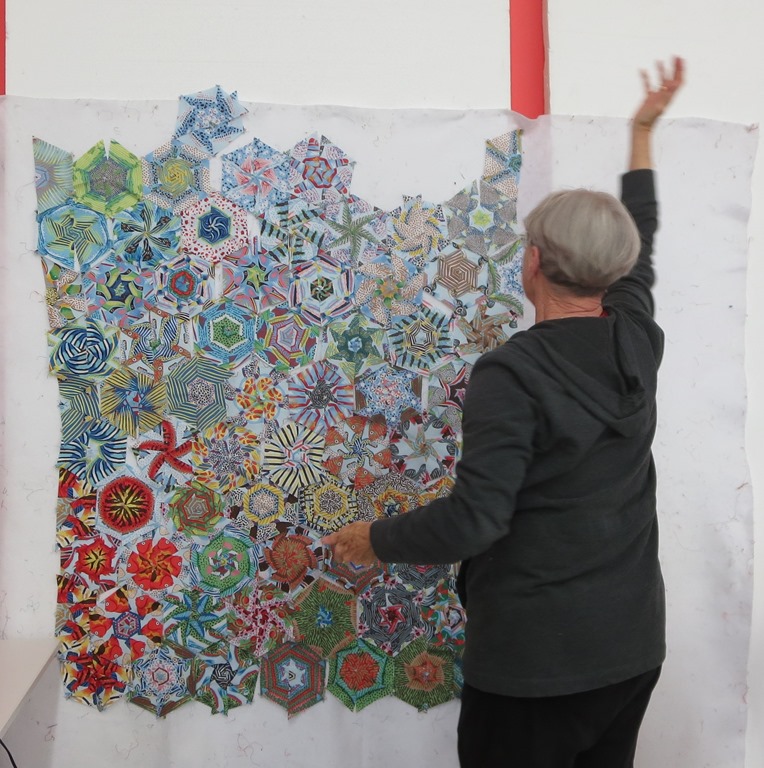 Sally was piecing and assembling a one block wonder that was based on a fish print fabric.  Watching her do the arranging of the blocks was wonderful because  every time I looked up the  work looked different.

Nancy G. did hand work on one of the row by row projects and this  little quilt of NYC.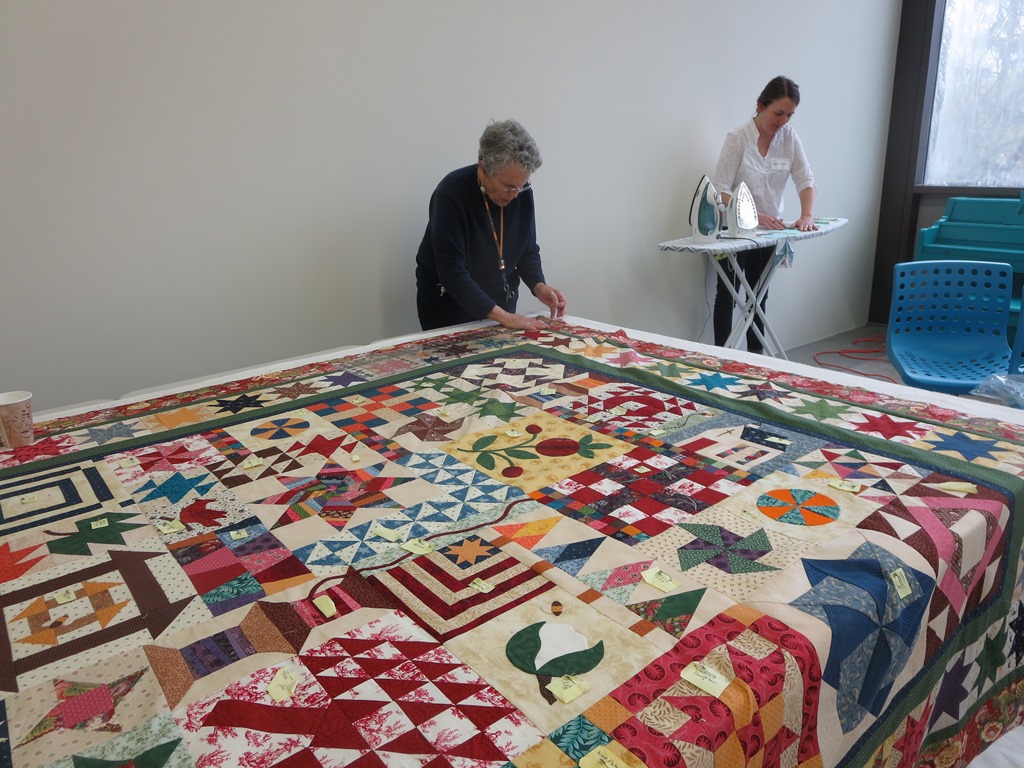 Linda L used the retreat to add boarders and based a big quilt of 110"x 110" that her sister had asked her to finish.     She had to crawl around on the top of the tables to do all the basing in the center.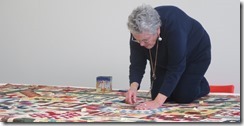 The work is wonderfully complex and will look great on the bed when it is complete.
Victoria worked with the fabric she had created in Pat Paulie's  class

in the fall.     This shot is of one of the early layouts.  She made lots of changes before the retreat was over.  I love the bright colors.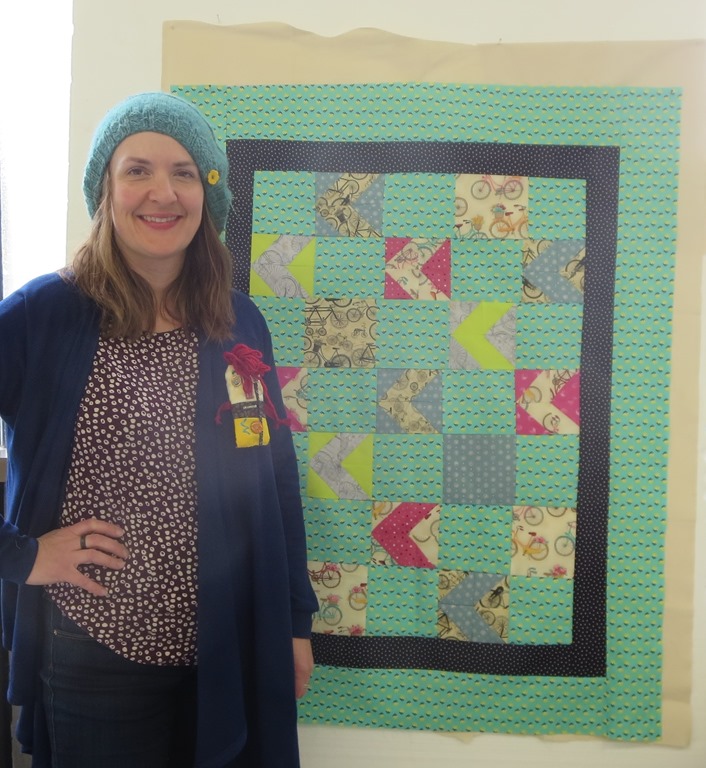 Seated behind me was a gal named Janet W.  She made her fist quilt at the retreat.  I sure enjoyed working with her too.  I think she is hooked.
Lots of wonderful things were going on at the  QuIG's  meeting too.  Both Linda and Angela were showing off pictures that are going to be inspirations for new work.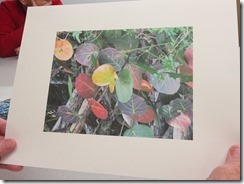 Liz is still working away on  the Splendid Simple Blocks project.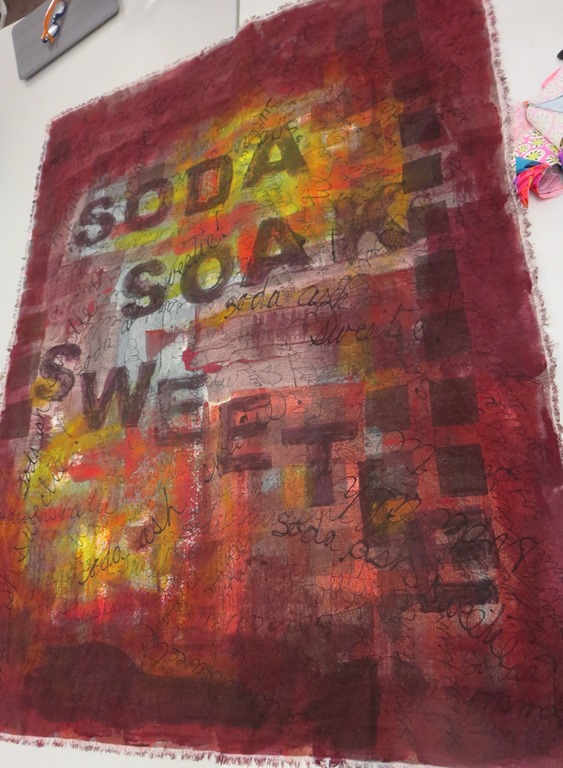 Getting a new pattern every three of four days,  is  that is only a 8" block  is very  doable she says.   She also is working away on big projects too.  I just love this whole silk cloth work that she intends to start quilting soon.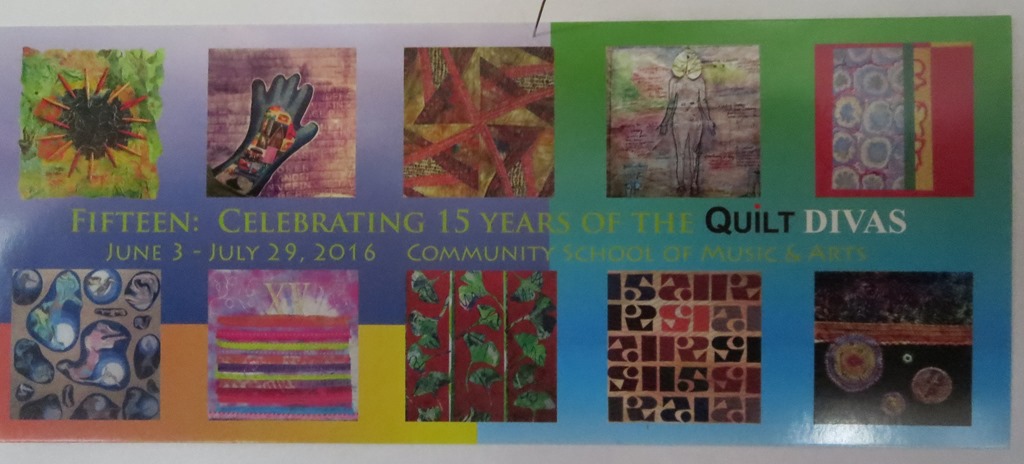 Most of the Diva meeting went to talk about the up coming show that will open on June 3.  Ruth did a great job with the post card.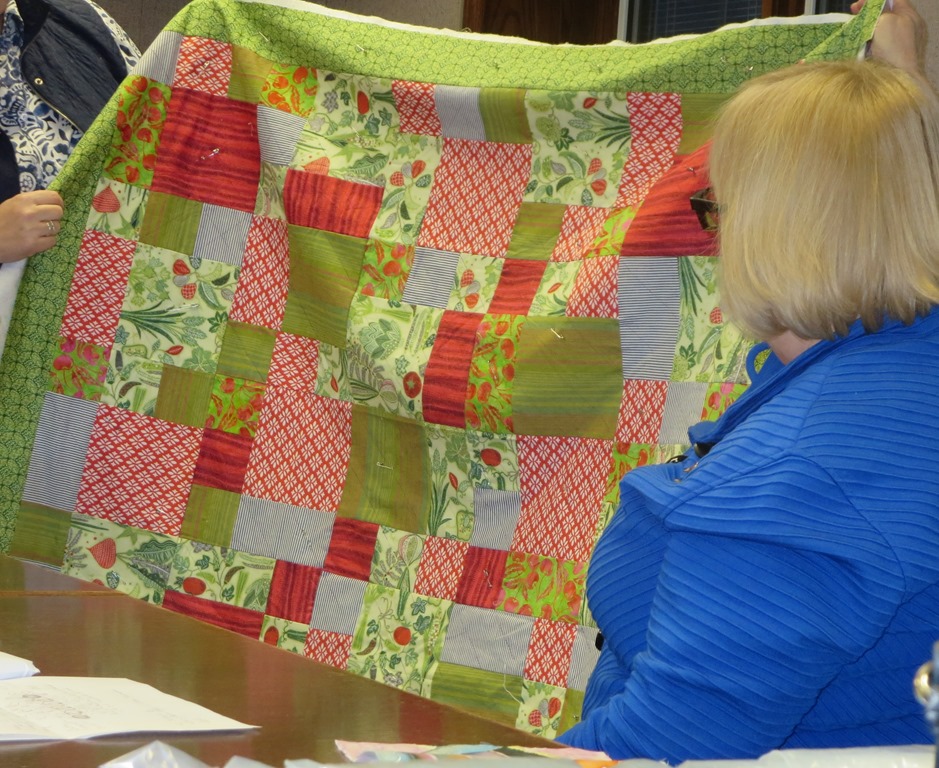 Noel is doing service project quilts for the  Tow Path guild.   They are beautifully colored.
It is really great when folks  bring works in progress.    That is what  Anne  did.   This  is  a Water quilt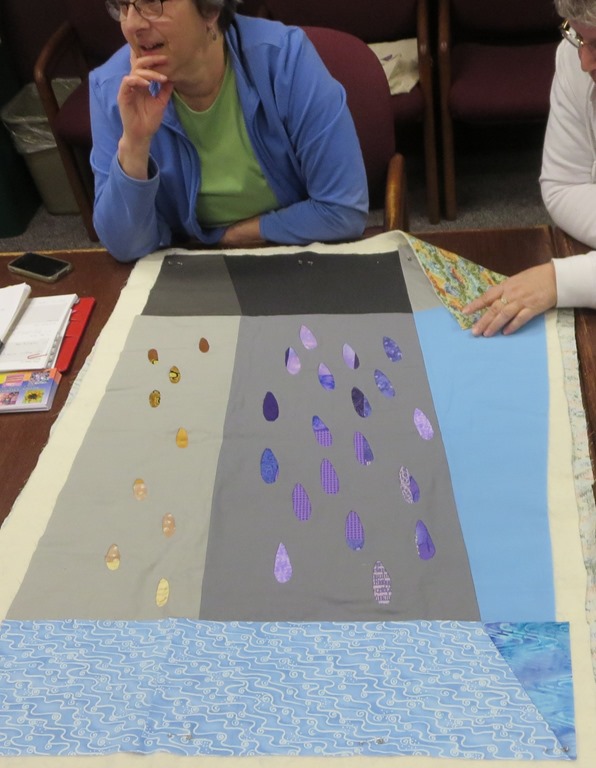 she shared with us .  She asked for suggestions on how to quilt it.    Now how she quilts chooses to do  this will be interesting to see.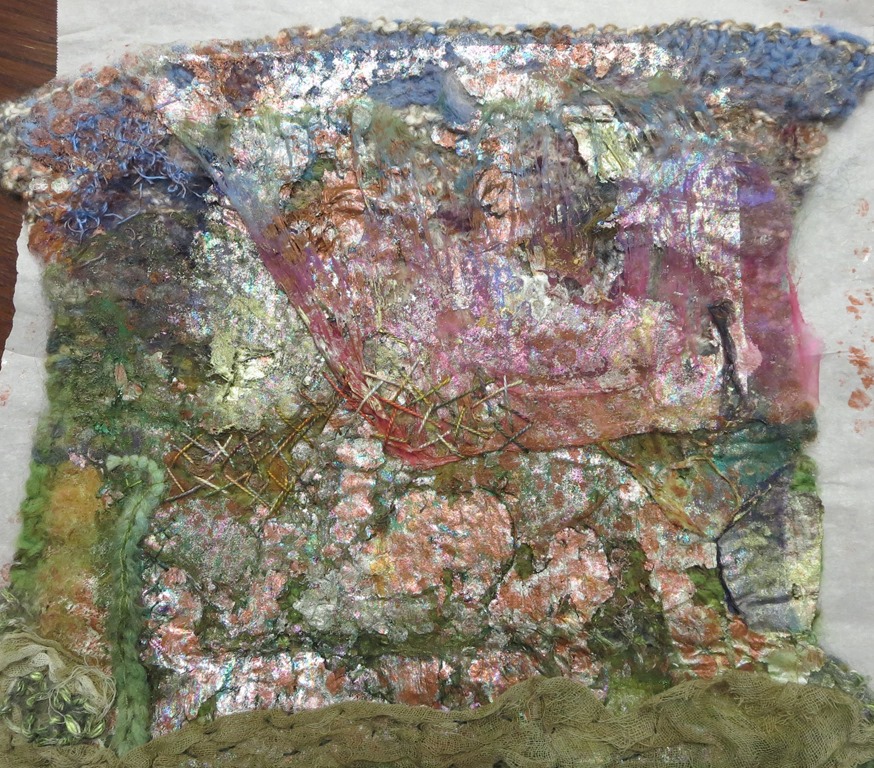 Lori also brought a project that is in an early stage.  She  has felted, fused   and already added paint to the surface.  All this before she begins to stitch on top.    I  am looking forward to watching it grow over time because I already love all the texture.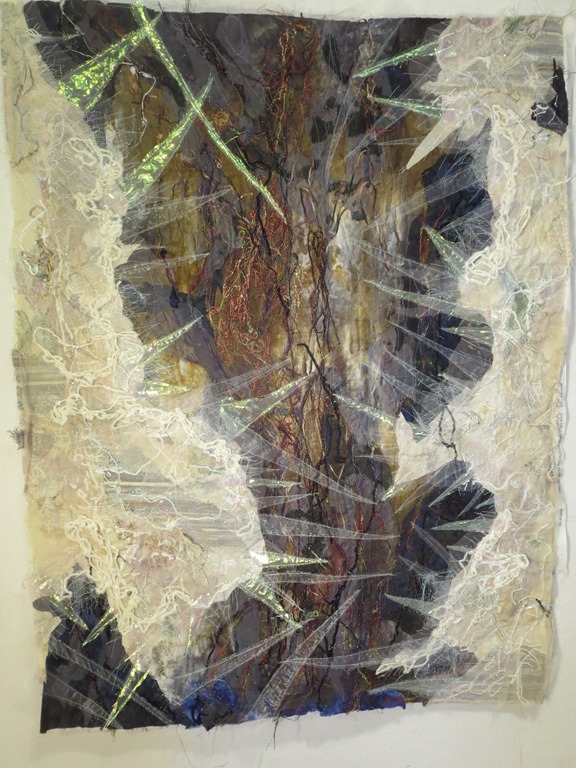 Progress Report:  Ice on Vincent   This quilt is in the stretching/flattening stage.  I got help from Nancy Bales at the retreat on how to get it flat and now it is drying after a lot of steam ironing.  Hopefully I will get a back on it this week.
Blue Stone   I am still building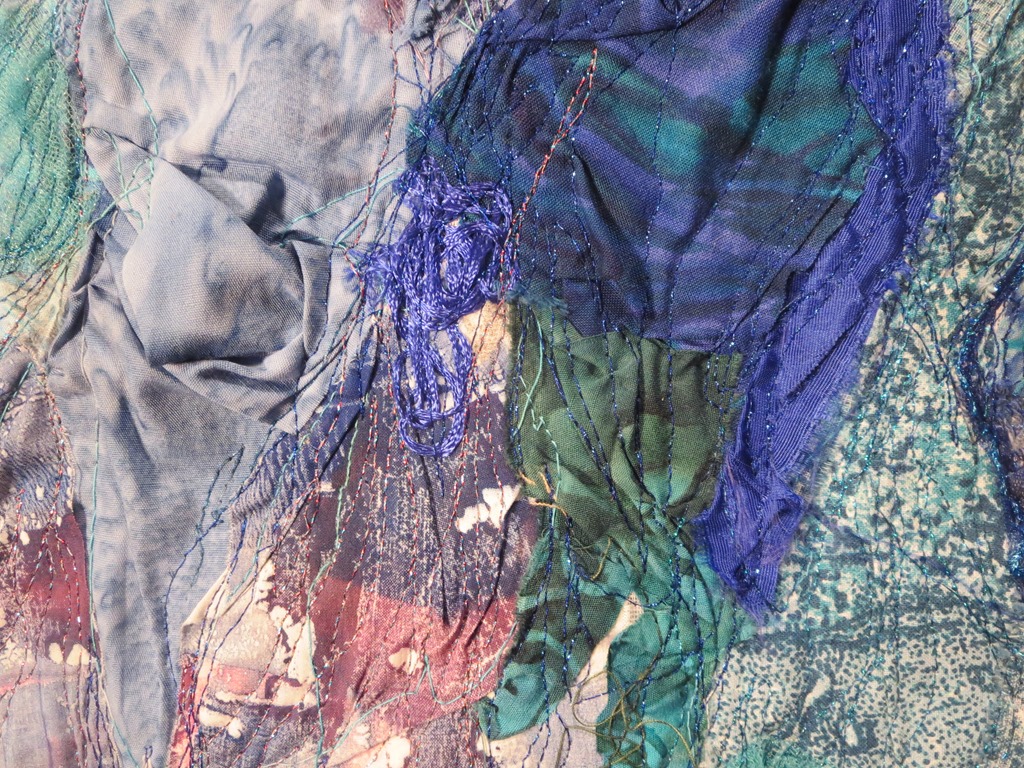 up the surface with stitching on this work.  I like this process,but it  is very slow and tiring.   Only about three more hours of work until I am done…… I think.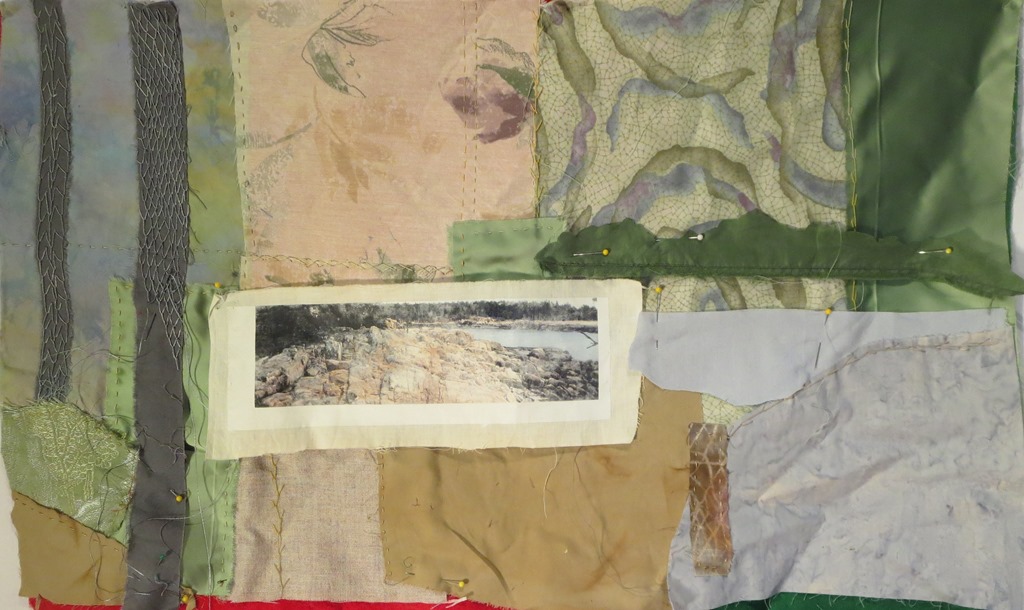 Along the Shore   This is another of Ethel's  UFO's I am completing.   This is also my hand work project for the time being.
Wine and Cheese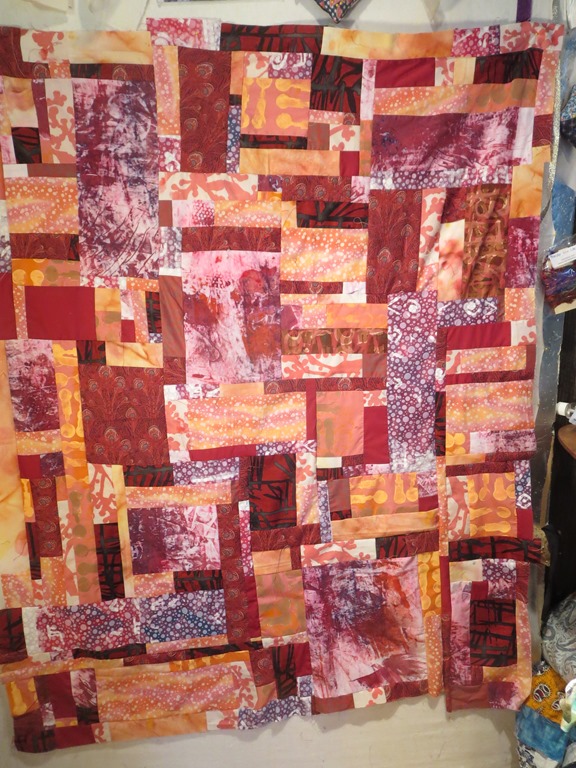 I stared this project to relieve the pressure that all the free motion work on Ice and Blue Stone were creating in me this week.   I did use a lot of the fabric that I had altered in this project.  Most of the commercial  orange is Ethel's  material.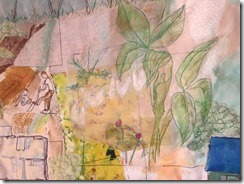 Memory Map- Columbus Junction  I did not  do a lot of work on this project this week.  I did add the spring flowers however.  I like the Jack in the Pulpit the most.  The Dutchman's Britches are well shaped, but I wish they were a bit whiter.  Perhaps I will add some paint to the surface.
Lion King –Cherrywood Challenge     At the retreat I started this  project.  I had purchased the kit at the Chicago Quilt Festival when I was visiting with Sharron.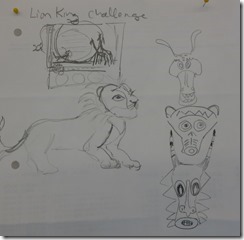 First I did a little research and some drawing.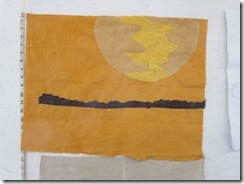 Then I stated building up the background.  One of the limits on this challenge is to use only the Cherrywood  fabrics.   The pack  was two shades of gold and dark brown  fabric. Most of the piece is to be from these fabrics.   The background is one of the gold's.  But it is not the full 20" that is required on a side, so I added the gray at the bottom.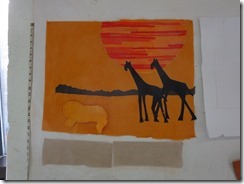 That is were I will put the masks when they are done.       At the end of day one I did the loin's body.  I was tired and it was made backward.     Fixing that was the first job of day two.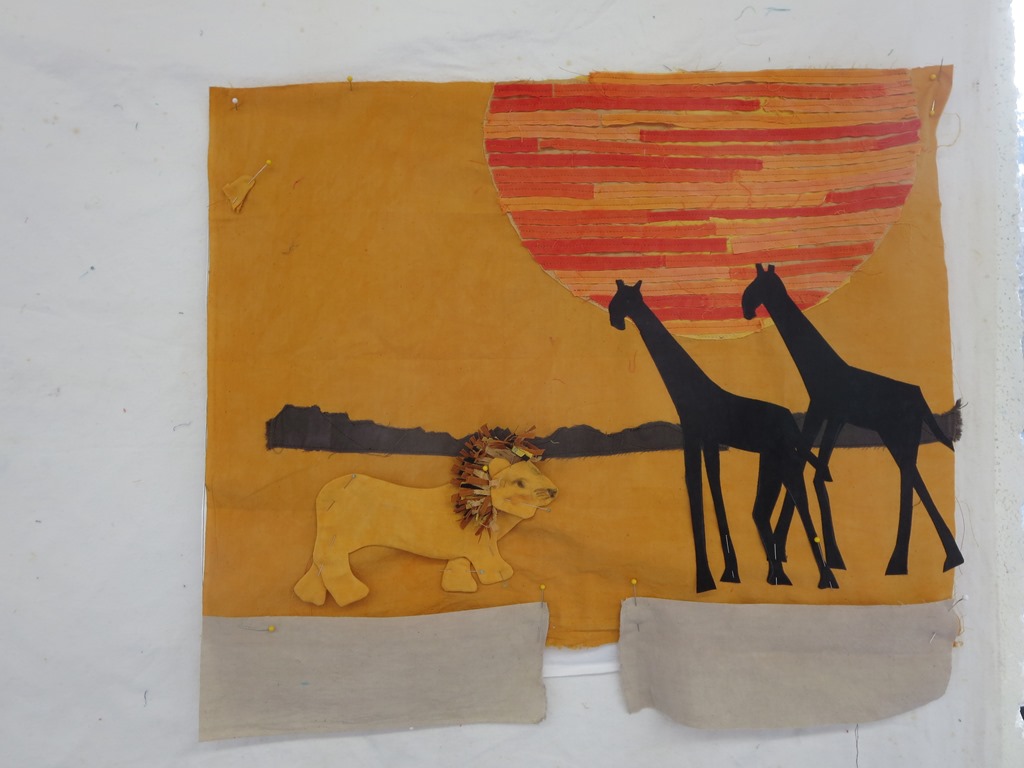 I then made the main and stopped working on the project because I want to do the face with  embroidery work.   The whole thing is not due until July so I can take my time.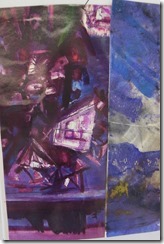 New Work  Before I left home I had pulled out all my purples to do a new project using this collage as my starting point.   It is early in the building of this work but I feel I am staying with the feel of it at this point.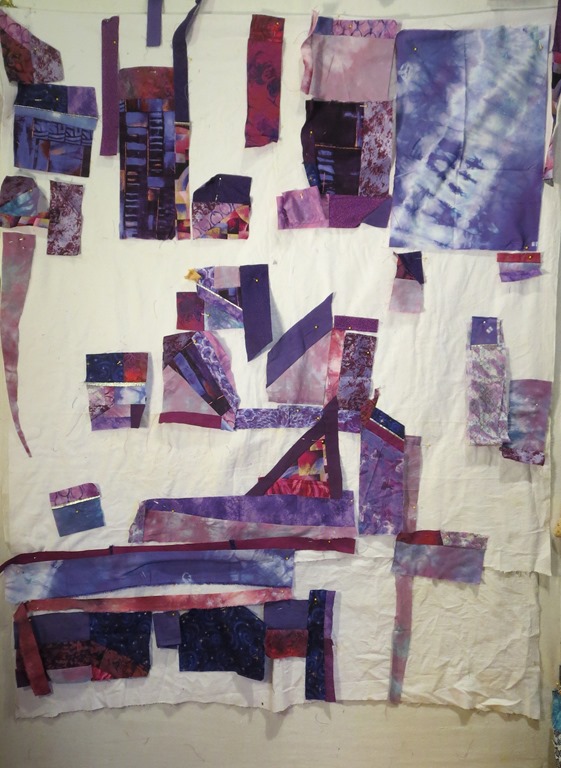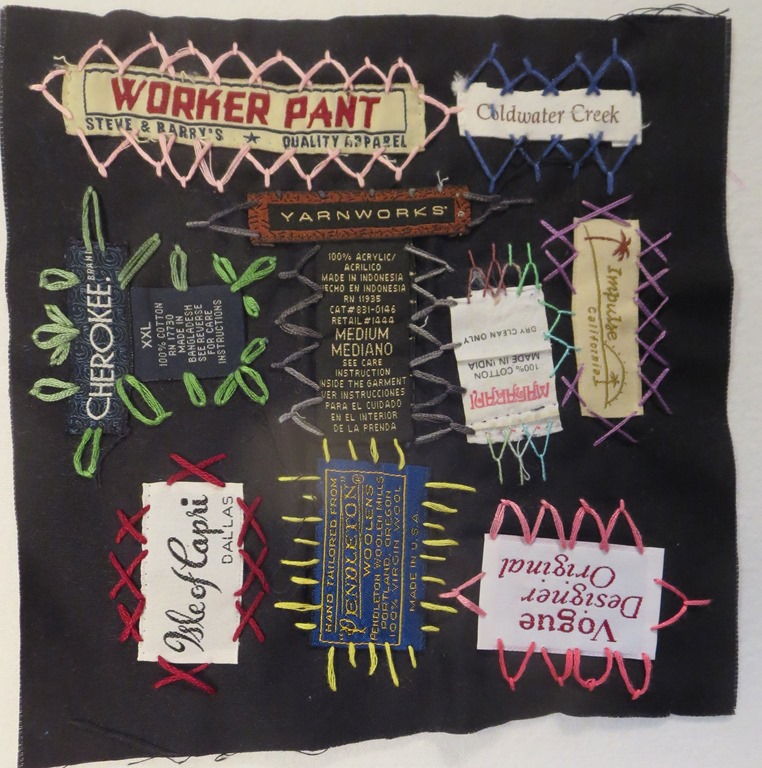 Label Block # 50  I will take help were ever I can get it.  The label at the top " worker pant" is from my grandson.
Keep Creating
Carol