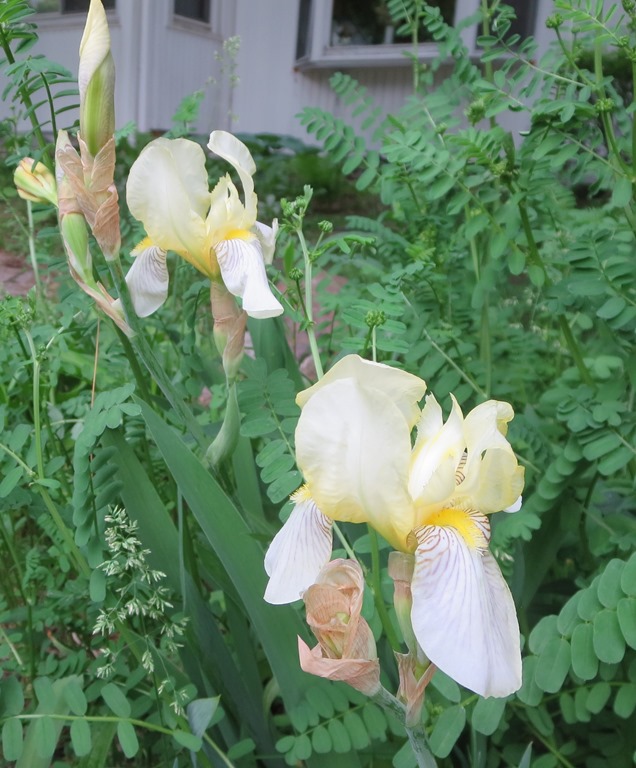 Hello,
My iris are blooming.  These are the last ones from Dad's garden on the farm that have survived the upstate winters.      I feel like summer has truly begun as we celebrated Memorial Day this week.   The weather has cooperated with that attitude too as it has really gotten warmer.   The week has been a full one starting with last Thursday as I went off to the Schweinfurth Art Center after I wrote last weeks   blog and helped hang the new fiber show from the Surface Design Association.  It was wonderful to see how folks designed there work up close and really check out the backs too.  It is a great show with lots of variety from weaving to sewing on x-ray  plates.     Then I ran home and off to a  pop up  dinner, were we learned how the chief prepared  food for presentation.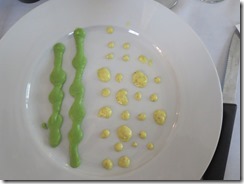 We each followed the instructions on how to present our plates.   This is mine with  pea sauce and egg dots.  I forgot to take  a photo of the final before I ate it.  It was very good.
The other event of this week really starts tomorrow with the opening of the Quilt Diva 15 show  in Ithaca.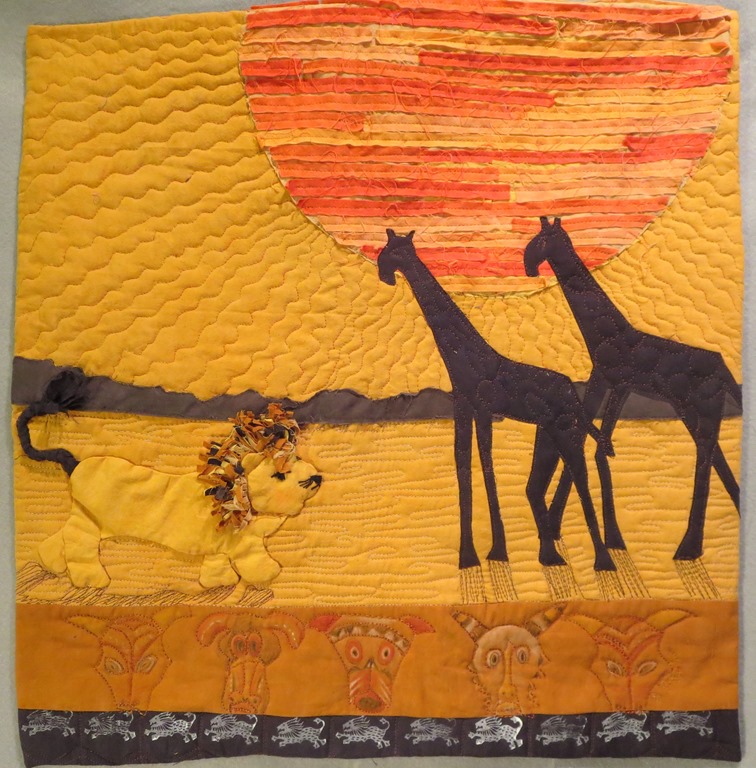 Progress Report: Lion King- Coming Home    This work is  20" X 20".  The quilting is all done on the machine.   I used a wiggle ray  type of pattern for the sky and  a  serpentine pattern to show the heat on the ground. 
The giraffes   were out lined and then a spot pattern was added to bodies.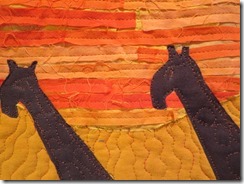 The masks all got out lining and free motion work to show off the shapes of the areas.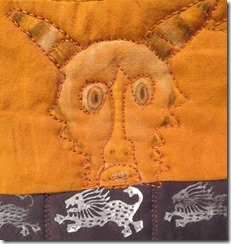 I was glad I had this little stamp of a bounding lion to add to the edge  of the work.
Generational Whispers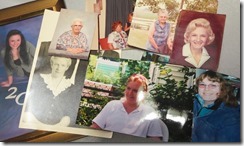 It took a bit of work to find images of all of the women in the family that I want to use in this  quilt.     Now I need to do the drawing so I can begin the machine work on this project.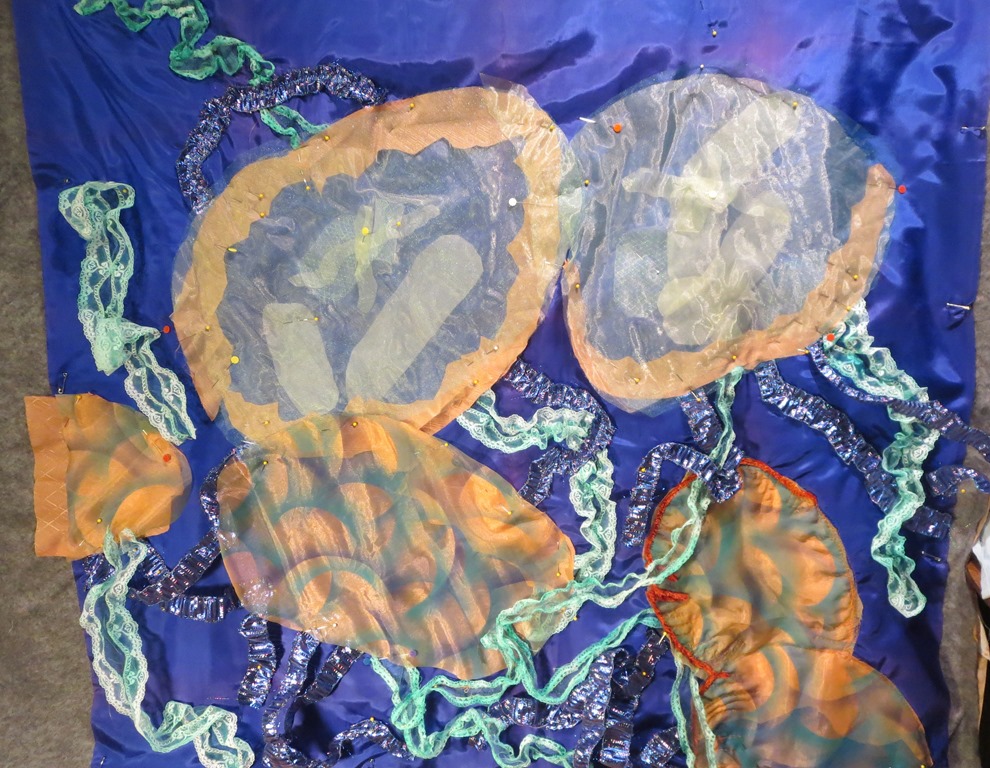 Deep Jellies   I am beginning to put down the parts of this work.  I made the stunners  for the jelly fish out of  a metallic fabric and lace I had painted the aqua color on the  photo.
New work Sachiko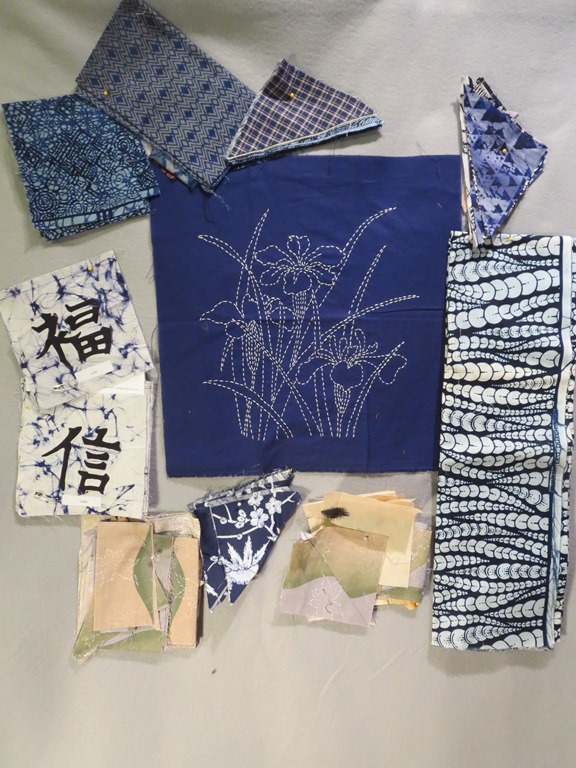 The  white on blue hand work of iris's is done now.  So I pulled fabrics that I thought would go with it.  I had a pack of ten stamped Japanese  words that I though might go with it.  There is not a real clear vision for were I am going with this one yet.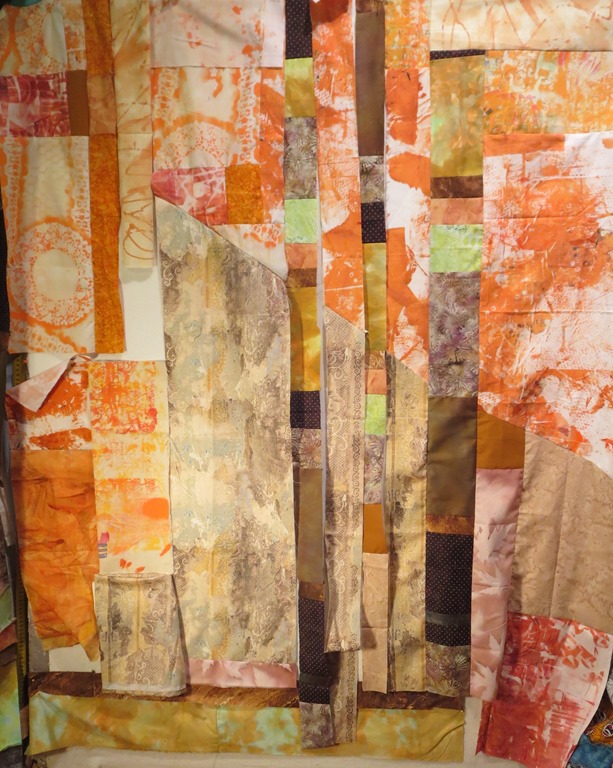 New work     I used one of the collages from last week to build this work.  It is about half way assembled now.  Finding a title is proving to be a challenge however.
Label  Blocks # 60 and #61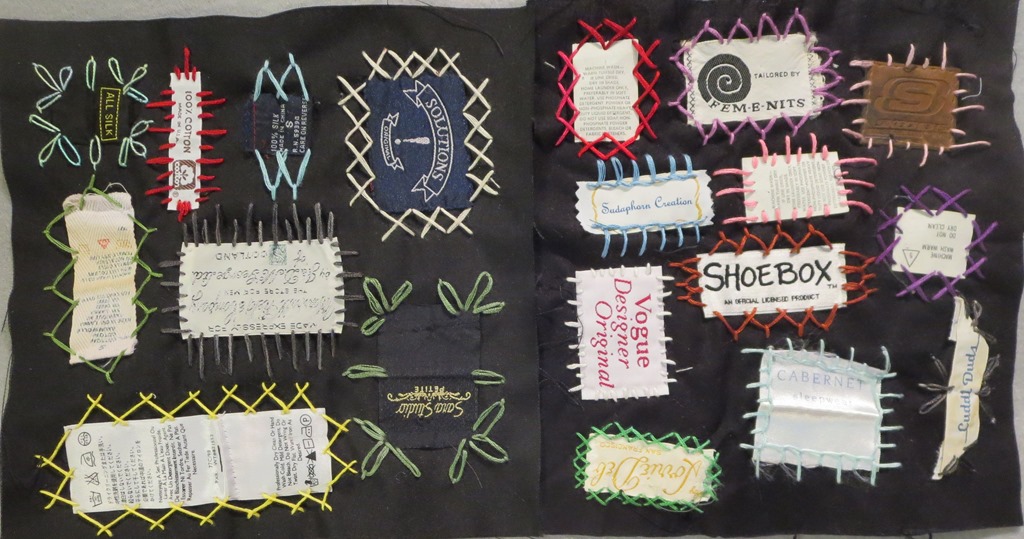 Now I really am half way through with the creating of the blocks for this project.
Enjoy summer and Keep Creating
Carol