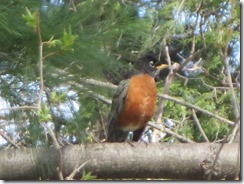 Hello,
I am enjoying the unfolding of spring here.   There are lots of buds and birds.  I went to the Towpath Quilt Guild quilt show on Friday.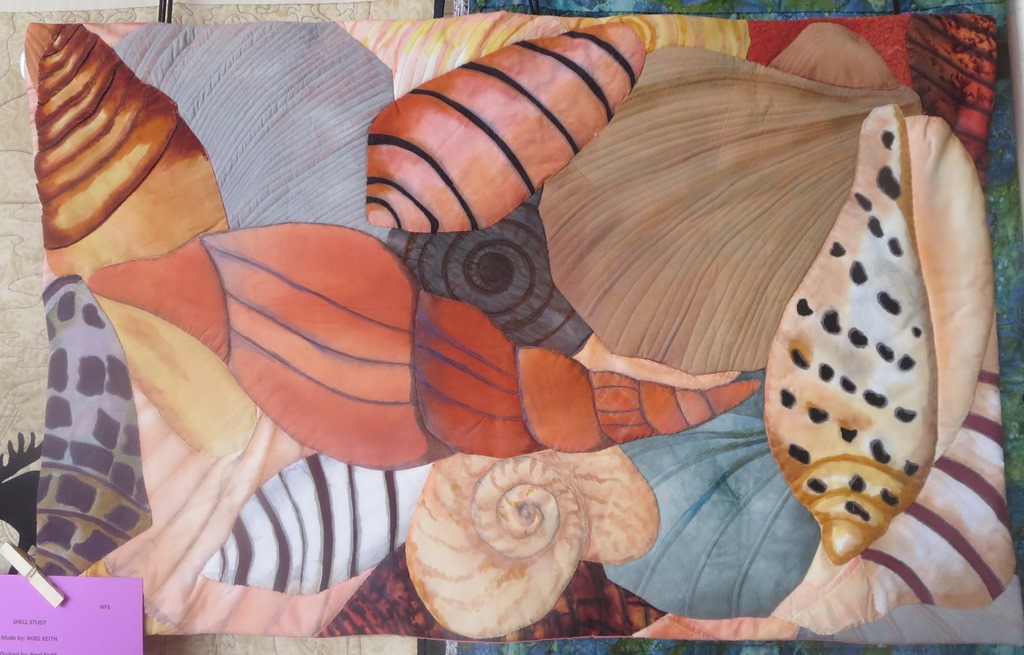 My friend Noel's quilt looked great as did many others.  I enjoyed the show and saw many friends too.   It was inspired  to go home and work in the studio.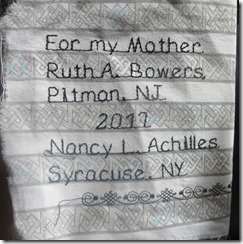 FAB had a meeting on Monday and Nancy show us this label that she programed for her Mom's Blue Bird quilt.     It looks good to me.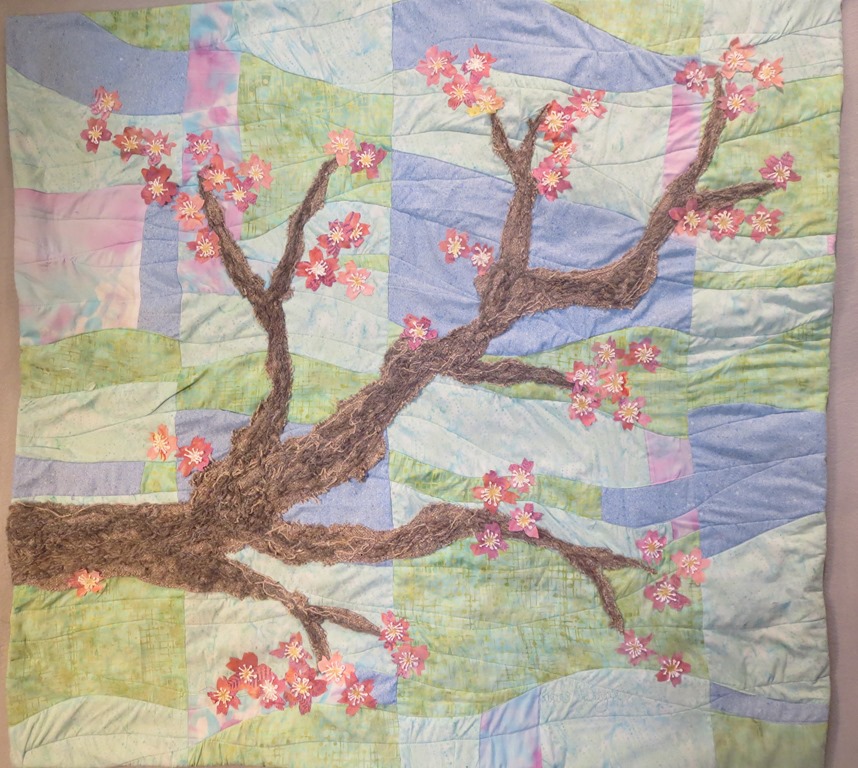 Progress Report: Cherry Blossom Time   This work is 39" X 35".   I created it from the branch that was left over from the Blooming Branch project.  It was too dark for that work so this one was born.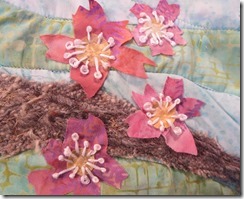 The branch was created from the sleeve of a wool jacket that I then built up with two different yarns.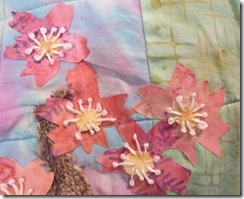 There area 61 blossoms on this quilt.  I made the centers from silk paper that I cut in circles and then stitched down with long French Knots.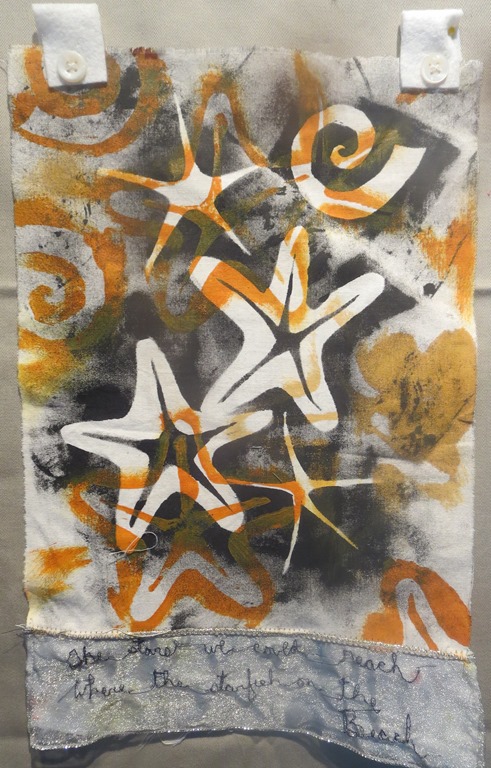 Flag-Starfish   This is my newest flag from the Susan Challenge.    The text on this piece is machine writing in the section on the bottom.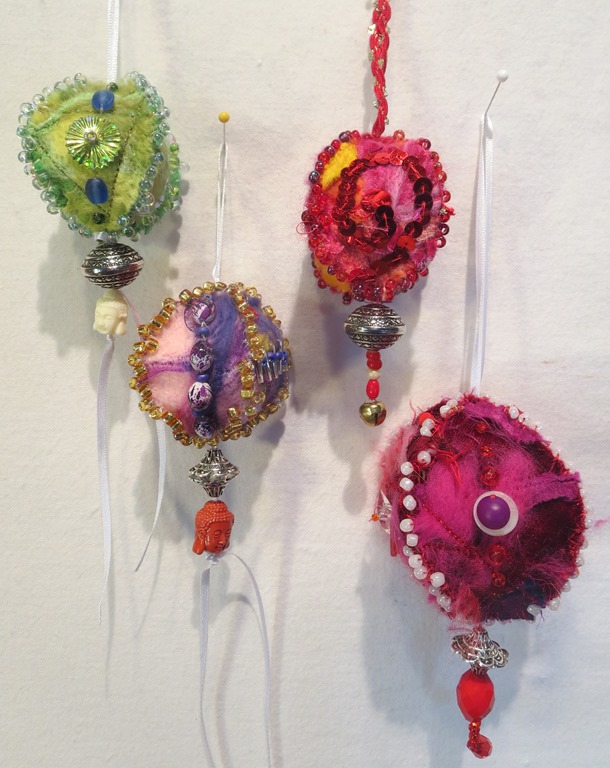 Pods   These are the newest completed pods.  I am enjoying the embellishing step as I get to use lots of beads sequins and pearls with this project.   I cut  six more felt embellished units this morning   so there will be more in the future.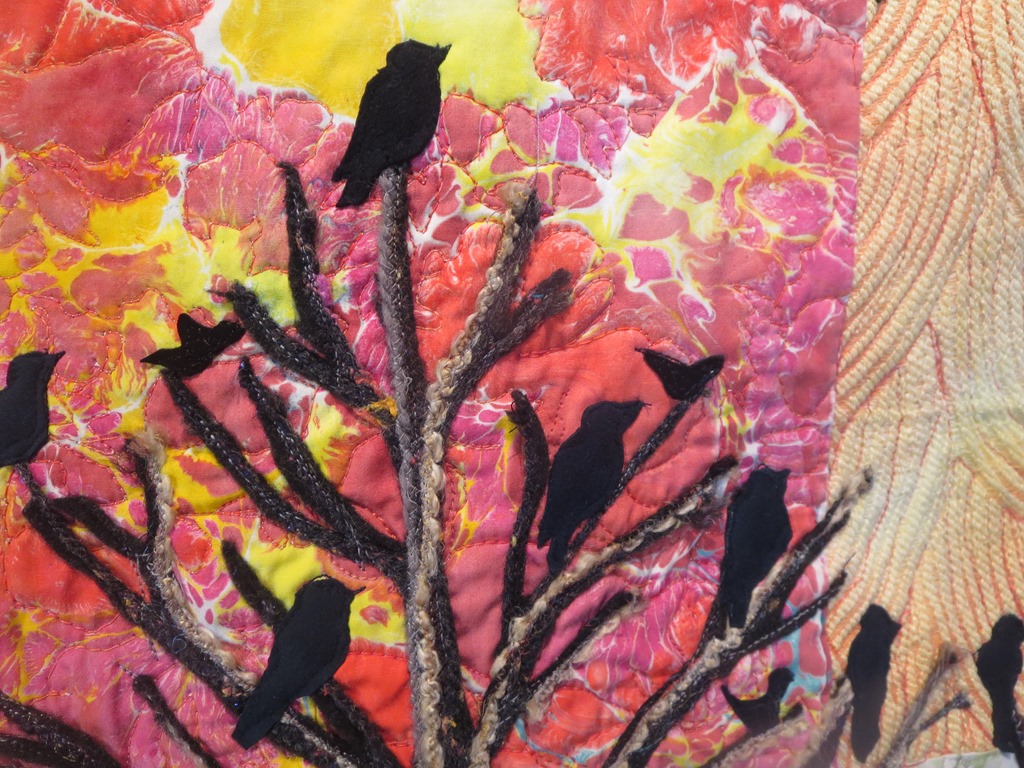 Crow Calls   This project is a reworking of a completed quilt.  I built up the trees and stitched them to the quilt.  Now I am adding the crows.  They are cut  from suede that is then free motion stitched down.    I added  twenty five birds yesterday.
Samurai Romance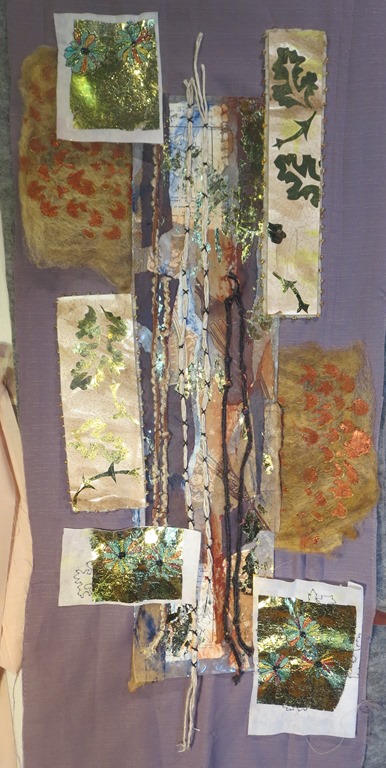 I have been following the suggested techniques in Stitch, Fiber, Metal  and Mixed Media.     I have not purchased any new materials to do this project, but adapted what I have on hand to do the projects.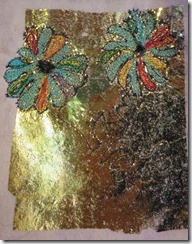 This week I applied foil to thick interfacing and then did free motion machine drawing on top to create the flowers.  The centers are glass beads.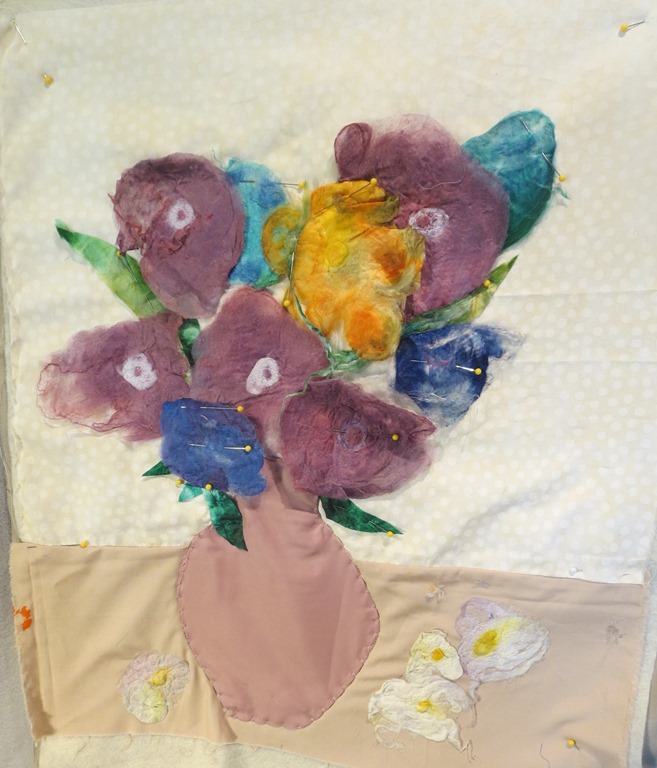 Still Life   This work is an experiment.  I have been making silk paper for a  while and for this project I made the silk in the flower shapes instead of the sheet form.  Now I am stitching them down.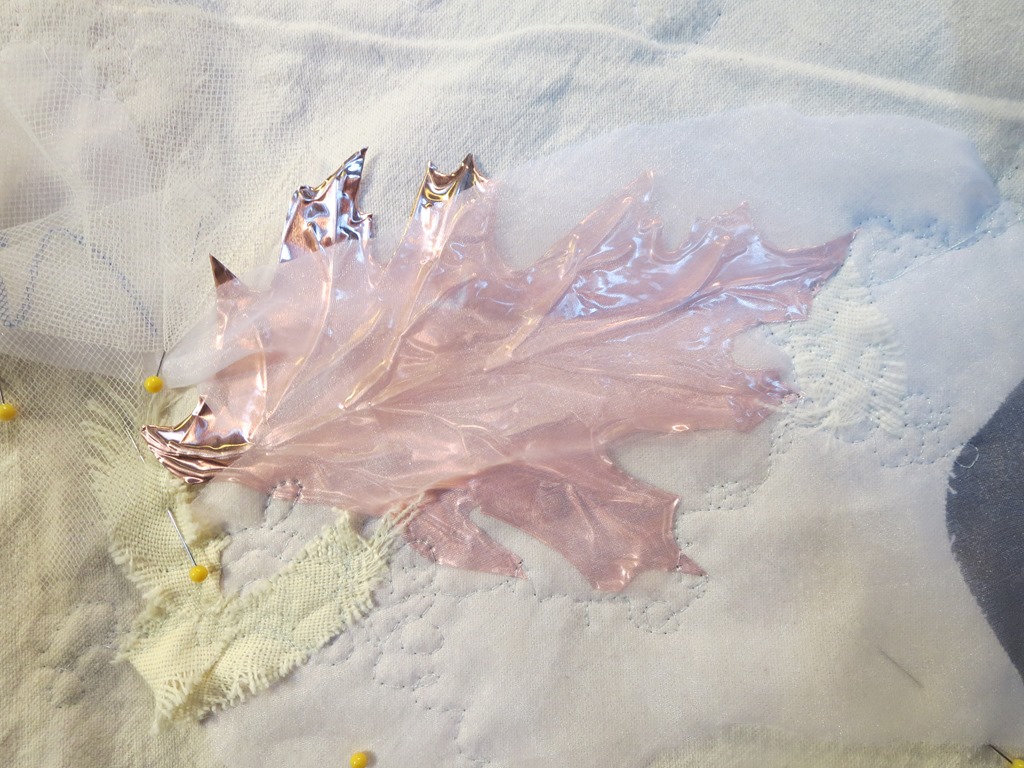 Ice   I have started adding the leaves to this project.  This week I made leaves out of copper.   They are embossed with a blunt pencil.   This first one is trapped under a bit of "ice"  and I like the effect.  The other one is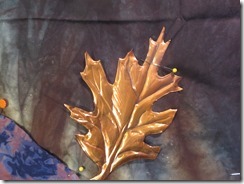 set to be in the water section of the work.  It may need netting too but I do not know at this time.   I also want to also add some fabric leaves too.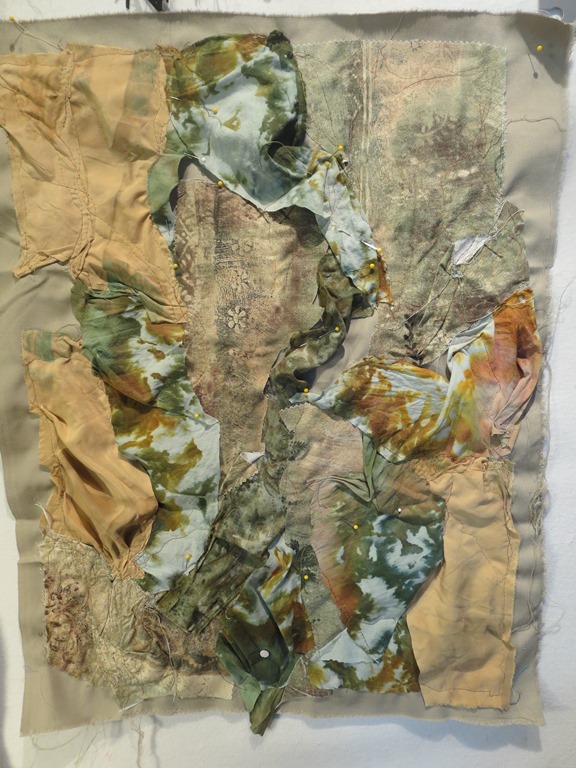 New Works   This is a started build up for a new work.   There is a minimum of free motion machine  work on this piece at this time.    It is based on a photo of a rock face.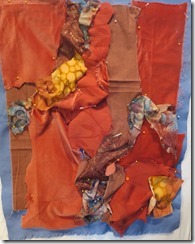 This is a second pin up for another new work.  It is based on another section of the same rock face- with a different color base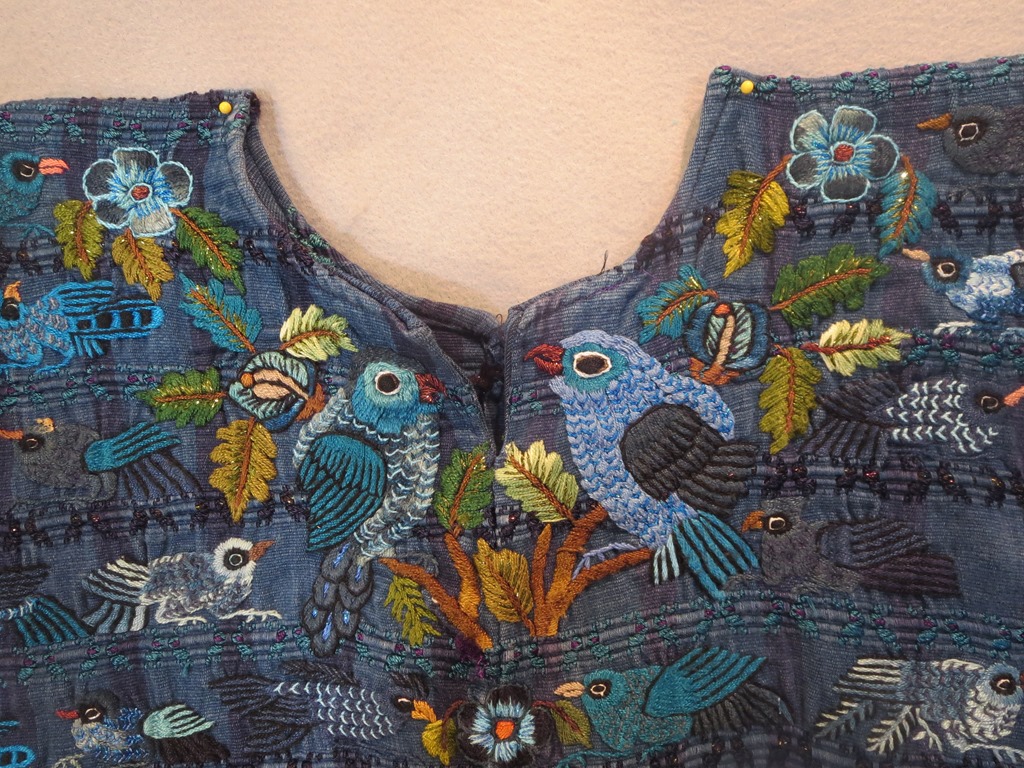 Top   I fell in love with this piece form Guatemala.    he hand work is beautiful.  But it is far too short for me and I wanted the sides closed.  So I have started altering it to work as a top for me.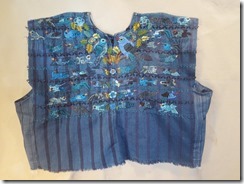 Label Block #115 #116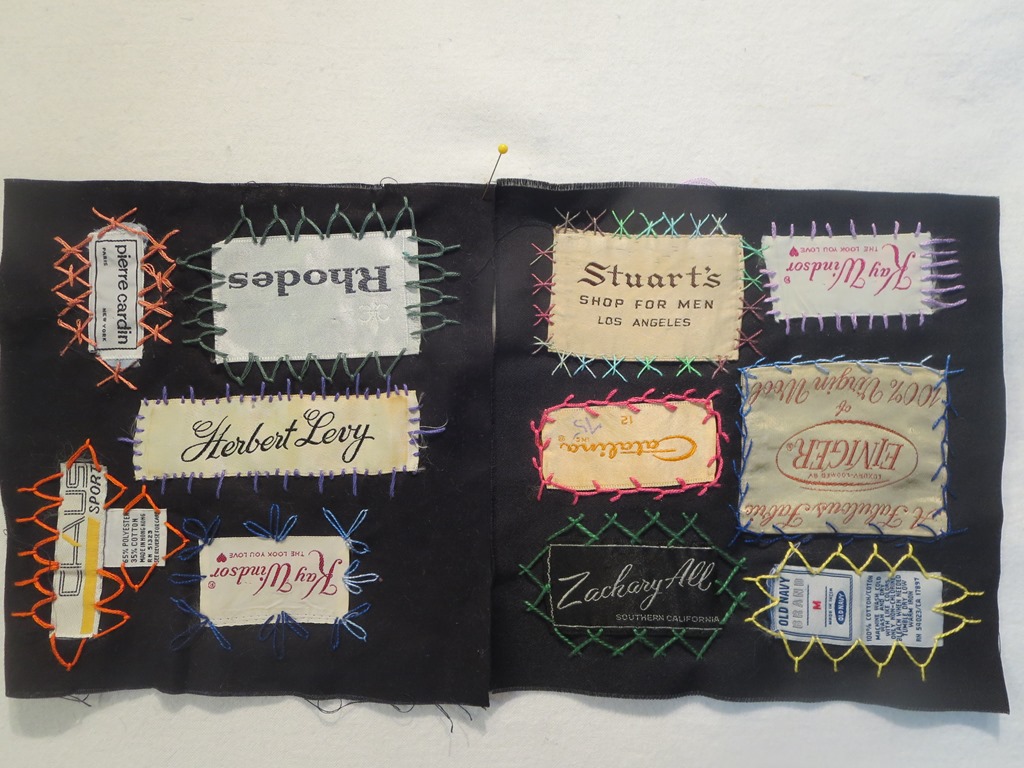 I got inspired  and did  two blocks this week.  I also cut  15 more black squares to complete the top.
Keep Creating,
Carol