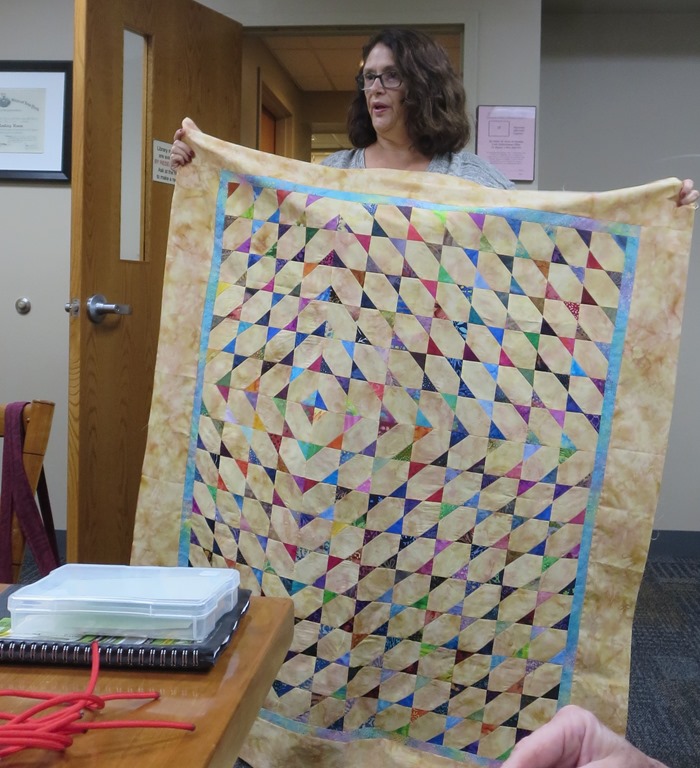 Hello-
It is the first full week of October and I went to my group meetings on Tuesday.  At QuEG's, Angela started us out with  a baby quilt top she has finished for her yet to be born grand daughter.  She is excited about it.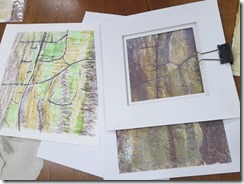 She also showed us some of her work  from an on line class  she took.     I really like the idea of making your sketch life sized  before beginning work.   A simple idea that had never occurred to me.   I have always done a thumb nail sketch- but I can see value in doing it life sized.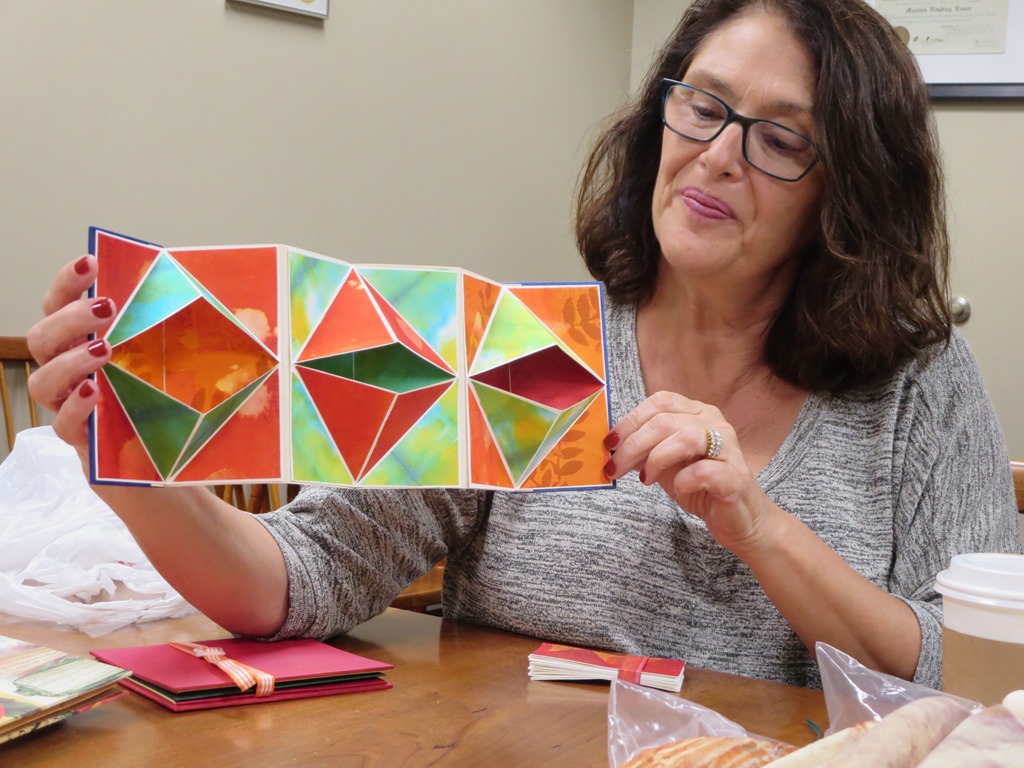 She also had her books from her class at QBL to share.  It looks like she learned a lot and had a good time.
Linda shared her   workings with her new felter.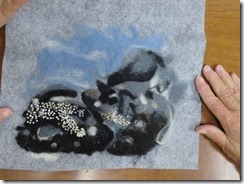 This is a great start and  I think she will do more on it and do several other projects.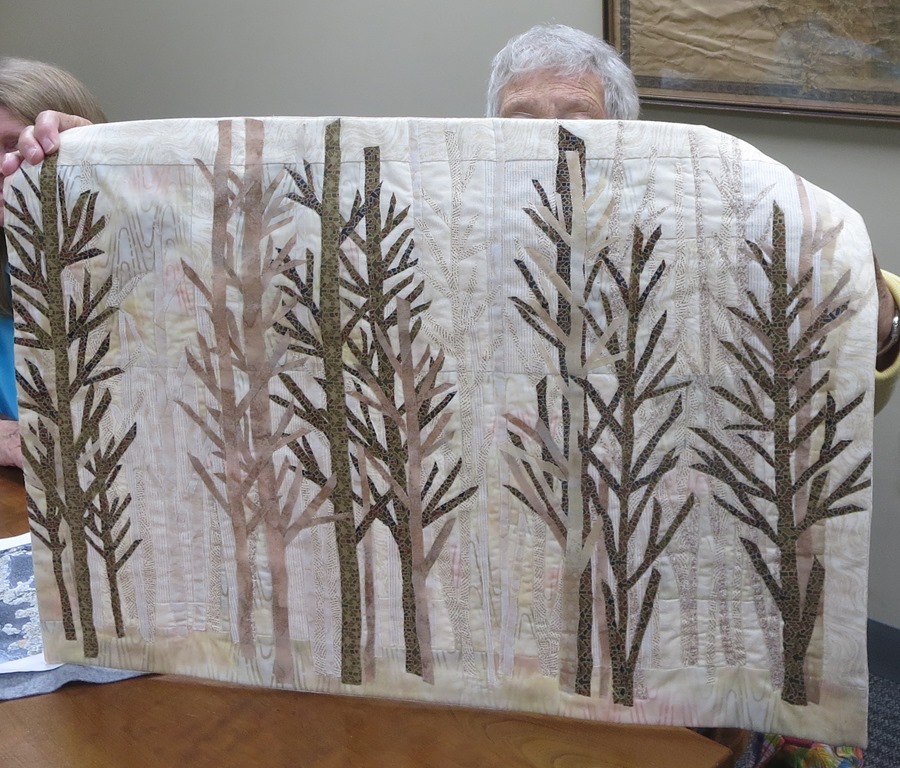 Linda also created this wonderful forest quilt.  It has so much depth.
Sue Ellen is busy getting ready for Christmas at the shop so she was trying out new ideas and this tree was one of them.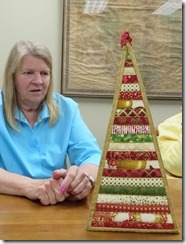 There were only five of us at the meeting, but we still managed to fill the two hours with sharing and talk.
Then it was off to the Diva meeting.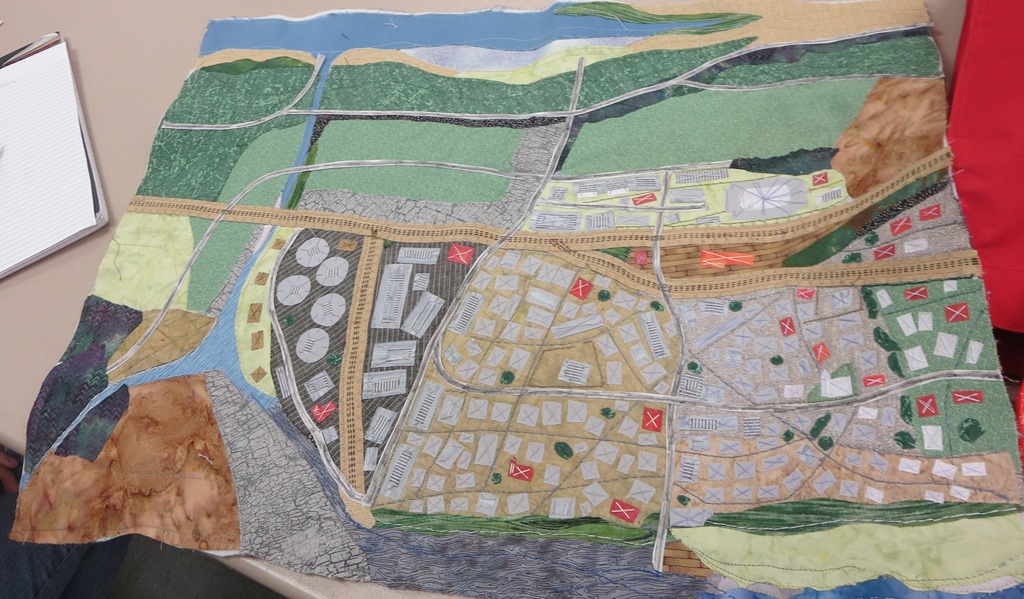 Lliesa started us out with a new map quilt.  Unlike her one from last year that was based on a real location, this one is all imagined.   I like how it is growing.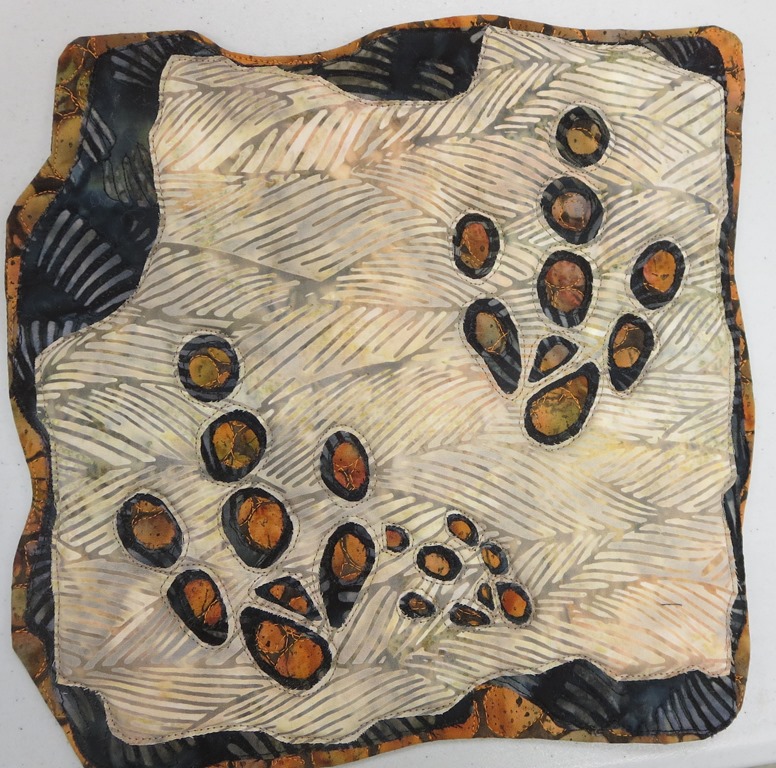 Ruth  is doing a series of works based  on Dinosaur tracks.  I like the way she is working .   The irregular shapes really look like chunks of rock to me.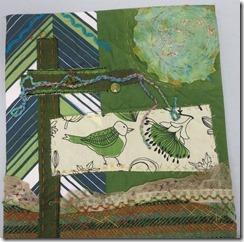 Lorrie made this little quilt for  the sale at the quilt show next week end.   It is  a happy little thing.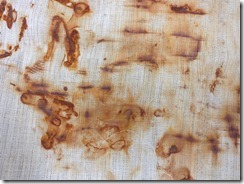 Donna is doing rust dyeing now and has achieved some great effects.      I always go home for the meetings with a real high on things to think about and try Like the rust dyeing…….   It is great to meet with folks of a like mind.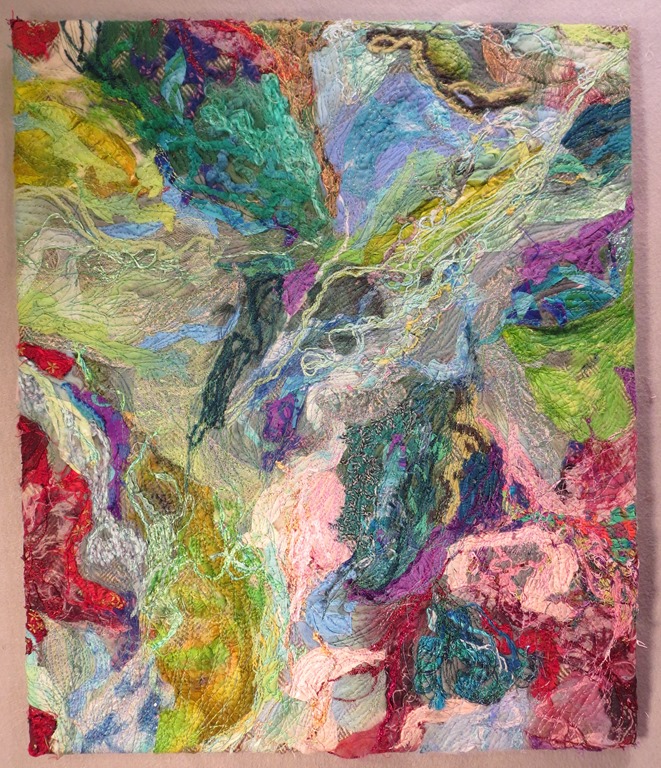 Progress Report:     Water Run   This work is 24" X 20" wide.   I sure enjoyed working away on this work.  When I stretched it I really  got going on the next ones too.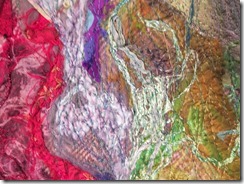 I like doing the free motion work as the fibers sometimes move as I work.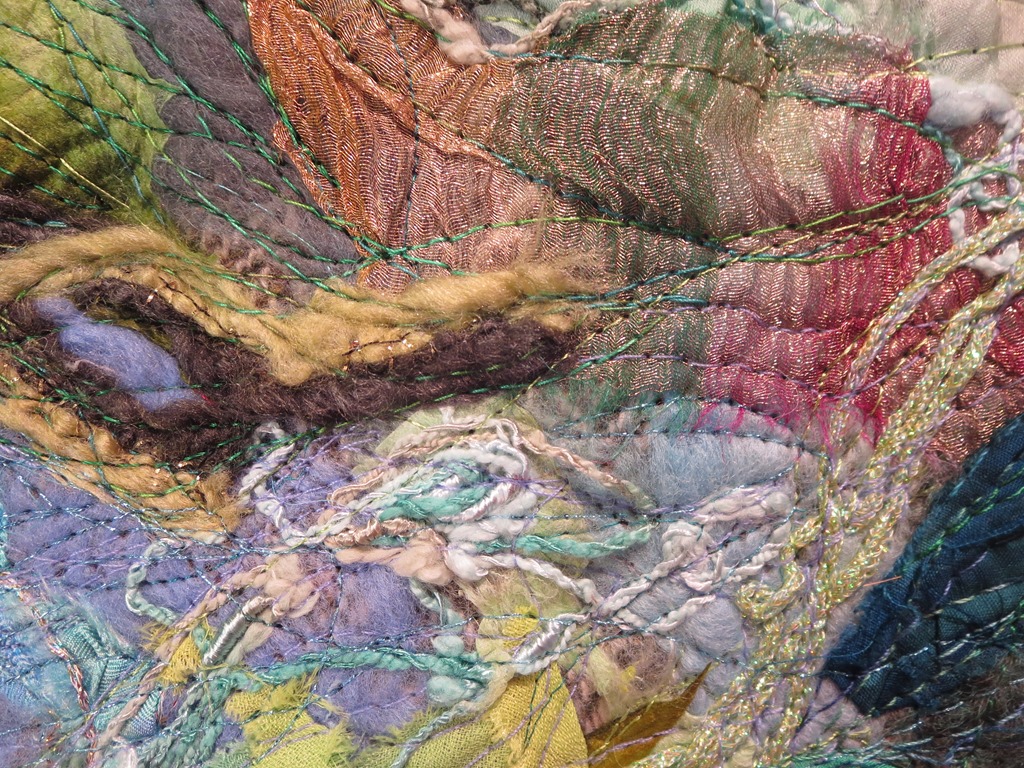 That movement makes it feel more organic to me.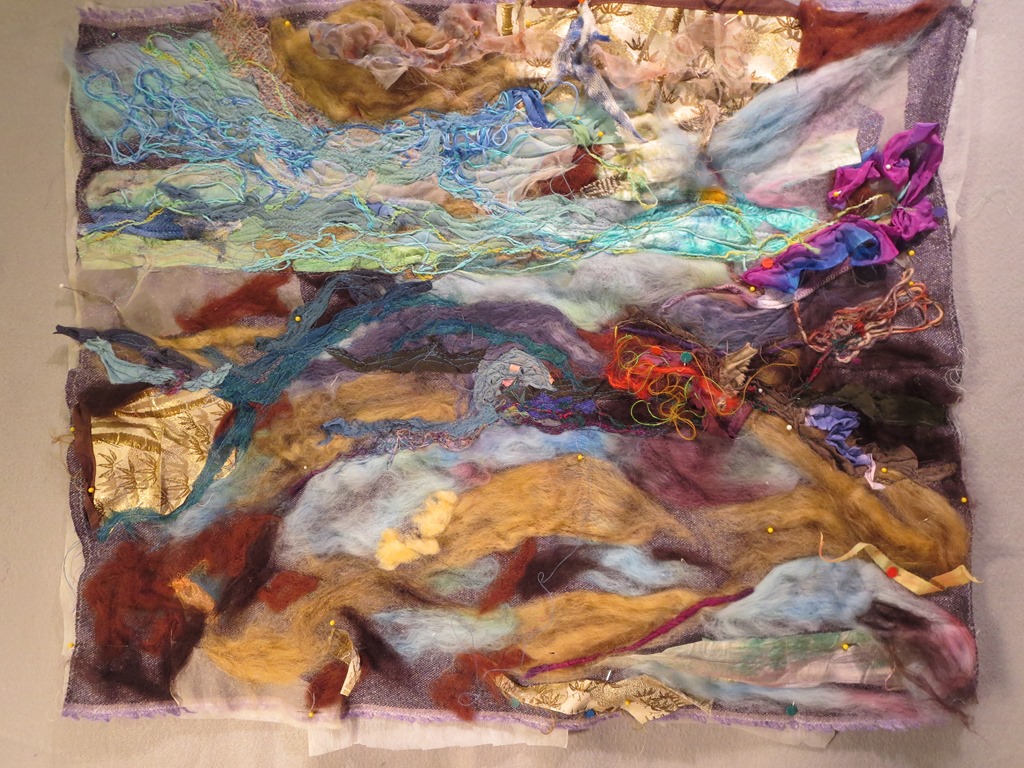 Land Fall   This work was designed  on a vertical layout, but is has turned to become a landscape type of work.  I try to pay attention when the work directs me and go with that flow.   It has about four hours of work in it so far.  Slow but enjoyable for me.
Felting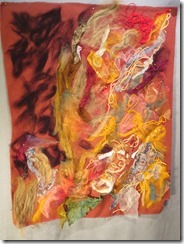 I am still adding roving and fabric to the surface of this work.  I found some wonderful organza in one of my boxes when I was looking for something else.  I know it will blend well in this work.  No stitching yet.   It is starting to look a bit like a flame to me.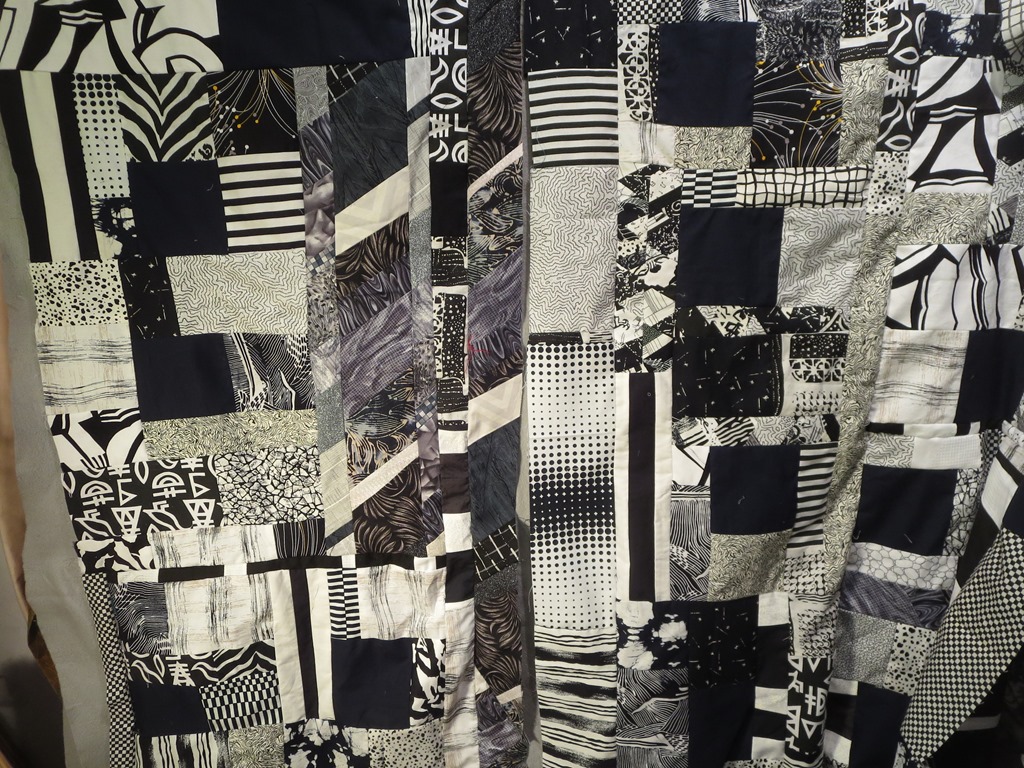 Ethel's Nine Patch    This is the back of Ethel's Nine patch.  Again I am    using her fabric and I though I would add some solids in primary colors to it- but I like the effect so I have just built it this way.    There are lots of scraps left in the box, so I know there will be more work like this in my furture.
Queen Anne's Lace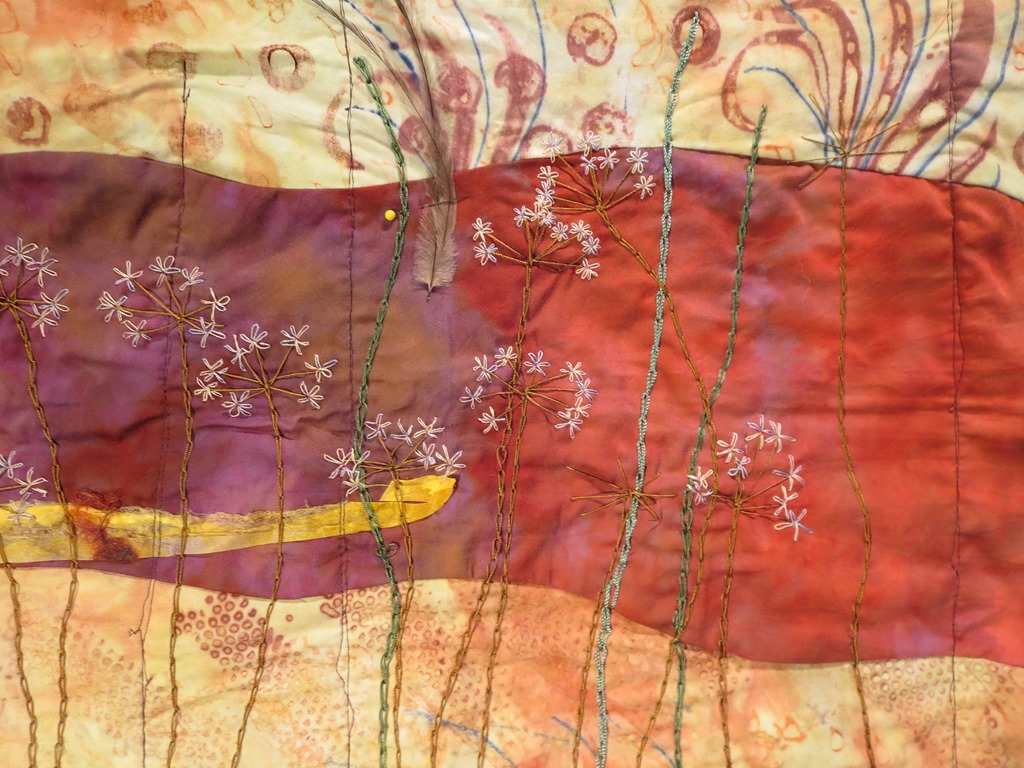 I am  working on the hand stitching on this work.   There are only two more flower heads to do and that step will be complete.   My fried Tanya gave me some Eamu  feathers a few weeks ago and I think I may use them in this work.   The gray feather pinned  to the center area is one of the feathers.
Bird Land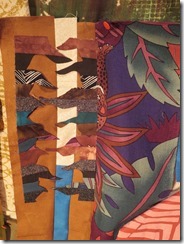 This work is on the bottom of the stack so it does not get much attention.  I did finish all the cutting of the birds this week though.   Now to stitch things down.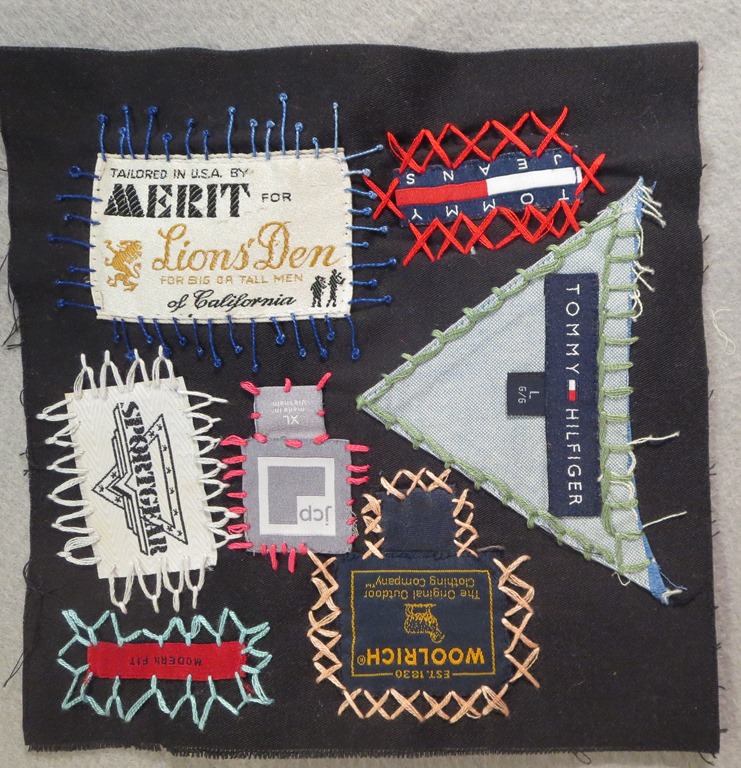 Label Block # 83
I keep working away on these blocks and they keep getting completed.   No rush and no pressure really is a nice thing.
Keep Creating
Carol