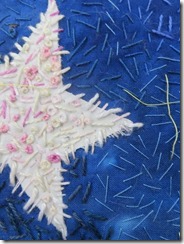 Hello,
We are deep in the cold of winter here and that makes me stay in the studio and get a lot done.  But I do have the meetings that come at the first of each month.  QuEG's meant.    Liz is busy doing hand work on her project that she dyed last fall at the  play/work retreat at the Schweinfurth.  That is her work at the top.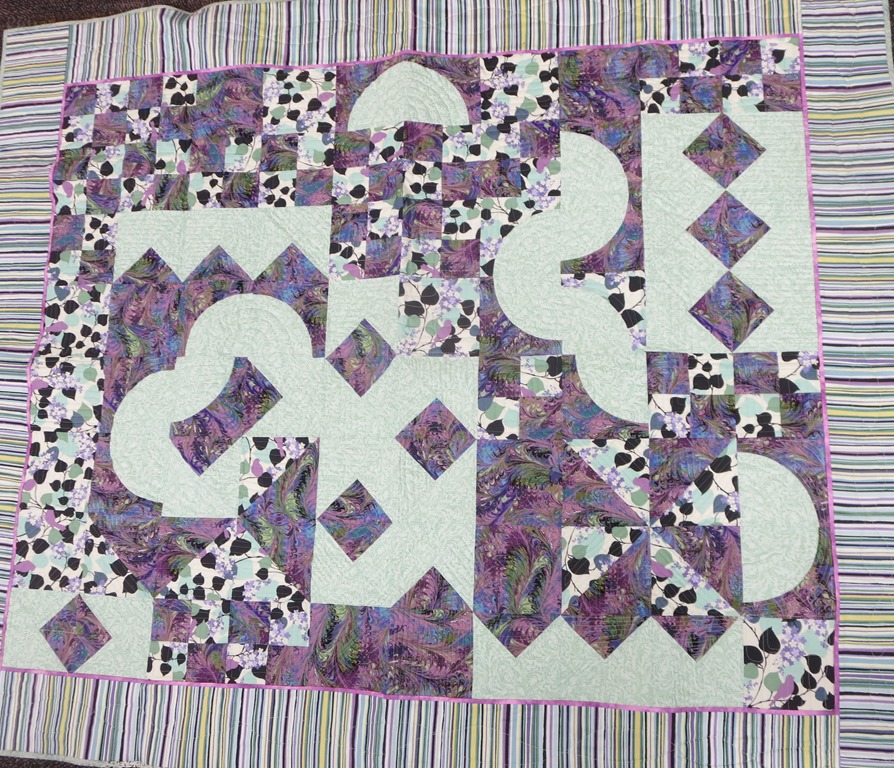 Sue Ellen is busy too and she made this colorful quilt for the Linus Project.  I always get  a lot more out of the group meetings.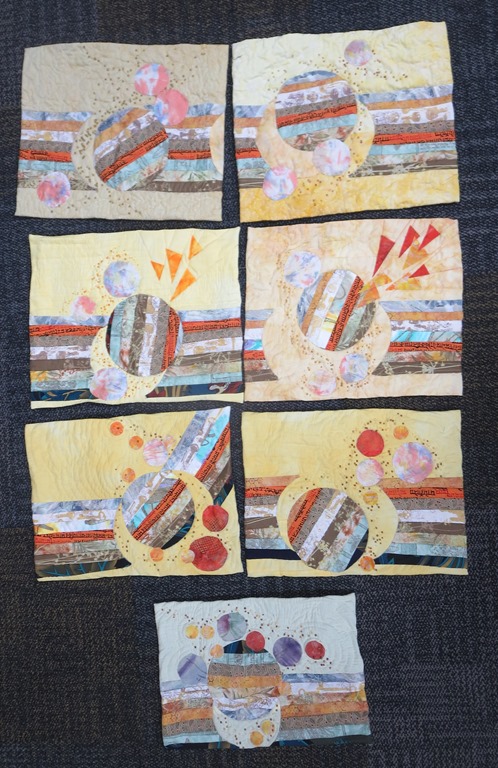 This time I showed them all the Circle Challenge pieces all together.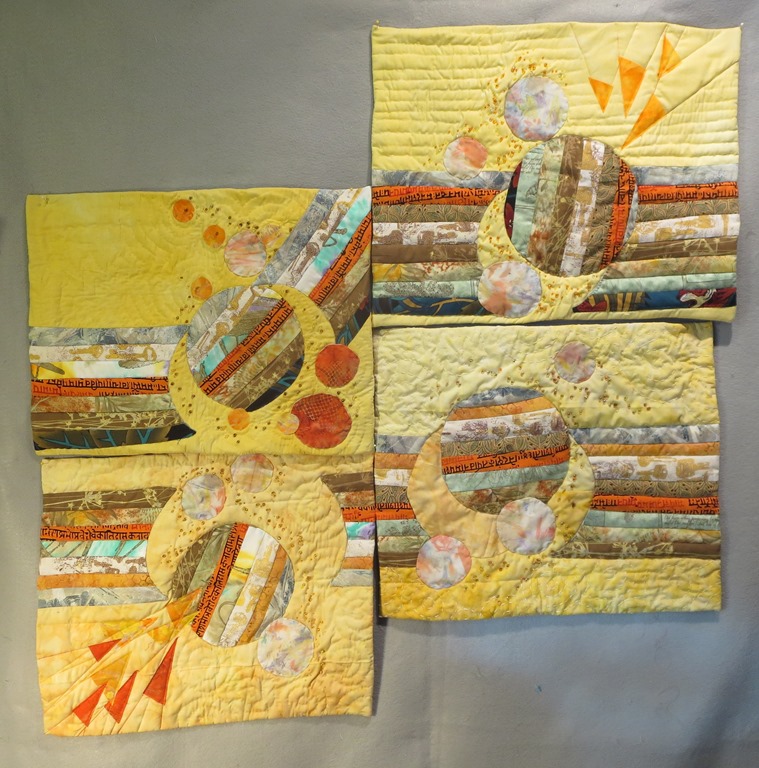 That lead to a whole lot of playing with how they could or should be presented.   I continued the whole idea when I got home.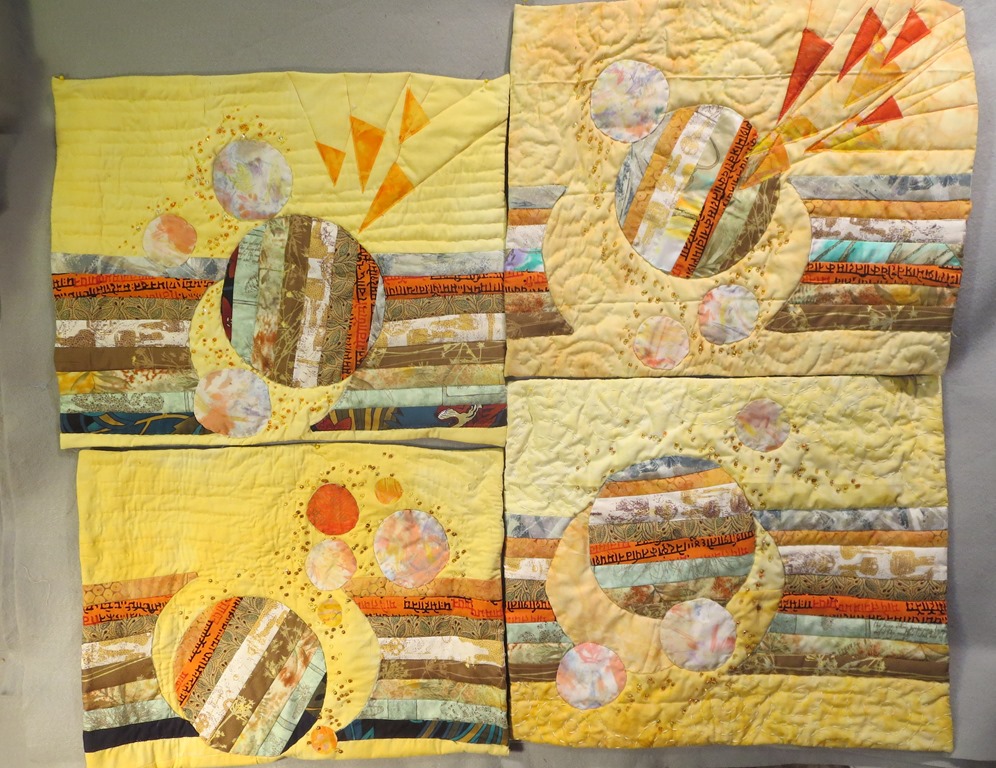 There are just so many ways to go with them.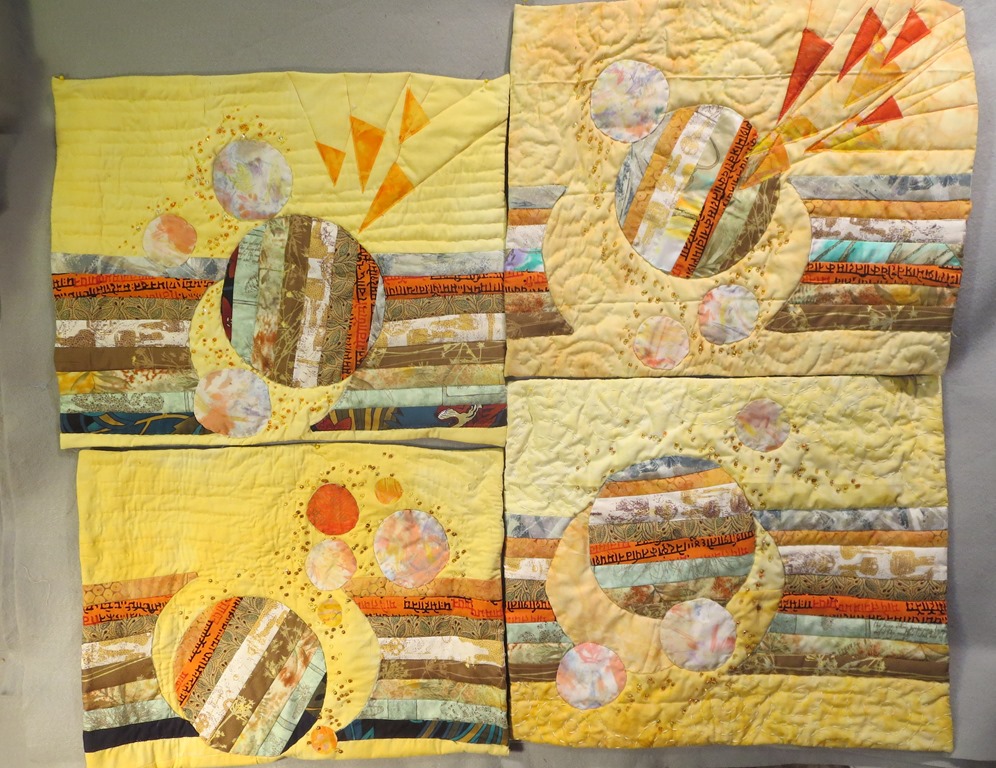 The Diva's had a good time playing with them too.   There was a lot going on at that meeting as well.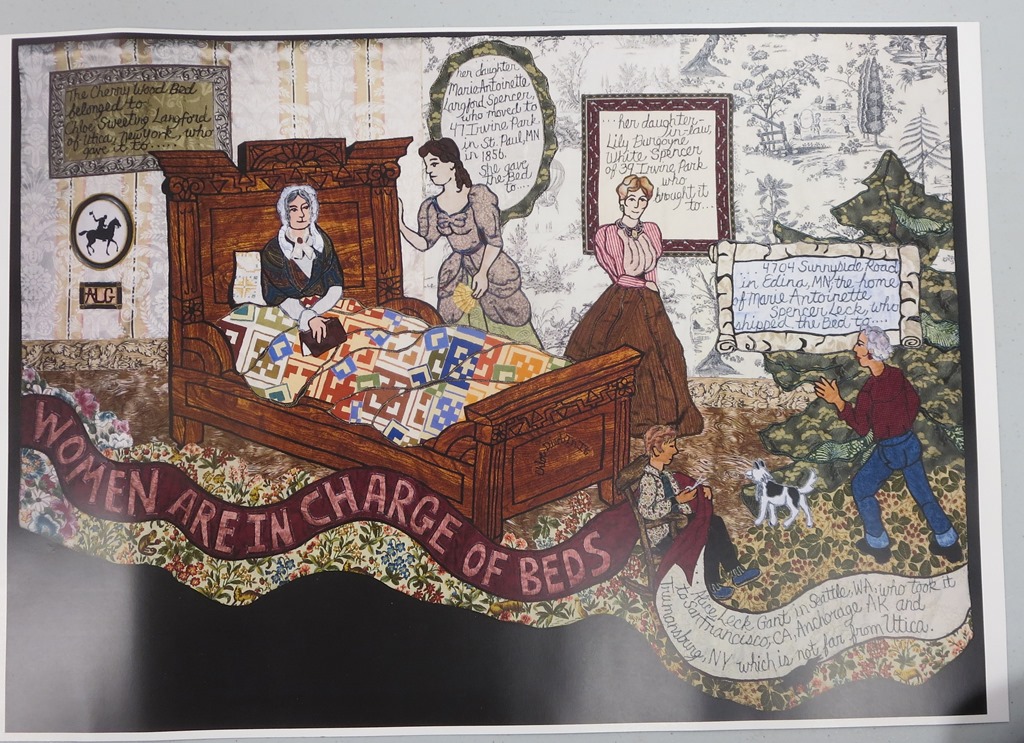 Alice has finished her Bed Quilt and she made prints of the finished work to give to all the folks in the family who owned the bed so they have the history.   I think that is a good idea.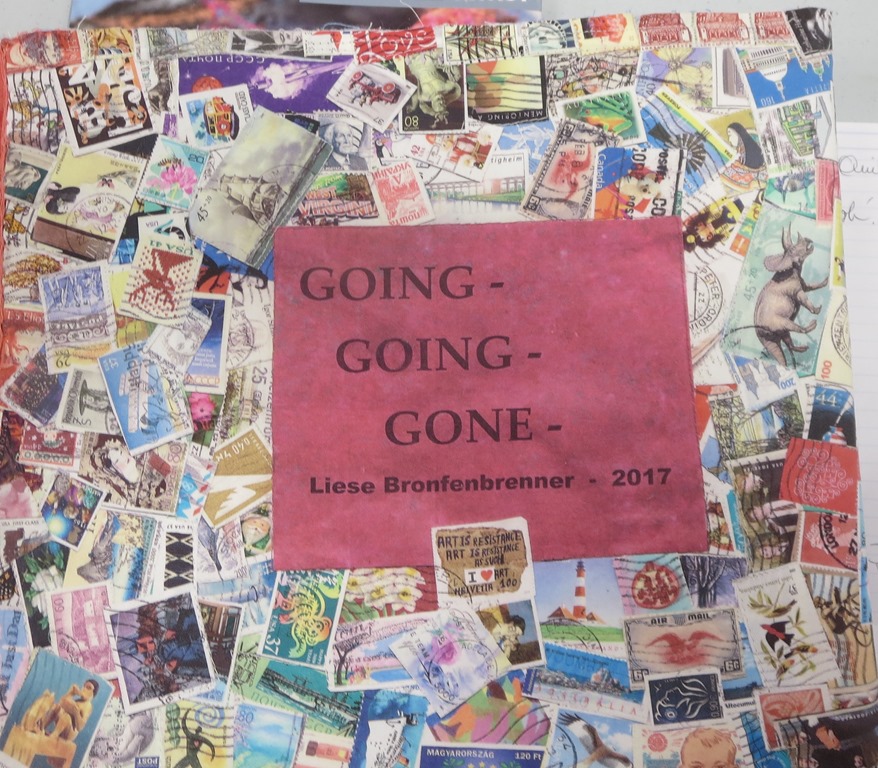 Liesa  is building a wonderful book on stamps.   She printed the stamps on fabric for this work and laments that she still has all the original  stamps left.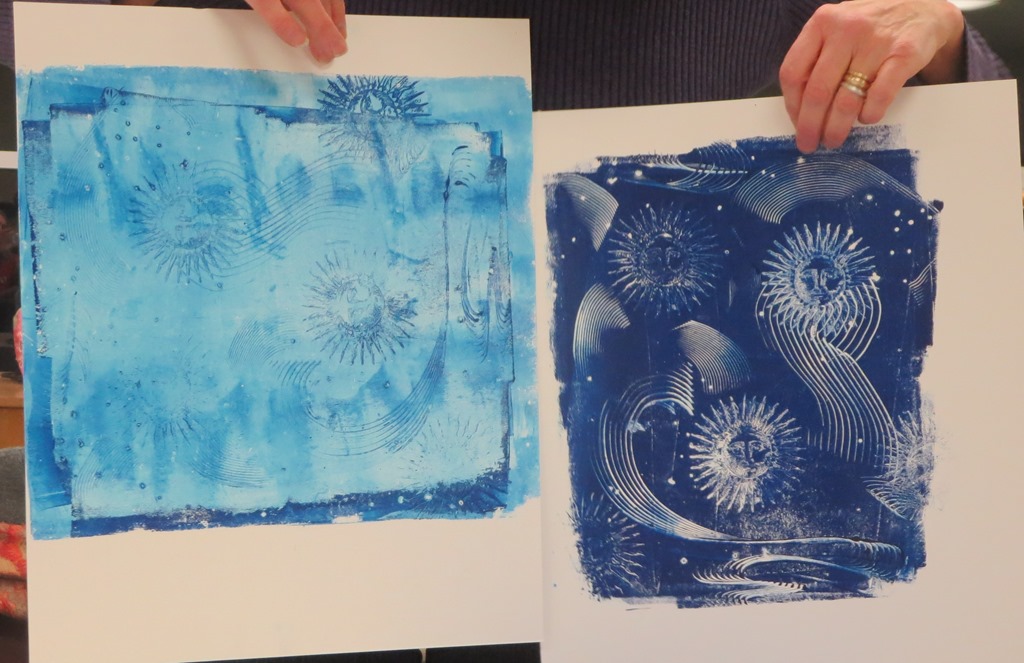 Donna just returned from a 10 day retreat where she did a lot of Gelli printing and pastel work.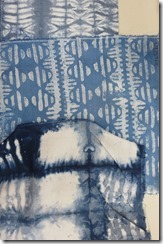 Maureen is doing lots of work with indigo so she can do more teaching of the techniques.   She shares her knowledge so very kindly.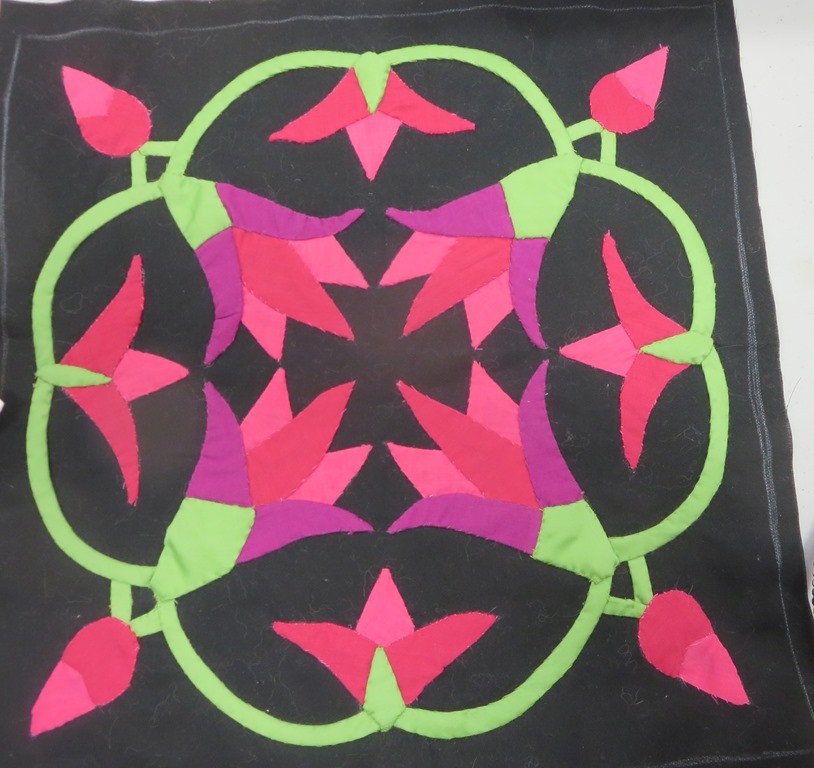 Regina went off to the  conference called " Rocky Road to California" and took a class with the Tentmakers of Cairo.    She keeps exploring new techniques.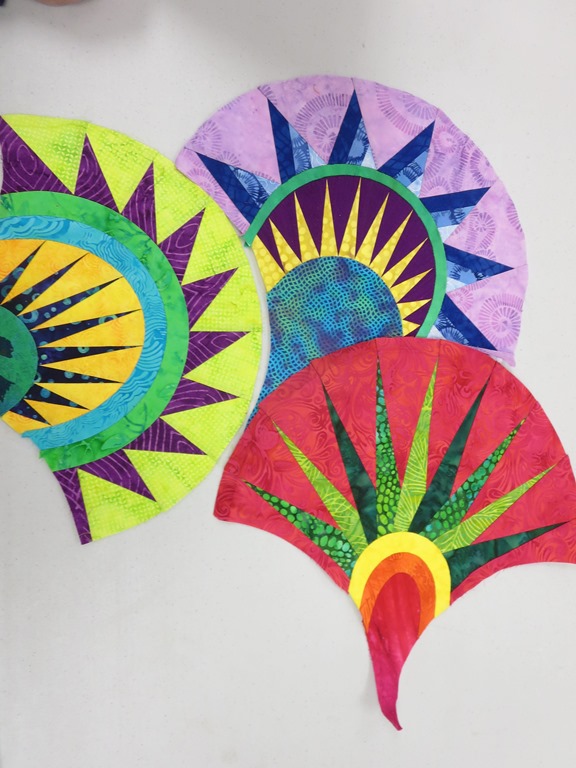 Ruth is busy with her wonderful clam shells too.    It was a good meeting and I came home with new ideas of things to do with my own work.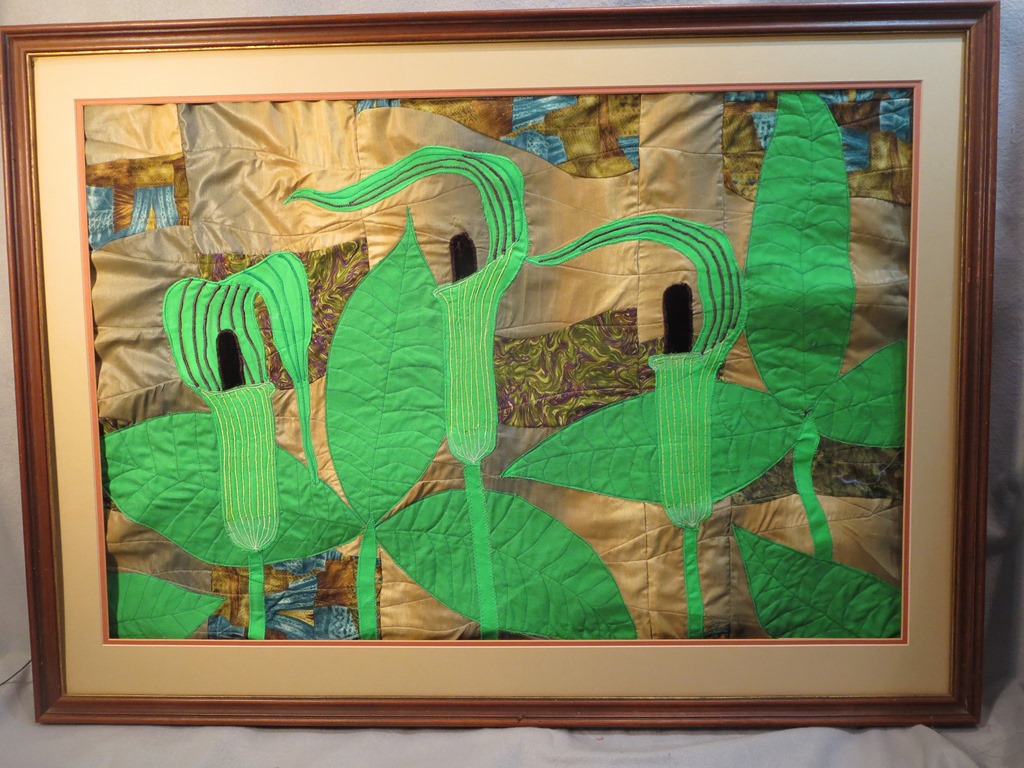 Progress report: Three Jacks This work is 28" X 40".  Because I had to take it apart  to fix the nail at the bottom I took photos of the work without the glass.  No  problems with reflections that way.   I also did a major cleaning of the glass- something that I had not thought of before either.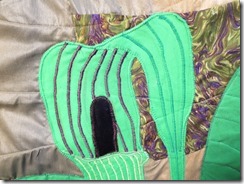 The work is dramatic and I like it a lot.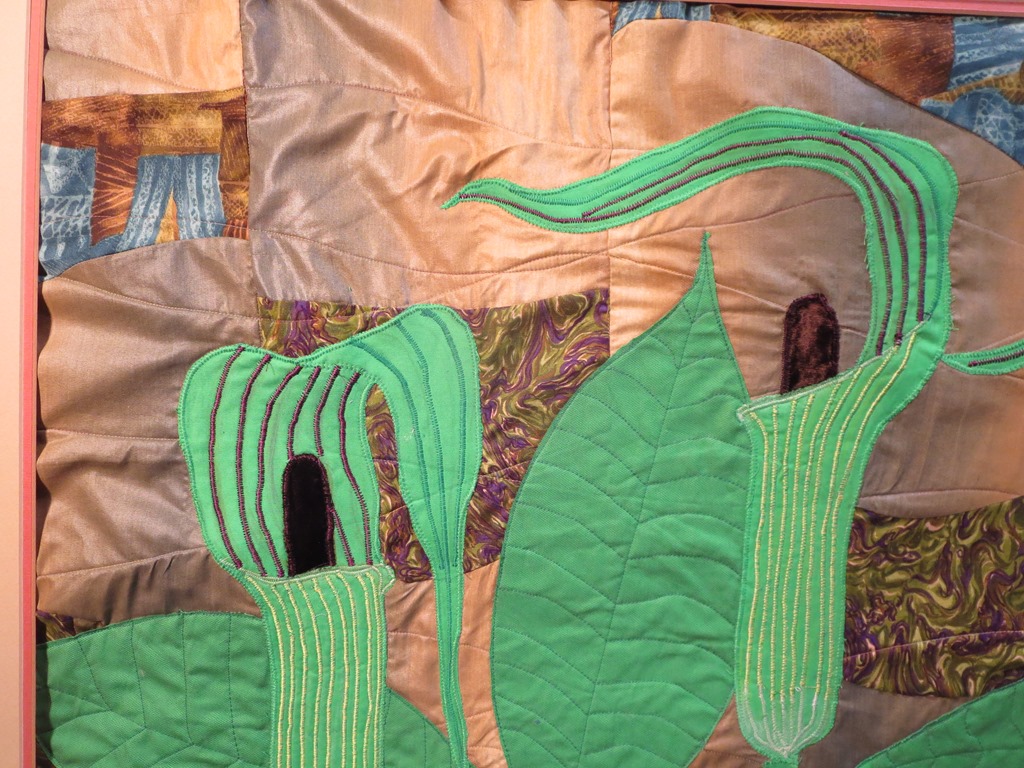 The velvet jacks really convey the rich contrast of the two parts of the flower.
Snow Dying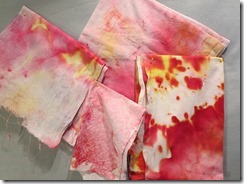 It snowed this week and so I did a bit more snow dyeing.  It is snowing today too so I will do an orange batch next.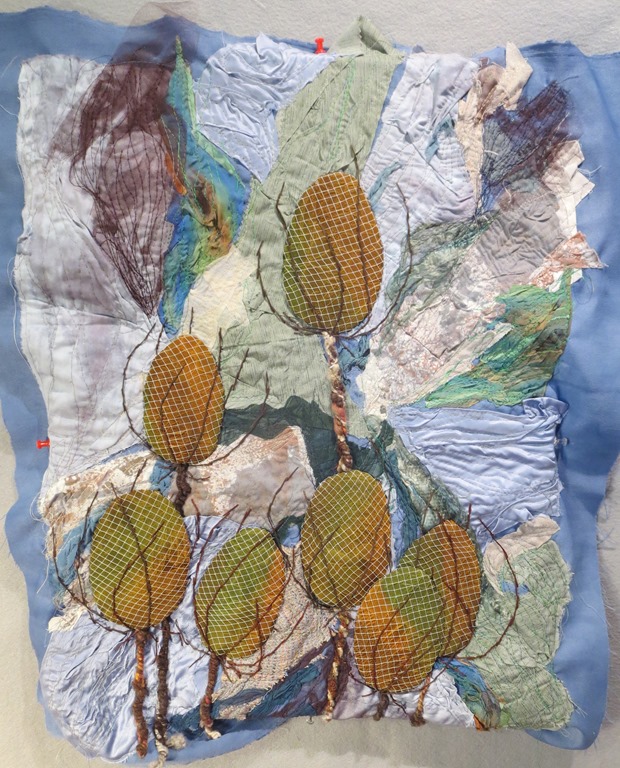 Tease I   I did the hand stitching on this work this week.  It is almost ready to stretch.
Teasel II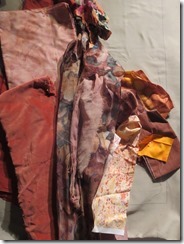 I pulled this fabric for the background  of the green teasel heads I made the week before on Monday.  Then I worked hard on getting that section done.   I got all excited  and even moved on to pinning the heads in place.  They are not stitched down.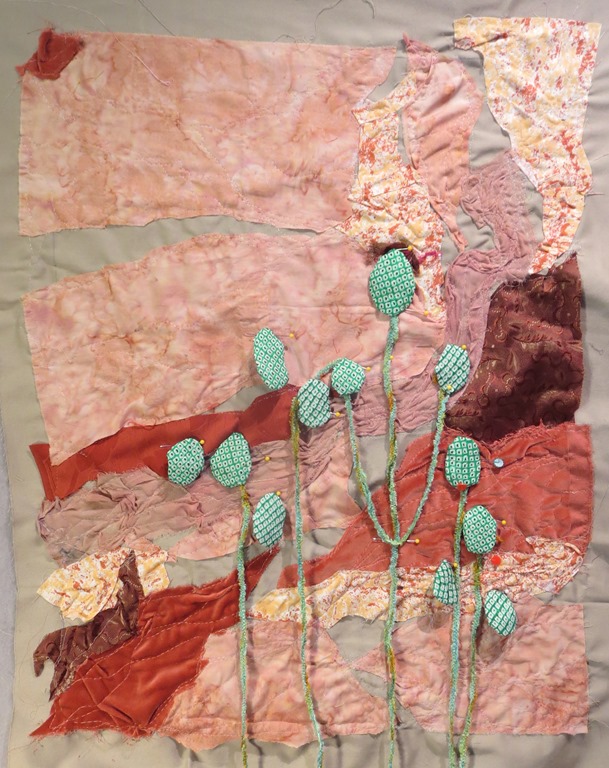 No problem with contrast this time.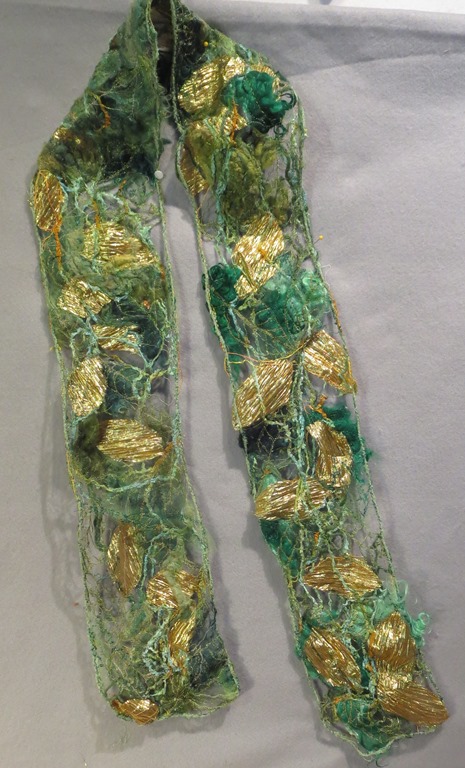 Leaf Scarf   I did a lot of free motion work on this piece and determined yesterday that it was complete.   It is based on a work I saw on Pintrest by  Amanda McCarvour.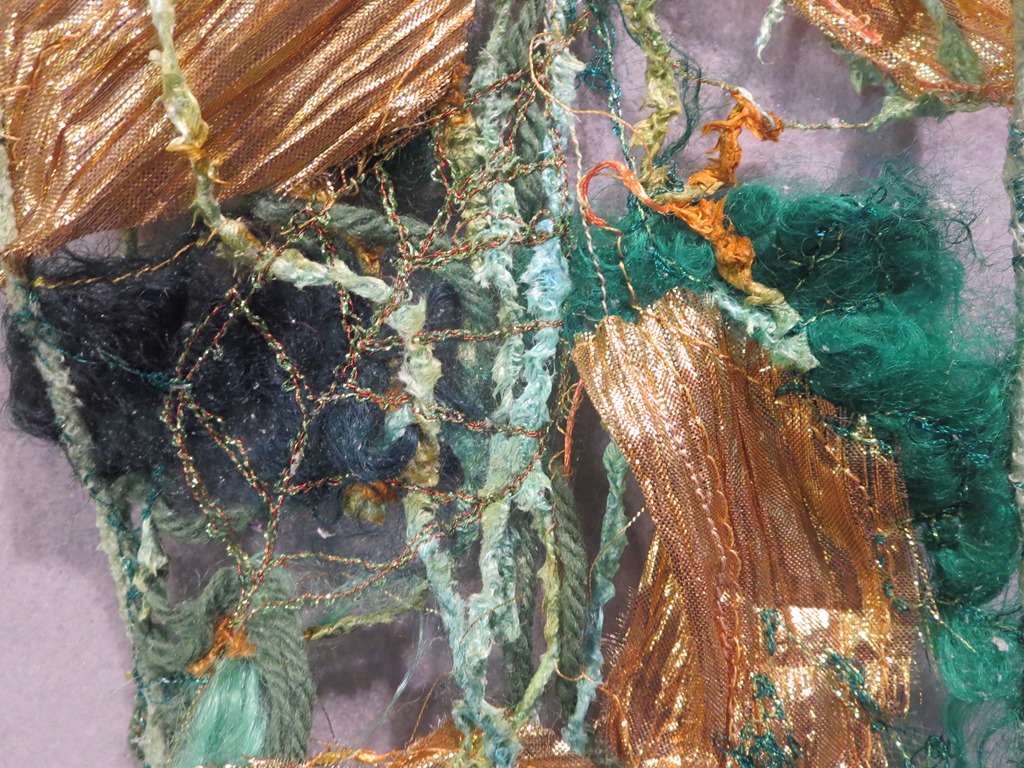 I only work from what I remember not from any reading or recheck.  So when I did look a second time yesterday, I was surprised by how different they were.  I like the vanes of leaves mixed with the wool roving .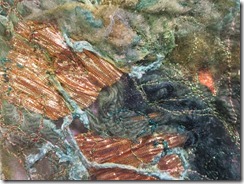 The places where I  tried to work in air collapsed so I think when I try it again I will put a layer of nylon net in the middle of the sandwich so there is a some stability to the whole thing.    That and more stitching lines will do the trick I think.  It will also help avoid the arching that happened with some of the gold leaves.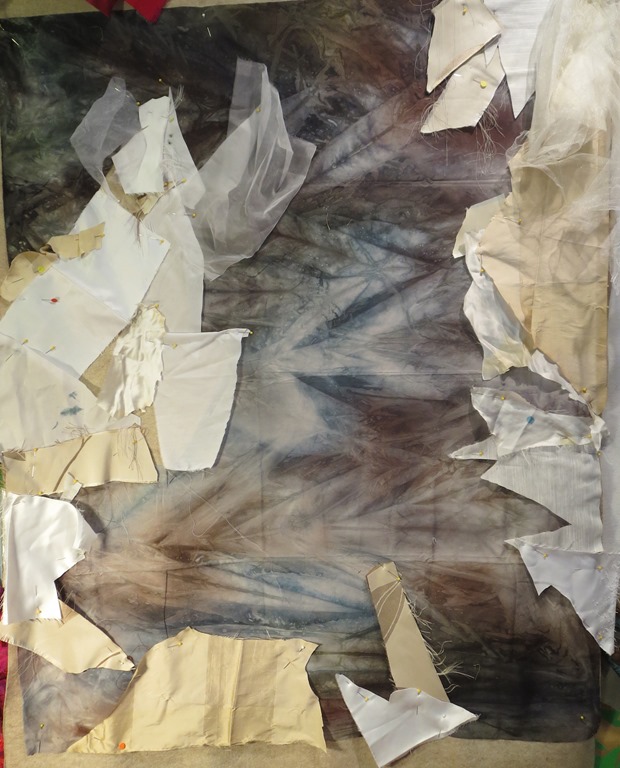 Xavier Wood Ice  I have been taking a lot of photos on my walks of ice and now I am ready to begin a new ice work.  This is the fabric lay out at about the middle of the process.
Pods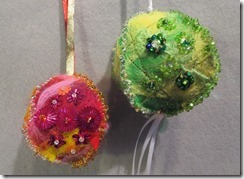 I have assembled two of the pods from the felted pieces that I made.  They are nor quite finished as I think I want to add some additional beads on the bottoms  of them.   But I am making progress.  It is like the circle challenge in the way that I can think  of more  variations for each side as I go along.   I will play until I tire of the process.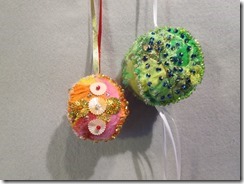 Scrap Happy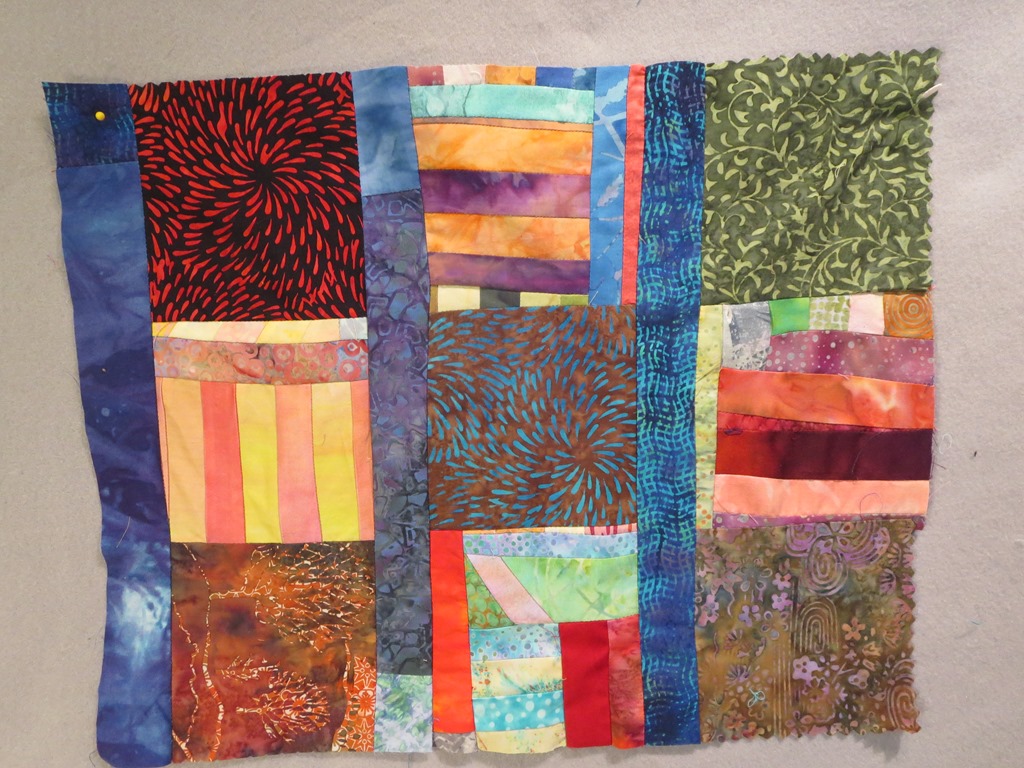 I have been assembling the strips and cut pieces from Ethel's scrap box for a few weeks.  I cut them into five inch squares yesterday and made a block.  It is 17" on a side.  That is a little bigger then I usually use so I may need to make adjustments as I move forward.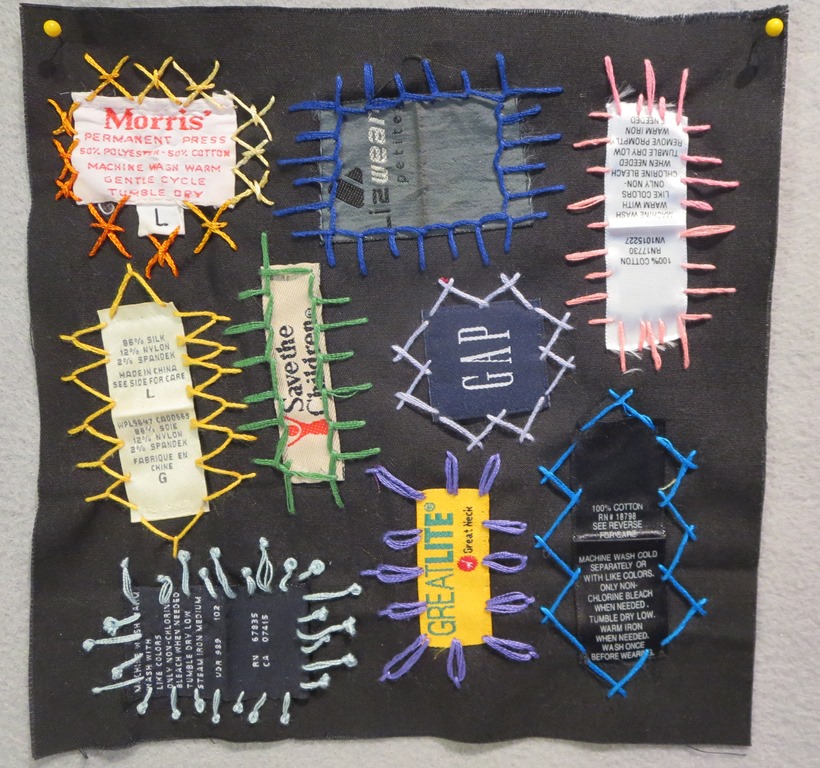 Label Block # 106   I was in Jo Ann's this week and I was tempted to purchase some additional embroidery  thread- but I resisted.  Then when I got home I did a little search and found a new bag full, so I am very happy I did not give into temptation.  Only fourteen more blocks to build.
Keep  Creating
Carol