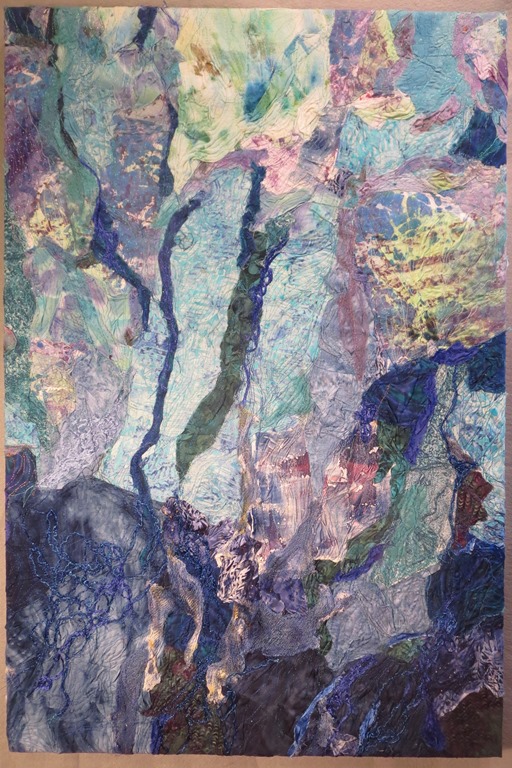 Hello-  I am getting ready for my solo show that I will hang on Jan 4.  I am not a person who puts things off and being a quilter I know the value of doing lots of small things completes a task with a lot more success then tackling the whole thing.  So I have started pulling pieces for the show and looking with care at them to make sure they are ready for the public eye.    Big Blue( 36" X 24" X 2")  is one of the works I needed to add to.  I had not added a label so that was one of the little  finish up projects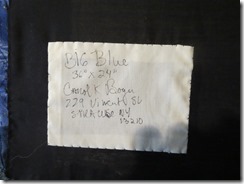 I took on this week.   That just meant that I had to stitch a white square of fabric to the back of the stretched workand write the label infoirmation on it.       This process  of pulling out work for the show  also revealed a work that I really liked, but it was badly warped.   It was one of the early works in my wool based projects and I had just added batting and a black back to the wool felted quilt like project.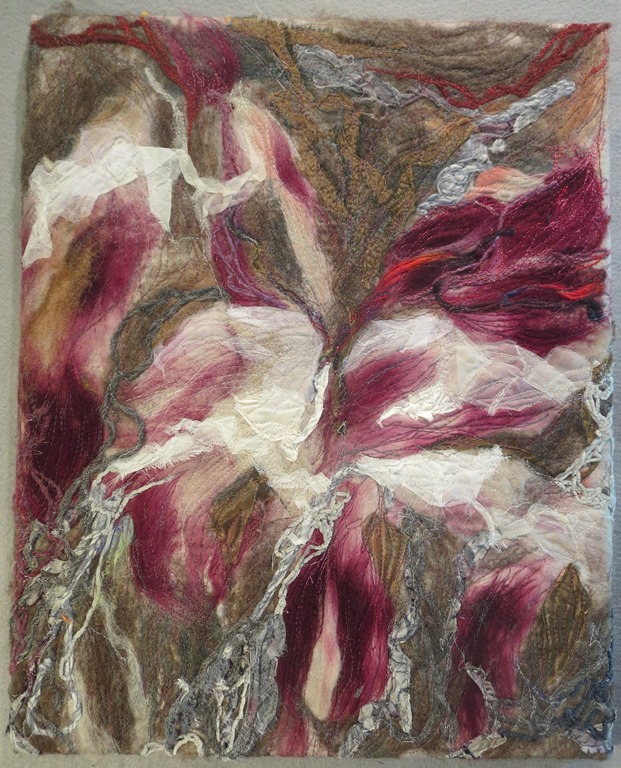 I took the time to take the project apart and stretched it over a canvas based set of stretcher bars.   Coastal Color 1 ( 20" X 16") looks a lot better now and I am happy with it.  It will now go into the show if there is space.  This rework is a much better solution than the process I had used with it before. Time and pashents really worked together to make this new treatment a much more successful piece then it was before.
The fist Tues of the month was this week so I had meetingsof both the QuEG's and  Diva's.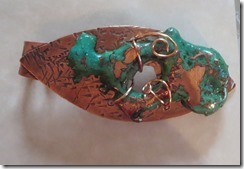 Corrine did this wonderful piece of jewelry that she shared with us at the  QuEG's meeting . Sally had a whole  pile of Christmas projects that she had completed,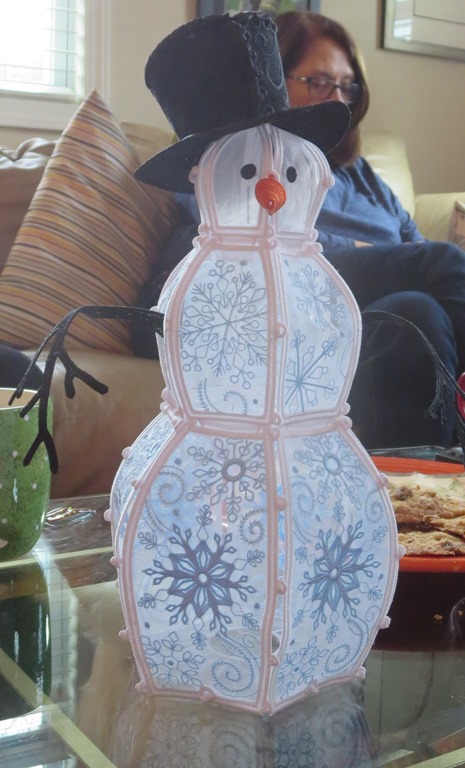 but I love the Snow Man the best. Even the the hat has thread work all over its surface.      Angela is in the middle of a on line class on three dimensional wool  works.  I really love this one she did withits  wool units about 2" tall sticking up from the surface.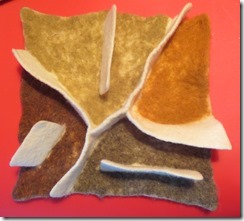 She sure had become a major felter.
I then went off to the Diva meeting.  It was a very small group of us – only six, with not a lot of work to share.   But I do enjoy seeing folks.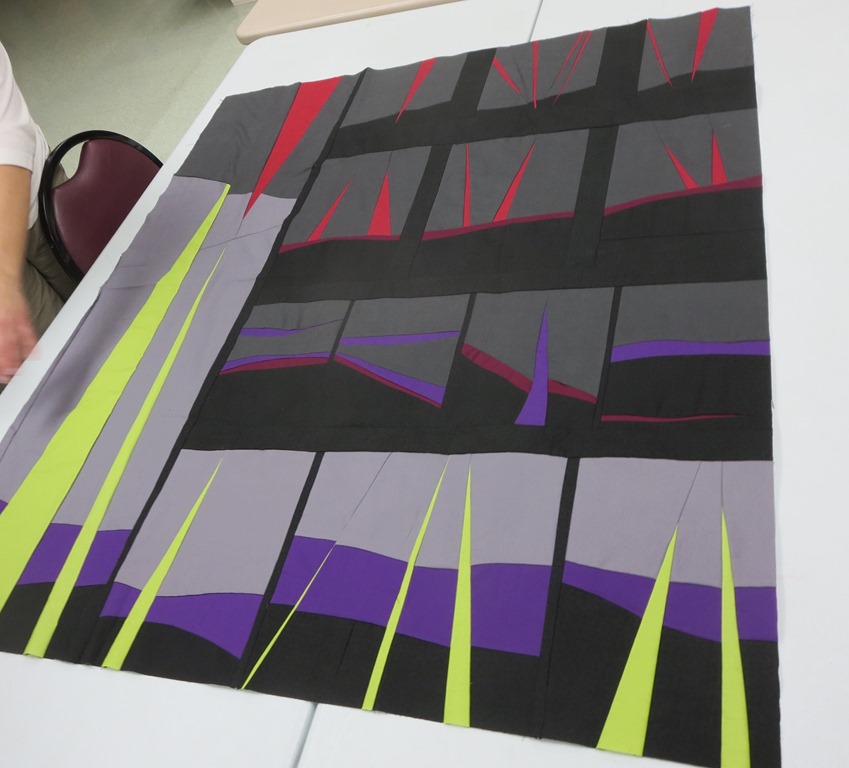 Anne has created a wonderful top with a very limited pallet.    She has gotten very good at inserting those points too.
Noel is working on a small Van Goth landscape.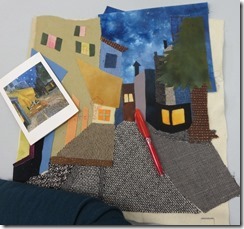 It is inspired from a card she received.
Ruth took  an indigo class.  She had some  real beauties from that experience.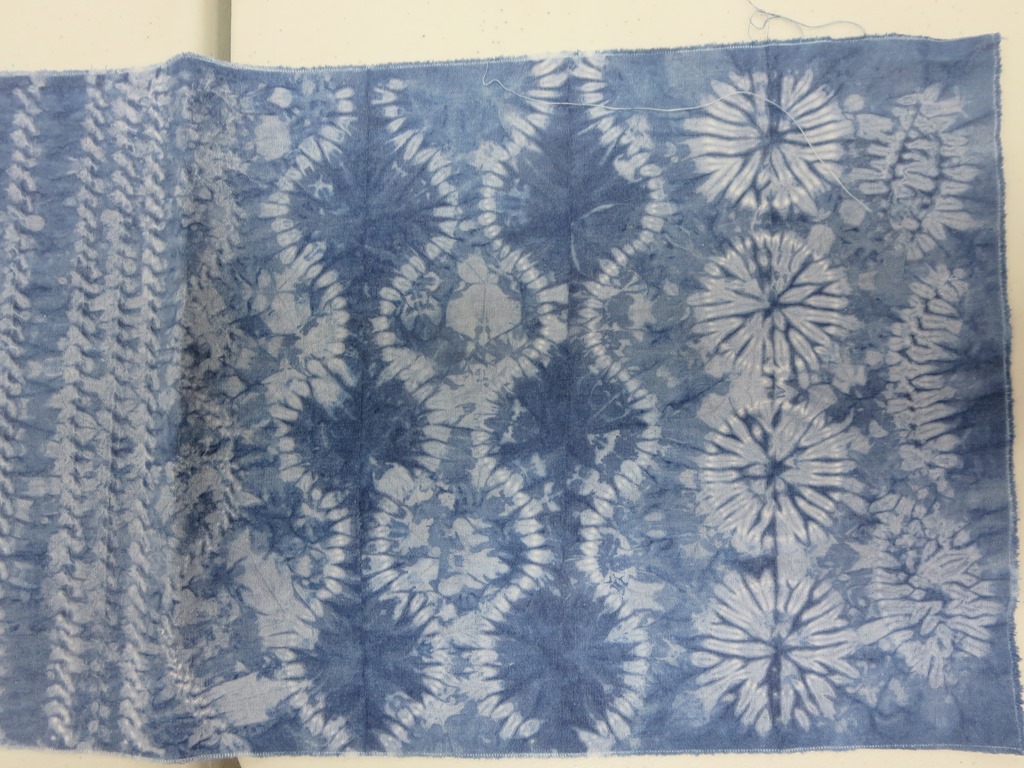 This is her sampler of different stitches.    She was also in the Open Wet studio at the Schweinfurth early in Nov.  She did some specular dye pieces.    This one is my favorite.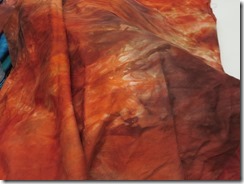 Both meeting got me all excited again as they usually do.
Progress Report:  Awakened by Black Birds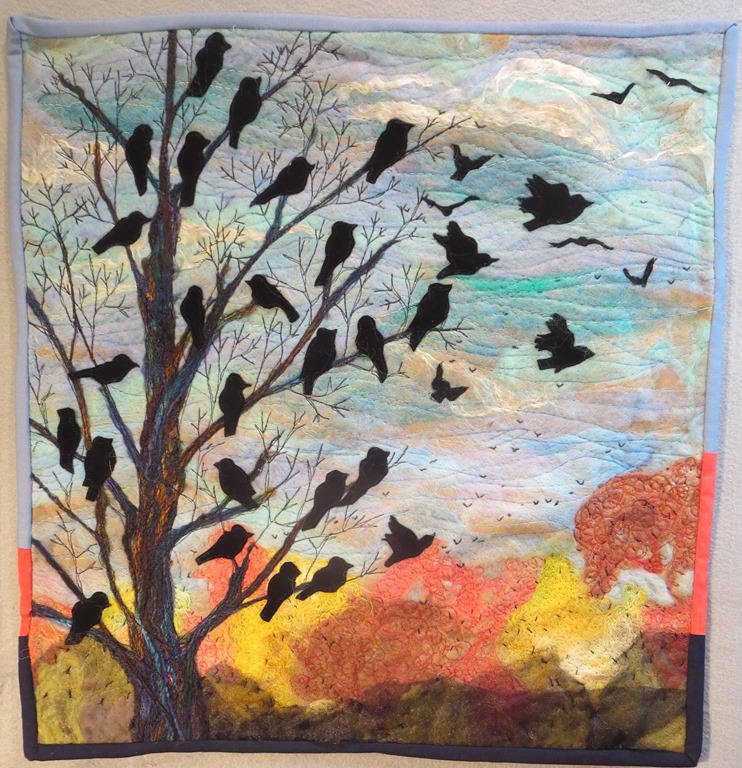 This work is 19.5" X 19.5 ".   This felt based pieceinspired by my experience at the Open Wet studio weekend  is complete now.   I used the fly stitch to add the feeling of birds in flight in the sky as well as the cut ones.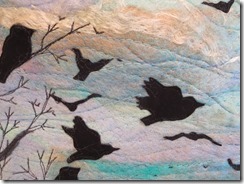 I also did a lot of machine drawing to create the limbs on the tree.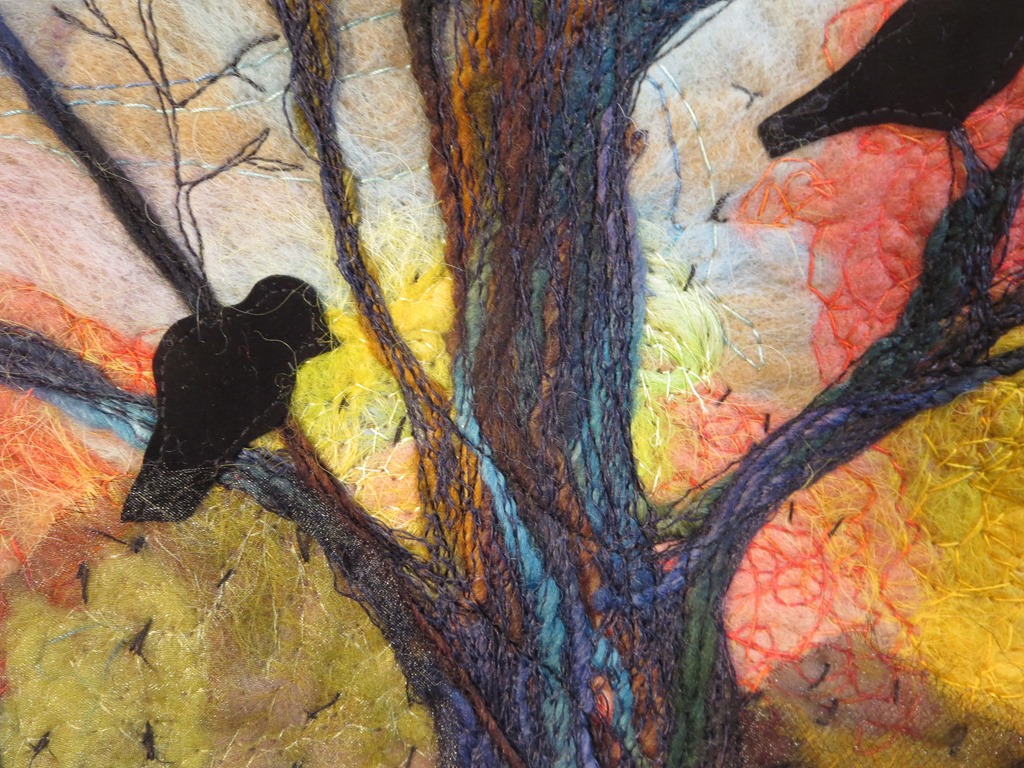 In the ground trees I added just little strait stitches to indicate  the birds.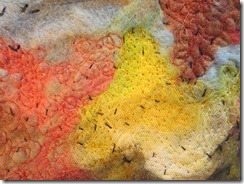 Spot On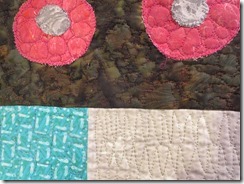 I am still doing the free motion machine drawing on this work.  I only have the big white areas  and the yellow ones to fill now so I am sure it will be done by next week.
Wild Patch
I am trying a new  approach with this work.  I laid down a solid base and drew with a white pencil the areas I wanted broken up on the surface.  The I proceeded to place fabric on top in those shapes.  Sometimes I stitched the adjacent pieces together with the raw edges out and sometime I did it in the regular manner.  In other areas I just left raw edges with the background showing through.  Most of this is not sewn to the back ground yet – but that is the next step I plan to take.  When everything is attached to the background I will wash it to make the raw edges fray.   This is unchartered- so I do not know if it will be successful or not.   It is a true  "what if"  project.
Label Blocks # 96 and # 97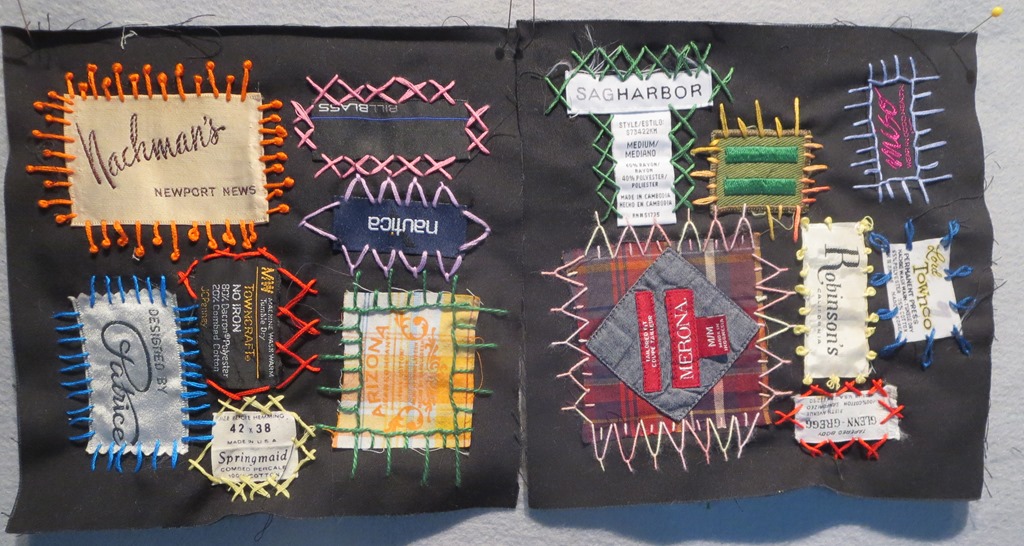 I did finish two this week to make up for not finishing any the week before.
Keep Creating
Carol