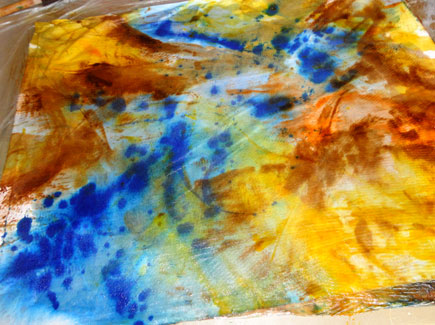 Hello everyone,
I am as busy as ever, but I have taken time to listen to the birds sing and enjoy the beauty of the summer season.   Yesterday I went off to visit with my friend Ethel and we used the beautiful weather to spend a day dyeing out side.  This shot shows one of the fabrics I  dye painted.  I can still feel the influence of the rocks and the water on what I am doing.  Along with dyeing is the batching step. This small shot is of some of the fabric under plastic so it will not dry out.   The last step is  the rinsing out- a project for later today.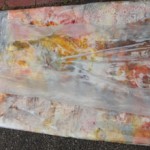 I worked on 10 pieces of fabric so that will take me a while I am sure.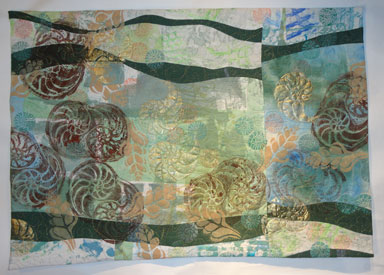 Progress Report: Fossil Bed     This quilt is complete now.  I have enjoyed doing  all the stencil work here.  The last bit  of embellishment that I did,  was the addition of gold  foil shells  and then the little round stamps that I created at our last play day in May.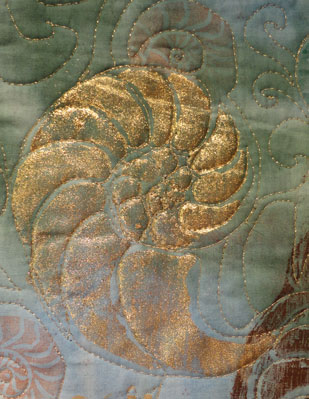 In this second closeup the circle stamps are shown in orange and blue along with a second foil section.  I also did quilting in gold thread.   Susan told me that she want to see more images of the finished surfaces  and so there is a third closeup of this quilt.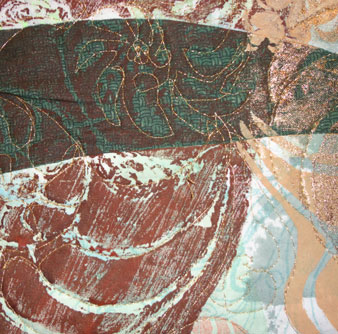 This last closeup shows the brown stryophone stamped area with the quilting in gold  too.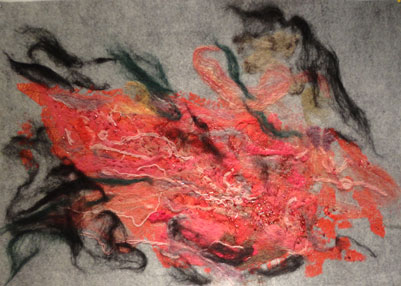 Red Nebula   I think that I am done adding to this work.  I need to decide now how I want to finish it.  One of my works  is off being framed now.  I may want to do that to this work as well.  I will know better when the framed work comes back to me.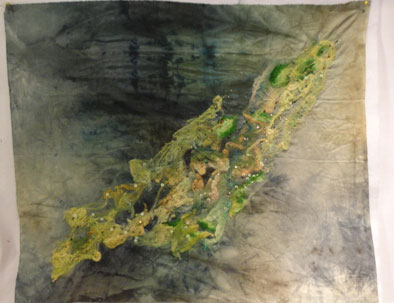 Green Nebula   I have only just started my hand work on this second felted work.
This piece has a hand dyed fabric backing.  I am enjoying that hand work as always and this time I am using some antique pale green sequins on the surface.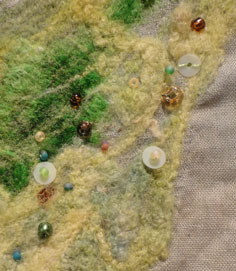 The sequins are from my great aunt's sewing box.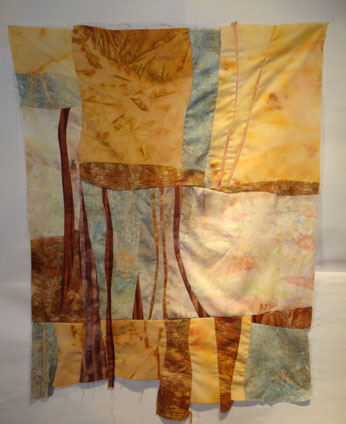 Rock Face
This is my newest top.  I got so inspired by my trip to Idaho and looking at all the rocks, that I just had to do a work on that subject.  I got to use my newly developing skill with slender curved inserts too.  I think this is just the start of a new series.
I hope that summer is treating you well and that you are enjoying the great out doors .
Keep Creating
Carol