Hello-
The hurricane is on my mind this week.  I have spent a lot of time listening and thinking about how much the people of Texas have lost.    I fear I can not really comprehend it.    My heart goes out to them.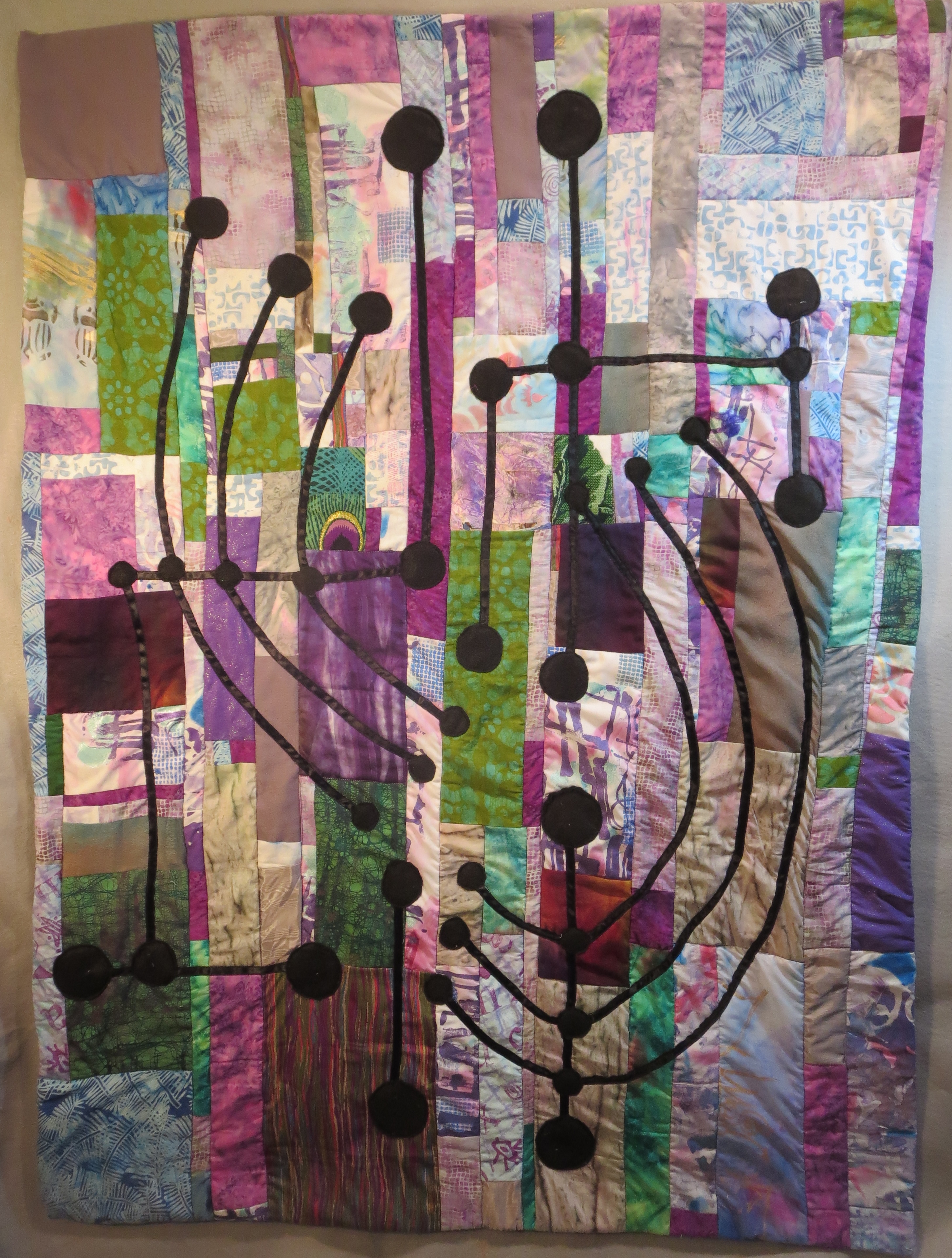 Progress Report: Jazzed Lines   This work is 37″ wX 51″ l.      Due to the fact that I spent so much time in the studio this week I got a lot done.  This is a project that  I started before QBL.  I added some lines in black felt and ribbon that I had noted from an image of some of Picasso's drawings that were in an old sketchbook.    My tip is keep a sketchbook and fill it with what interests you.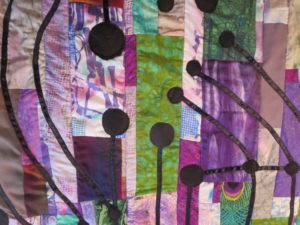 And be sure to occasionally  look through the older ones to refresh your mind.
The black images add another layer of interest to a somewhat dull piece.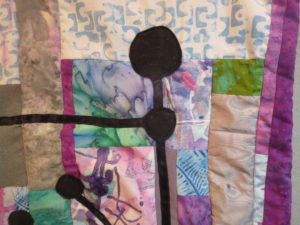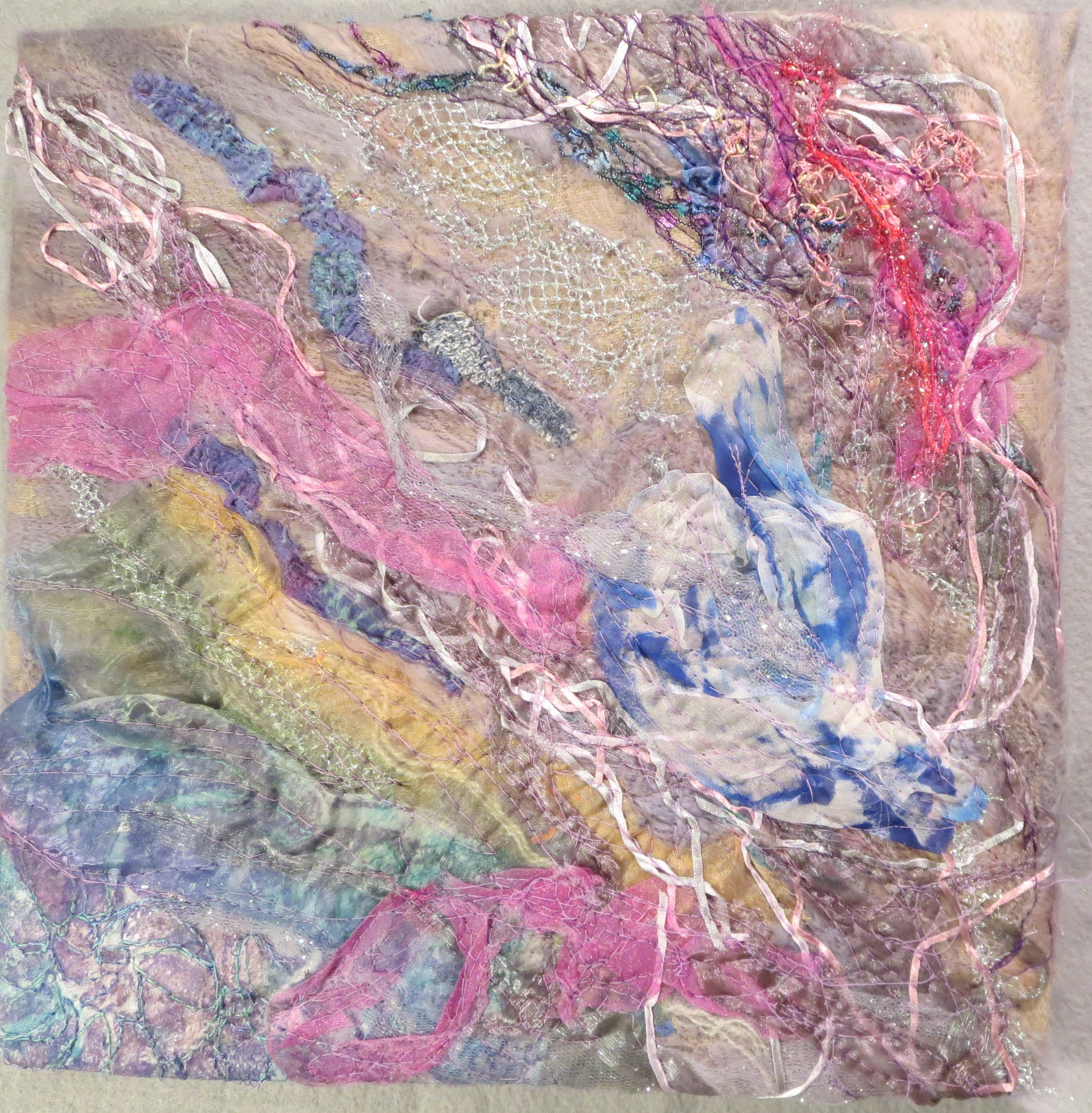 Considered   This 12″ X 12″ stretched piece is one of the  three   felted  wool pieces that got started before QBL too.     It is based on a rock with a fossil in it.  The sea shell is in the lower left is the fossil and it is hidden on purpose as it is in the rock.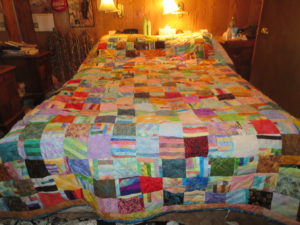 Scrap Happy- Ethel 's Scraps #5    This is the newest queen sized scrap happy work built with Ethel scraps.     The solid blocks are from the samplers she had purchased.   The striped blocks are ones she started and then did not use for some reason.  I believe there are at least two more quilts in that scrap box.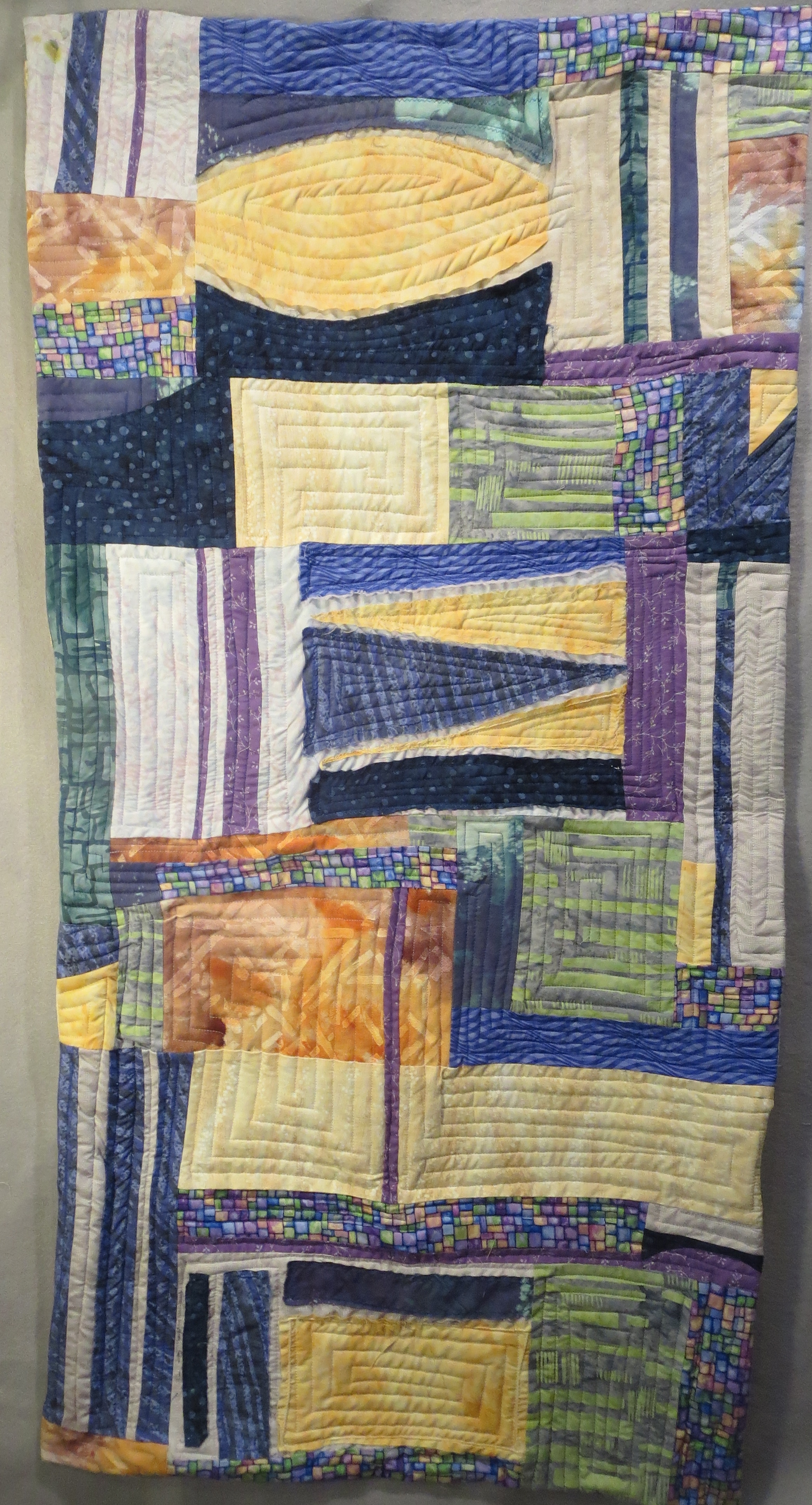 Lettres ( owl)  This work is 22″ w X 43″ l.   It is based on three blocks  that spell the word owl.  But I have turned the work on its side as  I think it works better in this direction.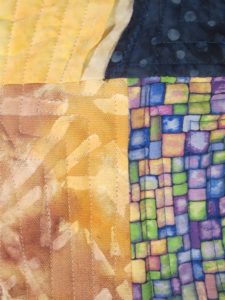 I used some old fabric that I had printed  text on a few years ago.  It is the gold here.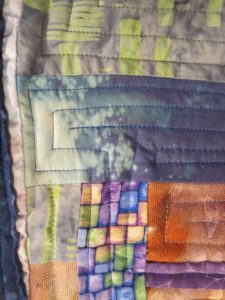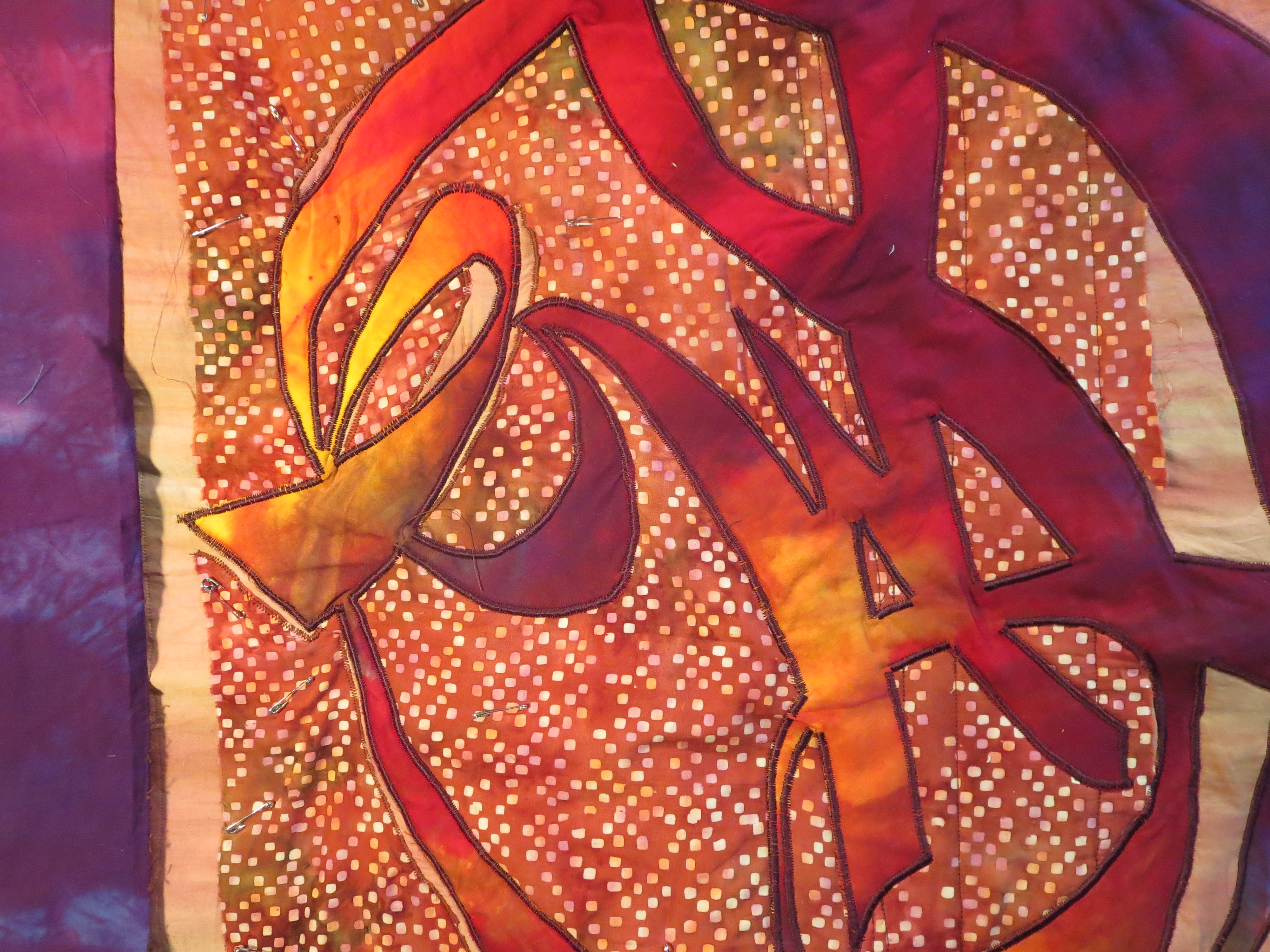 Glyph II    This top grew out of the first glyph quilt as  the text ( the orange and purple shapes) were cut from the back of the first Glyph  quilt.  I have zig -zagged around the shape and I am now quilting down the background units.
 Glyph III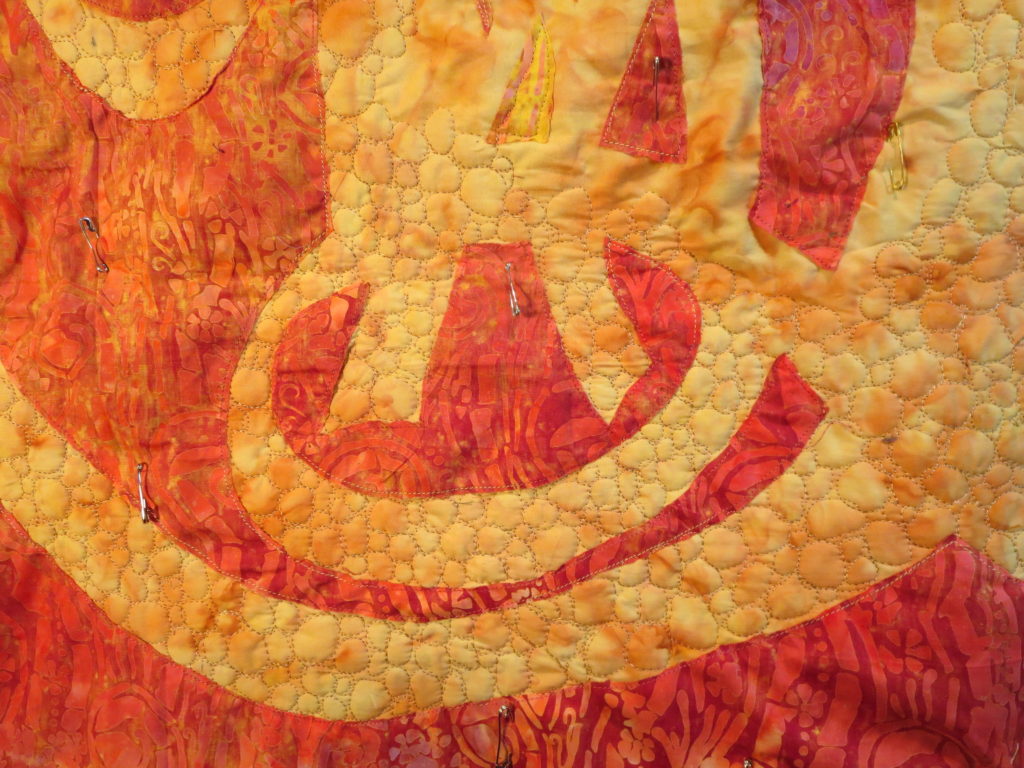 This glyph is based on the same paper pattern that I developed and interpreted in different colors.   I am pebble quilting in the light shape now and will do the background in strati line quilting.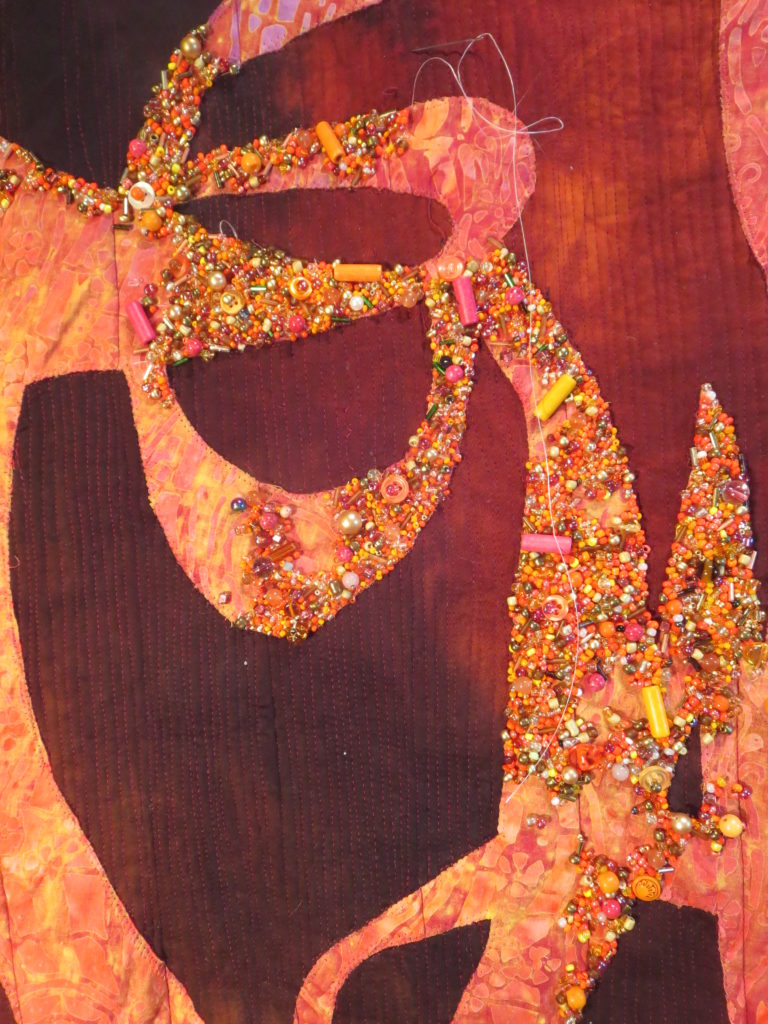 Glyph IV- beaded   This glyph came out to  number 3 and the orange is the cut away of the text shape applied to a dark background of hand dyed.     I continue to bead the glyph and it is filling in.   The back ground it strait line quilting.
Glyph V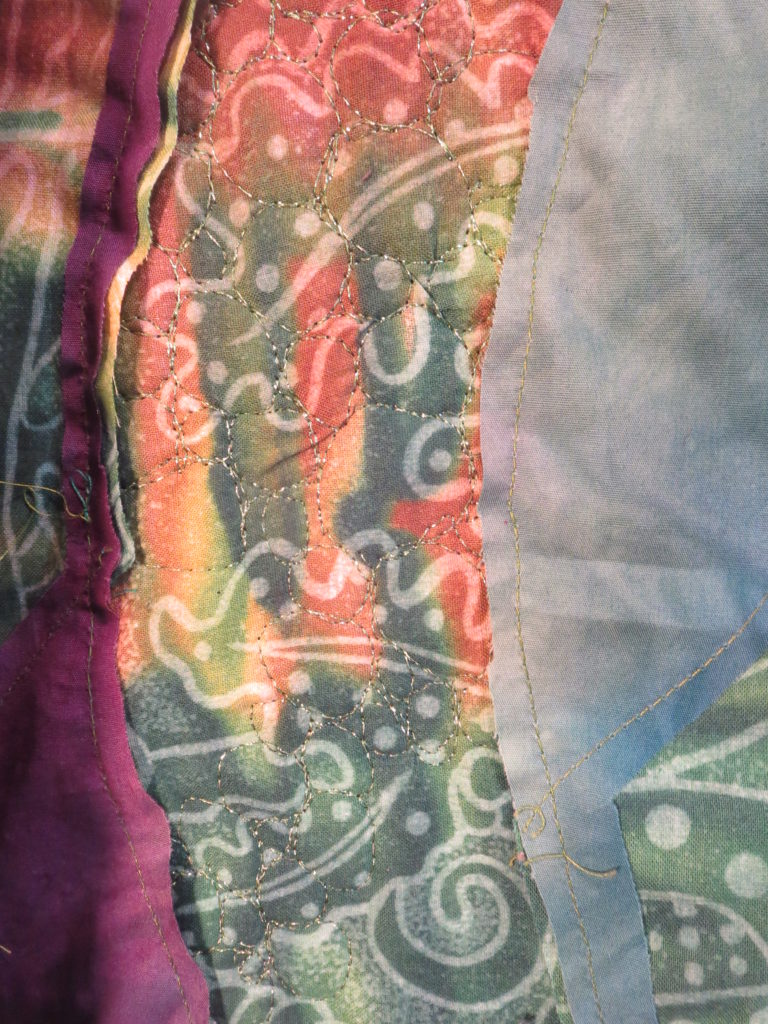 This is a close up of the next one in the series.   It is cut from some of the scraps and another fabric that I added to the mix. More  pebble quilting with green metallic thread.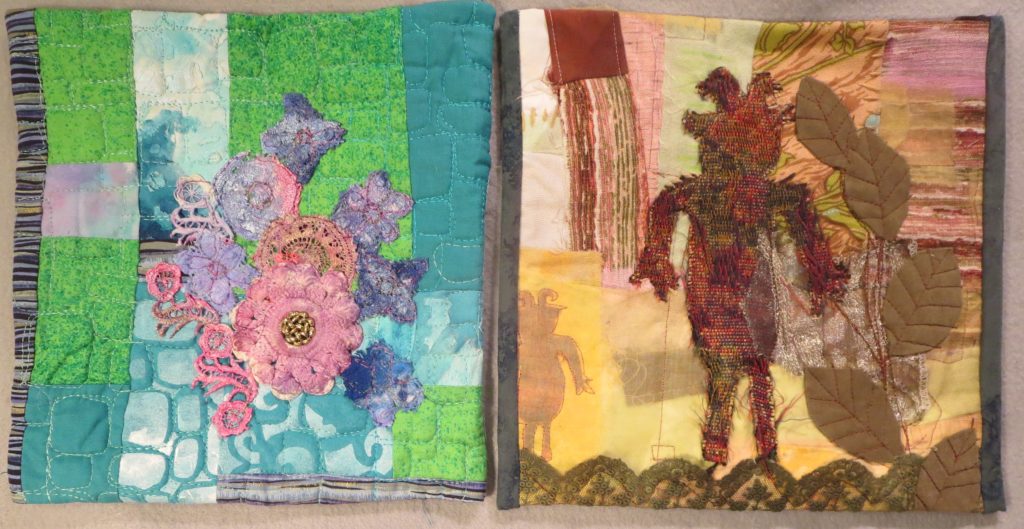 10″X10″  Banquet –  Petroglyph    The Schweinfurth Art center had called for art work to be donated for an auction later this fall.  The work can be any media and I have selected fabric here. These two  works will be on sale at that time with all the funds raised going to support their cause.
Card Green Soul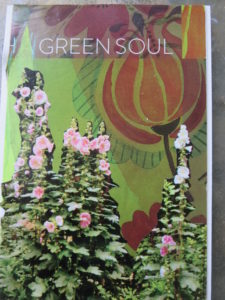 My card for this week celebrates the wonders of summer and  notes that Autumn will soon be upon us.
Label Blocks    Another block got completed this week.  I also found a lost one under my chair so now there really are only four more to finish.
Keep Creating
Carol