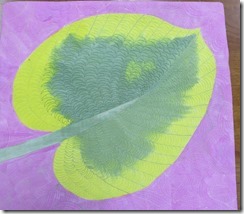 Hello,
In the deep cold we are experiencing now, I think of the wonderful warmth of spring and the new beginnings that  a new year makes on consider.  New sketchbooks, new book keeping,  and new calender's are  all part of the new start for 2017.    I am working on choosing a new word for my focus this year too, but  have not decided quite yet.  Sue Ellen at the QuIG's  meeting was thinking of spring too with this new Hosta leaf pillow she shared.  The machine work is wonderful.     The Diva's also meant this week.  Because of the show that Donna is hosting for us there

was lots of talk and work for that event.       I served as transport for work for Noel and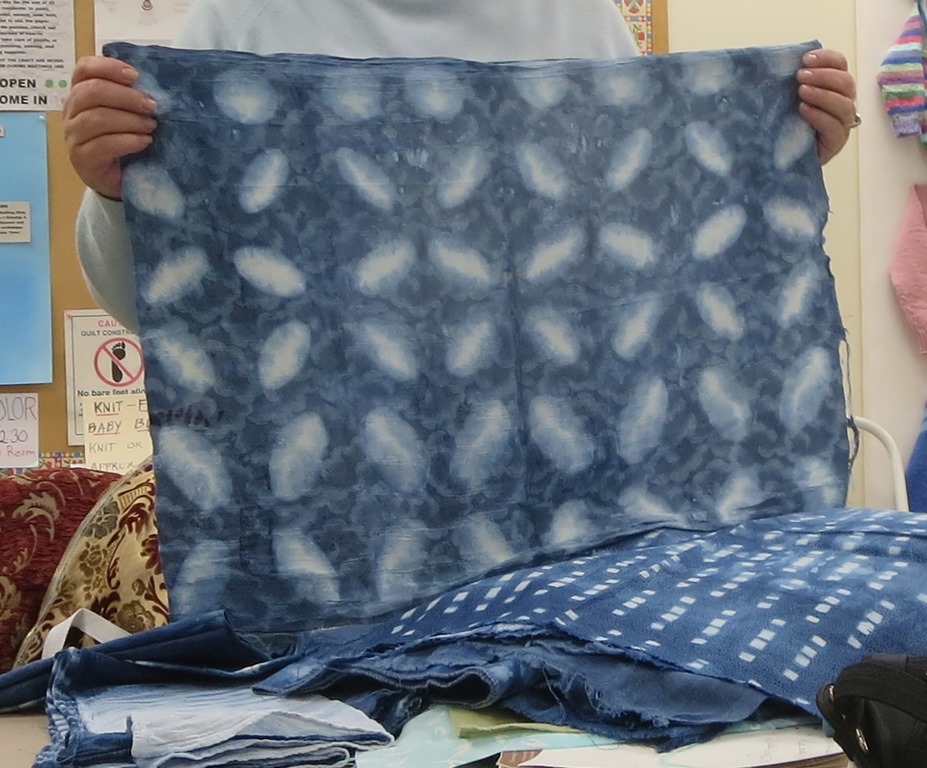 Sharon  as both  could not attend.   Sharon kindly gave me a little gift in the form of one of the book marks that she makes for her booth.    I like it. Regina has been doing a lot of indigo dyeing. ( look at that pile)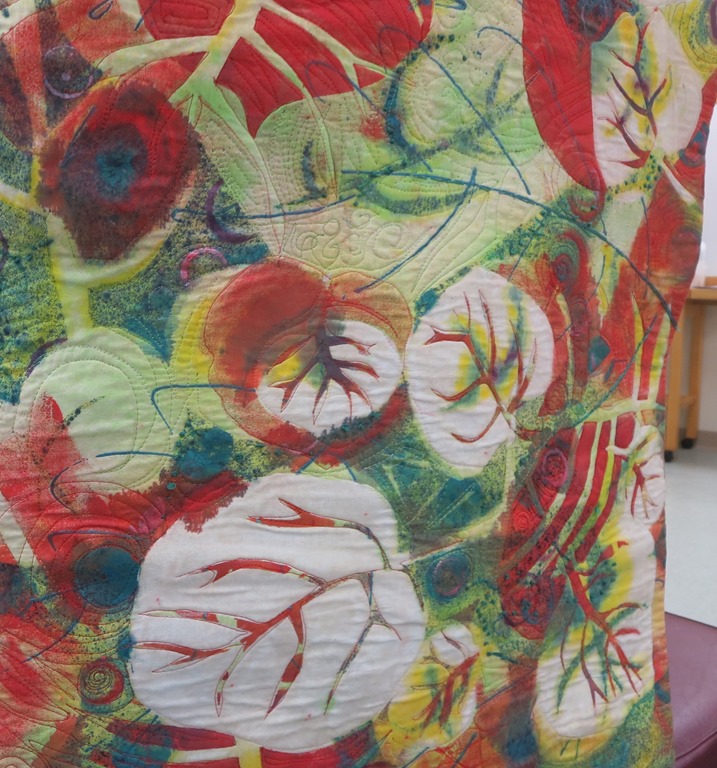 Cheri had two new pieces for the show as well as to share.    She also does such nice little surprises for the backs of her quilts that I am sharing one of those too.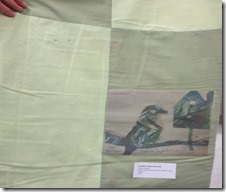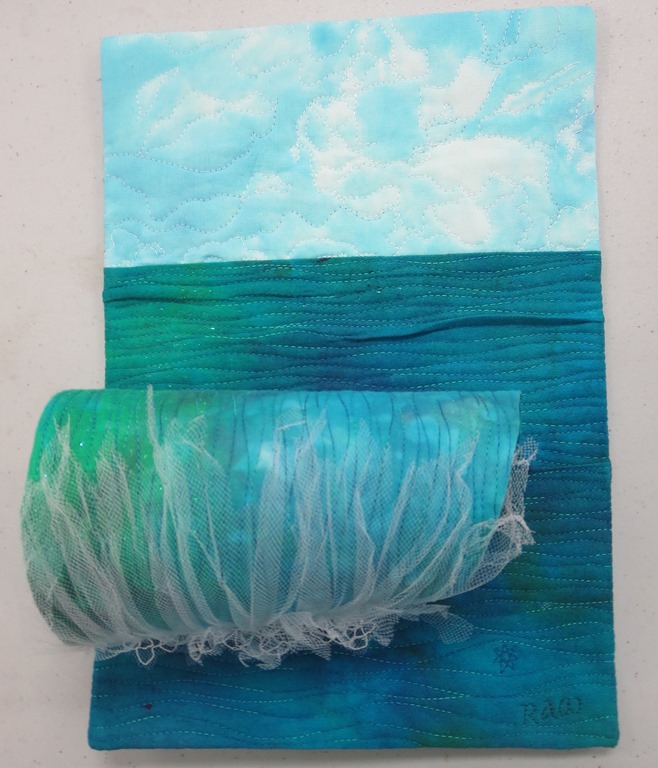 Ruth got into a traveling trunk show for SAQA and  she showed us the new wave she did just for that.   I like the waves out to sea too.   Then there is the wonderful foam under the wave.   It is really a strong work I think.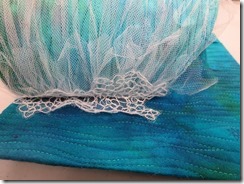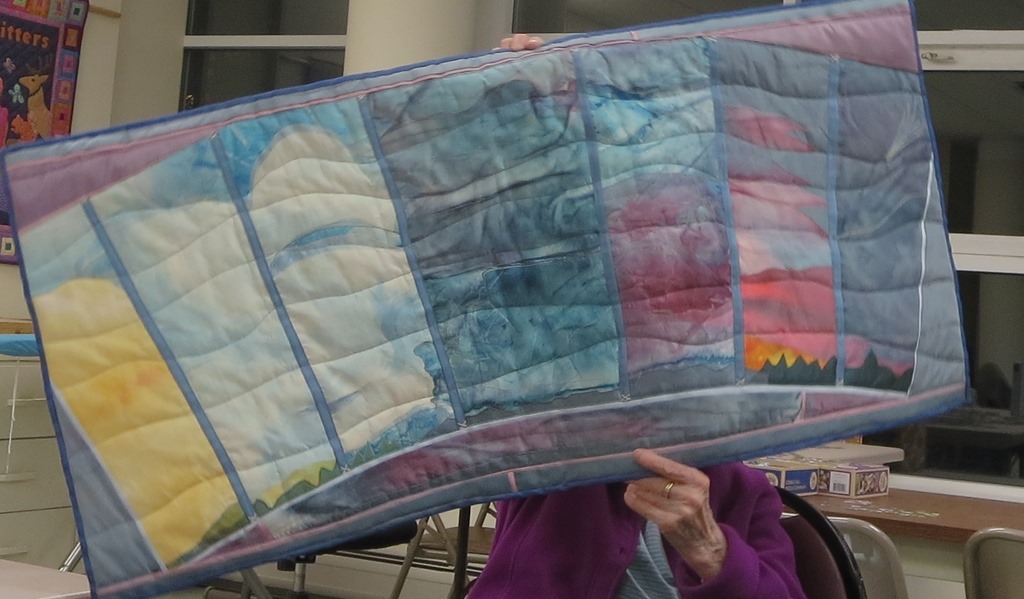 Lliese   had a wonderful piece to share with us as well.    This piece is much bigger than she usually works.
I hung my Solo Show yesterday with the help of Steve and Lynne.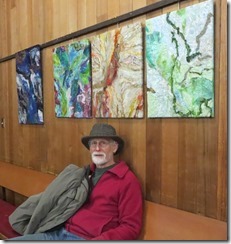 Preparing for this was a good experience for me as I got to really look at the body of work.    I have been on this earthy foundations work for about three years now.  We hung 21 pieces and I took 24 home with me that we did not use.  I like having a choice.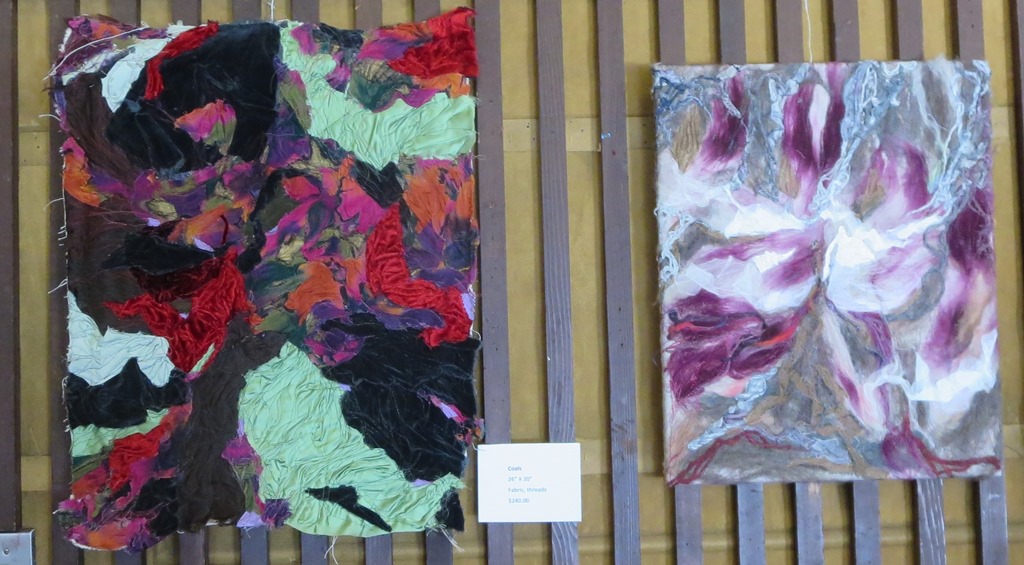 It is a beautiful place to display and I enjoyed doing that step too because of the wonderful help.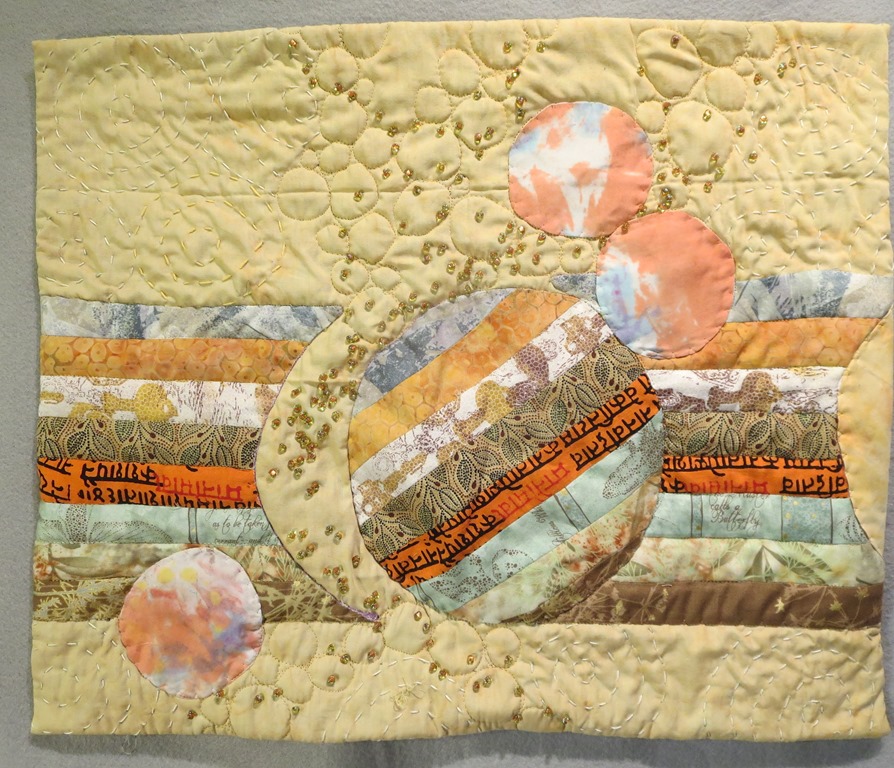 Progress Report:  Circle Challenge 1    I am pleased with how this turned out.   All the parts seem to work together for me.
Circle Challenge 2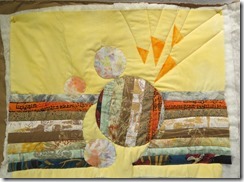 This second challenge has different colors in some of the strips and the rotation is different.  Three additional colored circles remain but the parts of the solid yellow circle have been dropped and replaced with four triangles.  I am ready to do the bead work now .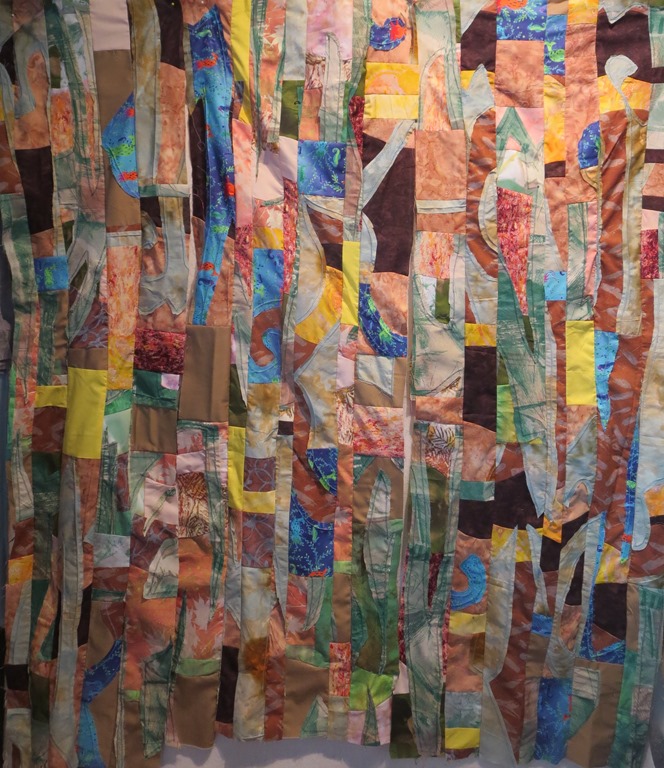 Name Game Wendy and Mark  I am all done assembling the strips of this work now.   I made the back the other day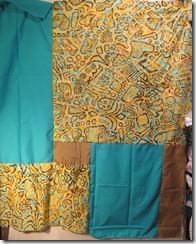 and I am now ready to add the batting and begin quilting it.
Three Jacks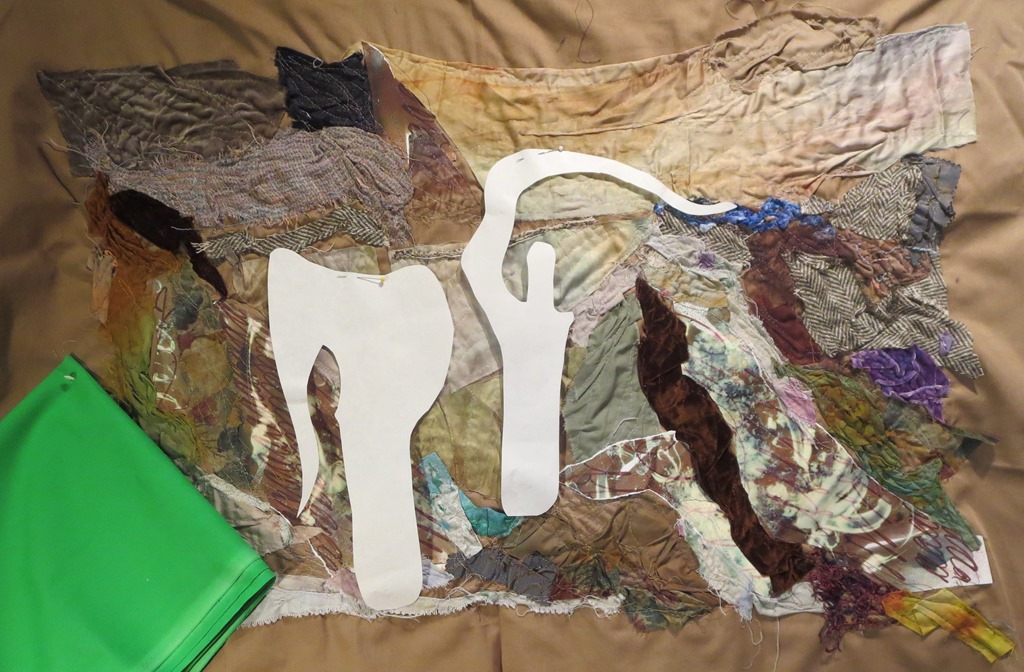 I have finished the background of this work.  Then I did some research followed by some drawing.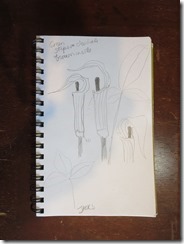 The paper patterns are enlargements of the sketch.  I still have one more to do as you can easily see.   I could not find the color fabric in my stash that I wanted to use so I had to purchase the green on Tues at Quilters Corner when I was there.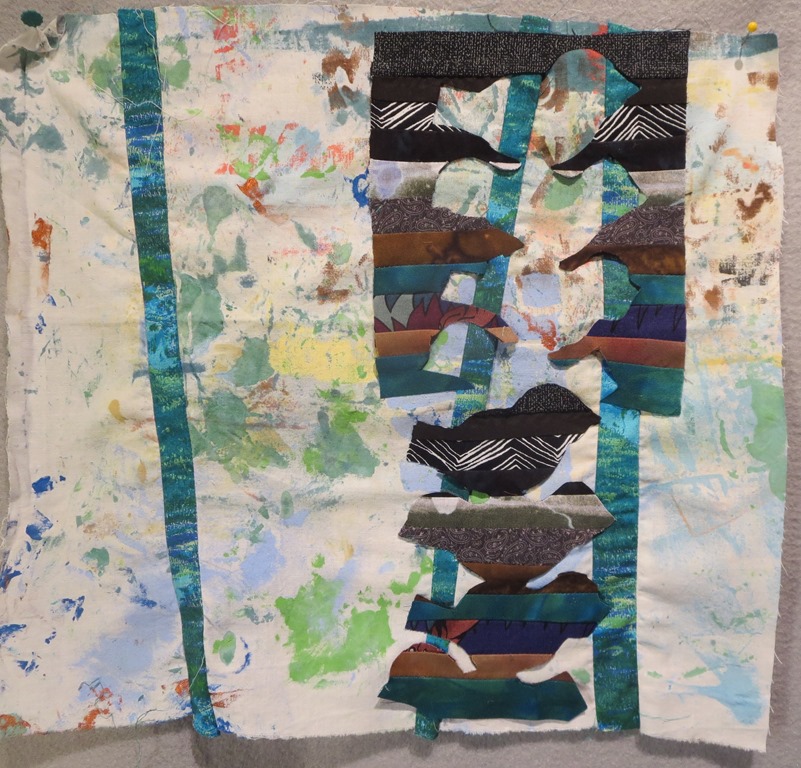 Bird Block   I am playing with some leftover bird cuts from the Bird land quit here.   It is always  a little challenge to see if the remainders can become something on there own.    I am thinking now that I will balance the birds with some free motion  bushes based on this sketch book drawing.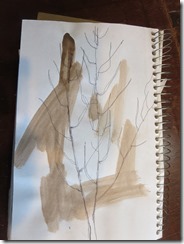 They have such a light feeling that I feel they can balance the heavy birds on the left.
Label Block  # 101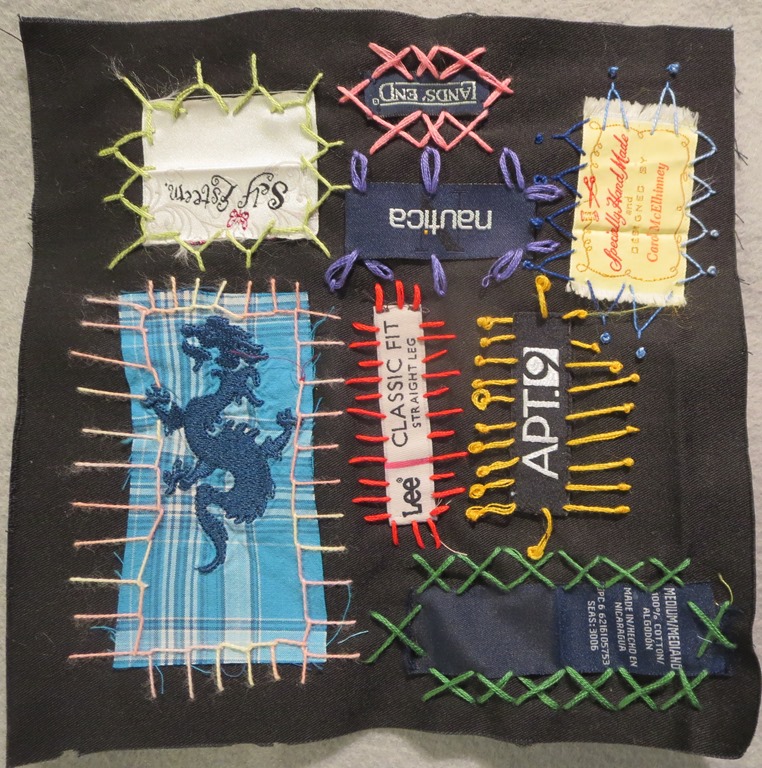 I am working away on these little blocks.  Only 19 more to build now.
Keep Creating
Carol