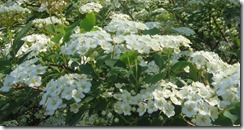 Hello,
We continue to go forward into the wonders of spring.  I love all the smells that assault my nose as I take my daily  walk.   Some flowers are fading, but others Like Spiraea, and Lily of the Valley  seem to quickly take their place and demand the attention of the bees.

  I went off to see the  art show at St David's last week.  It was very impressive and with so many of my friends represented  I really enjoyed  the  powerful work.  This is one of Sharon's new works.    I like how she is building up the surface and overlapping the leaves.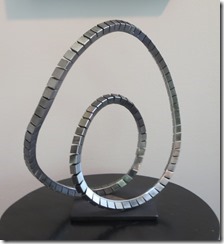 Carol had two sculptures  in the show.  I know she struggled with this one.
Barbara had two pieces as well and this one is a part of her street seen series.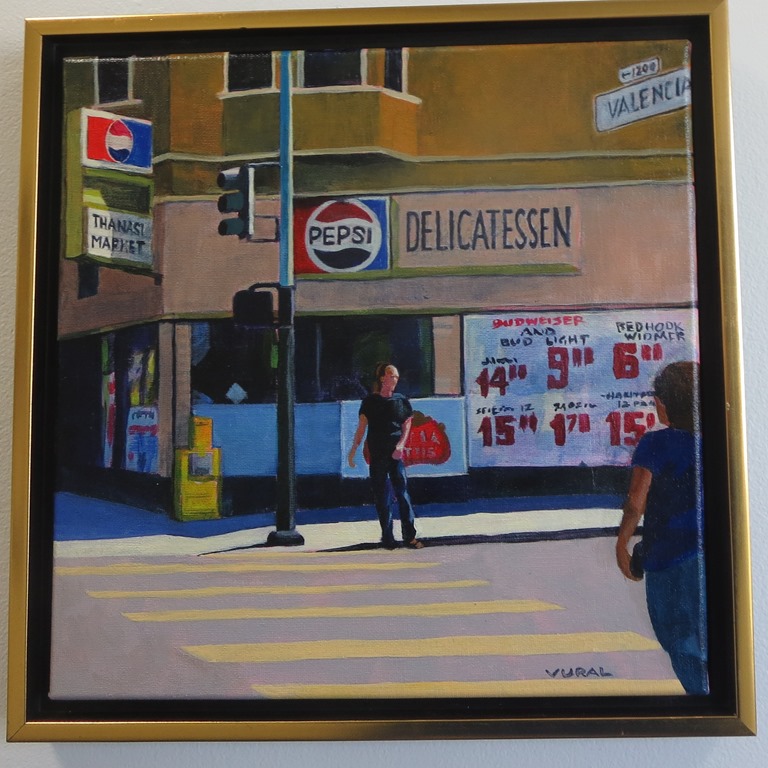 Beth had two pieces too and both of them had red stickers on them.   She was delighted with the sale news.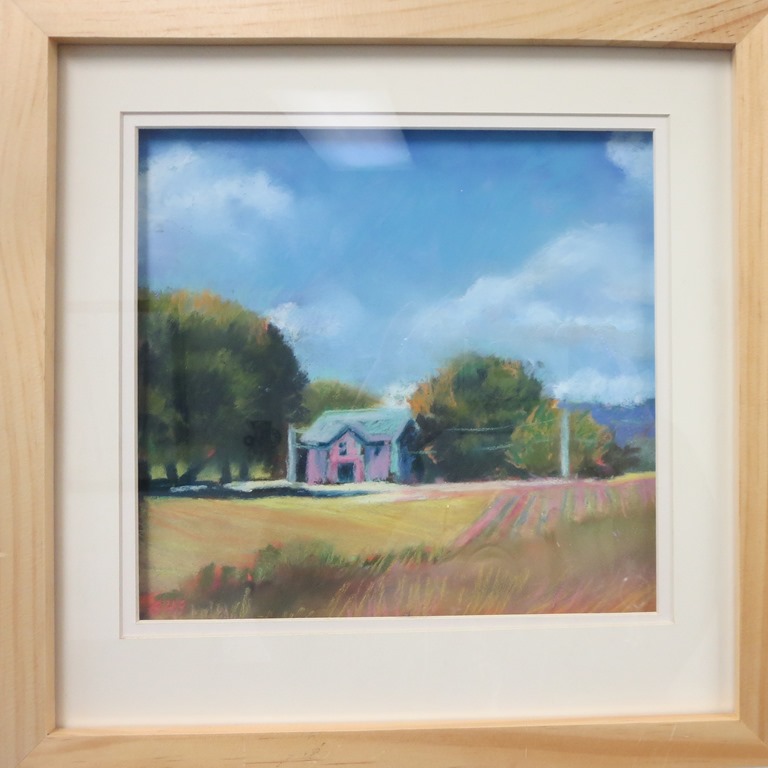 My Friend Angela had work in the show too.  I learned later that this piece sold too.  It is always a powerful show with lots of interesting work.   I am delighted for my friends.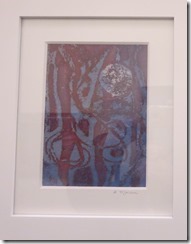 I went off to play with Beth and Barbara on Thursday  afternoon at the Turquoise Street Studio.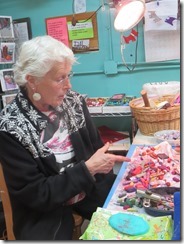 They were both working  away on pastels as is there usual thing.  It is fun to work in a parallel setting.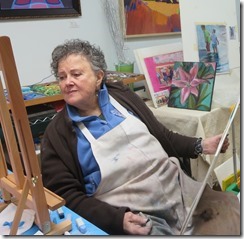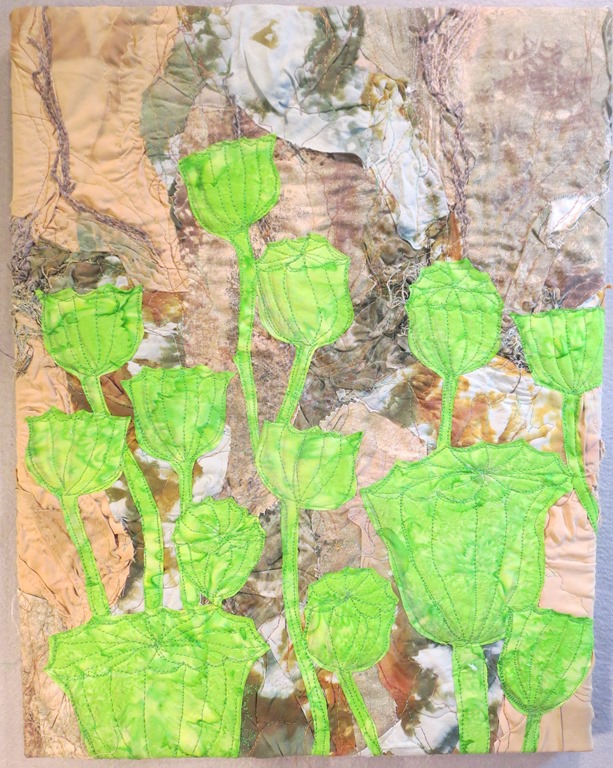 Progress Report:  Button Weed   This work is 16" X 20".     I enjoyed working on this piece as I have good memories from the Iowa farm and picking these weeds.  We use to use them as noise makers when we did Indian dancing.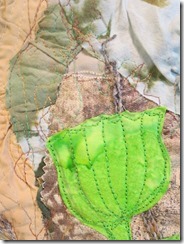 I was always taken by the fact that they where such a strong spring green.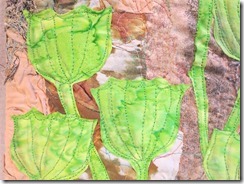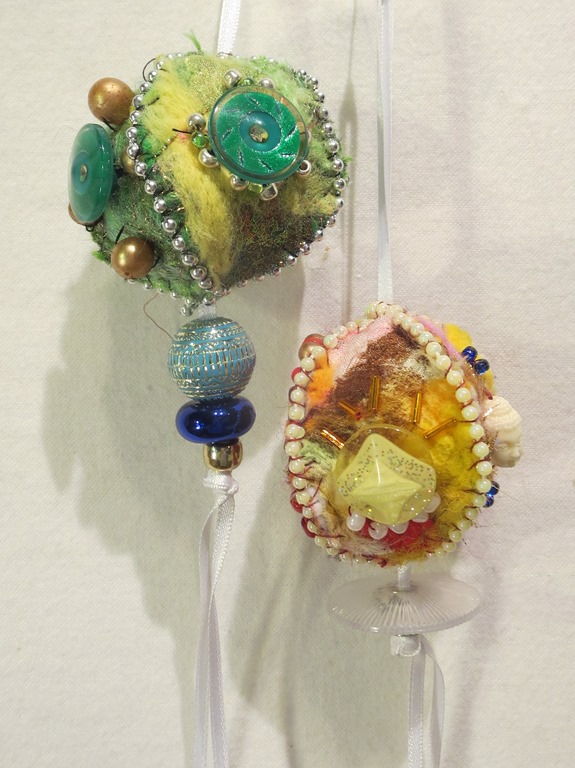 Pods   I keep working away and finding new ways to embellish these little pods.   It is fun to find homes for the last few odd beads and buttons that I seem to have lots of.
Pond Water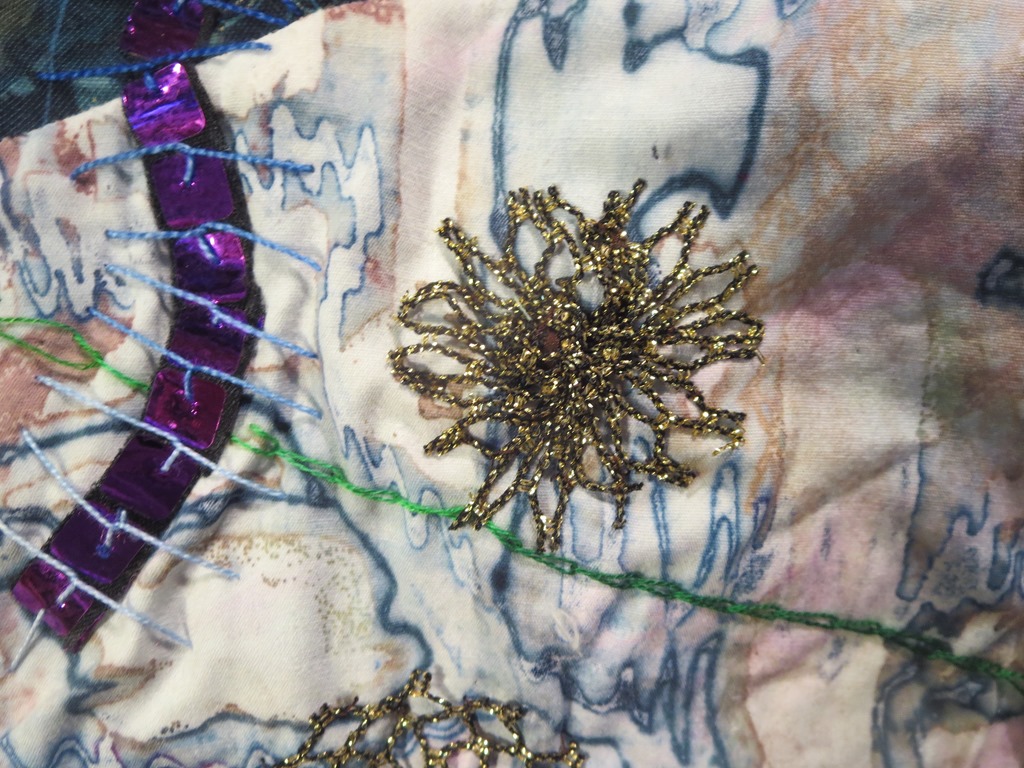 I did hand work on this project at Turquoise Street.    I am adding the gold units now.   It is very calming   almost meditative  work  for me.
Iris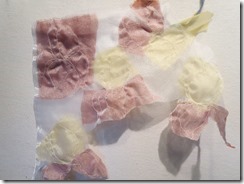 This project had proved to be a challenge.  I made all these iris blossoms and then discovered that they just got lost on my background.  I guess there will be a second one in this grouping.   So I built some in blue and purple for the actual project.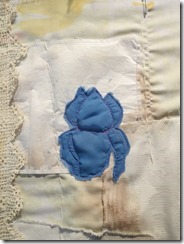 I am ready now to go back in and build up this flower with more detail and color.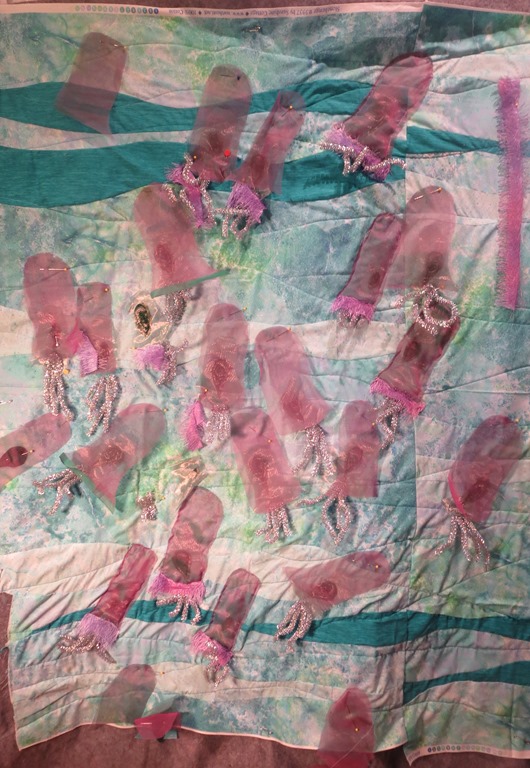 Curvy Cut Jellyfish   This project is moving forward.   I really like the shapes of these jellyfish.  I have had to really challenged myself  with  I could  how to build them up to get the effect I want.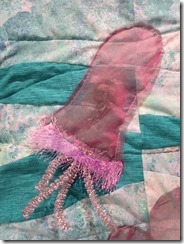 I am sorry that the dark centers get lost with the many layers of organza.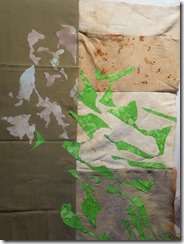 Brown Back  I found a use for the back I made last week already.  I am ironing down all the cut-a way's from the   fusing I use in my work.
Red Scarf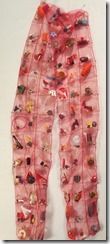 I keep working away on these works.  They are fun to build, but they do take a lot of time.   I will add the soft neck unit when I have all the nets filled.  Only three more to complete.
Wool Brown 
  I am a little beyond half way along with the felting of this work.  I will do the free motion work on top when that step is complete.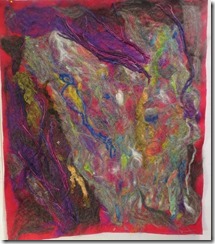 Mixed     I am all done with the felting here and ready to add the stitches on top.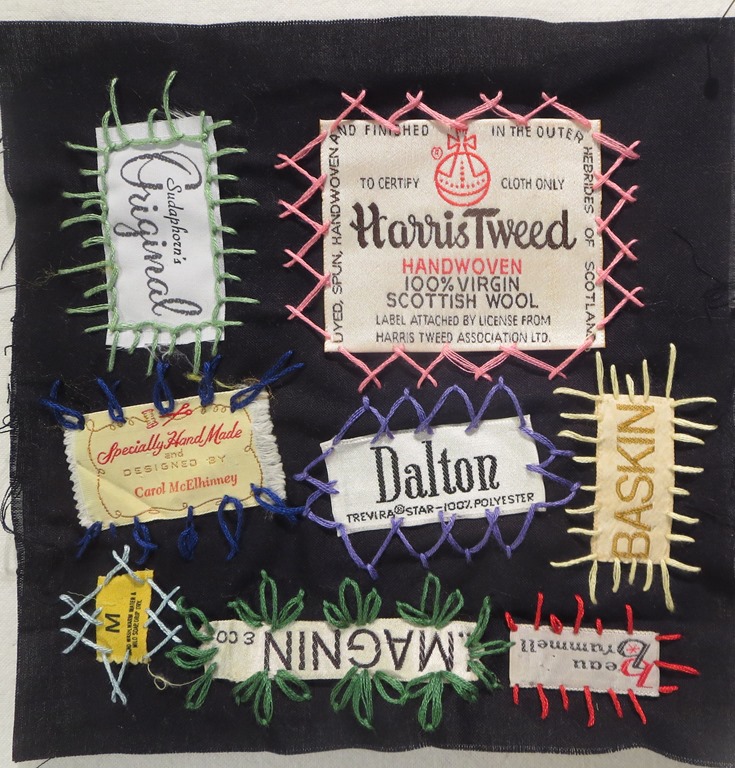 Label Block # 121    They just keep on coming.
Keep Creating
Carol