Hello,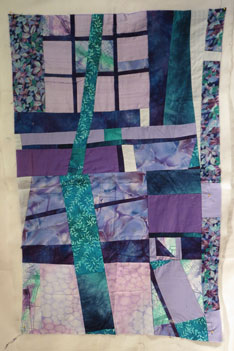 One  problem I  often face when I  paint  is not knowing when to stop work on a painting.   So I often go too far and add that extra tree or bit of red and then  ruining a  work because I am not be able to repair the problem…… I usually do not face that with my fiber work because I can pin things up and nothing is permanente until I make the final decision ans sew then down.    This week I seem to  be filled with lots of doubt about this completion  "thing".   I can not seem to decide if I am  finished with either of the  two Foundations pieces that I am currently working on.    So I pinned then backward to the wall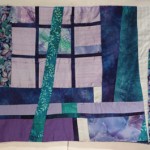 and have not looked at the surface  for several days.  I hope when I  face them with fresh eyes early next week  the absence will help me make the decision about rather to go forward or stop.     There is one other little quirk in my mental state as I  discovered a work I had folded up last fall  with a similar problem. (This blue and purple work)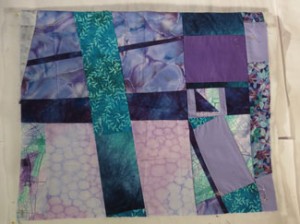 Now it is easy to see that the there are really two haves to this work and they do not go together.   So I think I will slice then apart and try to solve each half independently of the other.  After I slice them in two I will be able to work with each half  to see if I can save all or any portion of the work.  I may still need to rotate the  sections but as seperate units I think my chances of success are much better.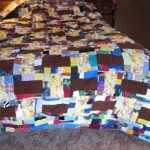 Progress Report: Scarp Happy  I have been working on this bed quilt for a few weeks.    It is done and has gone from my life.  The woman from Prevention Net Work came yesterday and picked it up for their Spring Fund Raiser.  This organization works to keep teen off drugs by providing alternate activites for them to work on.  My grandson worked on a play with/for this organization a few years ago.  I am glad to support groups that deal with teens.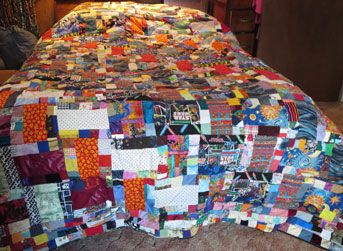 Scrap Happy   I also  passed this quilt to a second auction.  This Scarp Happy  has a diagonal  block lay out.   It is going to the Meals on Wheels of North Syracuse for there benefit.   I was assured that it will sell well and add to their coffers.  Again I am happy to support this organization.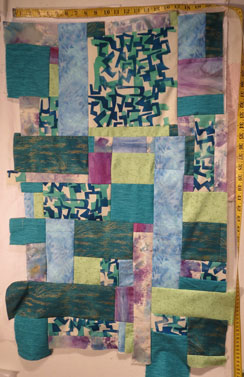 Electric    This top really went together quickly when I finally got to it this week.  I am now in the process of adding the quilting.  I am using the silk screen printed fabric that I made as the inspiration for that quilting.   It is fun- but very slow as I have to stop so often and change the direction of the stitches at sharp angles.  No  stitching line thus far is longer than an inch and a half and most are under a half an inch.
It is quite a slow  process.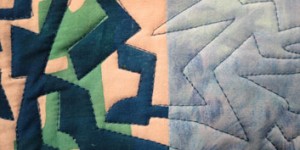 Green Grow the Grasses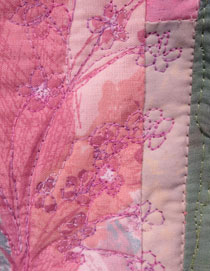 I am having a good time doing the free motion drawing of the flowers on this quilt.  Some of the  machine drawing is just on top of the print on the fabric and some is just my own creation.   I have also added some leaves to the surface to add interest and varity.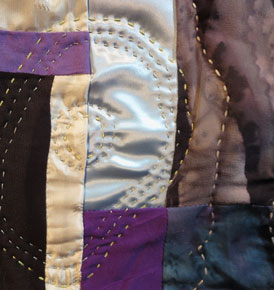 Smoke I am still working away on this piece.  Every time I think I am done with it I pin it on the wall at the end of the day and then look at it first thing in the morning before I turn the lights on.  That is when I  can see what the quilt needs and thus far that has been more hand quilting.  One cannot rush the process.
New Work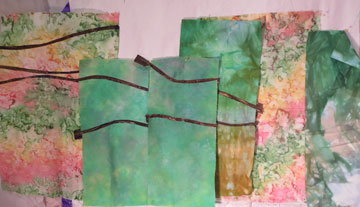 Then of course when I do not know what else to do I start a new piece.   Seriously,  I was not done exploring the slender inserts idea and this thing popped into my head just as  I awoke the on Tueseday morning.   So I am off and running with a new thing.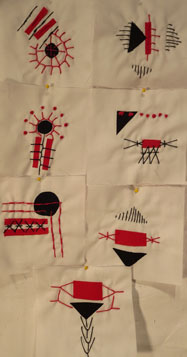 Daily's   These little works seem to be one of the constants in my life at the moment.  Thank goodness for routine.
Keep Creating
Carol