Hello,
In the process of returning all my quilts to their normal storage spots I noticed how much orange I use in my work.  Then on further consideration I realized that it tends to appear more in the work I do in the fall when I see more orange and brown as the leaves change color here.    But now my world has become very muted and almost  mono chromatic.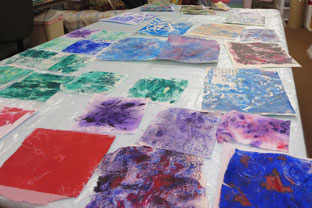 That was espically true today when the sky was gray and trees were black against it .  The leaves on the ground tended toward brows, and tans with a little rust there.  I will try to take note as to the color choices I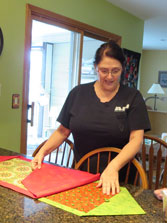 make in the studio in the next few weeks.   I spent Tuesday with the  QuEG's folks and we played with the Gelli plates.  Several of the gals had never done it before.  After a quick demo- the paint started flying and we all produced lots of colorful prints.
Folks did show and tell too of course.
Angela showed off her "10 Min Wonder " table runners.  It really only took 10 min to put together she says and she is set to make lots.Corinne had been to the Red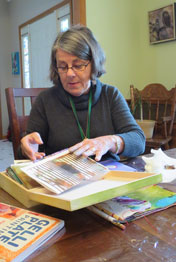 Thread Retreat and she was excited by the experience too.   She came home with a box full of treasures.  Mostly in book forms this time.  It was a good day.
At the moment I am not making lots of progress  on my work because  my sewing machine is in the repair shop.   I was free motion sewing on the wedding quilt  when I noticed  there was a problem with the tension.So  I did pull out grandmother Butterworth's old Feather Weight and  went to work on the scrap bags.  Being limited to froward and backward means I am limited to piecing.   It took the better part of last week and Monday to finish putting all the scraps into groups.  I started slicing them into 2.5inch units today and started assembling those into long strips for my Scarp Happy quilts.
Progress Report: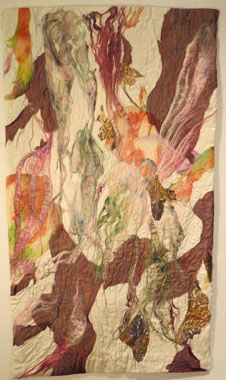 Flow Patterns    Although I do not have a machine now- I did earlier and I did finish the free motion work on this quilt befor.  This project just seemed to flow out my finger tips when I was pinning the parts up.  I so enjoy using my silk paper and that is what the most of this project is made of.  It does have some gold painted tyvek as an add on  portion too.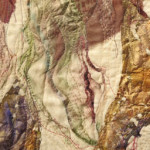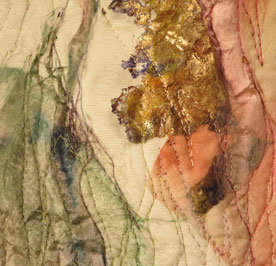 This work has lots of movement from my point of view.
Broadcasting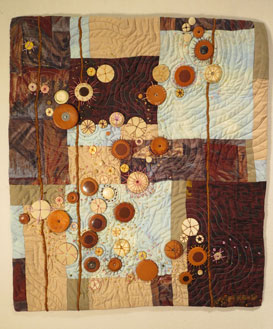 I can do some work with only strait stitching and this piece only needed to have the facings added to do that part.     I enjoyed adding all the round elements by hand to this piece.  There are beads and pads from saxafones  on the surface of this work.  It was easy to stitch through the felted pads and the ones with leather were also easy to push the needles through.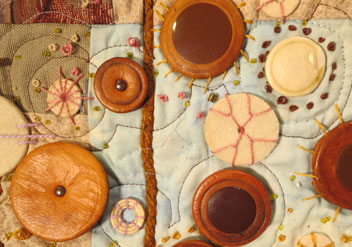 A friend who plays the sax is very impressed.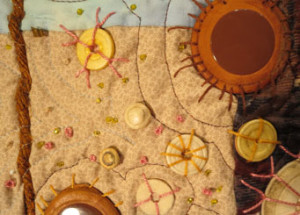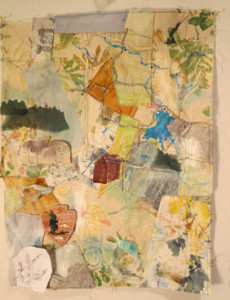 Memory Maps- Yellowstone    Even though I can only sew strait stitching I can work on this project a little.  I outlined the park and painted in the rives and Yellowstone lake.  Then I did the road lines.   I have added the Ranger Station at South Gate where Dad worked when we lived  there.    I am still working out exactly where I want to place the trailer that was our home  at this point.  And the trees- I remember so many lodge pole pine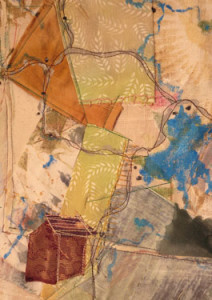 trees in all directions….  It is fun to work away on this project as more and more memories of that wonderful season when I was seven keep flowing back to me.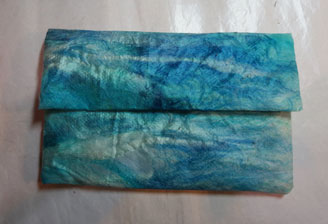 Silk Clutch     I needed a elegant small hand bag for a seasonal event last week.   So I looked at the silk paper( I was working on  Flow Patterns at the time) and found a bigger piece of some I had created with Ethel as fall.   This is strong enough to be a bag because we  sandwiched a piece of silk organza in the middle of the silk roving when we created the paper.   It worked well and I got several compliments on the bag.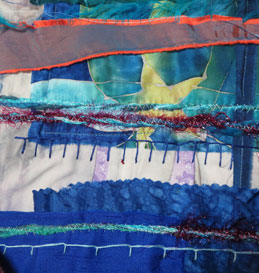 Sound like the Blues     I am still doing lots of hand stitching on this work.   All the textures are starting to come together for me.
Keep Creating
Hugs
Carol