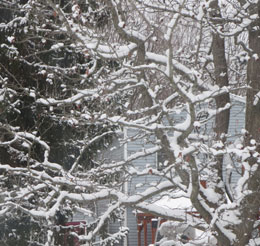 Hello,
I hope the holidays are treating you well.   I am enjoying all the beauties of winter.   We have had lots of little snow storms that seem to out line the trees in dramatic fashion.  It has been cold though and I have cut my walks short on several occasions.   I am still enjoying my new camera and learning how to use it correctly.  I hope everyone is enjoying their new toys too. Everyone seems to be very busy with family and so I have not had any meetings or  art related events this week.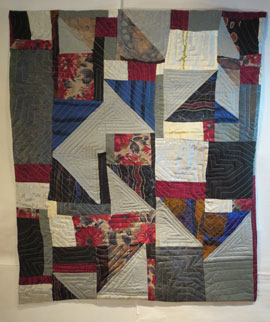 Progress Report: Splits  I am delighted with how this quilt came together.   I did not have a firm idea about how I wanted to quilt it when it was finally peaced together.  I spent some time looking at the quilt and decided to emphasize the gray triangles.  I used silver thread and filled in the shapes.  When that was complete I  decided that I did not want to use the silver thread through- but still wanted a little sparkle.  So I switched to gray thread for the next reflective outline of the gray units.  I did this action around the shapes twice and then switched back to the silver thread for the next pass.  I did this same pattern of thread color all the way to the end of the quilting process.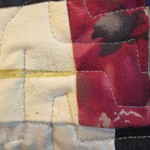 This first close up shows some of the white silk with a gold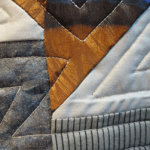 pen line on it.  This section also shows the rose print with the quilt patters crossing them.
This second close up shows one corner of a silk and gray block that started this project.  On the left is some of the ground cloth material that I also used in this quilt.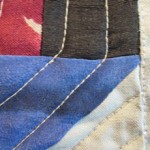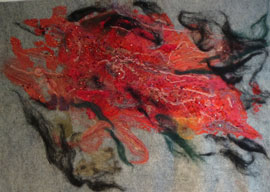 Red Nebula
This is my second felted piece.   I have been adding beads to it for the last few weeks and it is now complete.    I want to frame this one just like I did the first one.  Now that the holidays are over I may get them both done.    This first close up shows the center of the piece.  I used  glass and metal seed beads and bugle beads as well as a few squiens to decorate this one.   I felted in some metallic  red threads too to add more sparkle.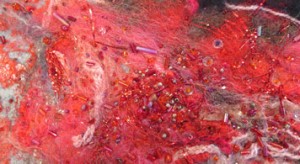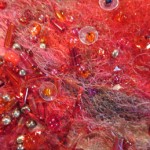 I enjoyed working with all the add-ons  and  the many different threads that I used here.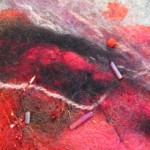 I also added some hand work stitches too.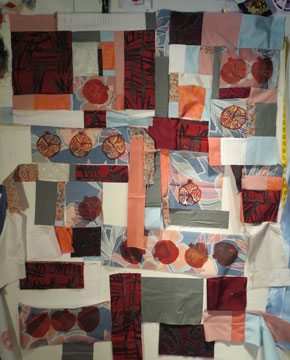 Pomegranate    I continue to work on this piece.  I think I started out with too many pieces of fabric and  took some out this week.  I am not worried about using them, as I have a second piece in this series and I can use the extras there.
Foundations VII   I started a new piece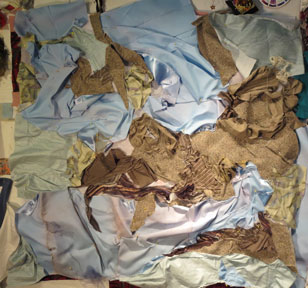 in this series this week.  I laid out the buckram in the size I wanted  then placed several shades of blue on top.  Then I  added a parts of an old wool jacket, old silk shirt and one of my husband's old shirts to the surface.  I do not let the type of fabric make any difference if the color is what I am after.    I look forward to starting the free motion work on this one tomorrow.  When that is done I will build on top with more layers of fabric and yarn.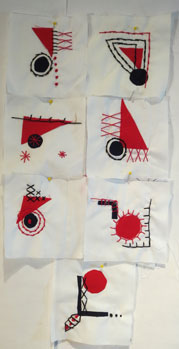 Daily's
The last five squares with red triangles and black circles were done this week.  Then I started the red circles and black L's.  I cannot believe I have been doing them for three mouths.  I sure enjoy the challenge.
Enjoy the cold and snow.
Keep Creating
Carol