Hello,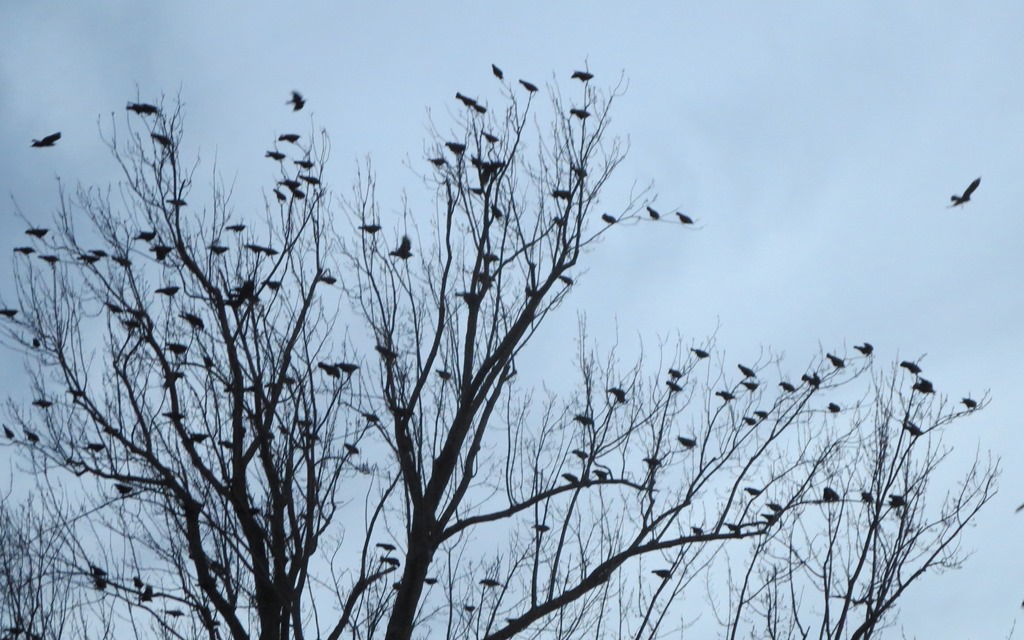 As this photos shows the crows are populating the trees now.  A few trees still have leaves and watching them fall is still something I do was I walk.   The wind is the biggest factor in that process and over the course of a week I see all types of winds resulting in sorts of fall patterns.   Some leaves zip and race away from there  high homes to the ground. While others flutter, twirl and drift down.   The wind can effect the leaves on the ground too.  Some tumble across my path and others skitter, bounce and jump, while there fellows cart wheel or roll away to be caught in hedges or  cluster at the base of trees .  Some times they stack against walls  or sail across pools.      Until we get a rain the dance will fill my walks.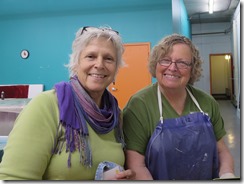 For three days this week I was a part of the Open Studio work at the Schweinfurt Art Center.
There were six of us in the wet studio.  Cris and Liz were at the tables near me.   Liz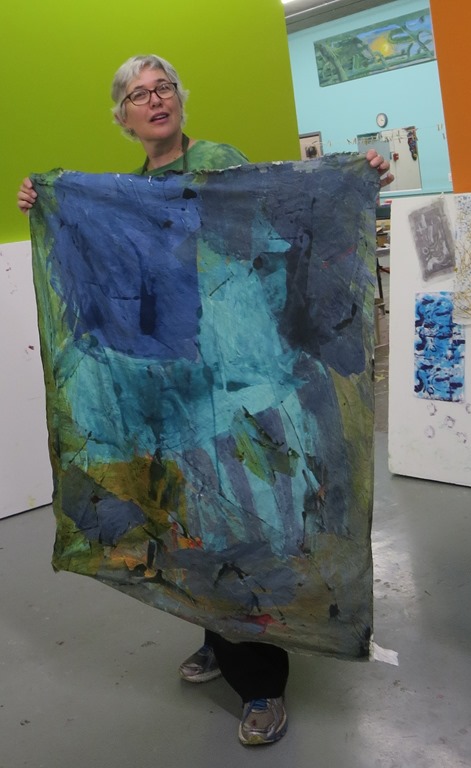 and  I learned a lot as  we had never mixed dyes for our  own use before.      The really fortunate thing was two very experienced dyers were also in the wet studio, so we had great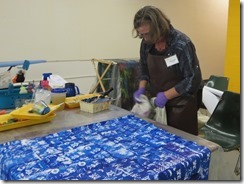 brains to pick.    Pat  the woman who I had as class instructor was there doing her own thing.   And Maureen was also there dyeing.   She was making yardage.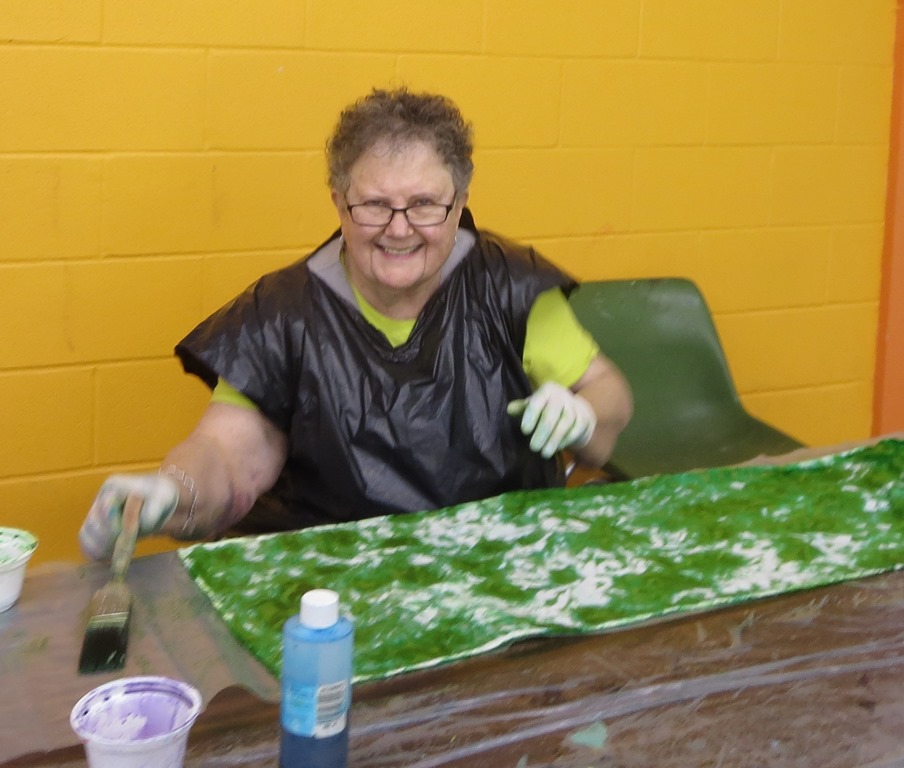 My buddy, Barbara  was also in the wet studio   dye painting silk scarves.   She only got three done – but considering she had never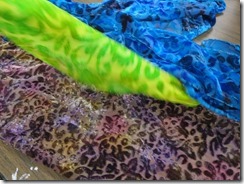 done this before I am proud of her.   I am also in love with the rich colors she achieved.    This is my wall of work for the first day.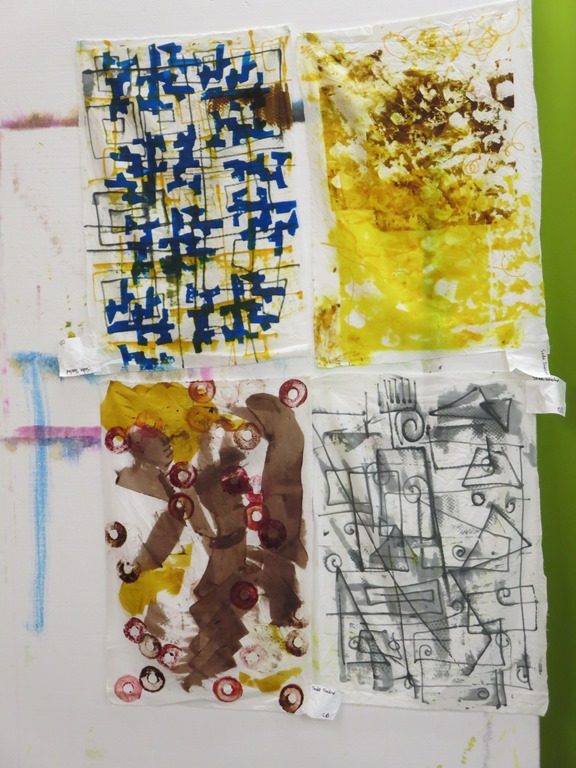 Barbara, Liz and I really got the bug and will all do more on our own.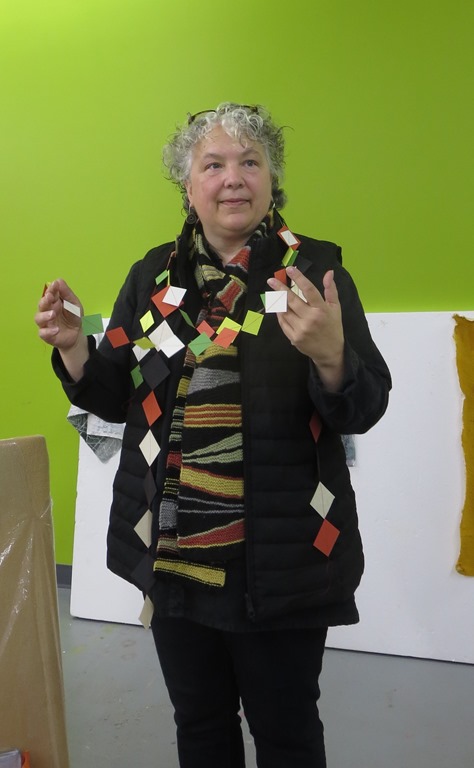 Folks were working in the sewing studio up stairs in the Schweinfurth too.    Donna came down and showed us her newest paper piecing project.   Looks like new garland for her tree this year.    They were all working just as hard up stairs as we were in the basement.   It was great fun.    There was also a trunk show by my good friend Ruth at the Schweinfurth this week end.     I saw some of her work I had never seen before.  It was great.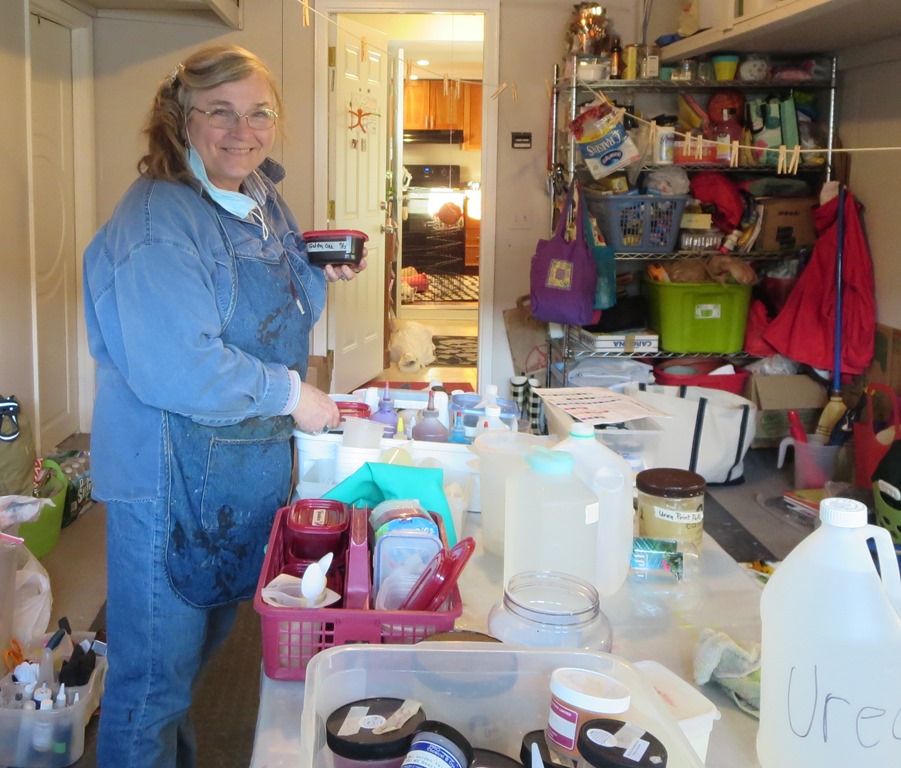 Liz and I spent Thursday  making more dye colors to use.  We worked in her garage  and mixed up six more colors to play with.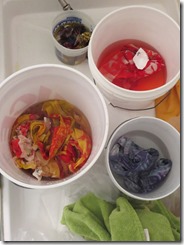 I have fabric setting in buckets of water in my shower washing out the dye now.     Good thing I vowed I would make a piece using some hand dyed fabric I had altered every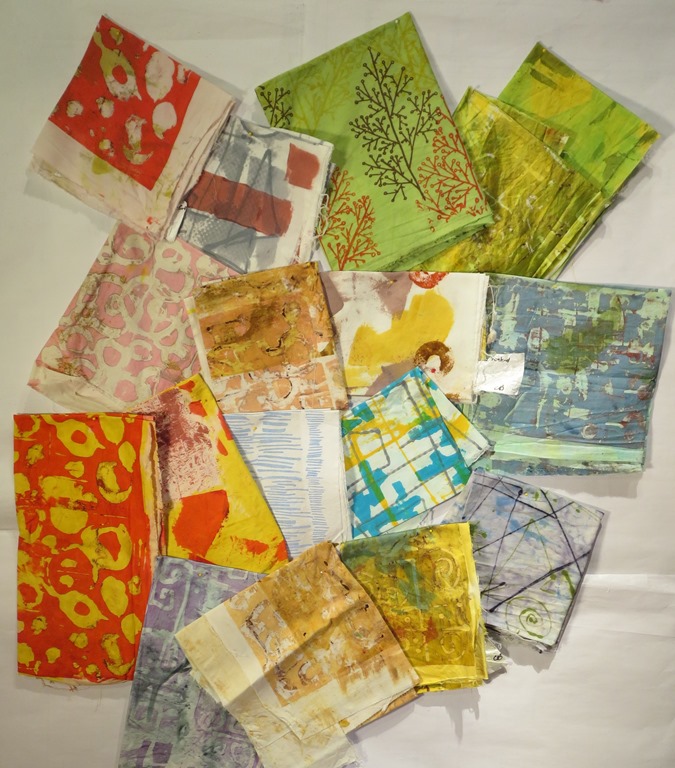 month, and  even that many not be enough to use all of this great stuff up.  Even Liz  looked at all the wonderful dye Ethel gave me and said " you will  go a lift time and not need to purchase any more dye."  This is some of the new fabric that I altered.
Progress Report:  Taffy Pull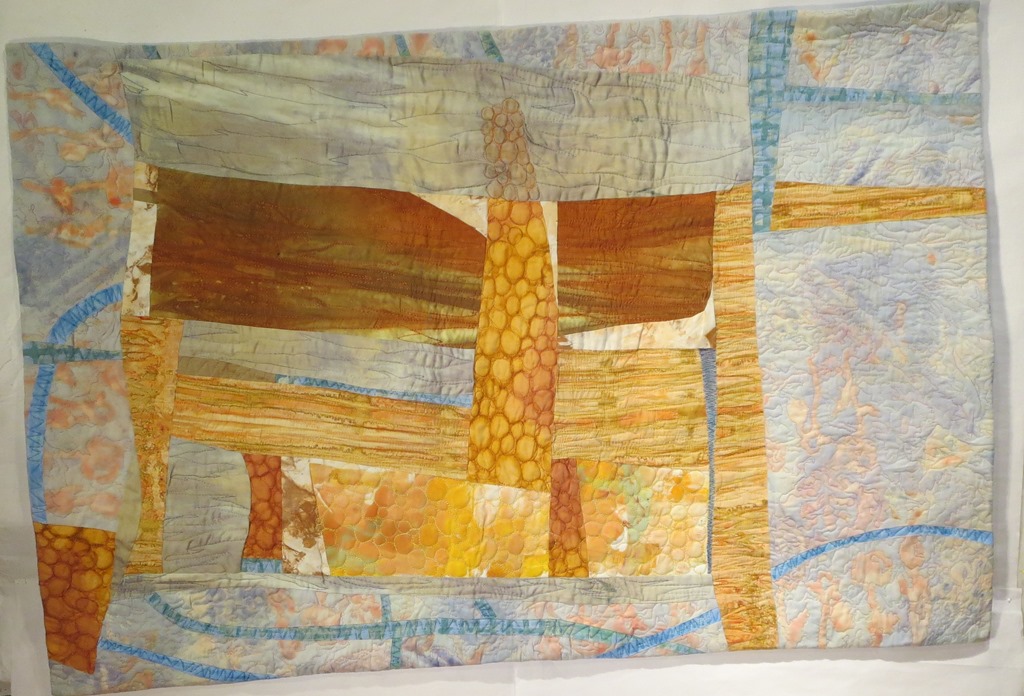 After the quilt meetings last week I did a little rework of this piece.  I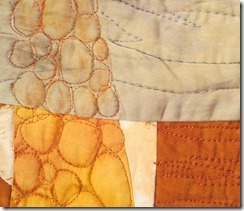 also changed it's orientation.   Maureen suggested I pull some of the colors out into other areas and I like what happened when I added the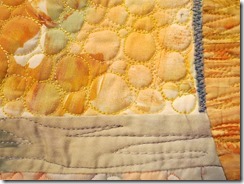 thread work to the surface.  I also intensified the blue lines.   It is a stronger piece for the additions.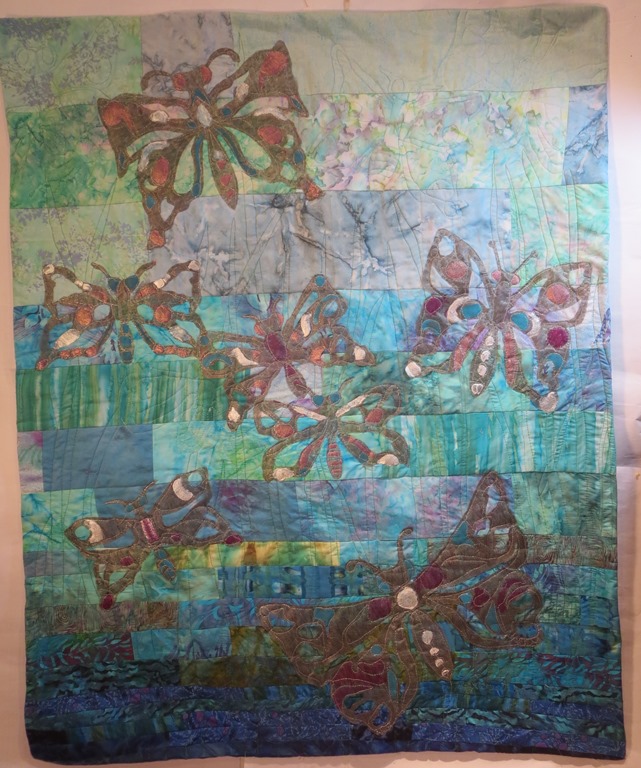 Butterflies for Ethel   I am so very happy about this piece.  It is the third and last in this series  of Butterfly pieces.   I used only fabric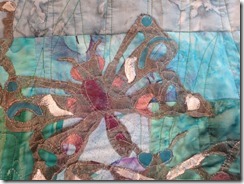 from Ethel's stash  that her children so generously gave to me.   The title is part of my tribute.    The butterflies are form the ground cloth as before.  I also added several machine drawn butterflies to represent Ethel's being gone from my life but still strong in my memories.   No one can see memories- but they are still a strong part of me.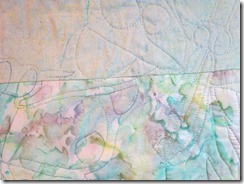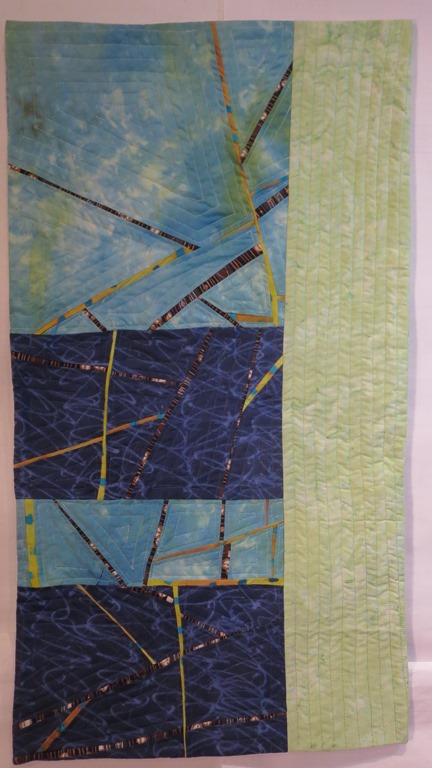 Breaking Up     This quilt got started at QBL last summer.  I was working on the thin line thing.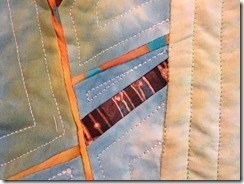 I am feeling much more confident about controlling the width of those lines now.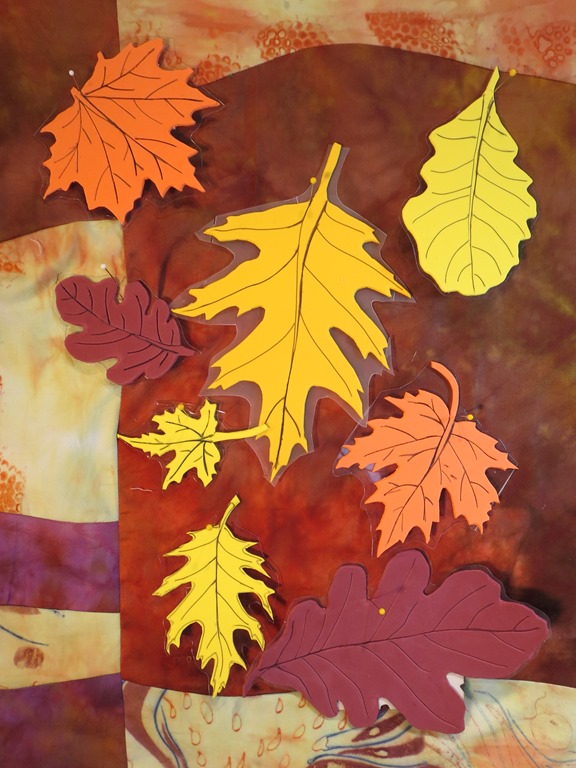 Curvy Cut Project  I did not really get any work done on this project.  But I did  make the eight leaf stamps to use  on the surface.  Hopefully I will get to that step this week.
New  Work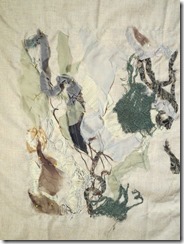 This is the start of my newest rock piece.  I am going to try to work on and 18" X 24" scale for four pieces.   So far I would say it is proving to be more of a challenge then I expected.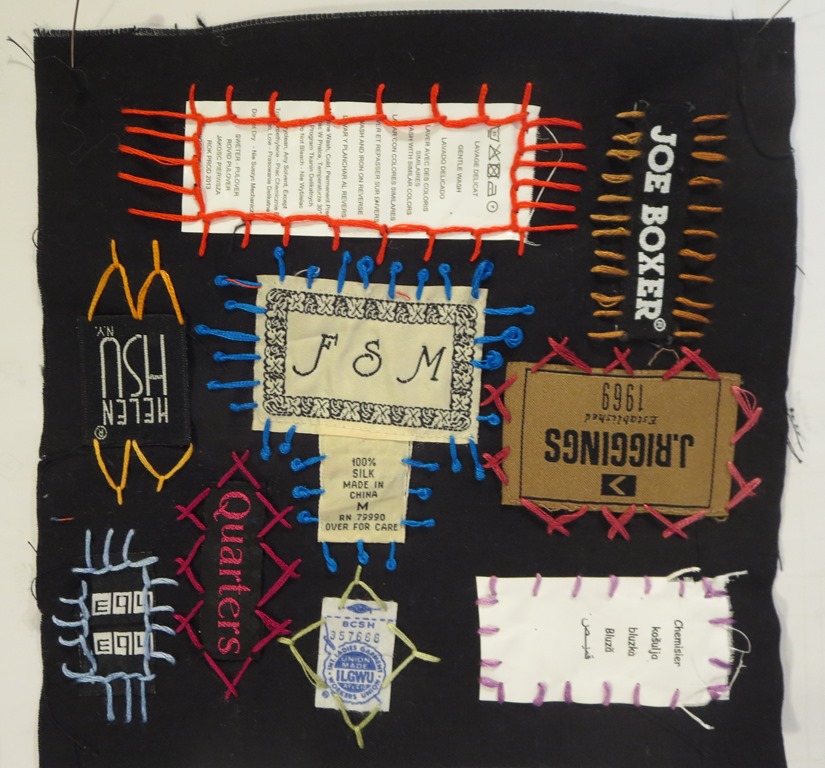 Label Block  # 26  One more done.
Keep Creating
Carol