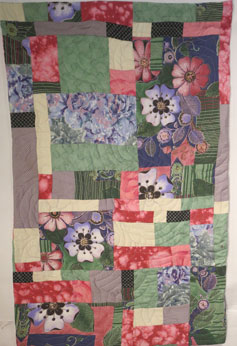 Happy New Year.    I am having a difficult time wrapping my mind around the idea that it is 2014.  Time seems to be flying along.  I am going to try to choose a word  of the year for myself.   I want a unifying idea to hold/guide  myself along through 2014.   I read about his idea somewhere and  I like the concept- now to decide on a word to be the guide.   I am still toying with several, but I will have a final selection by next week.
Like most folks in the north east I am dealing with snow and cold at the moment.   I am fine for the most part, but I feel for the birds and beasts out there.  I see lots of crows, but not many other animals.
Progress Report: Charlottes Shadow 1   This quilt came together quickly for me.  One of my quilting friends died last year and  at Quilting by the Lake there was a show of her work that two of her dear friends put up.  They had also emptied  her studio and they gave me some of her fabric.  This quilt grew out of that gift.  I only added the white and the hand dyed pink to the fabrics to create this quilt.  My plan is to create two more little quilts using more of her fabrics and then passing  the works back to the gals who were her roommates.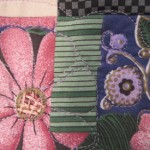 I am going to keep using the big florial material as my starting point.    I did hand work in the center of the flowers.  Then   I did free motion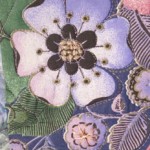 quilting around the flowers and learned a lot doing this.  All the circular motion sure distorted the seam lines.  I have done shadow quilting before. But I had always gone to the edge of the quilt after two rounds so there were some on grain quilting lines.  I did not realize how important  those strait lines were to the stability of the quilt until now.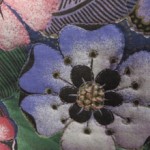 The next quilt will be different as there  is not more of the second  pale florial print fabric left.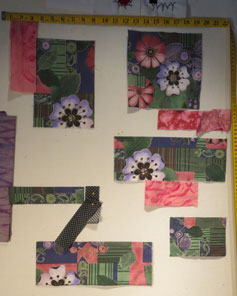 Charlottes Shadow 2 I am enjoying this process and I like this little challenge of using colors that someone else has selected.  It is a good way for me to honor  the memory of Charlotte.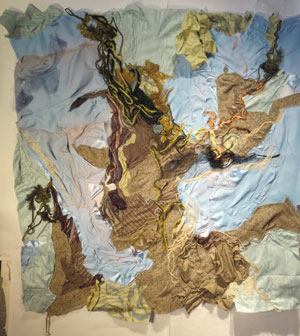 Foundations VII     I am still doing free motions work on this piece.    All the base units are down now and I am building the textures with yarn, torn satin, and various shades of nylon netting.  I like all the shading this allows me to add to the surface, sort of like cross hatching when one is using a pencil on a drawing.
Pomegranate  I am continuing to work on this piece too.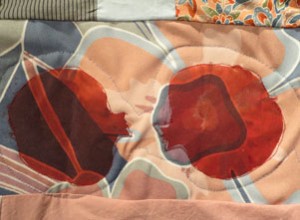 I will apply the lesson I learned about  doing strait quilting lines as a part of the design on this one.    So far I have only out lined the fruits and done one row of shadow quilting on this work.  I am always surprised by how long it takes me to work in a circle as I have to keep stopping and turning the quilt- but I think it is worth the effort.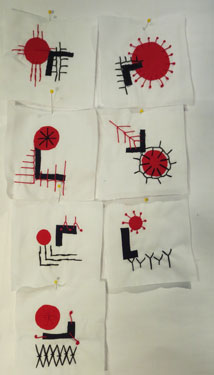 Daily's     I am finding  that it is difficult for me not to see the red circle as a flower center or a sun.   Hopefully that will diminish with the work over the course of the thirty squares.
Keep worm and keep creating
Carol