Hello,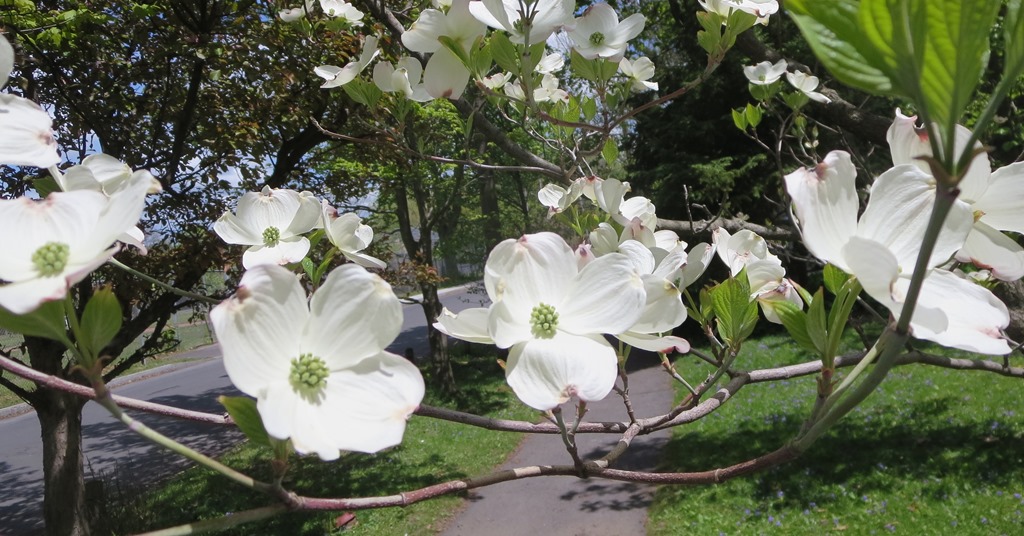 My world is really alive with blossoms now.  Blue bells, buttercups, violets, lilacs, as well as many I do not know the names of carpet the ground.  Flowering crab apples and tulip trees color the air.  The dandy lions are are in seed and they join the  Oak, Maple and Beech as they dump there pollen on the wind- my world is awash with wonderful sensations.    I am enjoying spring.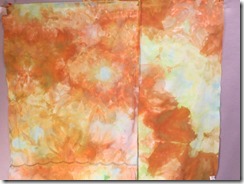 I did a little ice cube dyeing this week.  I wanted to play with some oranges and that is a color I do not seem to have a lot of in my stash.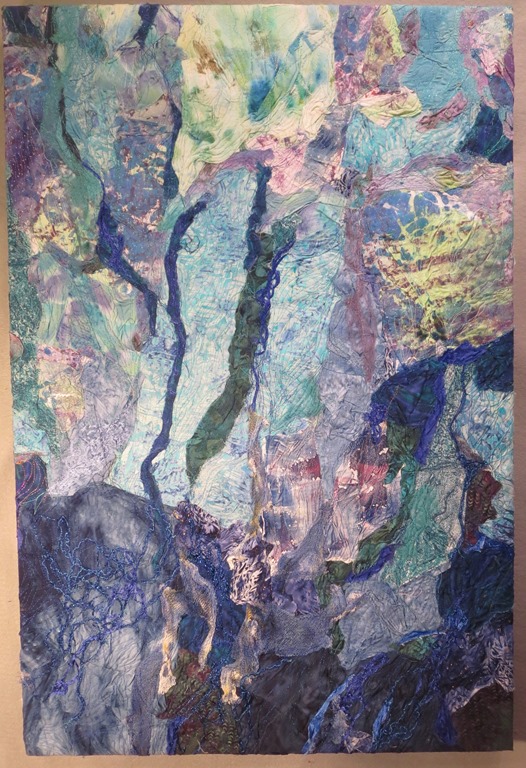 Progress Report: Blue Stone This work is on stretcher bars and is 24" X 36".     It is based on a photo of a rock face that I took a few years ago in Washington State.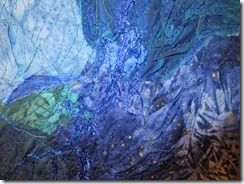 I enjoyed working up the color changes with yarn and threads on top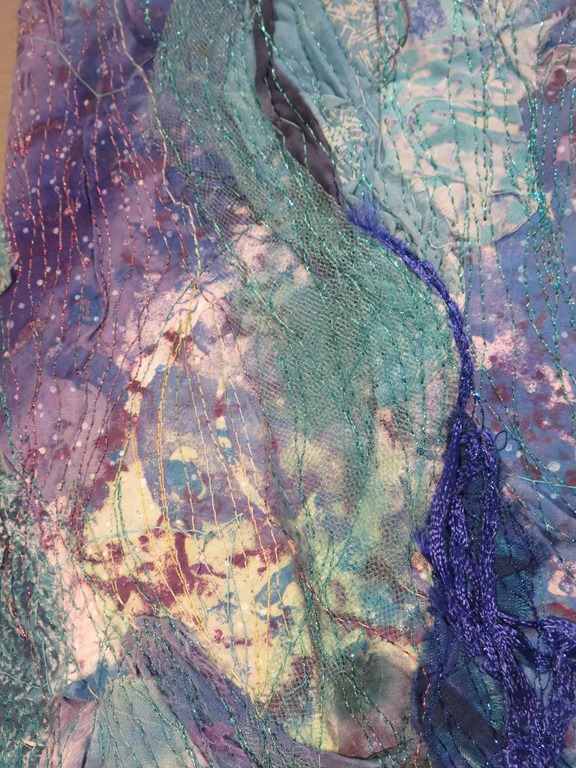 of the scrunched fabric pieces.  There is nylon netting, taffeta  and silk paper in this work as well as a bit of flannel.  I sure like mixing my textures.
Along the Shore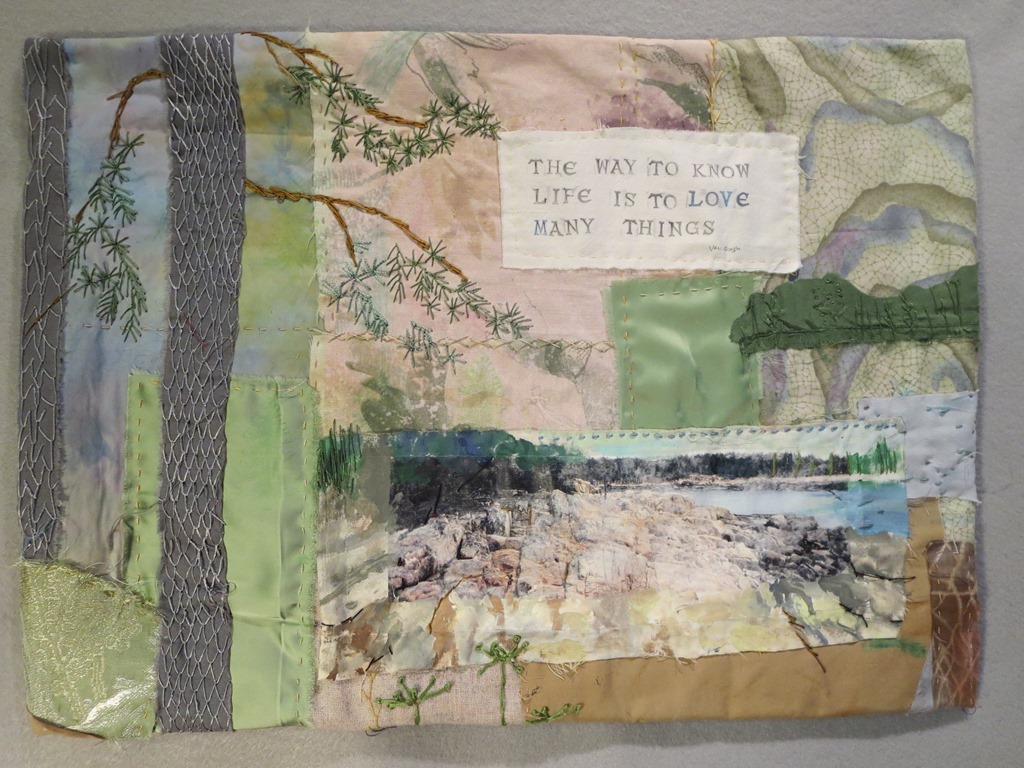 This work is 20" X 15".  It started with the photo image that Ethel had transferred on to fabric.   Not knowing anything about the setting I got to invent it to suit myself.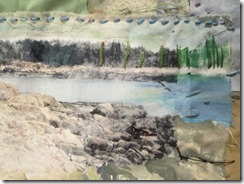 I painted the edges of the photo on the fabric so it would have a softer edge  and stitched across the edge as well to make it blend into the  top.
The quote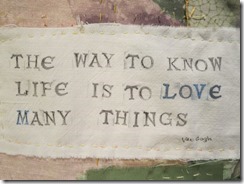 is from Vincent Van Goth.  I find it to be very true for my life.     Creating the pine tree branches  was an enjoyable process for me as I have always been attracted to them.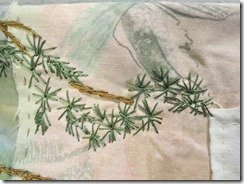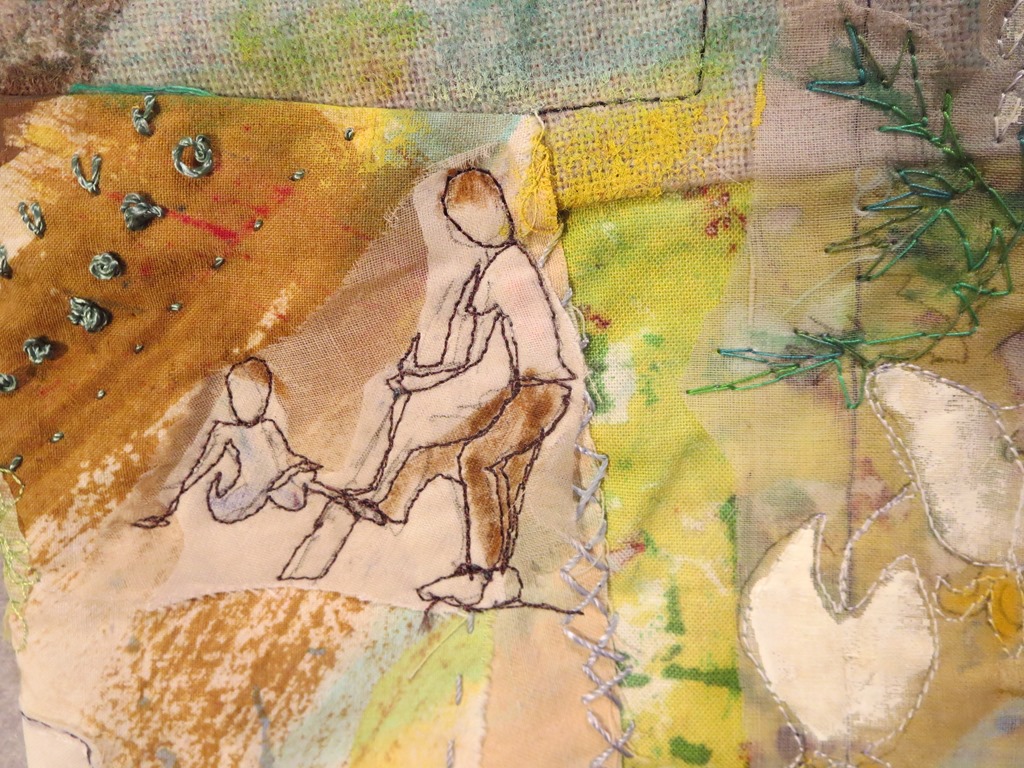 Memory Map- Columbus Junction  I am working on the details of this piece now.Adding the plants in the garden is just one part of this process.  I am considering adding a bit of text to this work.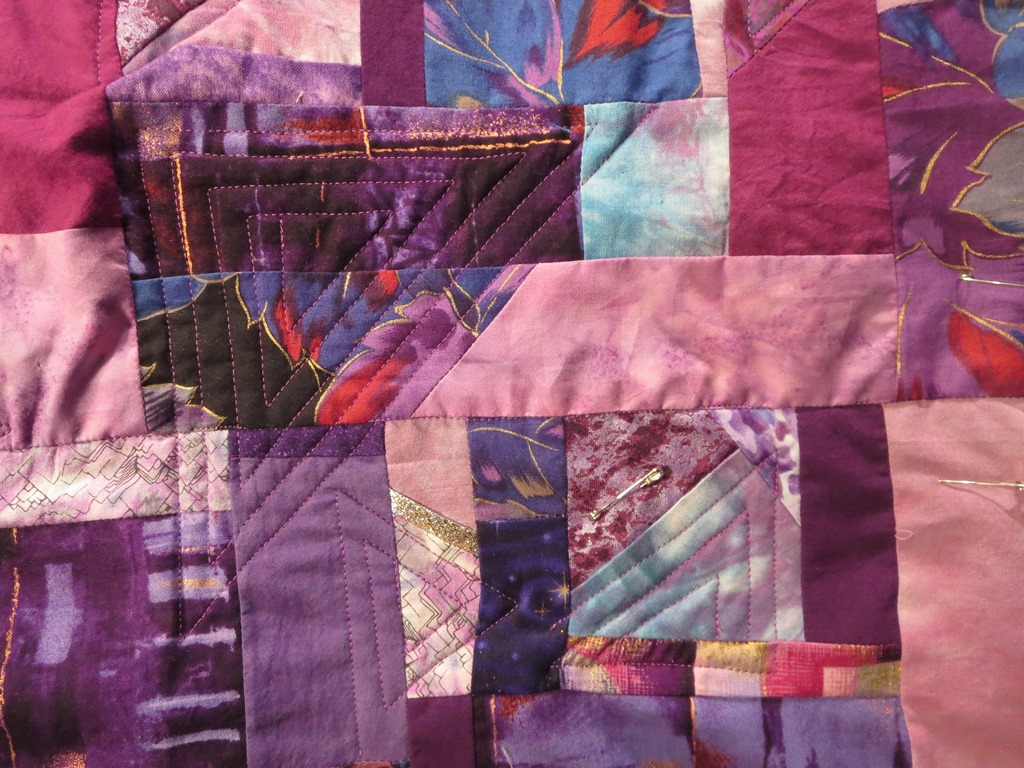 Purple Pleasures   I am to the quilting stage on this work now.  Deciding to quilt triangles was a good idea, but it is very slow work with lots of stops, turns and starts.   I am trying to use the triangles in the piecing as my guides, but sometimes I am just filling in with that same shape pattern.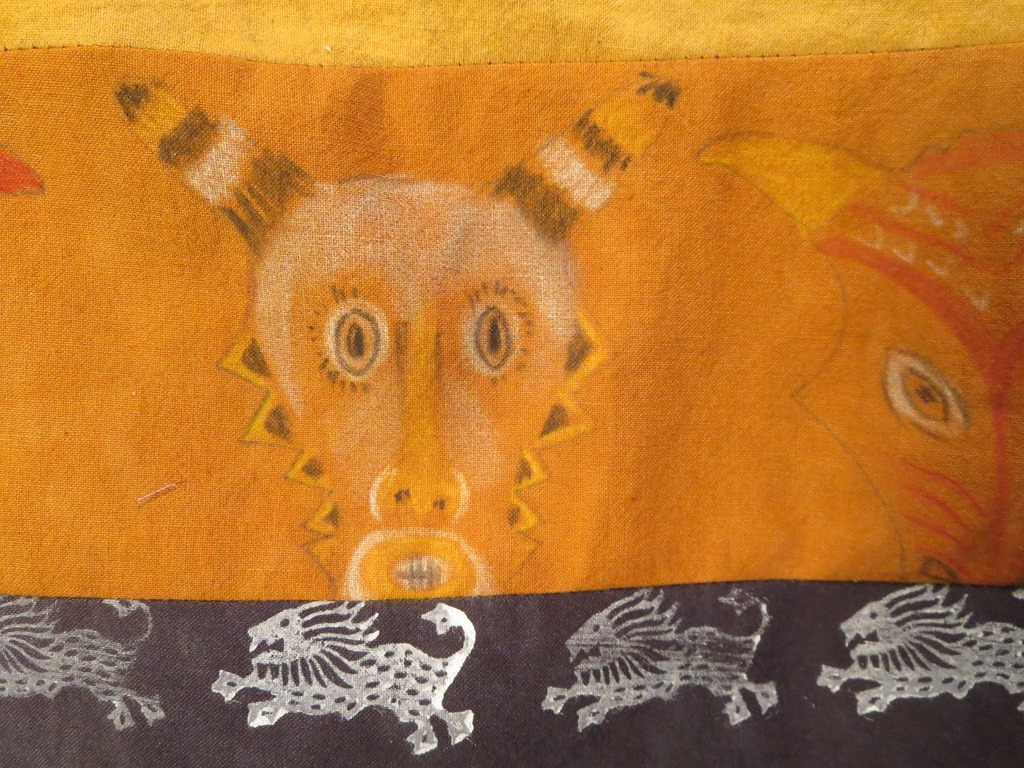 Lion King-Coming Home  I have added the masks to the bottom of this work.  Then I put the stamped lions on under that  boarder.  I think I am now ready to begin quilting on this work.
New Work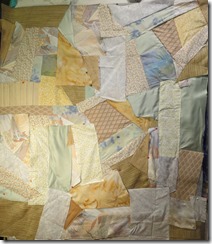 I want to do a entry for the Layered Voices Challenge for SAQA.   This is my base, using Valerie Goodwin's base construction method.  I  am now  ready to tack down the open edges by hand.  I am also gathering images of my mom and  my grandmothers to use as a part of this work.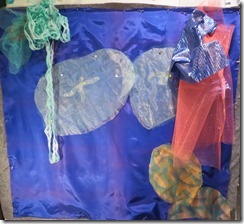 Deep Jellies  I saw a beautiful image of Jellyfish on the web and I was captivated by it .  I started a piece based on the wonderful use of color and texture from this image.
Label Block #58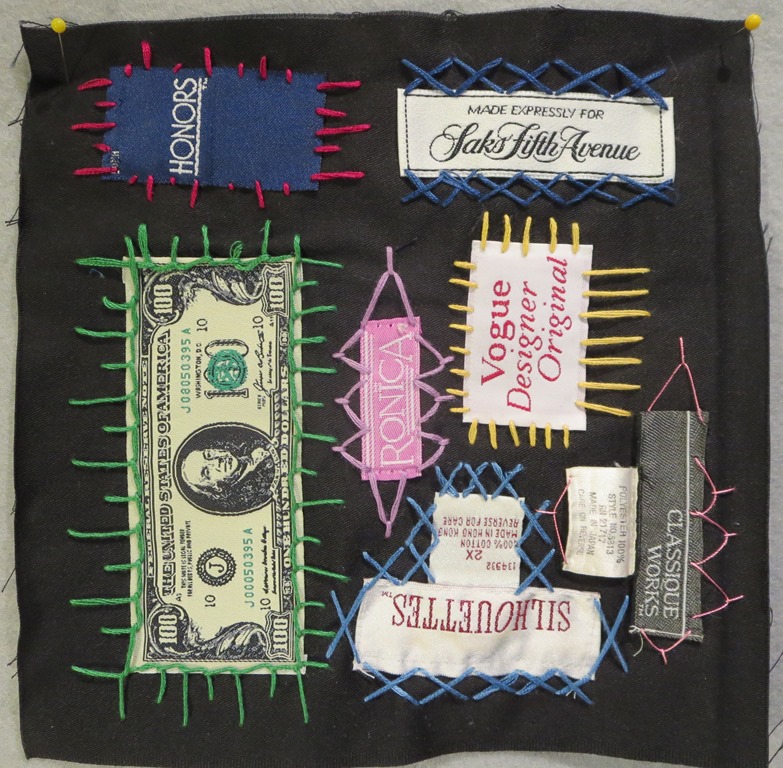 Working away on these little blocks sure reinforces the idea that the whole is bigger then the sum of its parts.
Keep Creating
Carol