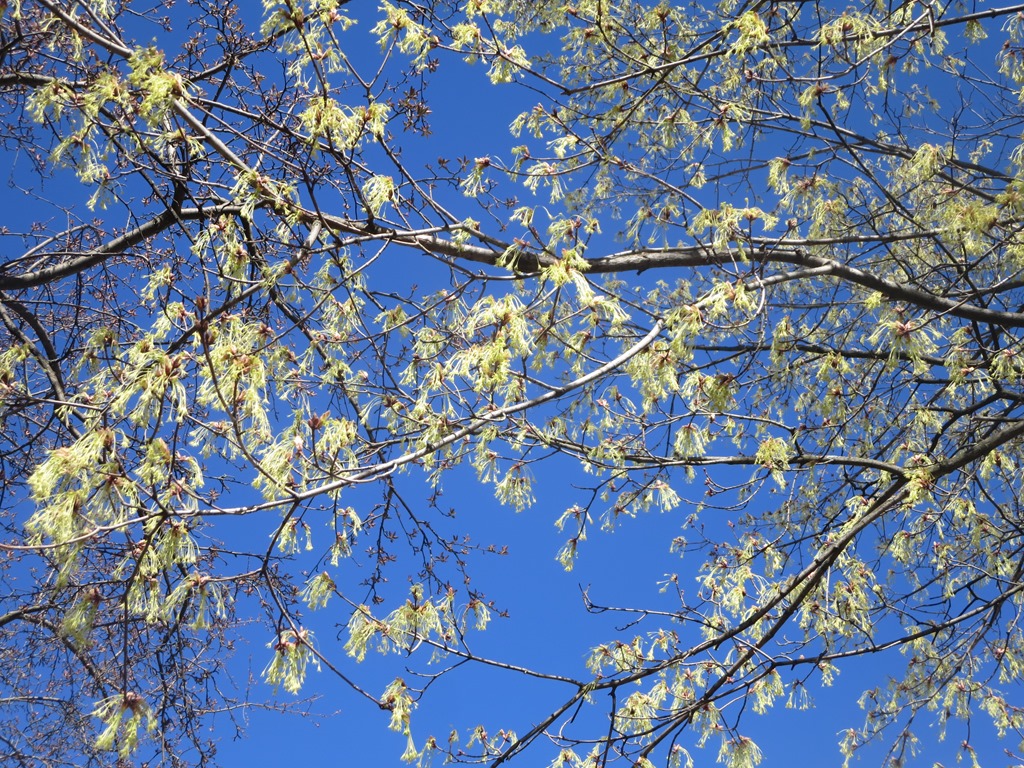 Hello-
Spring is fast upon us here in central  New York.  From the blooming of the trees to the  lots of green sprouts across the ground it is here.  Not having to always load up with hats and gloves is a very freeing feeling.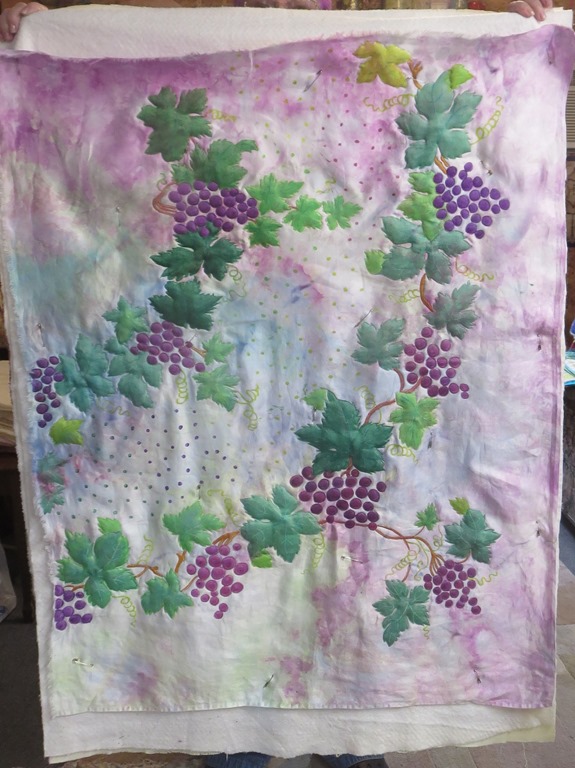 I went off to visit with Regina this week.  She did this wonderful piece with a snow dyed background and  then she hand painted the grapes and leaves on top.  It will be wonderful when she is done.    She also showed off her  machine work.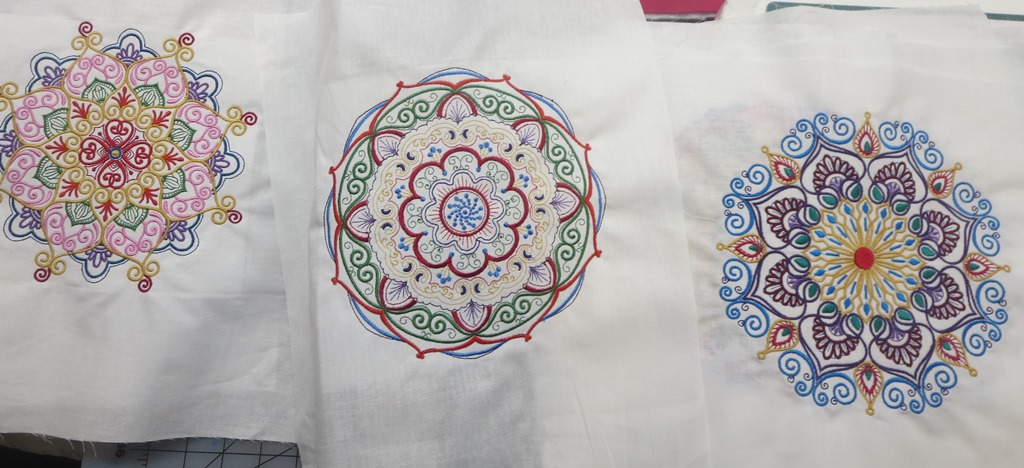 The more I learn about this process the more I respect the gals who do it.  There is or can be lots of computer programing in the process as well as all thread and color selection that goes on.   It looks to take a lot of skill to me.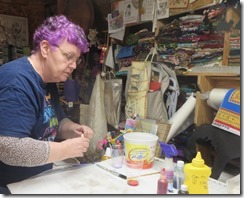 We also did silk paper and  had a long and good day.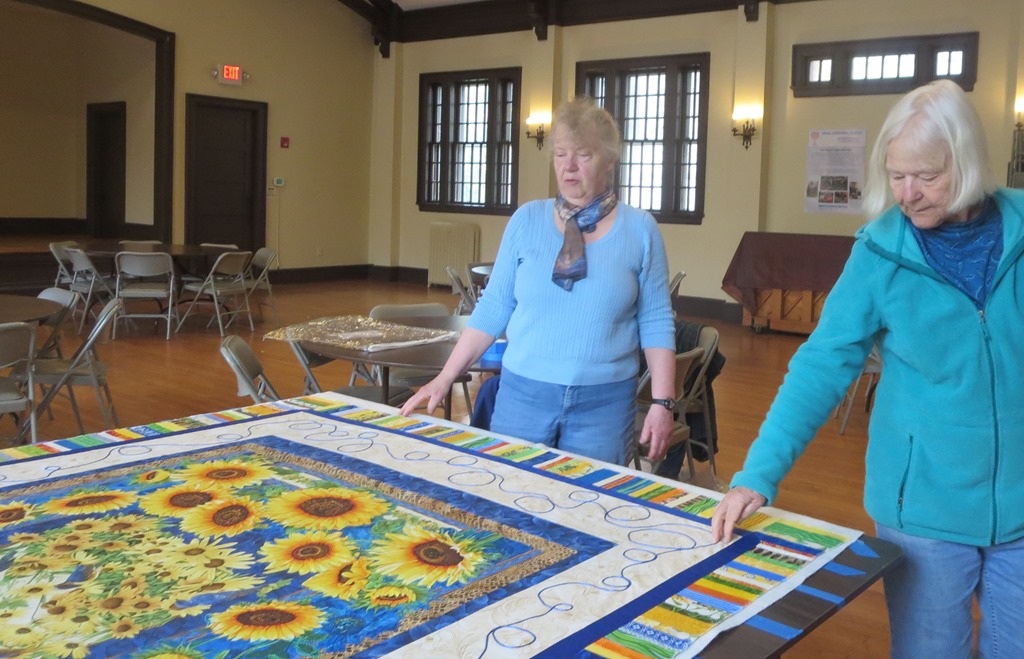 Then I help Judy and Nancy work on the basing of Nancy's  Blue Bird quilt.      There are lots of hours of machine drawing left on this project and I am certain that the end result will be a beauty.
I spent Thursday afternoon in the Turquoise Street Studio with Beth and Barbara.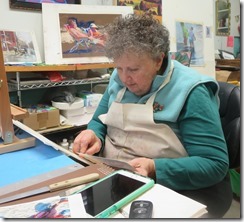 They are both working on there entries for the St David's Show next in two weeks.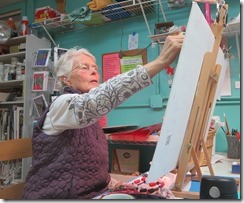 I did hand work all afternoon and enjoyed the conversation.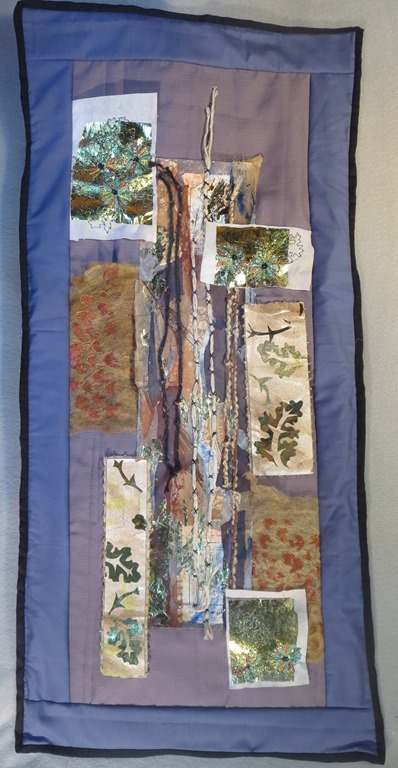 Progress Report:   Samurai Romance    This work is 18.5 " X 37.5 ".
I did four different techniques for adding textures to the surface for this work.    I really like using foil and will try to keep that in mind as I go forward with new works.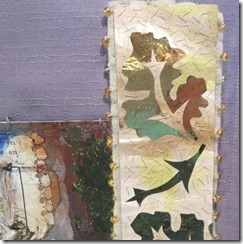 Foil can be added to paper, wool and interfacing.    I have only applied it to fabric in the past.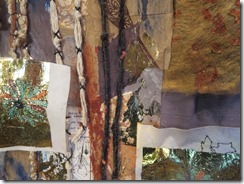 With each project I seem to be doing more and more free motion work too.  It is also a powerful tool to use the machine as a drawing tool.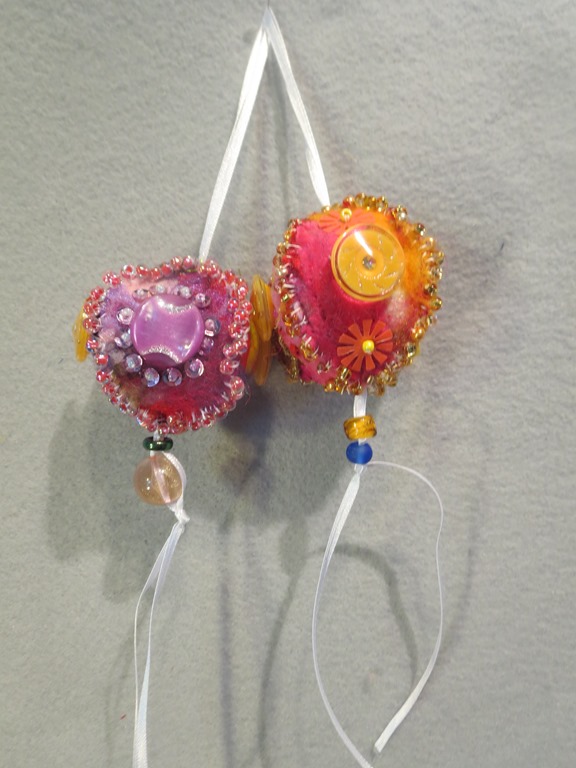 Pods    I was doing some sorting and found some unique and beautiful buttons in my stash.  They come in packs of five- but I am still going to use them as part of the embellishment of these pods.    I cut quite a few more this week but there is still the fabric that I created in all four colors left so there will be lots of these to pass to folks at Christmas time as well as plenty to keep for myself.
Guatemalan Top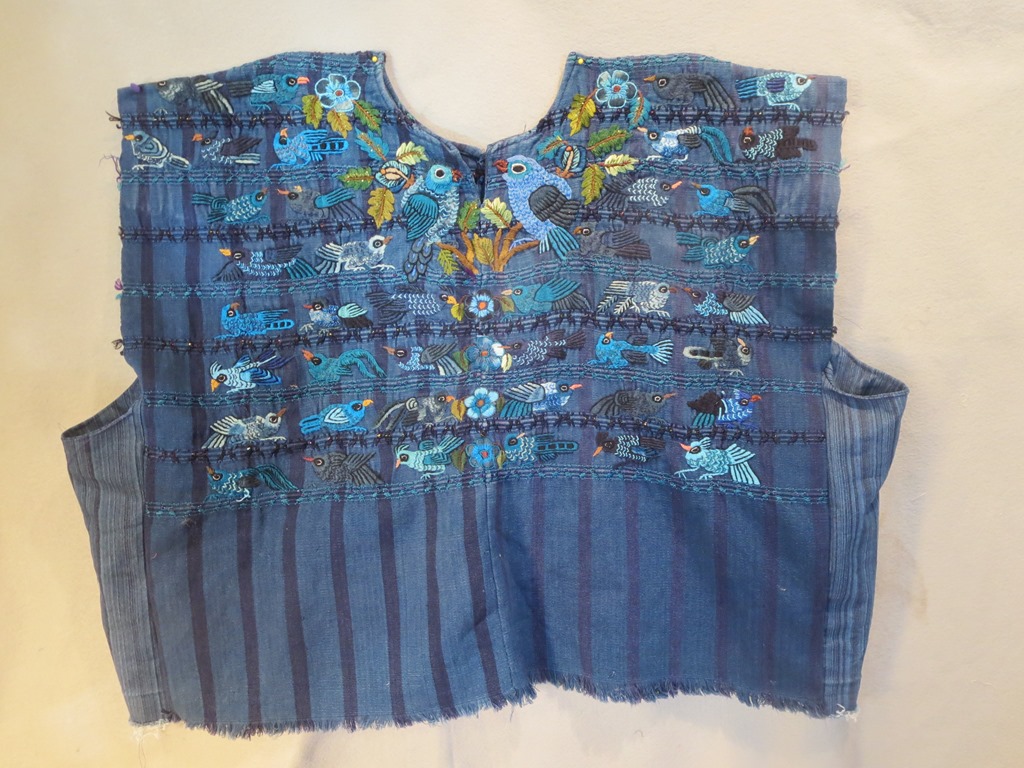 This top  is all done now.   I will be sure to wear it at QBL this summer so show off how to use some of the great needle work.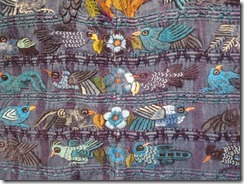 I think Pricilla will be glad to see how I used the embroidery I purchased from her too.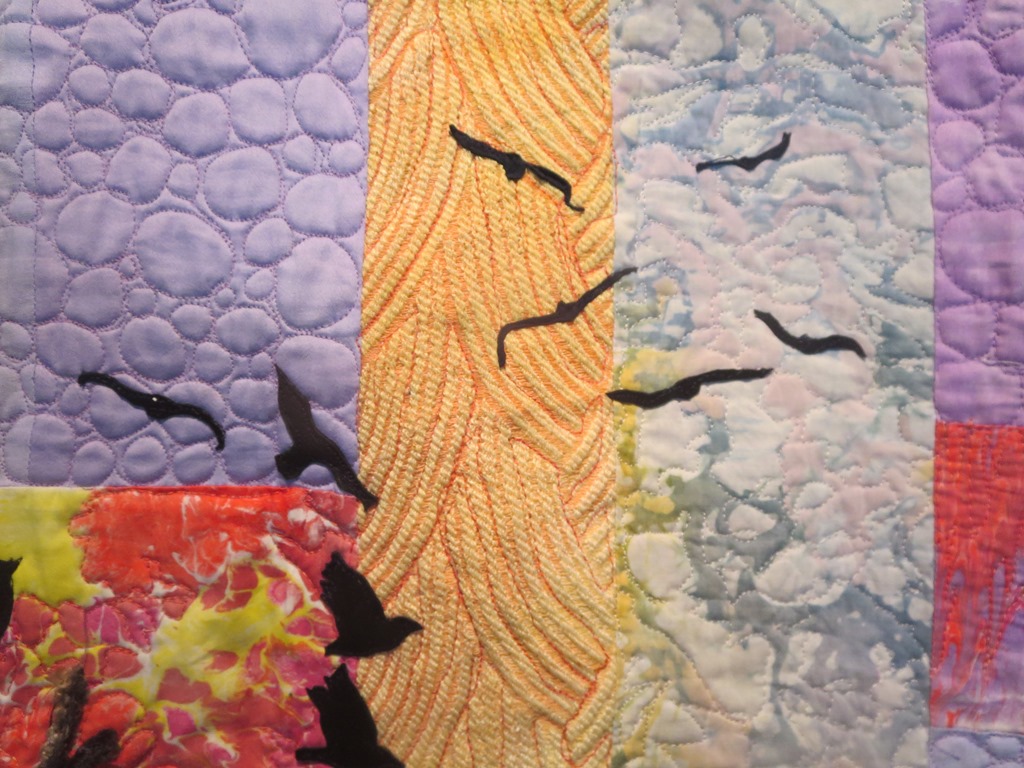 Crow Calls  I am working away on this project.    I am adding the crow in flight to it now as the trees are mostly full of birds.  I am almost out of the suede too so when that is all gone I will stop.
Iced Leaves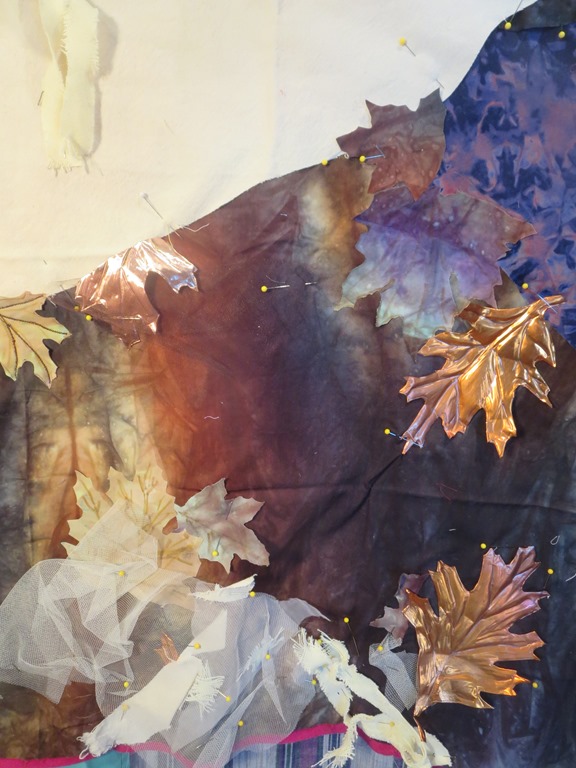 I am making slow progress on this work.   I have cut and embossed some of the copper leaves I want to use.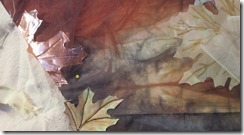 I have also started to stitch down some of the fabric leaves too.  I will admit now that it is spring I do not seem to have the drive to work on this I had earlier in the year.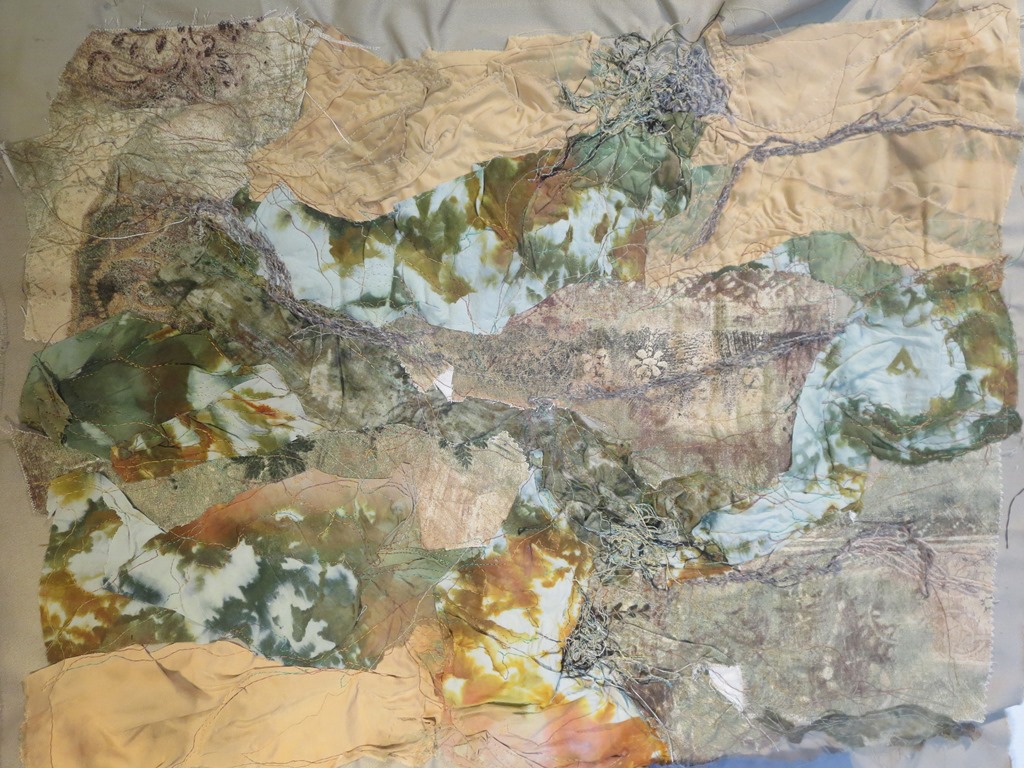 Tan Rock   This  background is all done now.  I have done some research and some drawings  trying to decide what plant life I want to add on top.  I am still in this part of the design stage.
Red Rock The same can be said for this red rock face.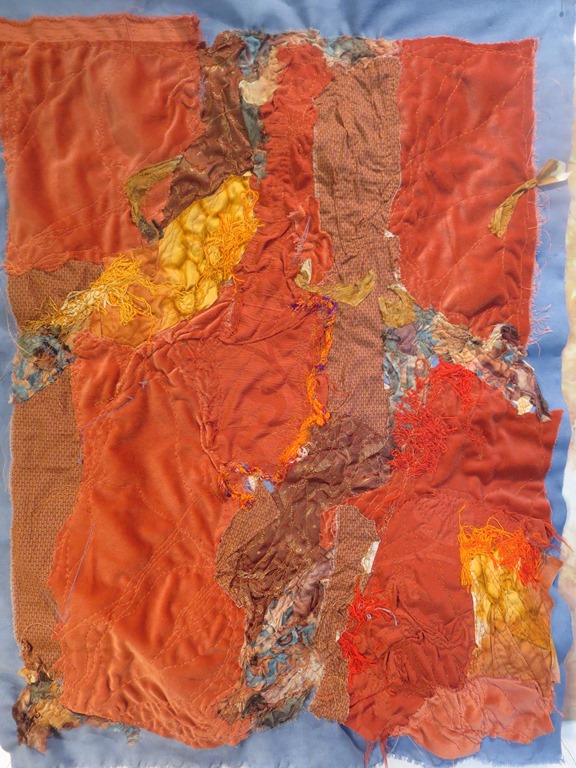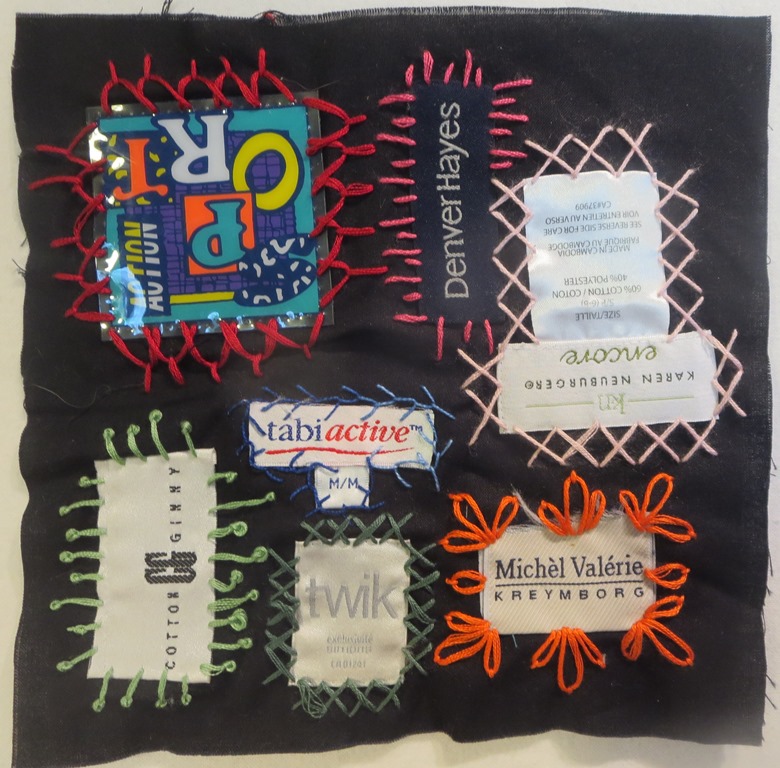 Label Block # 117    The stitching keeps going forward on this project.  I did a lot of hand work on the pods so not as much extra time was put into this  project this week.  I still meant my goal of completing one more block.
Keep Creating
Carol