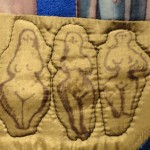 Hello,
I feel so Positive when I think about my work.  I did a solo trunk show yesterday for the North Syracuse Art Guild titled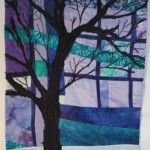 " Your Art /My Art".  In that lecture/ trunks show,  I compared my work to the many styles and types of work that the members use.  In doing so I really realized how much I draw from the other  art categories to get my ideas across.  I draw  directly on the fabric with pencils, crayons and markers.  I use my machine as a drawing tool too.  I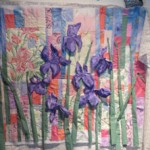 Paint  with acrylic,water color and dye on the surface when I need to create a special effect.   I print on the surface using  silk screens, stamping and stencils to get images I want on the work.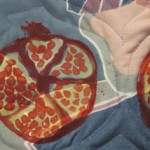 I use some weaving techniques like felting, silk papers and frapping.    I often use collage techniques to build up my surfaces with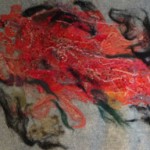 textures and transparencies and different already textured fabrics like velvet and satins.    I even embellish with old jewelry on occasion.   I am thankful that I get to use from all the different art areas to full fill my creative drive. I realized too that I have been using my experiences and interests to fuel my work for most of my life.   Doing a presentation like this is a good way to reflect and re evaluate oneself.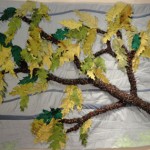 I now have the monster job of returning all the work back into the category packs that I store them in.     I feel so very thankful that I am working in so many ways to fulfill my creative ideas.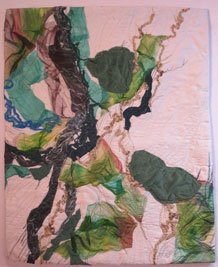 Progress Report: Acanthite :Foundation 24    This quilt is  went together very quickly for me.    This stone added some problems as some of the areas where a sold white.    I wanted to be sure to use velvet and now whale corduroy  on this work to show the wonderful textures they  add to the surface.  There were also lots of  cracks on the surface that added interest to this one.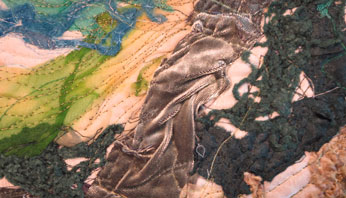 This shot also shows some of the chenille yarn( dark green) and some silk paper( blue- near the top).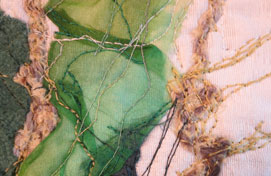 Broadcasting    I am enjoying doing the hand work on this piece.  Most of the saxaphone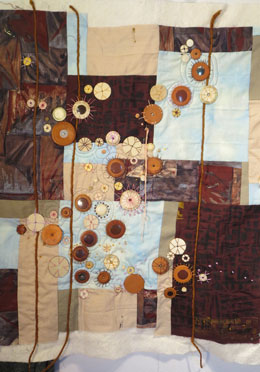 pads are stitched down now and I am adding  beads and french knots to the surface.   I have added some reflective quilting to the surface too.    This work is going along well at the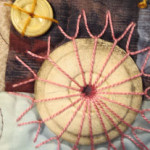 moment with each actions leading to the next.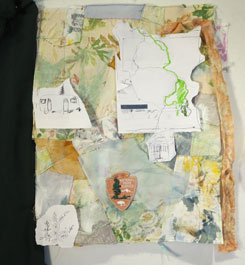 Yellowstone    The ease that Broadcasting  is a great contrast with my slow process on this work.  I think I finally have the map portions the correct size and location.   I will do the paint step for that and then I will move forward.  I also realized that the piece is too pale.  Yellowstone has lots of forest and I want to project that feel too so I pulled out dark green organza ( pinned to the left) and adding that will help me go forward I hope.
The Blues   This work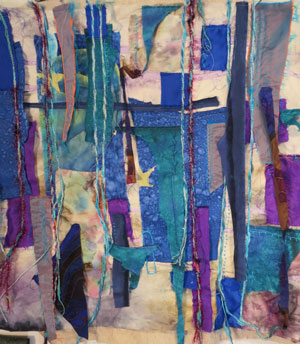 just needs time as the hand work is a slow thing.   I am playing with three of different types of stitches-  the chain stitch,  the blanket stitch and the  fly stitch.  I am varying the size of the stitches  to add interest.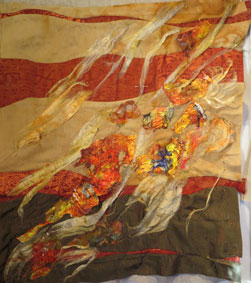 Caramelized    This is a new work that is still in the shifting and  pinning stage.    I melted  the Tyvec that I painted in the fall colors last week, with the iron between sheets of parchment paper.  The melt results are so much fun because they  are uncontrollable.     Mixing them with silk paper makes me think of carmel  and melting butter.  That is were the title came from.     I am enjoying the play.
Keep Creating
Carol