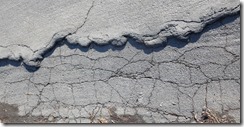 Hello-
I was trying to pay attention to lines  and I noticed this rather gray bit of pavement.  It is  almost a landscape in its self.   All the horizontal lines suggest it could become one without too much effort.   What I was really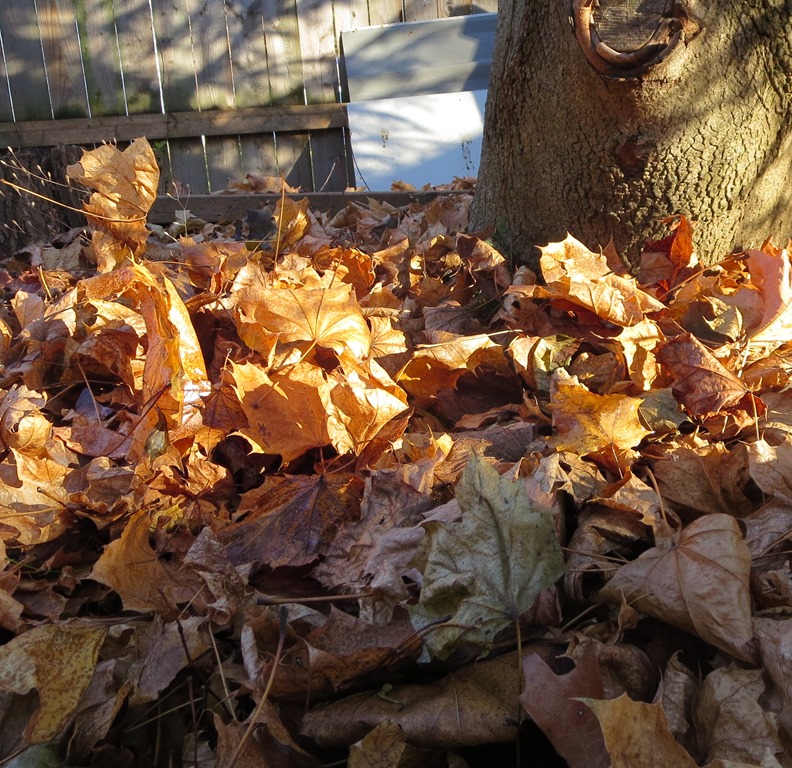 trying to notice on my walk that day was how the leaves pilled up around the tree trunks.     Sometimes they are deep and  the tree seems to lean  a lot.   Sometimes the leaves and earth round the base of the tree  pile high and other times it seems to fall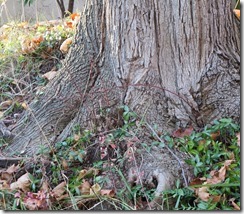 away.   Then I came across this tree on the side of a hill and found many of the roots exposed.       I was doing all this visual research for my next quilt project using leaves as the first took on a life of its own and  I could not use the silk leaves I had created.
I went up to see Sharon's senior show in Oswego this week.   Lots of good work there.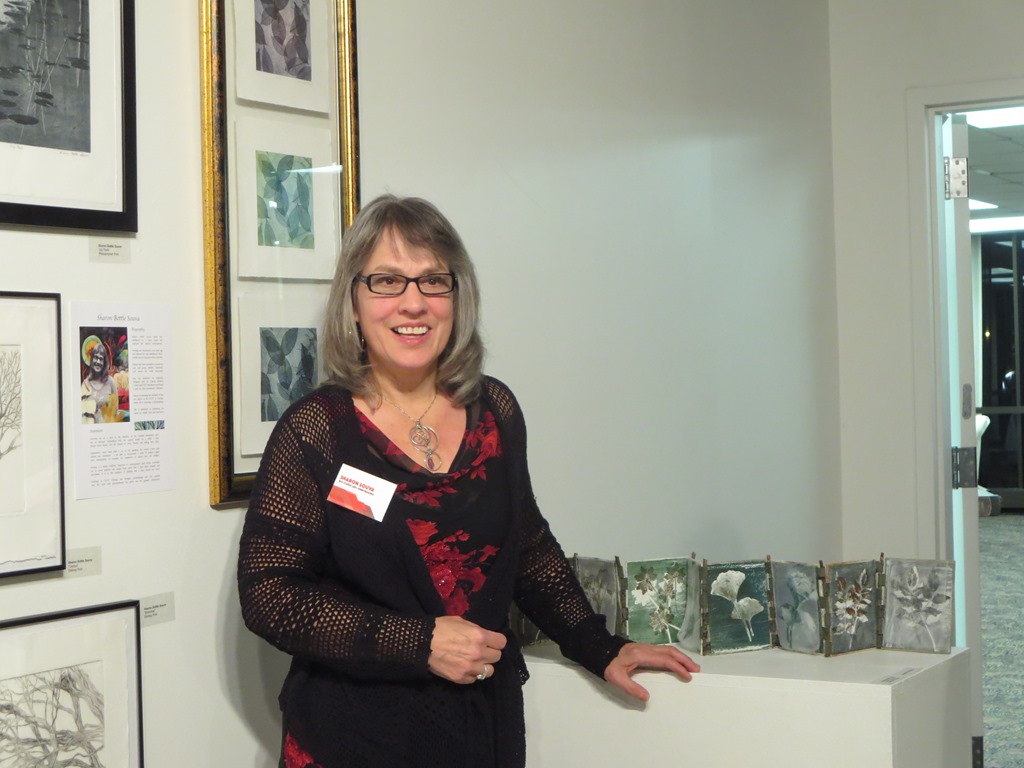 She explored lots   of different areas in her college work.    Sharon  will start work on her master's degree next month.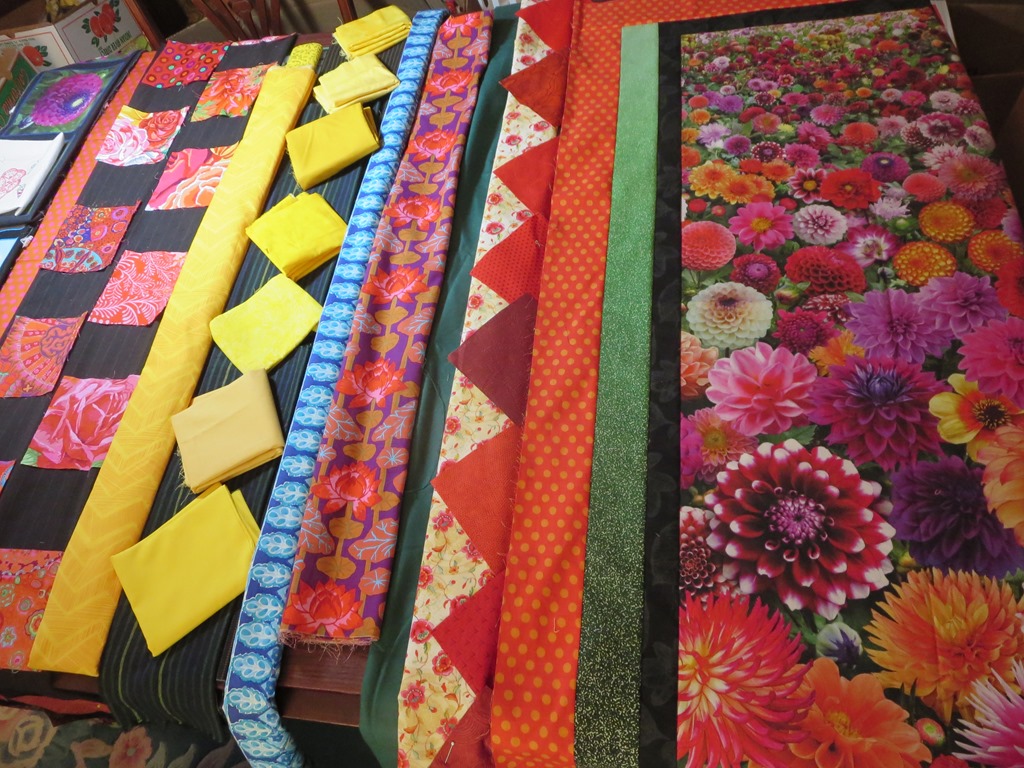 Because of the way Nancy works I made a run to her house today to talk about the lay out of her boarders on her next project.   She really did not need me as she had done the work- but it was fun to talk about what she is doing.   I enjoy how she mixes and uses fabrics that I would never pick out to use myself.
Progress Report: Grounded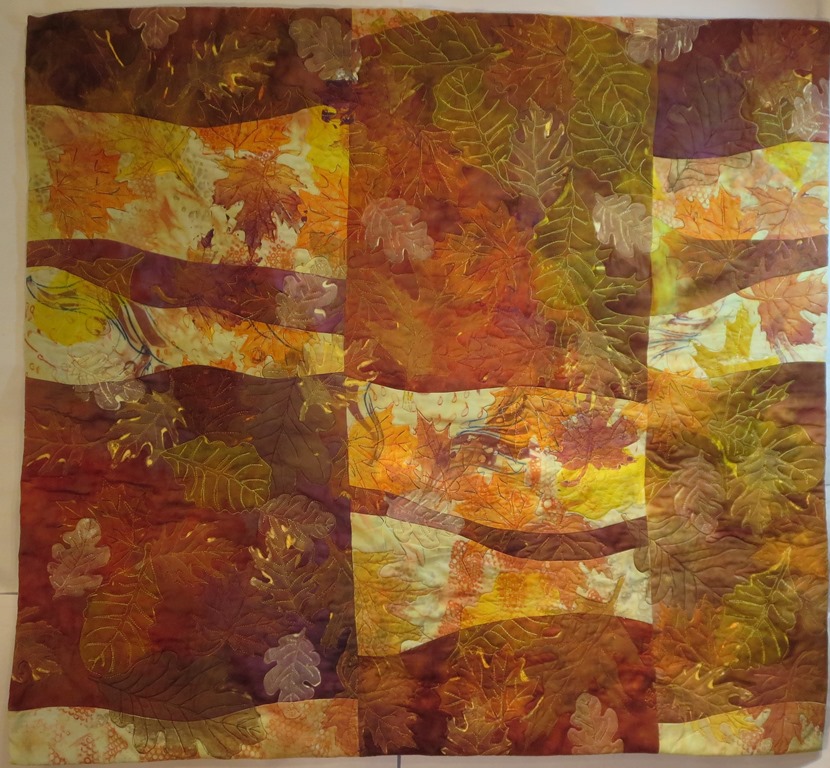 This quilt has been fun to work on.  I really enjoyed the free motion work.  Out lining all the printed leaves was a learning experience.   There were so many veins.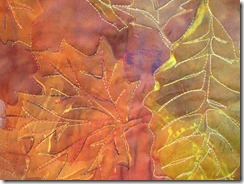 The paint I used was transparent so the leaves showed through one another.   That made the image seem deeper I think.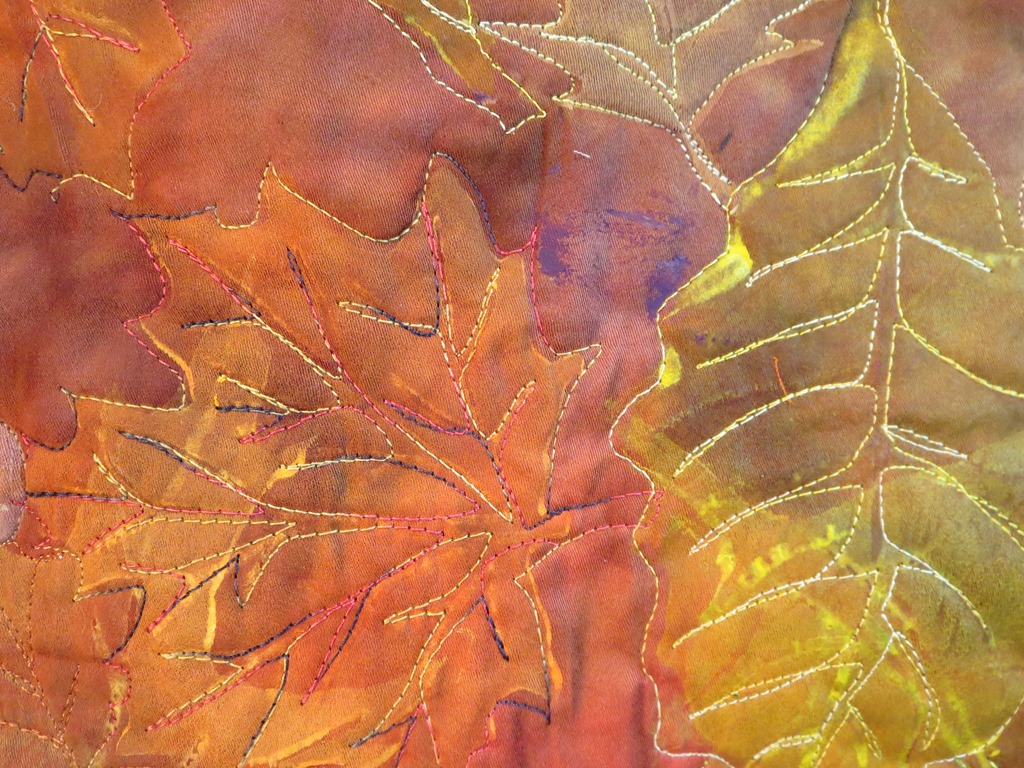 I the background is made from Judy Roberts hand dyed fabric( the brown) and Randy's deconstructed screen printed fabric( the yellow)  The irregular surfaces of both fabrics added interest too.        I am showing one shot of the back of the quilt  to show the machine work  with out the  color distraction.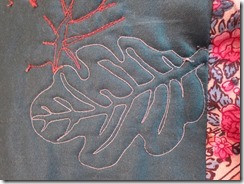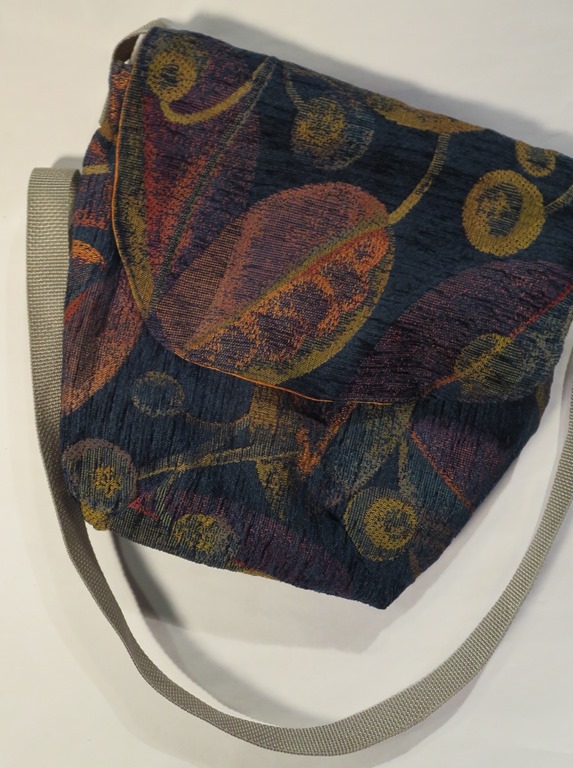 Hand Bag  I also though I needed a new hand bag for the season so I pulled out this piece of Regina fabric and made myself a one. Its dark and will not show spots I don't think.  My only regret is that I did not put a pocket on the outside of this piece and I do miss that.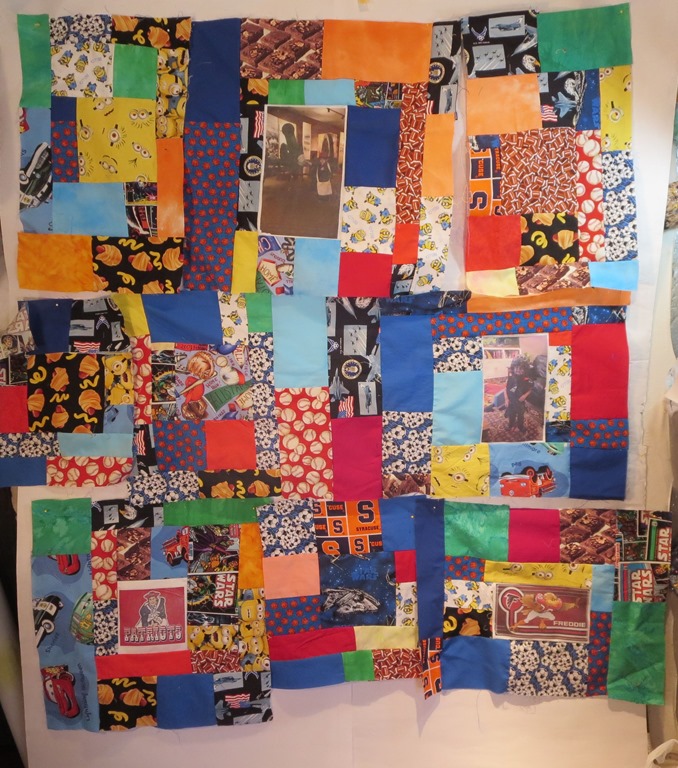 Williams Quilt   I am building the blocks for William's Quilt.  It will be colorful when it is complete.  I will lay it all out on the floor this week to see how the parts work together.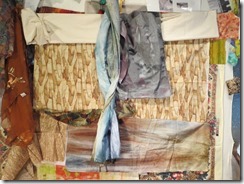 New Work   These fabrics are my loose layout for the next leaf quilt.  I will try to mix the two images from the top of this blog into one image that I can work with.  I will also be on the look out to keep the leaves around the base of this tree a little simpler so I can use the silk leaves that got me started on this leave thing from the first place.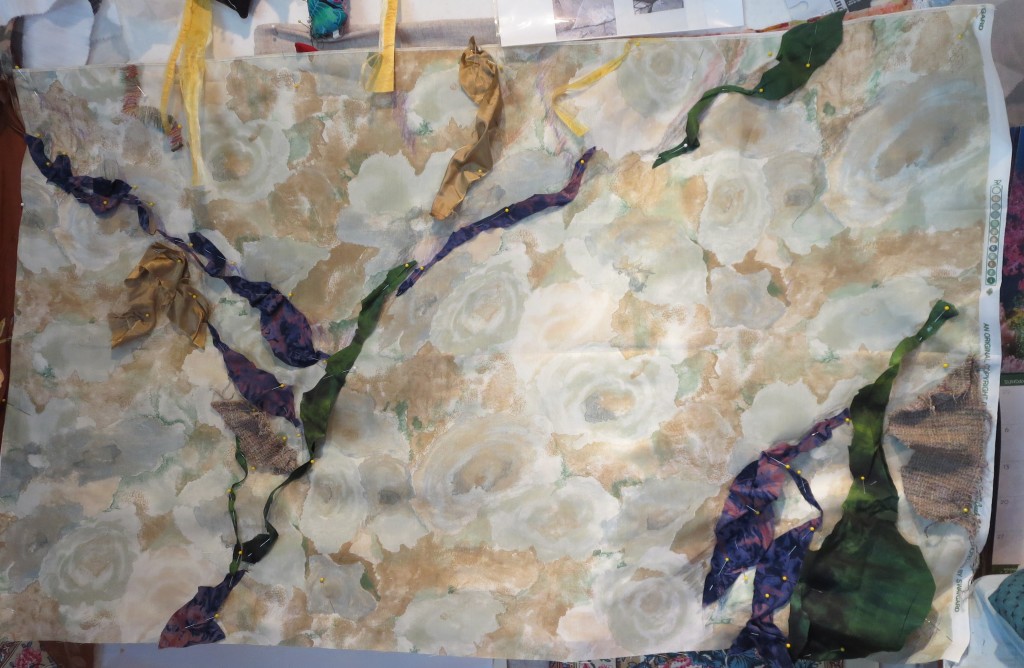 New Rock Work    This is the very beginning of my next rock piece.   I am working from the same photo graphic that was taken of Dead Horse Canyon wall.   This is about a 4″ X 6″ section of the photo.    Lots more build up is yet to come here as even what it pictured is only pinned in place.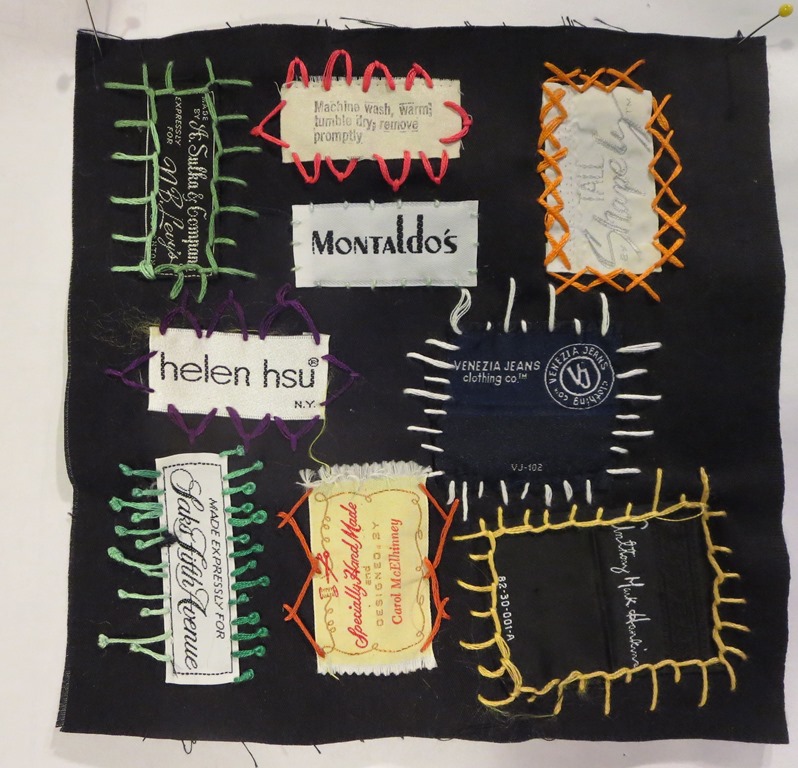 Label Block   This is block # 30.  So now I am one fourth finished with the creation of the blocks for his project.
Keep Creating
Carol