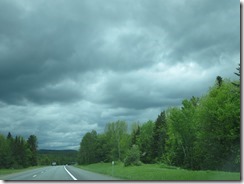 Hello,
We hit the open road to test out Eric's new car.  It was fun but we spent a lot of time in the rain.  We went to the Baseball Hall of Fame in Coppers Town first.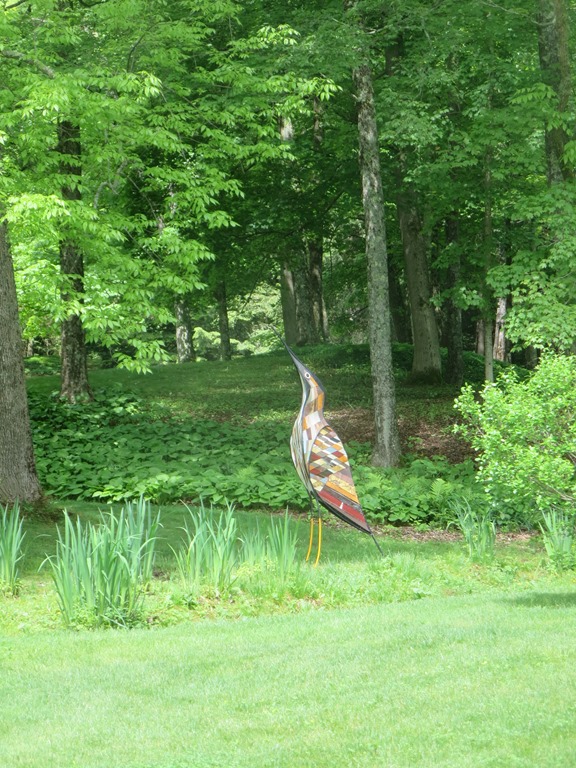 Then on the Norman Rockwell museum.  We saw Edith Wharton's newly restored gardens were a sculpture show was going on. The sculpture was mixed among the woodland paths too.  We did the Emily Dickinson  home  and then moved on to Shaker Village in Canterbury.   I really liked all the wonderful innovative machinery there.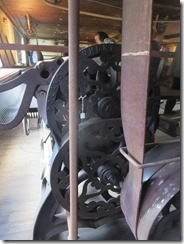 These machines were in the wash house.    We made it all the way to the Maine coast before we headed back west.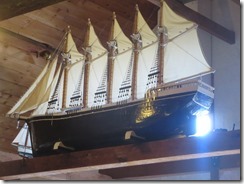 This model boat was in an old boat house that was converted into  restraint where we had dinner.    We stopped in the Adirondacks  for the night and then went to the Adirondack  Experience museum and had a good time looking at the treasures there.   The travel was great but as always I am glad to be home with many great memories, lot of photos and the ideas are flying in my head.
Tue as the  the QuEG's meeting so I got even more stimulation.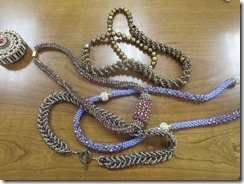 Corrine has been doing a lot of beading and the results are beautiful.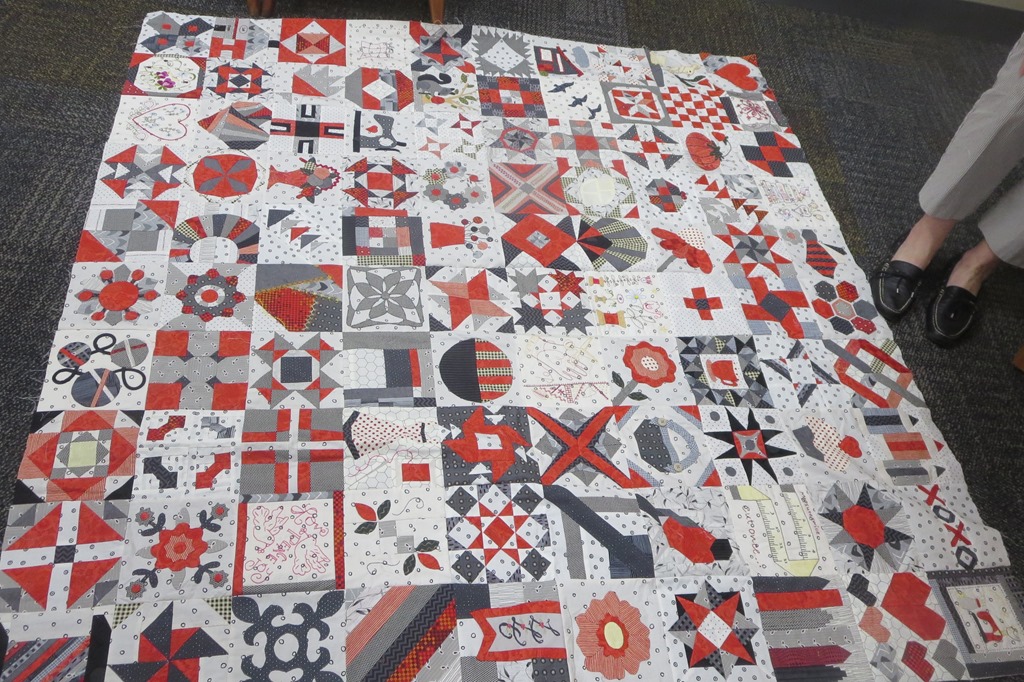 Linda C showed us this beautiful top.   There is a lot of hand work on it.
Liz is finding lots of UFO's as she dose some spring cleaning.  She shared three.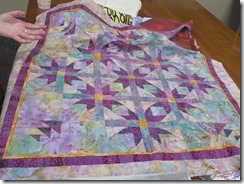 I look forward to seeing the finished work too.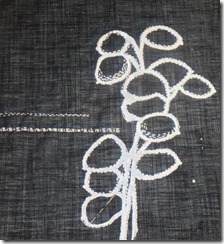 Linda H shared this hand printed fabric that she has started doing hand work on.    We all had stories and lots to share.  It was a good time.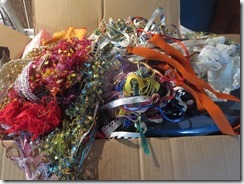 I have such great friends .   Yesterday I got a treasure box from   Debbie.   I love all these little bits of trim and ribbon.    She knows me too well. They will all go into the next batch of Creative Assistants that I will begin as soon as QBL is over this year.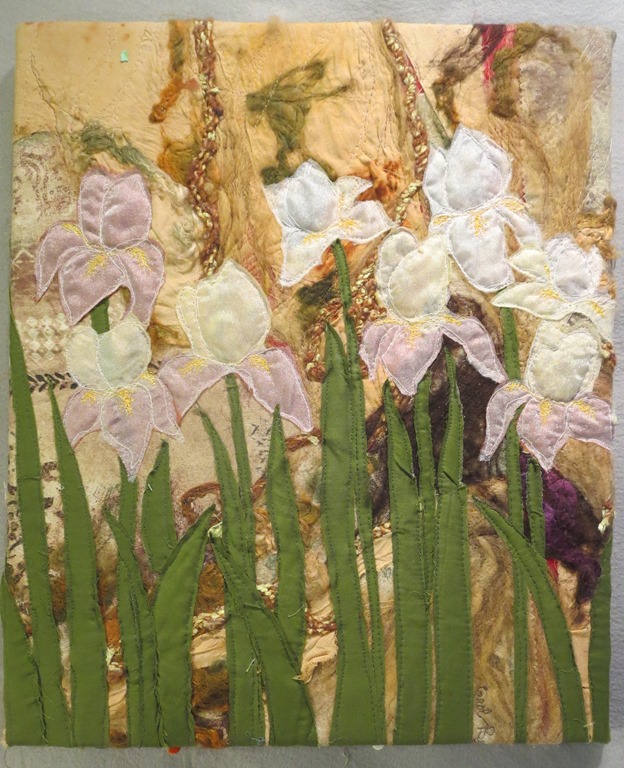 Progress Report White Iris   This work is 15"w X 19"h.   The white blossoms where originally created for the 9 Blue Iris quilt that I showed in the last post.  But they were too pale and faded into the background.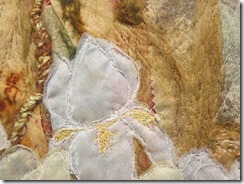 So  I did a felted and fabric wall and used the flowers on top.     I do like the shape of iris and hope to do some more of them.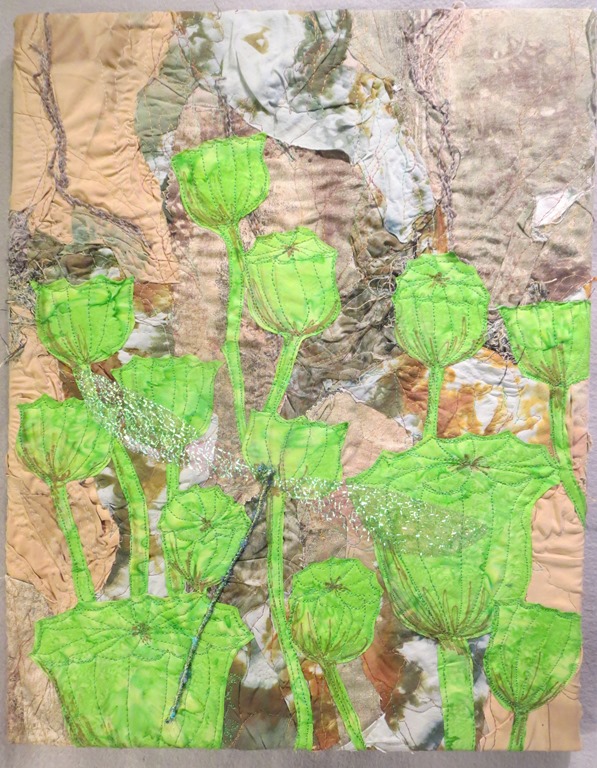 Button Weed    I did a little rework on this piece.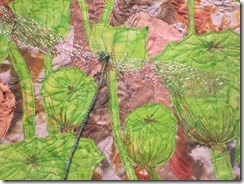 It needed a center of interest so I added a dragonfly.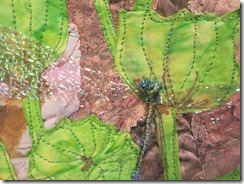 The body is three cords twisted together and then zig -zagged over with a  satin embroidery thread.  The wings are a florist's ribbon.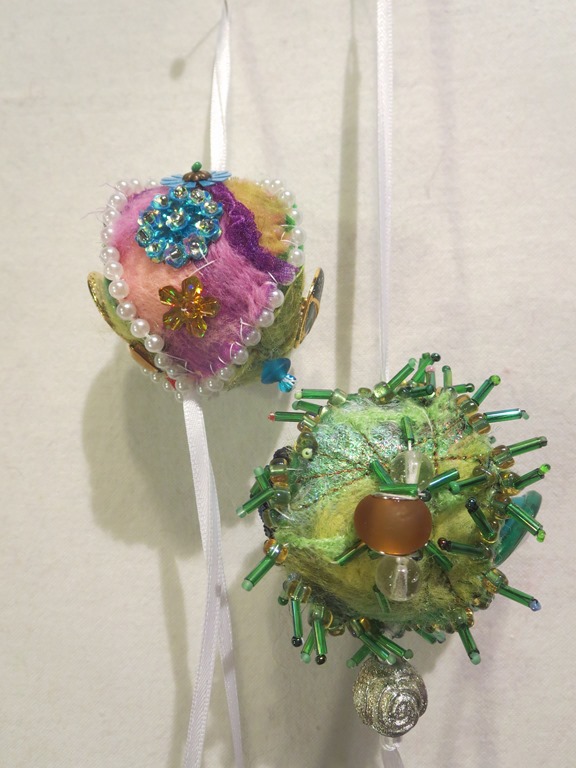 Pods  These are the last two pods.   I have 36 of them and I have had a good time.  I also have all my little Christmas Favors done for this year.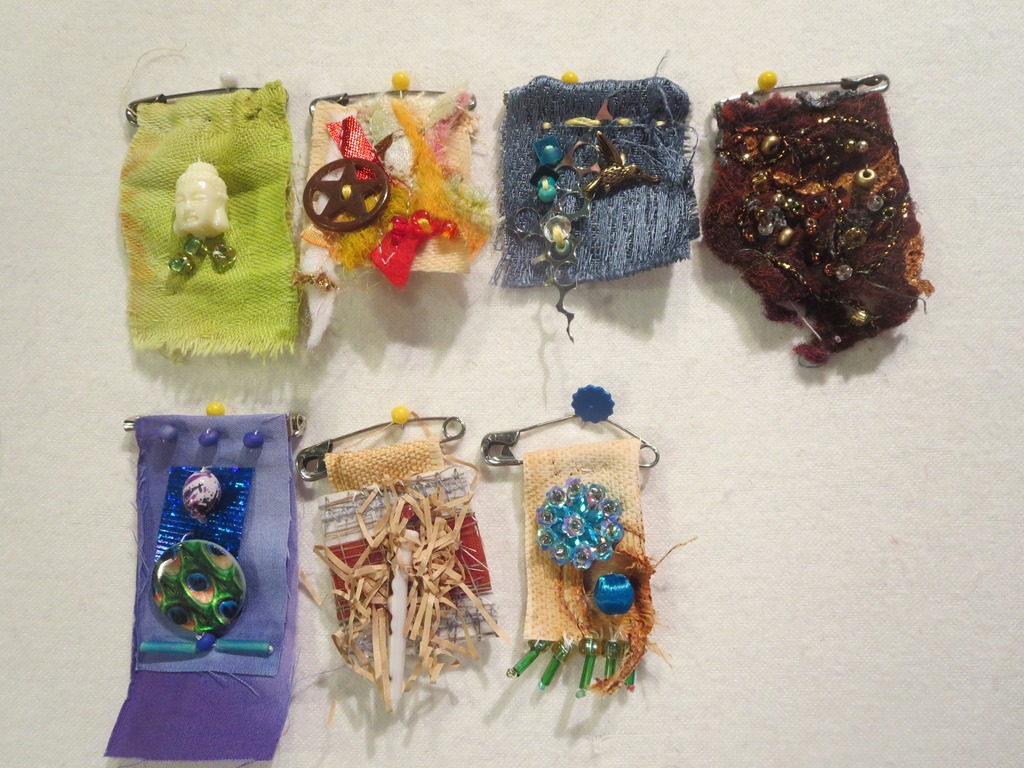 Prayer Flag Pins   I made these after reading the June/July issue of "Quilting Arts Magazine".    The  article made it seem so simple and it really was.   This shot makes them about life size on my computer.  I will make a lot of these little guys as they are fun too.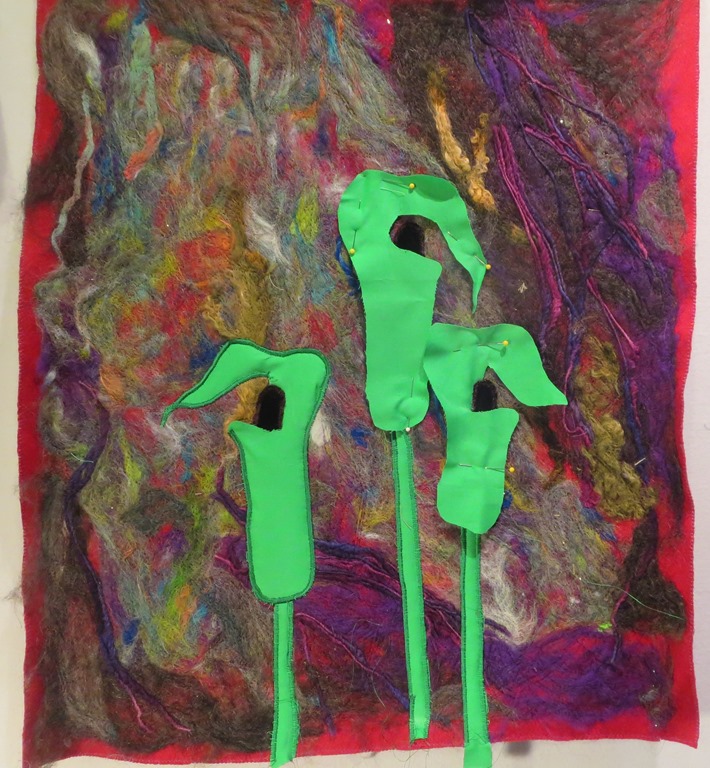 Spring Jacks    When I make felted backs I try to do more then one at a time.  I did three when had the felter out  and this one is going to be my support for the third Jack In the Pulpit  project.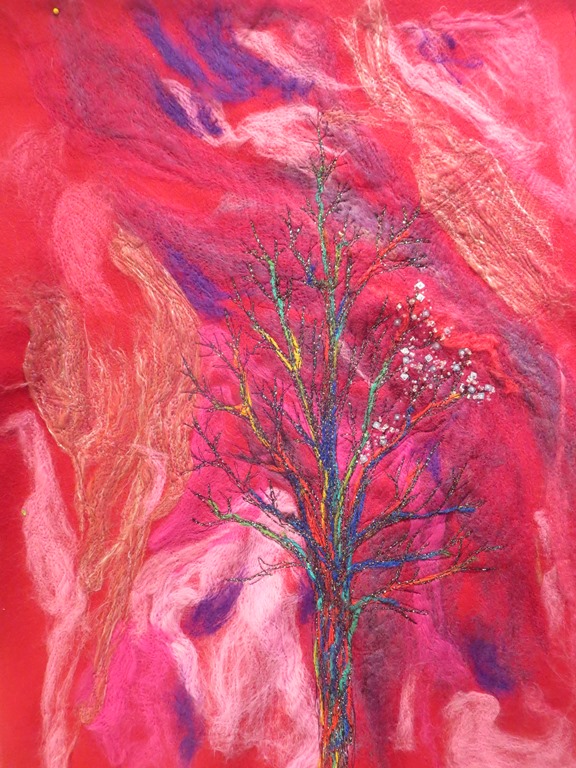 Rainbow Tree This is the third of the felted  pieces.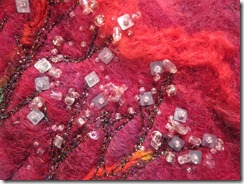 I am having fun using my many clear beads to embellish this work.
Pond Water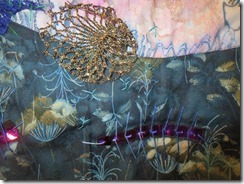 This project is also done with a lot of hand work so it usually does not get much attention.  I did add the gold units and a lot of stitching this week because I got a head on my Label Block project while traveling.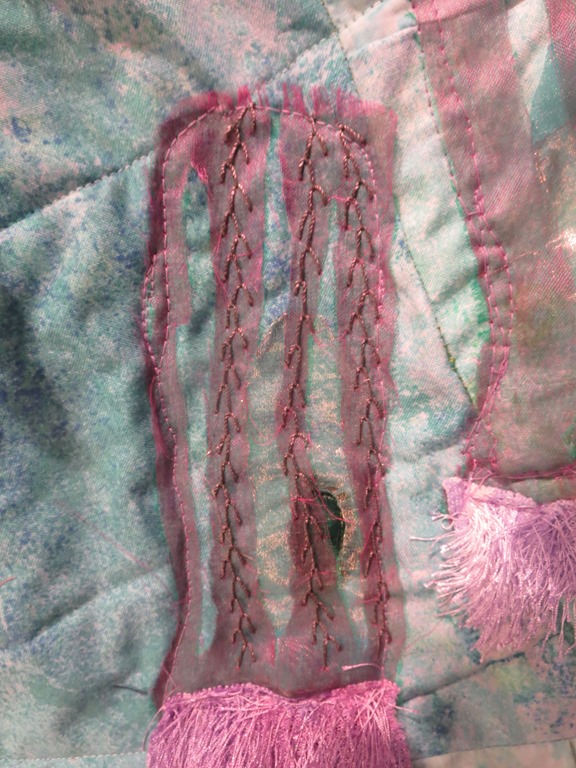 Jellyfish  I continue to struggle with this work.  But I keep at it.  I sliced the top layer of the organza and did hand work on top of that.   I like the texture and will continue to work on all the Jellies in this fashion.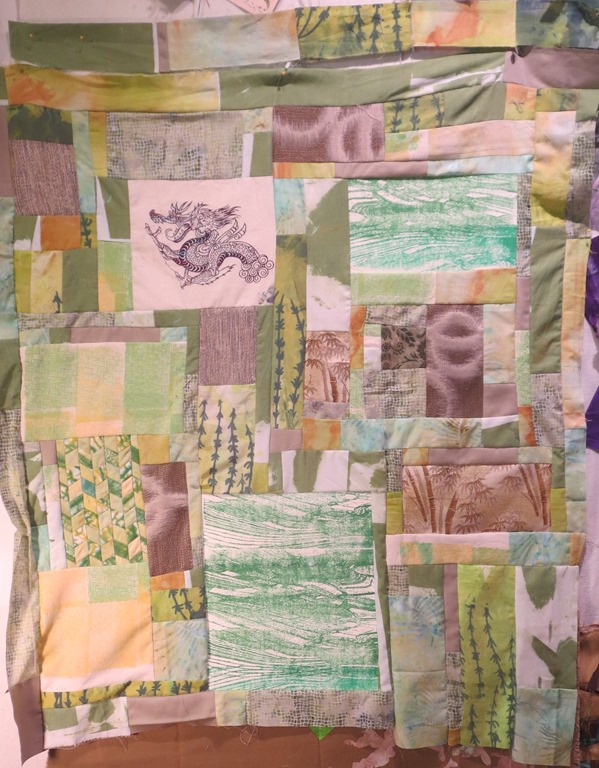 Green Dragon   This work is all assembled and I have done the stitch in the ditch step on it.  Now to move to the dragon quilting.
Flags- Play Time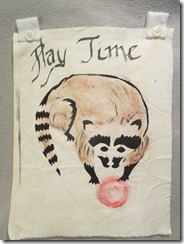 I worked on the flag project from my trip to Florida this week too.   I only have two more images to alter.  I used oil paint sticks to add color  to the works this week.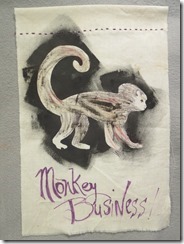 Flag- Monkey Business   With this flag I used a paint marker to do the lettering.
Flag –Along the Shore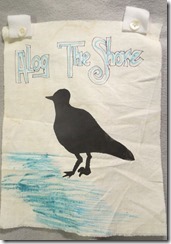 With this piece I used the oil sticks for the water.  The lettering was done with markers.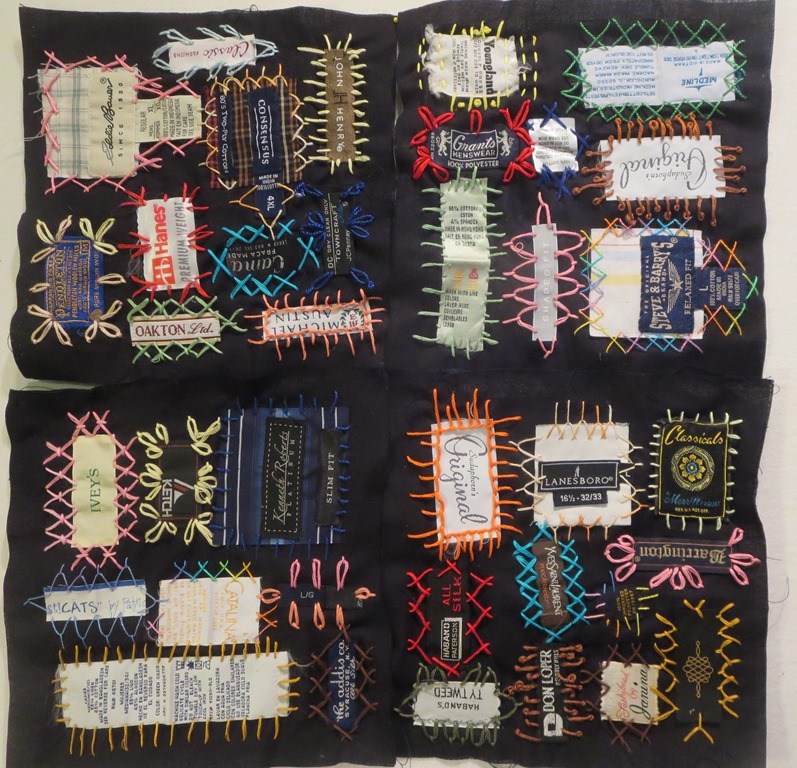 Label Blocks #123, #124, #125, #126   This was the only hand work I took on the trip so every night I worked away on these blocks.    The pile is getting smaller.
Keep being Creative
Carol