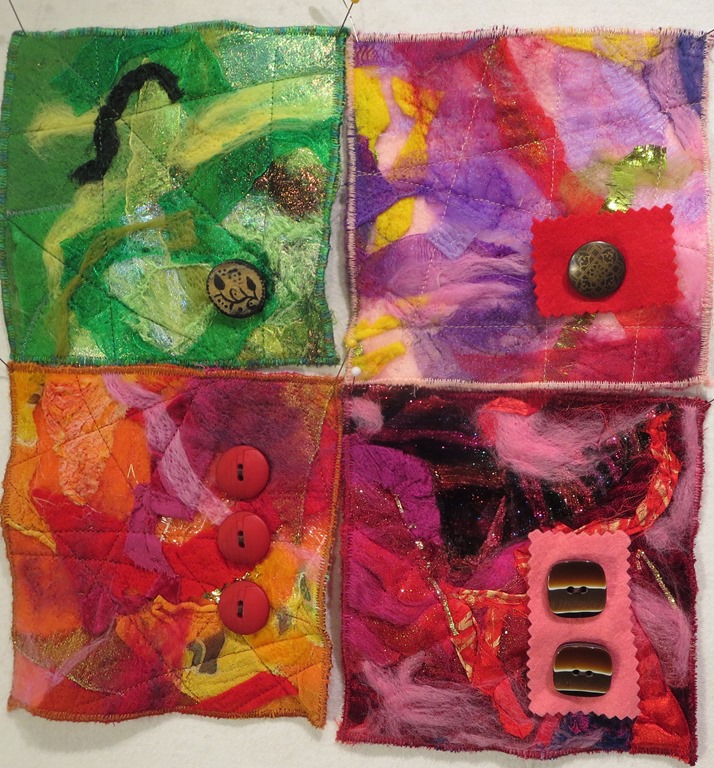 Hello,
I feel good about the confines of winter as I seem to get a lot done.  I am still feeling the energy of my show too.  I will take it down tomorrow however.  I have four works in the Cabin Fever Quilt show at Bette Branch Library here in town though.   These four little works  pictured here are my 6" X 6" pieces for the Rochester Art center.  I  mailed them off on Tuesday.   They are all part of the felted work I was doing last week.   I still have big chunks of the felting to use in the project when I get the final additional parts.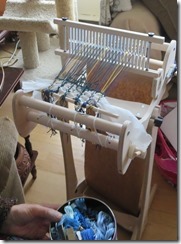 FAB meant this week and everyone had work to show and talk about.   This is Patti's new weaving project.  The can at the bottom is full of her woof  threads.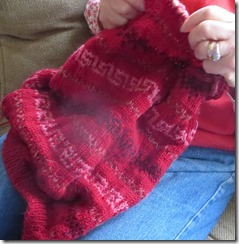 Judy put aside her red sweater for the summer and has not pulled it out again.  She is getting to the arm wholes near the top now.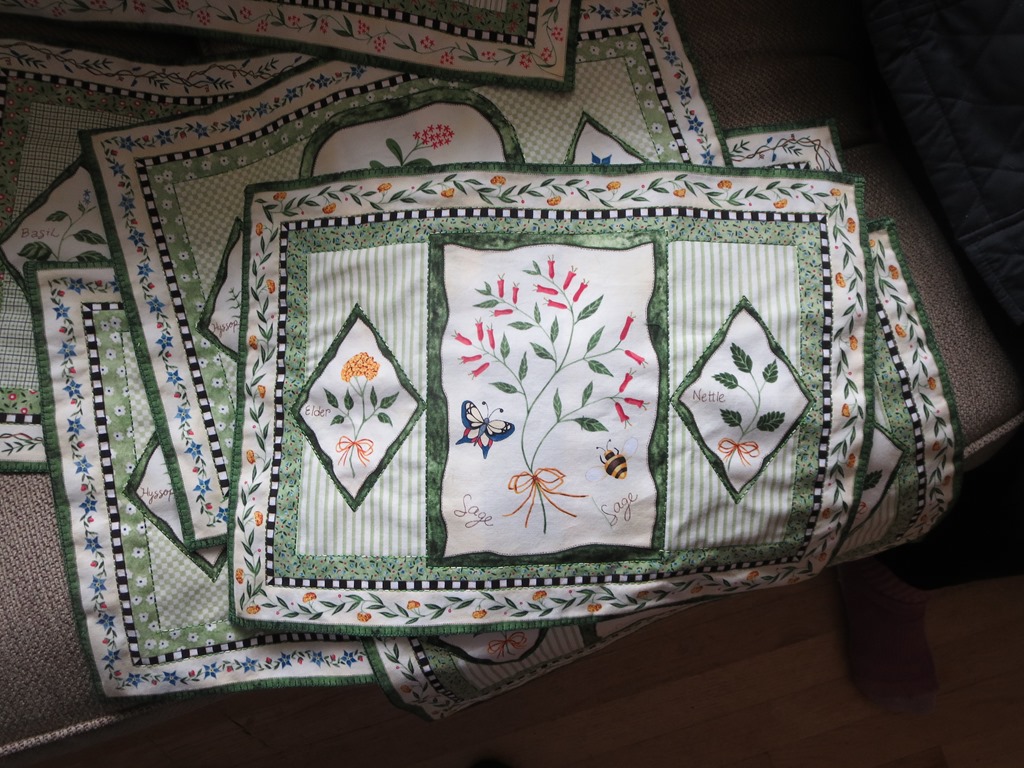 Nancy got busy and finished off six new placemats for her home.    They are spring like I think.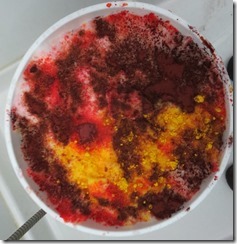 We had another snow storm last night so I am doing more snow dyeing.  This is a shot of the top of the bucket shortly after I put the dye on top of the snow that is setting on top of the prepared fabric.   Now to await the melting/dyeing.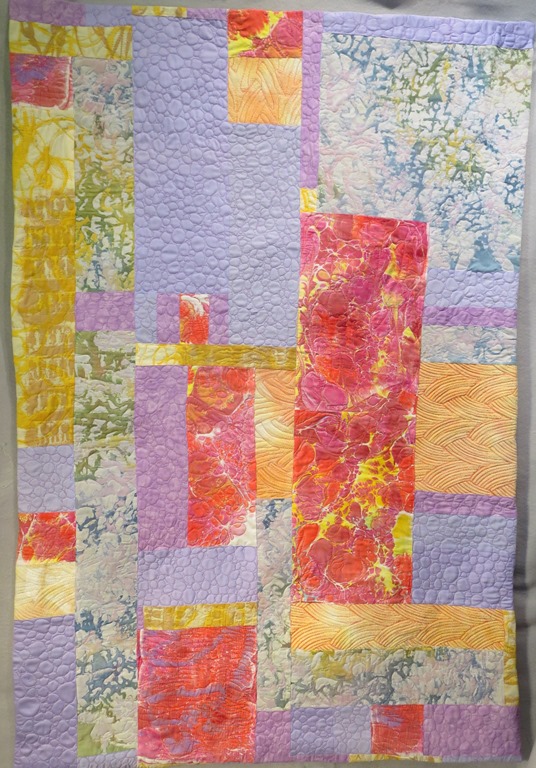 Progress Report:  Fling This work is 50" X 34".   It is based on a collage and  has Ethel's Marbleized fabric( the orange) and my hand dyed yellow and the light green and blue stuff.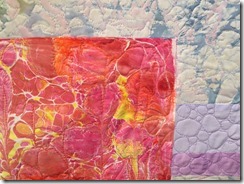 The quilting is done in two styles.  For the orange and the white fabrics I followed the edges of the color changes.  For the purples I did a pebble style.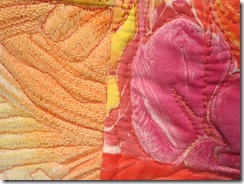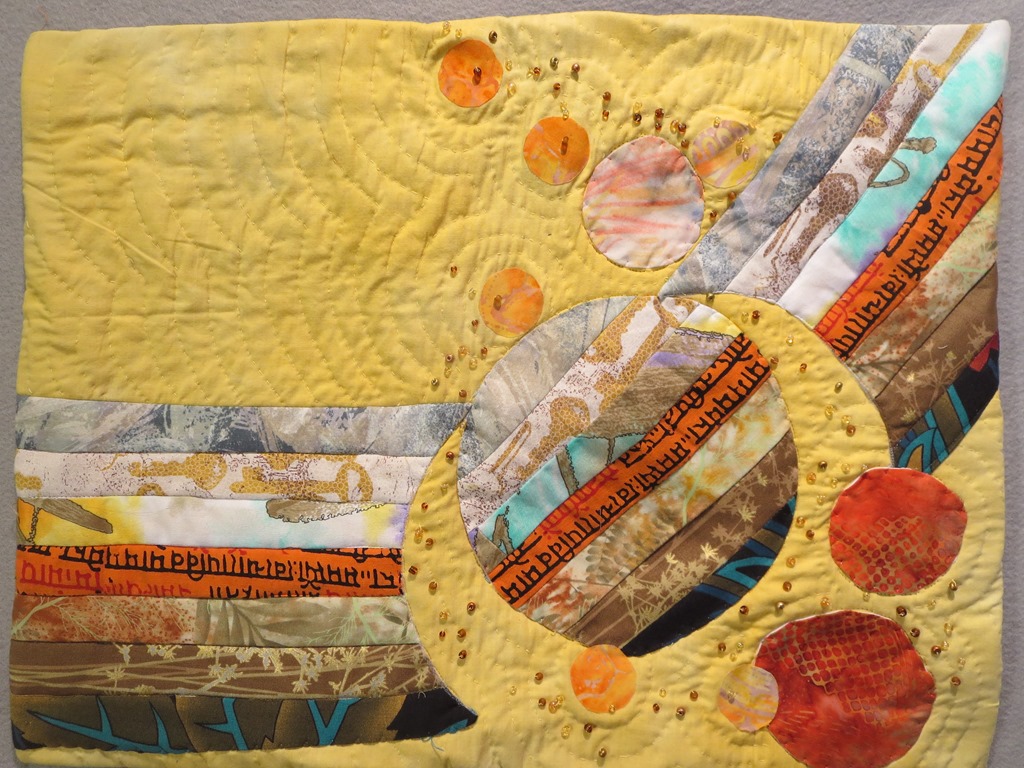 Circle Challenge VI   This work is 14" X 19" .   It has a lot of movement in it.  The quilting is reflective of the circles and done in quilting thread.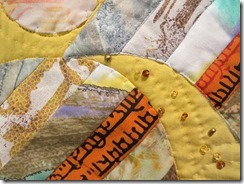 I liked adding the beading at the end and I will do that again in number VII.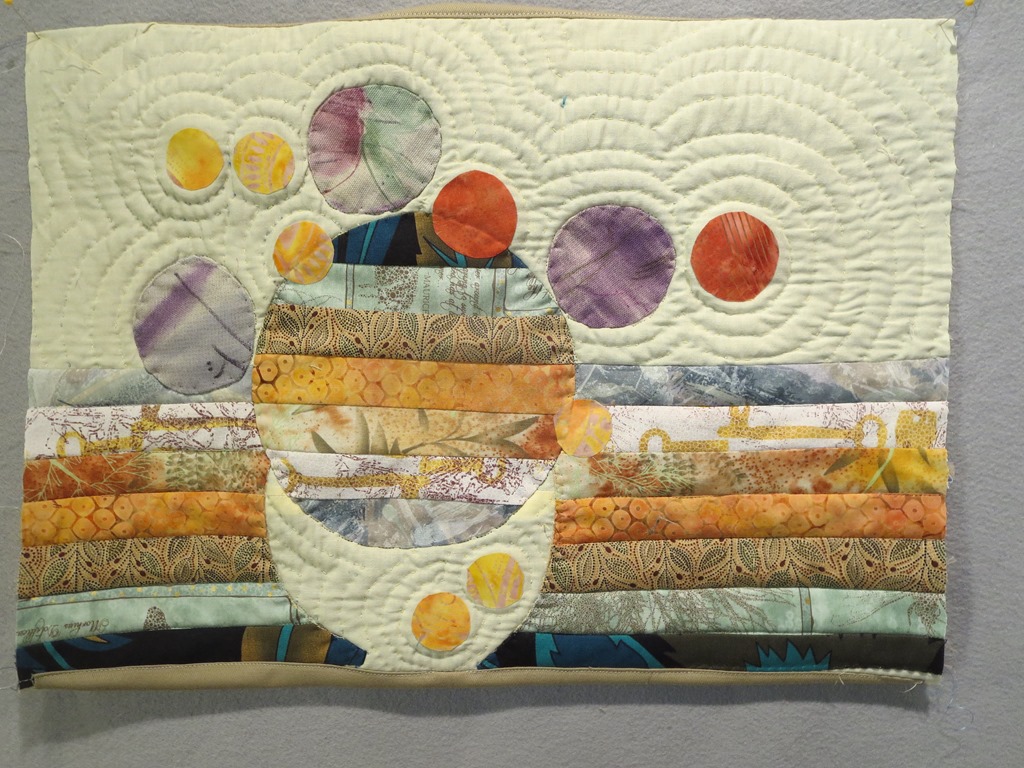 Circle Challenge VII   I finished the  quilting last eve.   It is trimmed and ready for beads and facings so I will finish it quickly this week .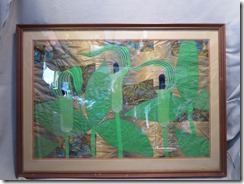 Three Jacks   I put this work under glass this week- and that makes  for awful reflections.   Then before I sealed the back with brown paper I checked it and noticed that I had some how gotten a nail on the outside  between the matt and the glass.   So I will need to take it all apart and do it again before it is complete.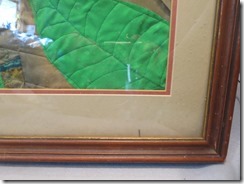 Scrap Happy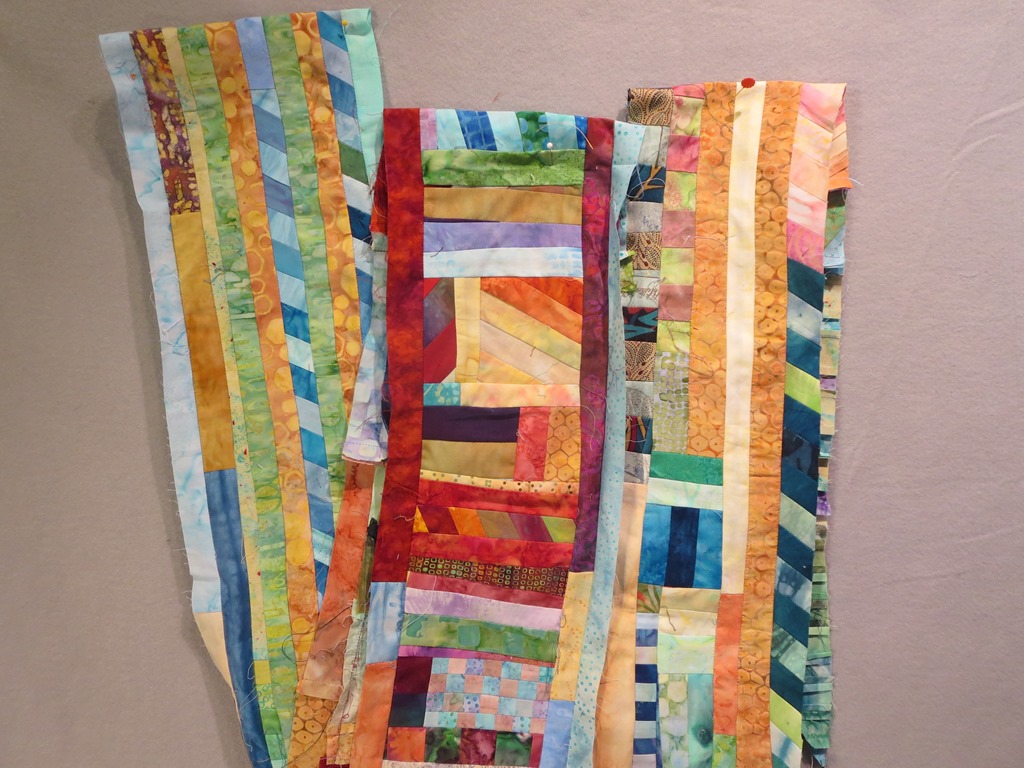 I continue to work through Ethel's scrap box.  I need to complete a scrap happy quilt for the Prevention Network so I have been putting in an hour a day putting the scarps together.   They are cheerful I think.
Scarf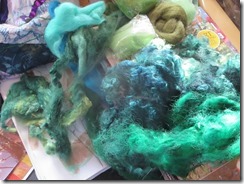 I have always  enjoyed  looking at a project and trying to figure out how it was done.  So this week when I saw a wonderful image on Pinterest I thought- I will try to do something similar.   First I pulled out a lot of green roving.    After adding some leaves I cut from gold ribbon, I placed them  on some wash away and drizzle some yarn on top of the whole thing.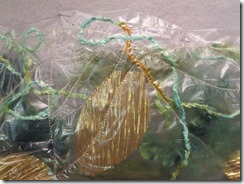 After placing a second bit of wash away on top to create a sandwich I started stitching everything together.   This will take me a while to complete, but I am looking forward to this little challenge.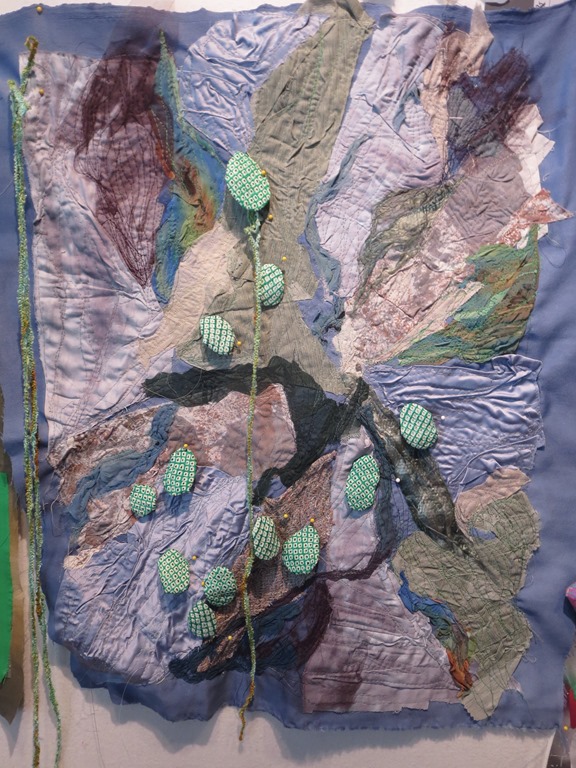 New Work   I am all done with the assembly of the background for  this project.  But when I added the Tezel on top I did not quite  work as I though it would.    Then I looked at it in gray scale on my camera and realized the Tezel heads are too small and too close in value to the background.  The opposite of what I did with the Jack in a Pulpit project.    So I took the heads off and created new ones that are bigger and have a bit of orange in their color  to create a contrast with the background.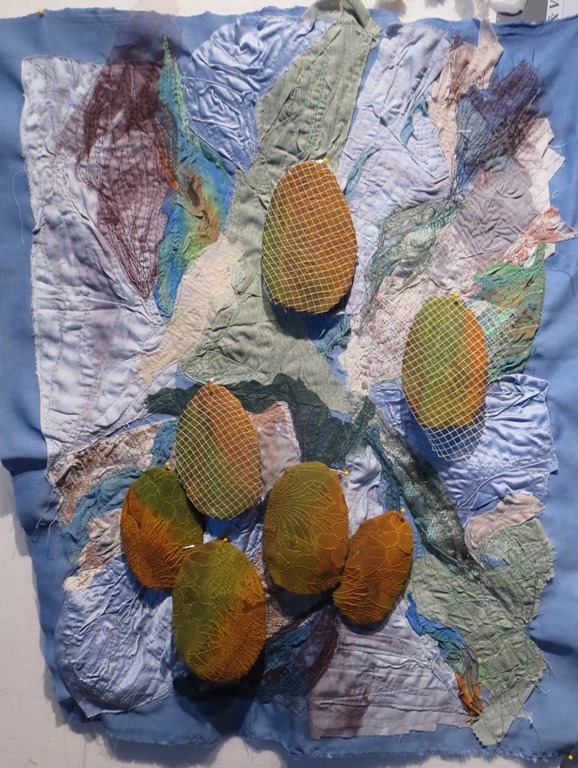 They work a lot better.  Now I will need to create a new background for  the first heads.  I am going to test myself by creating it in the same  size as  the first and see if I can make it work with just a value changes.
Sharron's Challenge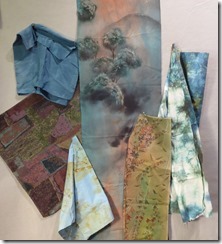 Sharron  and I purchased the same kimono( the stuff in the center) last year and have a challenge to created something with it.  I pulled some fabrics that I think work well with this fabric and will start a project soon.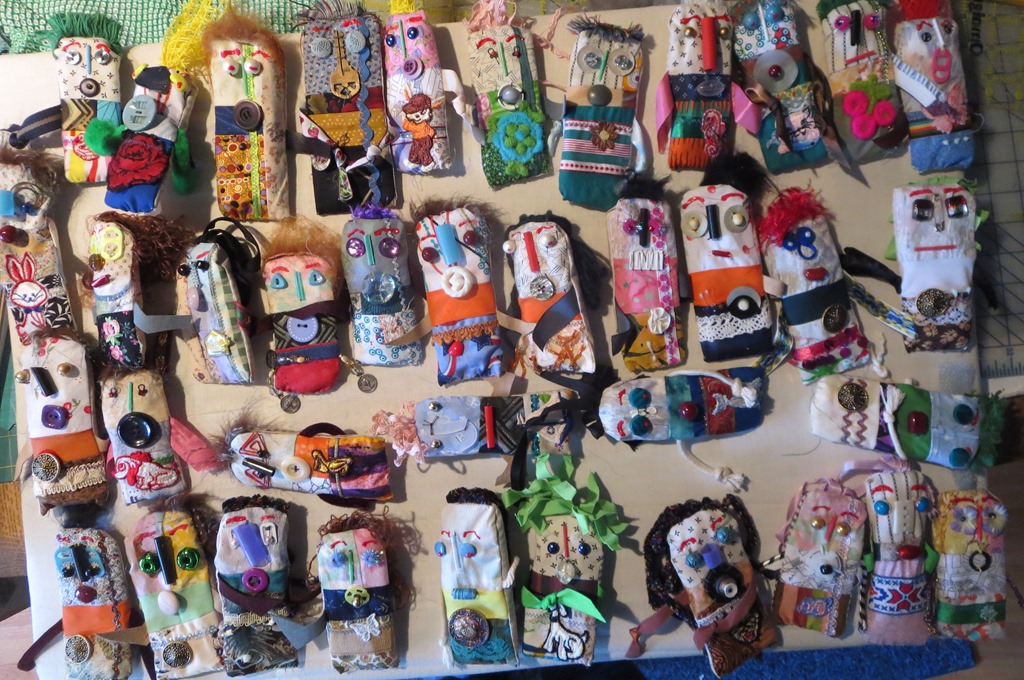 Creative Assistants  I finished off a new batch of these little fellows this week.  I need to really get going on them as I do not have much of a tribe yet this year.  I want to be able to give them away  at QBL this summer and not leave anyone out so I need to get going.
Label Block # 105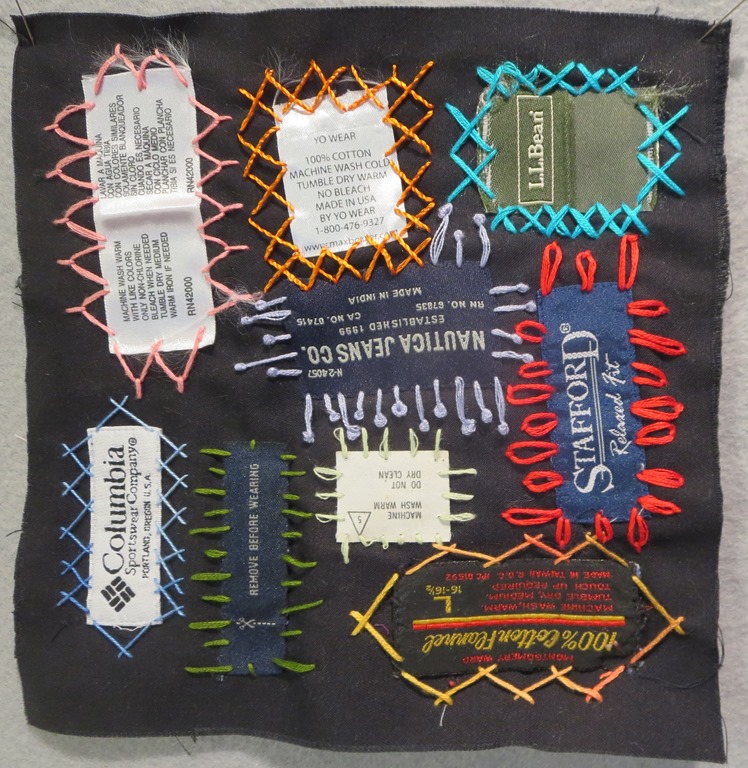 I think that I only need to do fifteen more and I will be done with this step of this project.
Keep Creating
Carol