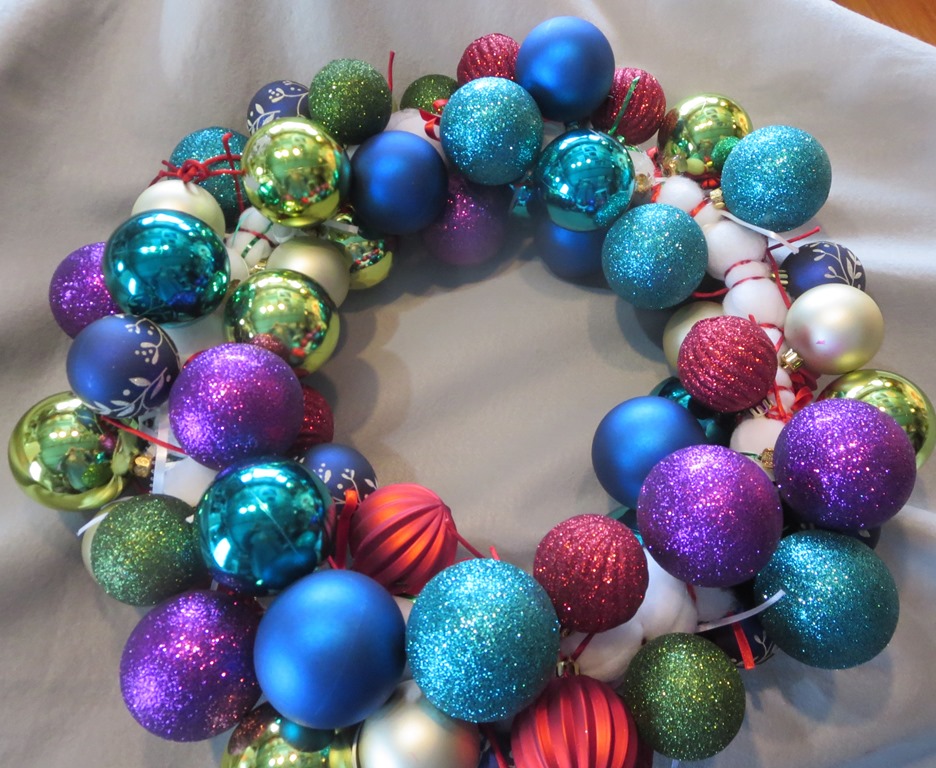 Hello,
As the wreath shows I am doing holiday work now.   I had a great time creating this wreath and it is festive, but it is too thick to fit between the door and the storm door!    I am so silly I did not even consider  that possibility.   It will have to hang inside some where.
I have been thinking a lot about rules and regulations lately.    I think those thoughts are  related to our recent  snow, because two rules     like alternate street side parking so the snowplows can do their work and  clearing the sidewalks are two seasonal things that have come up.    One tends to forget little items like those  rules  when there is not any snow.  So some rules usefulness come and go.     But rules in general are what makes for a smooth running society.     One can be still be  put into situations where they do not know what is expected of them and what to expect from others.   But in general rules of  self control  and kindness usually are good ones to use to go forward even in unusual  settings.   Expecting everyone around you to follow the rules of the road sure make moving around  a less hazardous activity.   But to every rule there are times when one must respond to the environments of that time and place.    One must be flexible and allow for changes and exceptions to rules at time too.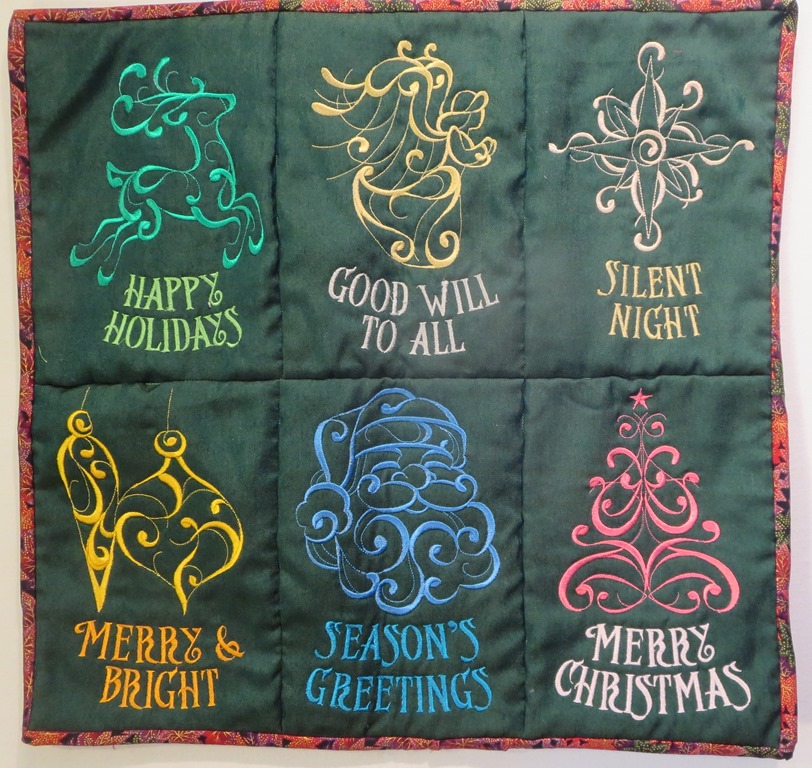 Progress Report: Christmas Banners   My good friend Regina gave me some beautiful machine embroidered blocks last month.   I had a good time putting them together in three small banners this week.   My daughter saw them before they were assembled and she really liked  them too and asked me for a set.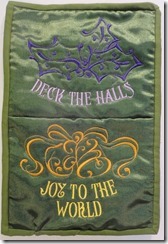 So now that they  in groups.  I will pass one onto  her and keep the smaller ones.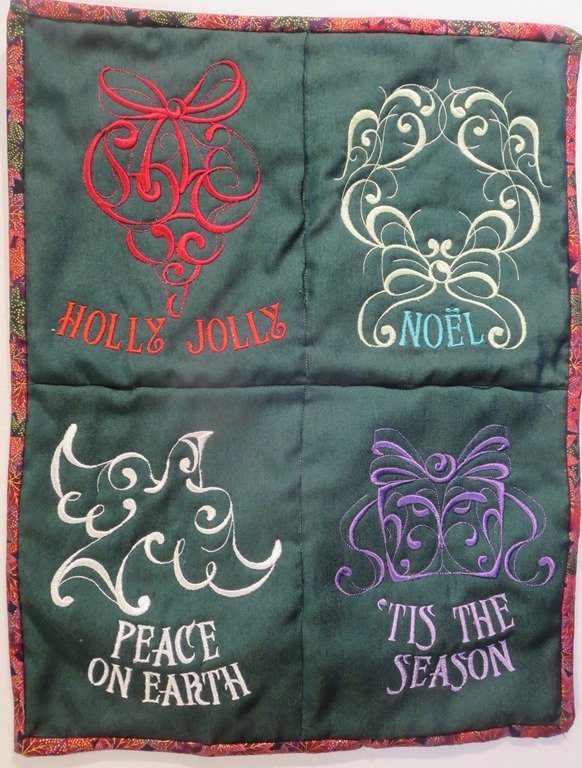 I already have spaces on my walls for these two for this season.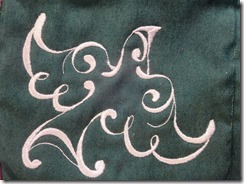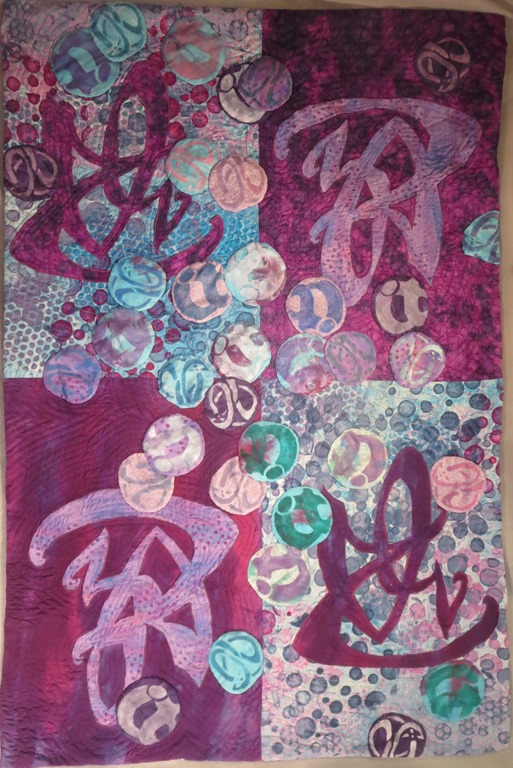 ZAP    This work is 37"w X 56"l.   I enjoyed doing all the hand applique of the bubble "IT'S"  on the top of the Zaps to break up the negative spaces here.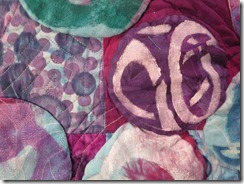 The work is reflective quilted with the circles added as I went along.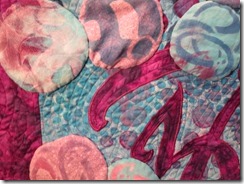 Zap It
   This  rework project is almost done.    I decided that the quilt was ok- but nothing more then that.  So I added  the dark purple strips to spell out   "Zap it" on top.  Now  I have stitched over the dark purple lines sense  the rest of the work is quilted already.   I am still toying with the idea of adding more stitched lines in purple on top.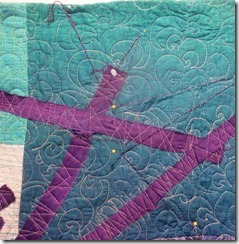 I think I need to set it aside for a while and then look again with fresh eyes in a week or two.
New work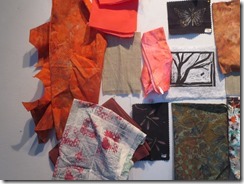 I pulled out the last pieces of work that I inherited from Ethel( the black stencil stuff and the  tree) and found some fabric to work with those pieces.   I will move onto it next.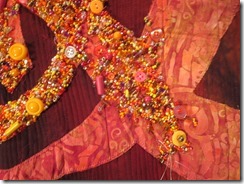 Glyph IV   I keep beading away on this project.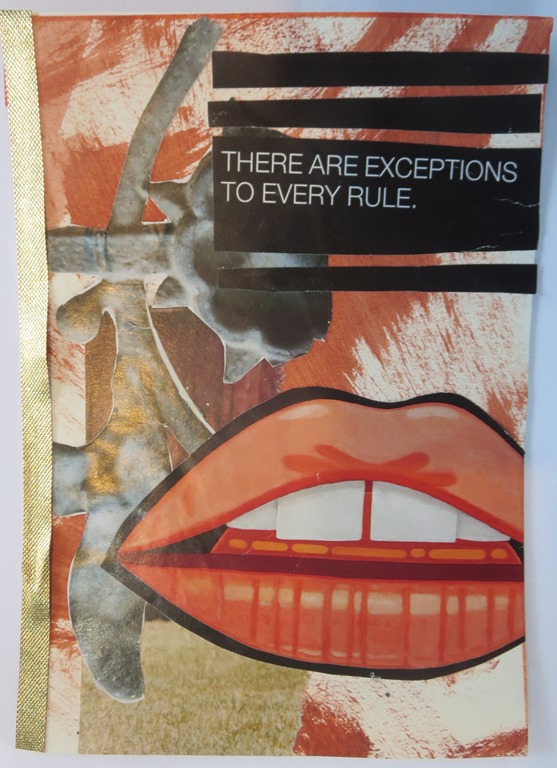 Card    As the cards shows- rules are on my mind this week.
Keep Creating
Carol